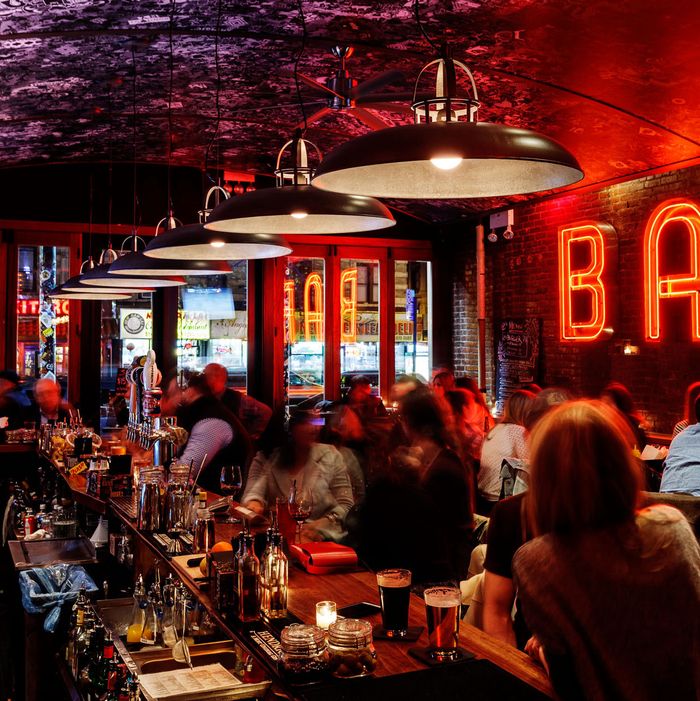 e's bar is new and improved.
Photo: Dylan Cross/Dragonfly Image Partners
With its proximity to Central Park and its myriad cultural institutions, it's a mystery why the Upper West Side hasn't quite caught up when it comes to nightlife. But the neighborhood does have something for every taste. If you happen to be ogling dinosaurs at the Natural History Museum or need a beer after a show at the Beacon, here are some standout spots to try.
1. e's Bar
511 Amsterdam Ave., nr. 85th St.; 212- 877-0961
After fire damage temporarily shut down the place earlier this year, e's Bar is back in business, boasting new banquettes and the same craft beer and '90s rock vibe that drew crowds in its prior incarnation. On a recent night, the main room — with ample counter seating and a massive lit-up BAR sign on the back wall — was almost a little too bustling, but at e's that's no problem: The 2,000-square-foot space encompasses two other rooms, plus a front patio. This is the kind of community-driven spot to grab a $5 burger at Happy Hour, come for Trivia night on Tuesdays, or settle in for the evening with Jenga or one of the 250 or so well-loved board games on hand. Skip the cocktails, stick to the solid beer list or the surprisingly sophisticated Scotch selection, and, if you happen to be there on a sunny day, park yourself outside for some prime people- and puppy-watching.
2. Caledonia UWS
424 Amsterdam Ave., nr. 80th St.; 917-388-2342
If you want a crazy selection of whiskey and a subdued, unpretentious spot to enjoy it, you go to Caledonia. About a year old, the UWS offshoot of the UES original is a well-lit hallway bar with a split level for more seating, and you might just discover it by accident after a stop at the beer shop next door. After you're lured in by a back bar gleaming with amber-filled bottles, you can sit at the long bar and sip single malts to your heart's content, following the House Rules written at the top of the menu. "There is no such thing as a best whisky. The best whisky is the one you love the most. Your job is to hunt this whisky down." Do yourself a favor and order the Scotch egg.
3. Manhattan Cricket Club
226 W. 79th St., nr. Broadway; 646-823-9252
One virtue to MCC's uptown location is that this gem of a cocktail bar rarely gets overrun. Upstairs from the Australian bistro Burke & Wills, this date-perfect spot is where to go for inventive drinks by the Summit Bar's Greg Seider — a spin on the Bloody Mary with a white-truffle mist, a bourbon cocktail with a hibiscus infusion — and a setting that's like a charming vintage apartment bedecked with cricket paraphernalia. Take a glance at the rules of etiquette before you go (nothing painful, just don't wear shorts and don't be a jerk), and if you're feeling fancy, order the caviar service.
4. The Dead Poet
450 Amsterdam Ave., nr. 82nd St.; 212-595-5670
Opened by a former English teacher and featuring a lending library of classic books, the Dead Poet is the kind of bar that makes you want to break into verse, though it may just be that you've had too many glasses of Guinness trying to make it to their wall of fame (it takes 100). While the literary theme can get a little cloying at other spots, here it strikes just the right convivial note: You even drink for free if you share a birthday with certain authors.
5. Blondies
212 W. 79th St., nr. Amsterdam Ave.; 212-362-4360
The first thing that hits you at Blondies is the overwhelming smell of fried food. Then, the multiple sports jerseys and the televisions all with some sort of game on. Blondies is a tried-and-true sports bar, but it's the best version of it. Sight lines for the televisions are great, and with the enthusiasm of all the Big Ten alumni cheering for their respective teams you might just catch a wave of nostalgia. Plus the buffalo chicken wings rival the best in the city, and if you come on Monday nights, they're all-you-can-eat.