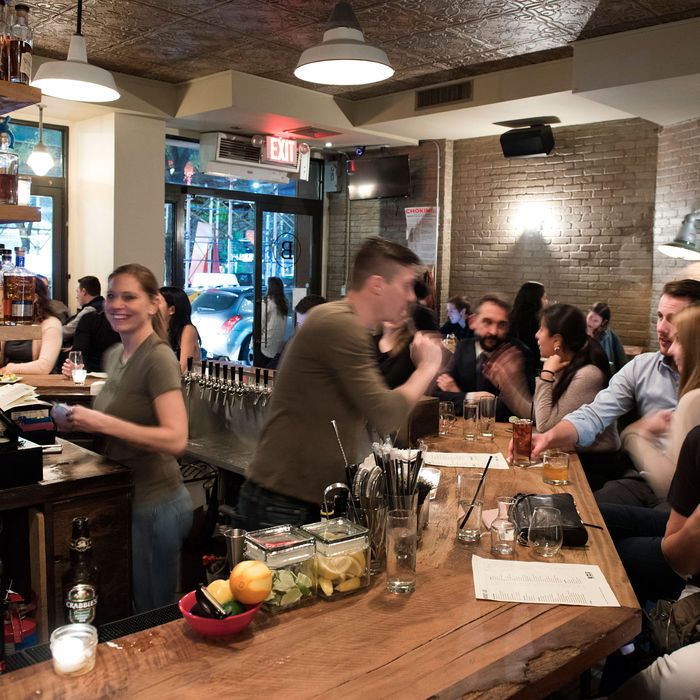 Try the tempura-battered pickles at Bondurants.
Photo: Liz Clayman
While the Upper East Side might not be a destination for nightlife, there are still plenty of low-key spots worth checking out. Places where you can be a regular and they will remember your name, or where you can just be passing through and feel equally as welcome. Satisfying food and drink is a must, of course, and an atmosphere that will entice you to stay awhile.
1. Bondurants
303 E. 85th St., nr. Second Ave.; 212-249-1509
It's not the job of a bar to appease all tastes, but Bondurants sure does try, and the effort is appreciated. The whiskey selection alone — over 130 bottles strong, from Jack Daniel's to the hard-to-find Old Rip Van Winkle — and a strong craft-beer list is enough of a draw. But there are more pleasures on offer (not to mention the proximity to the Second Avenue subway). With its tin-pressed roof and wood paneling, the space is both airy and dark at once: kitschy chandeliers let you know that Bondurants doesn't take itself too seriously, and televisions are discreetly hidden (see if you can find them). Ordering at the bar may seem like a hindrance, but, in fact, it's a blessing when it means you'll receive your insanely large portion of house-brined and perfectly sour tempura-battered pickles and megasize tater tots that much faster.
2. Seamstress
339 E. 75th St., nr. First Ave; 212-288-8033
If you're a cocktail fan on the Upper East Side, Seamstress is your spot. Named for the neighborhood's historical abundance of tailors, the bar comes with modern-day pedigree: cocktail maven and co-owner Pam Wiznitzer, formerly of the Dead Rabbit, is currently president of the United States Bartenders' Guild. Sample from the list of 50 American classics, from the Aviation to the Zombie — or try originals like the Endless Search ($15): rum, pickled mango, egg white, and sesame oil — in a dim, date-ready setting entered through a velvet curtain. At $14 to $17, the drinks skew pricey for the area, but show up between 5:30 and 7 p.m. for oyster happy hour, and get your bivalves for just a buck.
3. The Penrose
1590 Second Ave., nr. 83rd St.; 212-203-2751
As a neighborhood go-to, the Penrose hits all the marks: extensive craft-beer and whiskey lists, better-than-average cocktails, playfully kitsch yet modern décor (think: typewriters and reclaimed wood), and a killer custom-blend Pat LaFrieda burger, courtesy of the team behind Wilfie & Nell. The problem is, because it's got everything, the crowd gets voluminous both in size and noise, filling every nook of the massive space. Your best bet is staking out a spot on a weekday afternoon, or becoming a day drinker. It's worth it to try their housemade fizzy ginger and muddled lime sodas, to which you can add your choice of liquor.
4. Sugar East
1125 First Ave., nr. 62nd St.; 212-832-4610
First thing's first: This new kid on the block is not for everybody. Formerly the Merchants NY Cigar Bar, the tobacco license here was grandfathered in, making Sugar East one of only eight bars in the city where you can smoke indoors. Cigars aren't on the menu (and they'd rather folks not bring them), but packs of cigarettes are, and if you'd like to light one up, you're welcome to. Even the candle in the bathroom is cigar-scented. But if you can get past all that, you're in for a treat: A Havana-in-its-heyday bar with handsome Art Deco lines, big roomy booths, and cocktails by Jeremy Strawn, a Death & Co. and Mulberry Project alum. Drinks are named for their primary taste profile, the gin-based Celery ($16) tastes like celery, the bourbon-based Charred Lemon ($16) like charred lemon, etc.; to flex your senses, order the Coconut, with Havana Club rum, Fernet, absinthe, and coconut juice. Served in, well, a fuzzy coconut, it's presented with a lit cinnamon stick, meant to be inhaled as you drink, and truly transports. Bites like lobster arepas with tart pomegranate seeds and chorizo-pineapple-and-mint skewers are small but potent, and DJs spin regularly later in the evening.
5. The Pony Bar
1444 First Ave., at 75th St.; 212-288-0090
There are a few wines if you ask, and they've got the means to make you a mixed drink. But what you come here for is a massive selection of craft beer, heavy on New York State selections and regularly rotating. The UES offshoot of the Hell's Kitchen original opened in 2013, and has cultivated a loyal following who come for the happy hour (4:20 to 5:20, $5 beers), surprisingly elevated bar food, emphasis on beer education, and in-the-know choices, currently including an extra pale ale from the up-and-coming Industrial Arts brewery in the Hudson Valley (check the website for the most up-to-date offerings). If the crowd gets to be too much, as it tends to on the weekends, just take your brews to go in one of their 64-ounce growlers.
Bemelmans
The Carlyle, 35 E. 76th St., at Madison Ave.; 212-744-1600
Sure, it won't be your everyday go-to, but for special occasions, your girlfriend and your grandma will both love Bemelmans. From Ludwig Bemelmans's illustrations of Madeleine on the walls to the cocktail list designed by Dale DeGroff, and maybe even a Chita Rivera sighting when she performs at the Café Carlyle next door, Bemelmans is a slice of history in New York, a place where time stands still, and one that gives you free snacks. With individual table lamps and live music, a night here makes for an exceptionally romantic date. Come early (before 9 p.m. on Sunday and Monday, and at 9:30 p.m. the rest of the week), if you want to avoid a cover.
Treadwell Park
1125 First Ave., at 62nd St.; 212-832-1551
You've had a long day, and you just want to go to a bar and spread out at a picnic table, eat some free popcorn, and order up some beer and a giant Nathan's bánh-mì hot dog that should take two people to finish. Maybe after you'll play an arcade game or Ping-Pong. But first, in this sprawling space where every day is Oktoberfest, you'll try one of the 20 craft beers on draft or 30 bottled beers — or, hey, maybe a gluten-free cider. Then you'll top it all off with a beer float, because there are five to choose from, made with gelato, ice-cream, or sorbet.