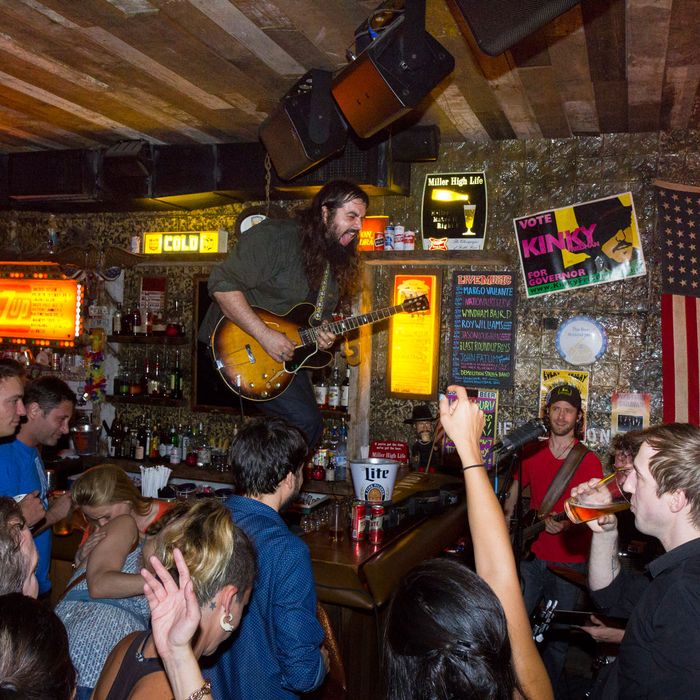 A real-deal honkey tonk, right in the middle of Williamsburg.
Photo: Camilo Fuentealba
Here are the very best bars that feature live music, venues that never or very rarely charge a cover fee — tips for the band in the passed hat, please — but offer patrons fantastic ways to sip Manhattans or Lone Stars while also listening to the saxophone or the banjo.
1. Skinny Dennis
152 Metropolitan Ave., nr. Berry St., Williamsburg; 212-555-1212
Skinny Dennis is improbably excellent. Improbably because in theory, and on paper, the bar might seem, well, repellent: opened only in 2013, calls itself a "honky tonk" though it's located in prime gentrified Williamsburg, can get very crowded (we once visited on Christmas Day and were unable to find a seat). But ignore all that. The music leans heavily on rockabilly, country, blues, swing, and the like, and it is almost always imminently enjoyable. When that happens, the bar is vibrant, the kind of place where it's impossible to be in a bad mood. There are country and bluegrass jams most every night, and other performers you might see include Eugene Chrysler and Margo Valiante. Lastly: Make sure to order the hot peanuts (note the shells littering the floor) and complete the city-version-of-country experience.
2. Bar LunÀtico
486 Halsey St., nr. Lewis Ave., Bedford-Stuyvesant; 718-513-0339
The décor is rustic: peeling paint, exposed tin ceilings, ice-cream-parlor-style bar seats. The cocktails are better than they need to be. The bartenders even use stainless-steel straws. But music, not mixology, is the main draw here, and bar staff will make sure you know that, encouraging guests to stay quiet and pay attention during performances from musicians like pianist Henry Butler, and three-decades-strong group the Jazz Passengers.
3. Mona's
224 Ave. B, nr. 13th St.; 212-353-3780
More specifically: Tuesday evenings at Mona's, when the city's best saxophonists and trumpeters drop in for late-night jazz jams with the Mona's Hot Four, the bar's house band. Things get going around 11 p.m. and don't stop until after 3 a.m. or so (and that's only because the State Liquor Authority mandates it). If you're a musician, you'll surely see friends, some of whom are clothed in '20s and '30s period dress. If you're just an observer, you'll feel like you've been permitted entrance to a members-only club. (Also noteworthy: If Tuesday crowds bother you — and they are wall-to-wall — try stopping in on Mondays, when there's a comparably relaxed bluegrass jam.).
4. Harlem Nights
2361 Seventh Ave., at 138th St.; 646-820-4603
One of the most notable things about live music in New York is that the audience can often seem reluctant to really get into the music. In other words, it's rare to see people dancing and going nuts, but if you want that, try Harlem Nights, where performers sometimes step down from the slightly elevated stage to head into the bar and pick patrons to sing to personally, and to maybe dance with onstage. Even seated patrons move with the beat and throw their whole bodies into the song. Some other things you might see here: a cover band performing Usher's "You Make Me Wanna," Tiga Jean Baptiste, Michelle DeAngelis, and on Thursdays there's a jazz jam session.
5. Little Branch
20 Seventh Ave. S., at Leroy St.; 212-929-4360
Having a great night at Little Branch often requires both preparation and chance: There's remembering to withdraw cash (cocktails are $16, and credit cards aren't accepted), there's getting in past the door guy without waiting forever, there's finding a space to sit once you have descended into the little basement bar. (Plus: There's no live music on Fridays and Saturdays.) But if all the stars align, you'll be treated to understated and excellent bands, and it's one of the more romantic spots in the city, a place that forces you to sit close to your date while the upright bass plucks in the background.