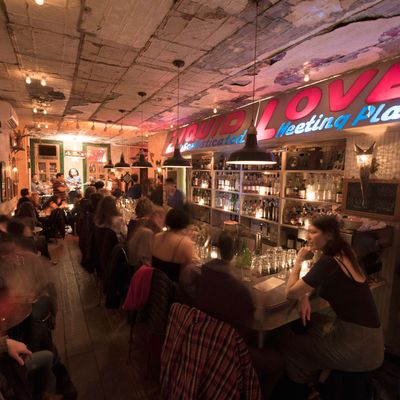 Bar LunÀtico is a cozy jewel box.
Photo: Liz Clayman
Alongside historic brownstones and streets made notorious by homegrown emcees, Bed-Stuy has plenty of awesome places to drink. Whether you're looking for a destination cocktail or some incredible music to go with your margarita, here are the best spots in the neighborhood.
1. Bar LunÀtico
486 Halsey St., nr. Lewis Ave.; 718-513-0339
Bar LunÀtico might have earned the title of best bar in Bed-Stuy for its cocktail menu alone. The seductive Shewolf is bitter, floral, and tangy, with small-batch Petal & Thorn vermouth accented by celery bitters. Or there's the Oaxacan Negroni, a Latin twist on the classic that subs mezcal and three kinds of amari for gin and Campari. (Note the separate list of of mezcals and amari that can be ordered for sipping in flights or singles.) Also, Bar LunÁtico would have been a contender due to the fact that it's packed six nights a week with music fans enjoying intimate live shows on the tiny stage upfront — a recent month saw a Bill Withers tribute band and Brazilian jazz vocalist Sarah Cabral. And the place would have stood out just for its ambitious food menu, too: not only elk meatballs for dinner but also coddled eggs for brunch, breakfast pastries, and fried grasshoppers as a bar snack. Add it all together, and Bar LunÀtico starts to feel like a magical place, a glowing fairy-tale jewel box filled with delights — and definitely the best bar in the neighborhood.
2. Lovers Rock
419 Tompkins Ave., nr. Hancock St.; 347-915-0325
Themed bars can sometimes feel like they're wearing an ill-fitting costume, but Lovers Rock simply feels real. And really simple: lots of rum + great music = an island paradise on Tompkins Avenue. Have the housemade rum punch — sweet and fruity — or try a traditional rum and Ting, featuring Jamaica's favorite grapefruit-flavored soft drink. Then let the hypnotic reggae bass lines issuing from the DJ booth coax you onto the checkerboard dance floor. Like a tropical sunset, the aptly named Lovers Rock glows a dusky pink, creating a sultry, welcoming vibe. Don't be surprised if you see a few couples making out in the corners.
3. Doris
1088 Fulton St., at Claver Pl.; 347-240-3350
Doris doesn't look like much from the outside — a couple of porthole windows and the bar's name scrawled over the door. But inside, it feels like you've escaped to a mellow Santa Fe adobe, or dropped by for a drink on a Tatooine moisture farm. It's all whitewashed walls with contrasting wooden tables, woven wall art, and hanging plants in tasseled pots. There's a good assortment of beers dispensed from a cute rainbow of taps — recent offerings included German favorites like Gaffel Kölsch and Bitburger Premium Pils, as well as American craft beers like Bell's Two Hearted Ale. Doris also has 18 more beers in bottles and cans, and some good tequila and mezcal cocktails, like the bracing El Supremo, with fresh ginger and lime. There's also a big backyard with a ping-pong table, and a soundtrack fueled by shelves of vinyl stacked behind the bar. When the munchies strike, you can order a variety of tasty toasted cheese sammies, courtesy of Morris Sandwich Shop.
4. Dynaco
1112 Bedford Ave., nr. Quincy St.; no phone
Dynaco is easily Bed-Stuy's coziest bar, and maybe its darkest, too. Upon entering, before your eyes adjust, you'll sense a warm glow coming from the wood stove in the back. Sit by the fire on rough wooden floor planks, in a room created by dozens of old stereo speakers stacked together to form a wall, and you'll feel like you've entered into the platonic ideal of Brooklyn's hand-built-log-cabin aesthetic. Even the music is warm — choice classic cuts piped through a vintage stereo system, fitting for a bar named after a hi-fi company.
5. C'mon Everybody
325 Franklin Ave., nr. Clifton Pl.; no phone
The name here says it all: C'mon Everybody has something for everybody. It's a great bar, plus a separate performance venue in the rear, plus even a little art gallery tucked in one corner. And the place attracts one of the most truly diverse crowds in all of Bed-Stuy, and hosts live performances nearly every night — from storytelling and comedy nights to burlesque acts and rock shows. Mark your calendar for the monthly Romy and Michele's Saturday Afternoon Tea Dance, selected as one of the city's absolute best gay dance parties.
Do or Dive
1108 Bedford Ave., nr. Quincy St.; 347-406-8241
Locals may mourn the loss of Do or Dine, the quirky, Michelin-rated restaurant that formerly occupied the space, but the bar that replaced it has quickly become a neighborhood favorite. The place is styled after the owners' other Brooklyn spots (Lucky Dog, Skinny Dennis), and reads like a cartoonist's depiction of a hipster dive bar, filled to overflowing with garish, kitschy accoutrements — animated, vintage beer signs; hanging stained-glass lamps; a stuffed shark; and a mountain goat wearing sunglasses. The crowd is boisterous and beardy, enjoying the solid beer selection and a variety of odd cocktails — including the "frozen coffee thing," a boozy Frappuccino served in a classic deli paper cup.
Tip Top Bar & Grill
432 Franklin Ave., nr. Clifton Pl.; 718-857-9744
No list of Bed-Stuy bars is complete without the venerable Tip Top, the decades-old dive that feels like a time capsule from Bed-Stuy days of yore. With cracked linoleum underfoot, a low ceiling above, and walls plastered with old beer signs and photos of the Obamas, the place feels like a well-used basement rec room in a beloved community center. The beer is cheap, the crowd is friendly, and the jukebox is well stocked.