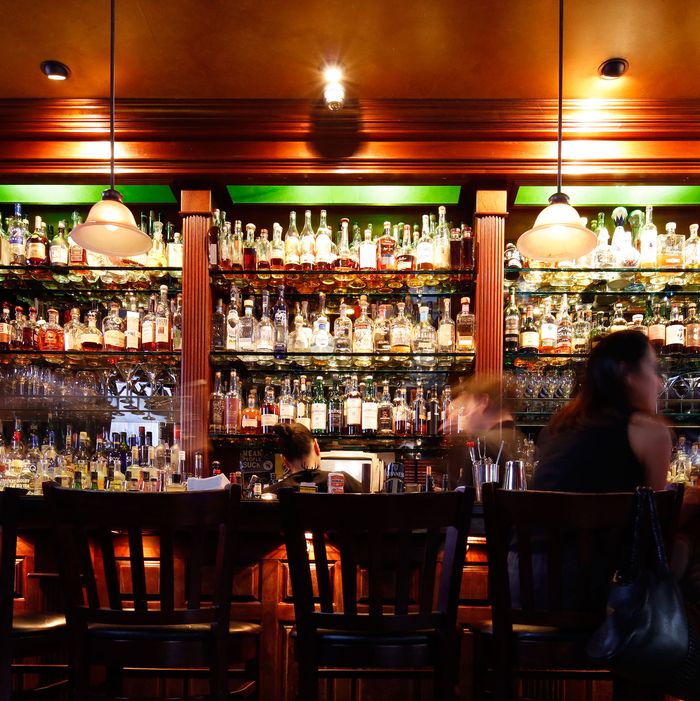 Lots of whiskey and no attitude.
Photo: Melissa Hom
Everyone knows the city is unrivaled in its collection of eclectic, outstanding drinking establishments — so the question we answer today is, where do you go when you want some serious whiskey? The seven spots below are the places that most expertly blend outstanding selection with gracious service and good company. They are, in short, the best whiskey bars in New York.
1. Daddy-O
44 Bedford St., at Leroy St.; 212-414-8884
It's easy to become cynical about bars in a city where every neighborhood has its own expertly branded nouveau speakeasy. It is impossible to be cynical at Daddy-O. There is no branding to speak of here. The glassware is not special. There is a television. The television plays hockey games. And yet, Daddy-O's enthusiasm for spirits — especially whisky — rivals, and bests, far more obnoxious establishments. The written tome spans 500 hand-picked bottles, with not even a hint of pretension. You will not be up-charged for a pour of something trendy. You will not be side-eyed for ordering a whiskey soda. Instead, you're free to flip through the book, order a pour of something novel — say, a hard-to-find Compass Box blend — or something you've never tried before, something you're curious about. There is no snobbery or pressure or blond wood or fake library books. You get to drink whiskey without any other bother or distraction. This shouldn't be a rare thing. But it is, and that's why Daddy-O takes the cake. That and the tater tots.
2. Ward III
111 Reade St., nr. West Broadway; 212-240-9194
Spend a few minutes in the presence of Ward III's proprietors and you'll quickly understand how this place became a mecca for whiskey. These guys, Kenneth McCoy in particular, have a boundless enthusiasm for the stuff. It's why the bar's Whisk(e)y Mondays draw a regular and devoted following, not to mention an eager and endless string of producers, who show up with new bottles to pour tastes and talk about mash bills. It's a little nerdy, sure. But it's nerdy in a good way. And did we mention there are free tastes of whiskey?
3. Grand Bar at the Soho Grand
301 West Broadway, nr. Canal St.; 212-965-3588
Tucked into the corner of the massive second-floor lobby of the hotel, Grand Bar wears its whiskey pride on its sleeve. On a wall, actually, etched into a large mirror. The bar's focus on American whiskies is thoughtful and modern, touching on both craft and corporate distillers, with selections from producers across the country and a variety of base grains. That the bar is also a spacious and warm place to drink is a nice cherry on top (unless, of course, you prefer an orange rind).
5. Maysville
17 W. 26th St., nr. Broadway; 646-490-8240
Maysville may just be the handsomest whiskey bar in the city, with its glowing back bar and street-grid ceiling installation. That it's named after the supposed "Birthplace of Bourbon," in Kentucky, should give you a clue as to what type of whiskey in particular is favored here. That the list of spirits is separated by mash bill — the types of grain used in fermentation — should give you a clue as to the bar's seriousness. Thankfully, the bartenders aren't too serious: They'll make a mean whiskey ginger as easily as they'll stir together a killer Boulevardier. A handful of whiskies can also be ordered by the decanter, like bottle service for people who dilute with droplets of water instead of Red Bull.
6. Noorman's Kil
609 Grand St., nr. Leonard St.; 347-384-2526
Surely Noorman's Kil is the first bar to give equal focus to the whiskey list and the grilled-cheese menu. Both of them, amazingly, are phenomenal: 400 whiskies, seven inventive sandwiches, 2,800 possible combinations therein. If you did not know how well Talisker 18 pairs with Vermont chèvre and apricot jam on ciabatta, well, this is the place to find out.
7. Brandy Library
25 N. Moore St., nr. Varick St.; 212-226-5545
Dark, cavernous, and deceptively named, Brandy Library is the OG dame of upscale whiskey enthusiasm in New York. The 12-page list includes spirits from India and Japan, hard-to-find Irish blends and single malts, a healthy array of limited-edition Kentucky bourbons, and seemingly more Scotch than exists in all of Scotland. You get the impression looking at the list that the "librarians" have never seen a single malt they didn't end up buying.