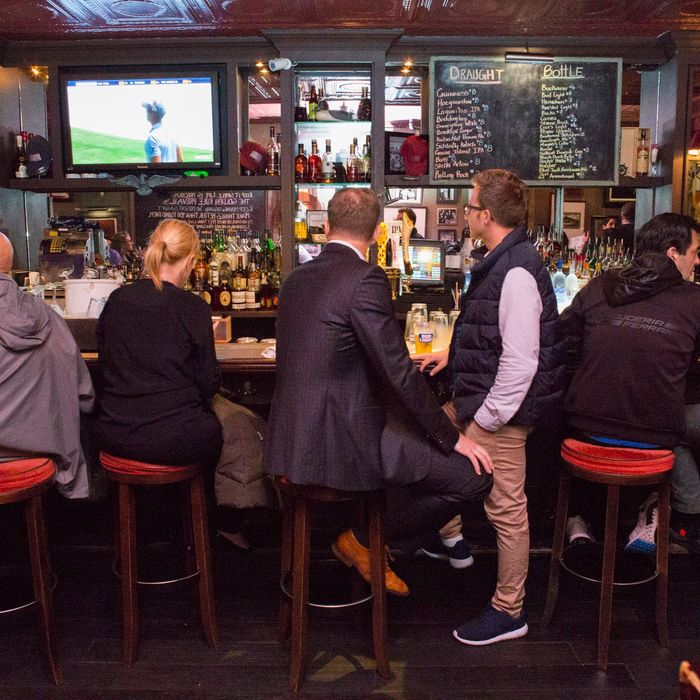 It won't take long for the bartenders to remember your name here.
Photo: Camilo Fuentealba
These are the finest places to sip a cocktail in peace after a dreary nine-to-five, or even just to grab some pints with co-workers, should you find yourself looking for a bar in midtown.
1. Hudson Malone
218 E. 53rd St., nr. Third Ave.; 212-355-6607
Doug Quinn's bar opened in 2013, but it seems far older. It has little to do with the mahogany trim or all-purpose, dude-skewing nostalgia lining the walls. The thing here is that bartenders know what regulars drink. They offer up legitimate conversation, and that relationship pays dividends over time. The no-fuss classics — an old-fashioned, a Bobby Burns, a Sidecar — are made fast, and with precision. In other words, it creates the ideal environment in which basically anyone can unwind, which is exactly what you want. (Food options, like creamed spinach and an au jus beef sandwich that look like they were beamed in from the Eisenhower era, are a nice bonus, should you want to stay awhile.)
2. Tanner Smith's
204 W. 55th St., nr. Seventh Ave.; 646-590-2034
This cavernous bi-level space has all the hallmarks of a place that's named after a quasi-reformed gangster who was shot in the back in 1919: mounted heads of taxidermied fauna, ancient telephones, and copper teapots — all retrofitted into a sleek space of reclaimed wood and bare brick. Several booths offer a welcome degree of privacy, the platoon of servers is attentive, and the tap list brims with beer-geek surprises like Rodenbach Grand Cru. The sprawling menu of the usual finger-food suspects (flatbreads, sliders, skewers) is also more polished than it needs to be. Most of all, the place can be really fun: Watch your bartender pump wood smoke into a cocktail of bourbon, maple syrup, and Jerry Thomas bitters. For a moment the plumes will hang in place like an Arthurian fog. It's a simple enough bit of cocktail artistry, but sufficient to make any spreadsheet wizard feel like a genuine magician after a long day.
3. Ardesia
510 W. 52nd St., nr. Tenth Ave.; 212-247-9191
The fact that a table of four can have a legitimate, shout-free conversation even when the handsome, bottle-lined bar is filled with customers puts Ardesia in a category by itself. Think of it as a veritable decompression chamber, but with solid Riesling choices and decent bar snacks. Wine prices start at $40 for a bottle, and the 30-seat patio is a major draw in warmer months. Cheese and charcuterie pairings are spot-on, and servers seem downright gleeful, not annoyed, around customers who don't know the first thing about mineral and oaky notes.
4. The Rum House
228 W. 47th St., nr. Broadway; 646-490-6942
The drinks are strong, and new options that are thematically tethered to one historic cocktail precedent or another are frequently rotated in. The extra-long happy "hour" runs from noon to 6 p.m., Monday to Friday, which makes the establishment a good choice for anyone knocking off a little early. Otherwise, the after-work crowd tends to descend in force, and there's a slim chance you'll nab one of the coveted red-leather banquettes before 7 p.m. at the earliest. Despite this, the Rum House remains a haven for well-made drinks, such as a stellar non–piña colada piña colada, not to mention ragtime plunked out by a real live piano player.
5. Aldo Sohm Wine Bar
151 W. 51st St., nr. Seventh Ave.; 212-554-1143
The Le Bernardin team's megawatt wine bar was engineered to handle the fine-dining spot's overflow and to provide a less formal setting for its loyal clientele. Two years after opening, though, the crowd has morphed gradually to accommodate a robust after-work contingent — think actuaries who moonlight as pét-nat enthusiasts, or an off-duty diplomat raving about Zalto stemware. Bottle prices range from a bargain $36 Grüner to a $2,600-something Romanée-Conti. By-the-glass options include a budget Zierfandler, a flight of three Portuguese wines for less than $20, and a dry Lambrusco that tastes like strawberries and is nicer than what you'd get for twice the price at neighboring establishments.
6. Jimmy's Corner
140 W. 44th St., nr. Broadway; 212-221-9510
It's always crowded, usually civil, and is these days the lone Times Square holdout against the forces of Disneyfication and slender new skyscrapers that pierce the clouds. James Lee Glenn, a former trainer and the bar's sainted namesake, started off decades ago with the idea of celebrating the boxers whose photos hang on his walls, and to offer a place to catch part of a match. These days, mixed drinks are still undiluted and still $5 or less, and hundreds of signed dollar bills are taped to the back bar, as a lingering sign of patrons both past and present. It still gets crowded, but what Jimmy's lacks in legroom it makes up for by never having pulled any punches.
7. Crimson & Rye
198 E. 54th St., at Third Ave., 212-687-6692
You can grab after-work drinks out of the office building, but it's possibly a little more convenient when they're in the actual lobby. That's the situation here, with Charlie Palmer's well-appointed space taking up residence in one corner of the Lipstick Building's ground floor. There's a team of crackerjack, leather-suspendered barkeeps with unfurled bags of esoteric cocktail tools and stations stocked with assorted elixirs. There's also some welcome experimentation here: Trendy 96-proof baijiu is the star of one cocktail, and a bartender might drop some crushed dried rose petals into another. Order a punch bowl of Lipstick Fizz, which contains Navy-strength gin, lemon juice, soda, and grenadine made in house. It serves five or six and costs $66. Bourbons, single malts, and the establishment's namesake spirit are also well-represented.