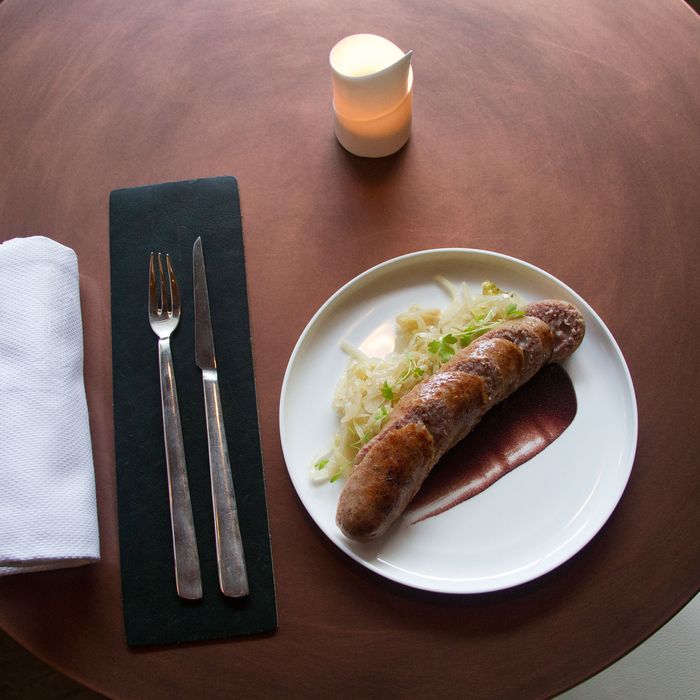 The sausage at Gabriel Kreuther lays the groundwork for a serious bender.
Photo: Tirzah Brott/New York Magazine
Thanks in part to the great mixology revolution, the city is awash in satisfying, elaborate bar menus now. Our current favorites are culled from new-age dive bars, Japanese-style cocktail izakayas, and even the ritzy cocktail lounges of haute gourmet midtown restaurants.

1. Gabriel Kreuther Bar Lounge
41 W. 42nd St., nr. Ave of the Americas; 212-257-5826
Gabriel Kreuther's elegant new midtown restaurant isn't a bar, per se, but the "lounge" we're talking about is separate from the great Alsatian chef's grander, some would say slightly over-fussy fine-dining restaurant, and the range of inspired Alsatian-influenced bar snacks is unparalleled. The classic tarte flambée (smoked bacon, caramelized onions, crème fraîche) goes with almost any drink, but if you feel like laying the groundwork for a serious bender, we recommend braised tripe gratiné or the fat pork-stuffed Alsatian sausage dressed with a tangle of house-cured sauerkraut. If you're in a lighter mood, enjoy the crunchy Maine lobster croquettes with your Kir Royale (or your perfectly fashioned martini), and a crisp glass of Alsatian white with what is undoubtedly the finest example of haute gourmet liverwurst in town.

2. The NoMad Bar
10 W. 28th St., nr. Broadway; 212-796-1500
On most evenings, the vaulted dark, mobbed space is the opposite of a peaceful dive bar. But if you manage to secure a table, the depth of the drinks program (over 20 beers, 80-odd cocktails) and the quality of Daniel Humm's bar menu (Scotch "olives" made with lamb sausage, a perfectly aged burger, the truffle-rich chicken potpie) will make all of your troubles worthwhile.

3. The Long Island Bar
110 Atlantic Ave., at Henry St., Cobble Hill; 718-625-8908
The longshoremen who used to inhabit this impeccably renovated Atlantic Avenue bar may have a little trouble mingling with the new crowd of hipster regulars. But we're betting they would be pleasantly surprised by radically upgraded pub grub, which includes ye olde fried cheese curds (with French onion dip), and a dry-aged double burger for 18 bucks.

4. Bar Goto
245 Eldridge St., nr. E. Houston St; 212-475-4411
Pegu Club veteran Kenta Goto designed this elegantly cozy Lower East Side watering hole to resemble the great neighborhood bars of Tokyo. Which means that while you sip your cherry-blossom-garnished "Sakura" martini, you can also graze on a steady stream of delicious, impeccably prepared Japanese bar snacks.

5. The Commodore
366 Metropolitan Ave., Williamsburg; 718-218-7632
Nobody knows nouveau drinking food like Stephen Tanner, and his original faux tiki bar on the corner of Metropolitan and Havemeyer is the place to get it. The fried-chicken plate is reliably greasy and satisfying, but if you're planning a true rum-and-tequila bender, call for the mountainous Cadillac Nachos and a fortifying pot of properly viscous queso dip.