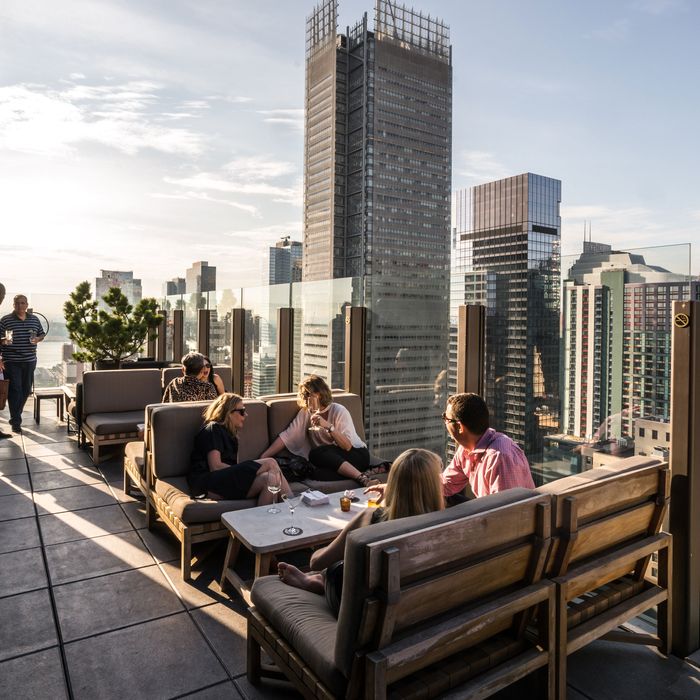 The best bar comes with an unparalleled view, too.
Photo: Paul Wagtouicz
Here are the best bars for a pre- or post-theater drink. The options are varied, ranging from the high-end to a lovable dive, and they're all within a ten-minute walk of most of the Broadway houses. Here's where to go:
1. The Skylark
200 W. 39th St., nr. Seventh Ave., 30th fl.; 212-257-4577
Rooftop bars in New York can often be grossly overpriced, overcrowded, and just generally unpleasant. Thankfully, that's not the case at the Skylark. There's a somewhat-labyrinthine journey up to the 30th-floor bar (through hallways, up a service elevator, up a flight of stairs, etc.), but upon reaching your destination you'll find a genial, warm, and professional staff. The crowd's diverse, so you might see NYU grads celebrating next to postwork 30-somethings and couples on a date. Embrace it. The outside is heated, but if it's too chilly or rainy, the indoor space feels a bit like a posh living room (lots of couches), and a DJ plays upbeat songs. As for the cocktails: Yes, they're expensive, but they're also very well made. And the view, it should be noted, is fantastic and will make for excellent pics on any person's Snapchat. Word to the wise: Make reservations on the website to guarantee a table.
2. Lantern's Keep
49 W. 44th St., nr. Sixth Ave.; 212-453-4287
The Iroquois Hotel's small, secluded bar was popular enough when it opened a few years ago that reservations were once necessary. Now that there are more options for a dignified cocktail in the area, things have quieted down, and you can pretty easily slip in here for an Island Old-Fashioned (made with rum and velvet falernum) or the light and summery gin-based Pineapple Collins, all in an extremely comfortable setting (marble tables, velvet chairs). There are small plates, like oysters gratin and a cheese plate, if you're feeling peckish.
3. Jimmy's Corner
140 W. 44th, nr. Broadway; 212-221-9510
If you want something a little less upscale, there is no better place to visit then the boxing-themed dive Jimmy's Corner, which opened way back in 1972. We've recommended it already, mostly because Jimmy's is that rare New York bar that cannot be oversold or overendorsed. It's cheap, the jukebox is excellent (Little Richard, Miles Davis, Nat King Cole), and among the many wall decorations is a sign reading "Let's not talk politics here." A lovely escape, not just from Times Square, but from pretty much everything.
4. The Bar at Gabriel Kreuther
41 W. 42nd St., nr. Sixth Ave.; 212-257-5826
If you are lucky enough to have a wealthy relative who scored tickets to Hamilton, you might suggest a preshow snack and drink in the mega-high-ceilinged copper-, wood-, and mirror-accented bar at Gabriel Kreuther. Reservations aren't required, but they are accepted, and worth making, so you can ensure a seat at one of the white-leather-banquette-abutting bar tables. Order the customizable Kir Royale and maybe some spiced shishito peppers. All of the food is uniformly excellent, really. It's not cheap, but your uncle is paying a premium for the super-serene, comfortable experience at one of the city's most impressive restaurants.
5. Russian Vodka Room
265 W. 52nd St., nr. Eighth Ave.; 212-307-5835
This dark retreat only opened in 1997, but it's so defiantly anti-trend that it feels like it's been around forever. The best way to describe the atmosphere might be weird, and that's a good thing. A baby grand piano (that's played live) is positioned where a host stand might have been, and the crowd can be hard to predict, but generally it stays off the tourist circuit, so come for a not-too-rowdy night of eating blinis and downing vodka that's a little more considered than Absolut and Ketel (though you can get those, too).