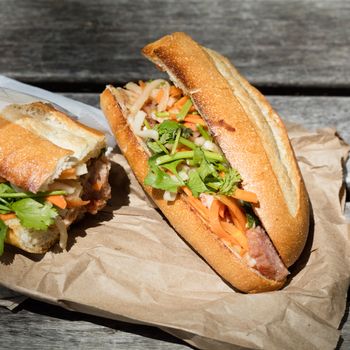 Ba Xuyên's sandwich is warm and packed tight.
Photo: Melissa Hom
Here we delve headlong into the world of head cheese, plus ham and pickled carrots and pâté, to find bánh mì that are a cut above the rest.
1. Ba Xuyên
4222 Eighth Ave., nr. 42nd St., Sunset Park; 718-633-6601
Thanks to a modest renovation, Sunset Park's venerable cafeteria-style shop now gleams brighter than ever on its desolate stretch of Chinatown's Eighth Avenue. Sandwiches cost $5, an increase of $1.25 total in the last decade. They remain mini masterpieces on bread that loom larger than the apparent sum of their ingredients, thanks in part to subtleties of temperature and texture. Order the bánh mì thịt nguội, or "combination." Choose a spice level, and the cook will give the loaf, made by Neri's bakery in the wilds of Port Chester, a slight warmup in the toaster. The buttery pâté — the exact nature of which has flummoxed diners for years — is already applied, a crucial step, and the ham is stacked with half-moons of chả lụa, the spongy pork roll that no one will be able to romanticize, and even more pork. All of the vegetables contribute vibrant flavors: skin-on pickled cucumber spears, slivers of pickled carrot and stinky daikon, stemmy cilantro, and raw jalapeño, in order of diminishing snap. The finished sandwich is warm and packed tight, and the bread crackles and collapses in a fantastic, meaty crunch.
2. Lucy's Vietnamese Kitchen
262 Irving Ave., nr. Menahan St., Bushwick; 718-483-9837
The smell of wood smoke and simmered star anise hits when you enter this pint-size shop. The entry-level sandwich sports a thick layer of brisket, and so it goes that purists may be upset that there's no pork to be found. What's more is that carrots are sheeted, not julienned. But, seriously, pay no mind: The bánh mì brisket is brought up in the same spiced broth used in the nontraditional but formidable pho, which imparts a mushroomy funk, and while a hodgepodge of French dips, South Asian mash-ups, and Texas barbecue may come to mind, this sandwich is doing its own delicious thing, and authentically at that.
3. Bánh Mì Saigon Bakery
198 Grand St., nr. Mott St., 212-941-1541
The city's most ambassadorial bánh mì is still a perpetual bargain, as well as a paragon of the form. That's not to say it's not customizable: A good amount of regulars seem to opt for squishy, untoasted bread, and the sandwich artists are happy to pile on more chiles past the point of what should probably be a legal limit. In an elegant feat of engineering, the root vegetables are wrapped in a cocoonish sheet of chả lụa, which cuts down on sogginess and gives the sandwich an extra vinegary punch.
4. Bành Mí Zòn
443 E. 6th St., nr. Ave. A; 646-524-6384
In addition to all of the expected sliced meats, the fully loaded classic at this bustling East Village spot includes chà bông, which is also known as meat floss. The porky ore adds a chewy, sticky dimension to the sandwich and plays nicely with flat slices of fat-streaked, red-cooked pork belly, ever condemned to play the bánh mì's straight man. The bread has a crispy exterior and soft crumb, almost like foccacia.
5. 5ive Spice
52 Fifth Ave., at Bergen St., Park Slope; 718-857-3483
Ungrammatical, resolutely fusion-y name aside — Five-ive? Five-ivy? — there's bánh mì magic happening in Park Slope, thanks to the from-scratch green sriracha on the tables and liberal applications of mayo emulsified with bone marrow on the bread. Beneath the fistful of carrots and fatty sliced ham, there's a jammy crumble of pork that adds a smoky sweetness to all the salt and vinegar, and the rustic dining room is a great place to snack on a classic with a cold Vietnamese coffee, served with lots of pebbly ice in a — what else? — Ball jar.