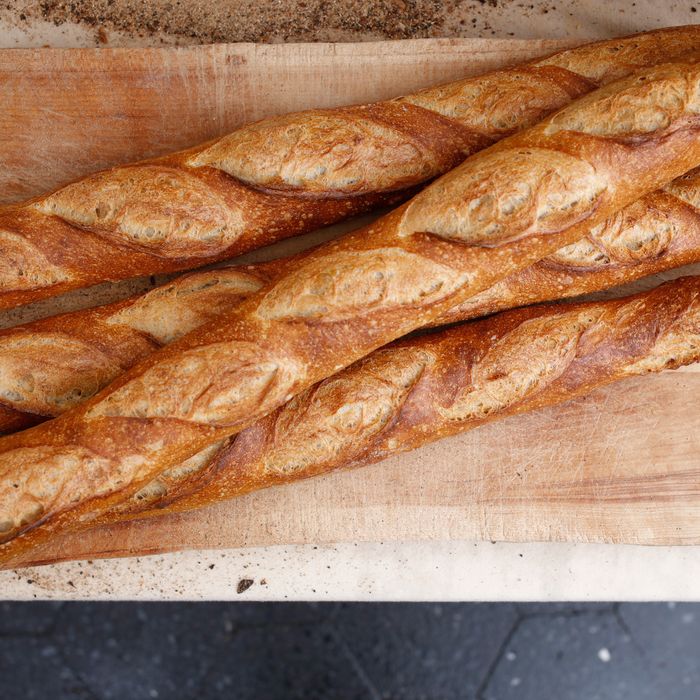 Taste She Wolf Bakery's baguette and feel a pang of nostalgia.
Photo: Melissa Hom
It's time to talk baguettes, which have improved vastly from the floppy, sad-sack, enriched white loaves that were once turned out of underpowered ovens everywhere. Now that we got that out of the way, here are eight solid options.
This is the sort of baguette that makes you wish you knew a lot more about cheese. To be specific, smell it and you get a whiff of sweet grass, maybe fruit pits. Taste it and feel a pang of nostalgia, even if you never missed a loaf of bread in your life. So it follows that you may spend a long time trying to figure out what, exactly, to eat with it, which looks pretentious in print but makes total sense after consideration of the "song," the audible, popping, beguiling crackle a great baguette emits fresh out of the oven. She Wolf's baguettes are great like that. They are brought over the East River bridges, picnic-ready, by the Cargo Bike Collective after they stop singing, to the Union Square Greenmarket Monday, Wednesday and Friday, just after 10:30, as well as in the afternoons to Andew Tarlow's Marlow & Daughters. (Tarlow's Achilles Heel and Roman's, where She Wolf got its wood-fired start in 2009, get the bakery's sourdough.) The dough is a mix of roller-milled white and stone-milled flour. Its hallmarks of excellence include fine alvéolage, the holey equivalent of plumage, and orange and brown grignes, the elongated valleys formed by the scores on top. The bakery gives the bread a proper, slow rise that other bakers would qualify as painstaking, or even painful — 30 hours, all told.

2. Arcade Bakery
220 Church St., nr. Worth St.; 212-227-7895
The word artisan is these days used to describe patently not-artisan foodstuffs such as cheesy-stuffed-crust pizzas, or whatever thermonuclear fast-food option is being pushed by Domino's. The term never fell out of favor in the bread world, though, in part because it's such an apt way of describing people like Roger Gural, as well as his baguettes. The baker's oddball, weekdays-only office-building hallway bakery turns out a spectacular vanilla pear and buckwheat version; his no-frills entry-level loaf is bronzed and crackly. Gural's perfectly misshapen lunch-only pizzas also make great use of the same dough, which means they're distant cousins to the Arcade baguette, and anyone who shows up around 10:30 a.m. can get in on the spectacle of the house-laminated baguette. There's no cutesy portmanteau name, and it's exactly as it sounds: a chewy loaf baked inside a wrapper of the flaky stuff croissants are made of. In other words, your bread is already buttered.
3. Épicerie Boulud
1900 Broadway, at 64th St.; 212-595-9606
François Brunet's Instagram feed is replete with shots of his high-gloss viennoiserie and crusty breads. The baby-faced French baker works with stone-ground flour from his homeland to make his baguettes, a few of which have been made seedy with the addition of pepitas, sunflower kernels, and flax. That he's able to pull off a masterful bread when working with nutrient-rich, bluish-gray organic buckwheat — it's harder to work with — makes a visit to the Upper West Side, or to the Plaza Food Hall, where Boulud has a scaled-down, classed-up operation, worthwhile. During the luxe bread service at Daniel, you may encounter a plumped-up miniature version, its ends drawn out into impossibly precise points, like Salvador Dalí's mustache.
4. Bien Cuit
120 Smith St., nr. Pacific St., Boerum Hill; 718-852-0200
Your friend goes on about how this baguette is as good as anything he's had in France. He should know, you should listen, all that. First, maybe you should consider punching your friend for such pronouncements, but then maybe head to Smith Street, where Zachary Golper prods white wheat from North Dakota and whole wheat from New York into action with a Boerum Hill microbiota-flavored levain. A wet and spongy poolish is involved, and the proprietor then adds a wee bit of commercial yeast for the 12-hour preferment. The second 12 hours allow for all sorts of enzymatic magic to go down. The finished crust is dark brown and thicker than most; the crumb rips apart in gorgeous tufts, making the pieces perfect for drawing through a saucer of good olive oil. A limited weekday run of around three dozen (60 on weekends) helps Golper maintain consistency. Probably, also, an edge on the better Paris boulangeries.
5. Lafayette
380 Lafayette St., nr. E. 4th. St.; 212-533-3000
James Belisle, Lafayette's boulanger, also starts with two ferments: He mixes white flour and water and leaves it to autolyze, which is a way of saying it sits and daydreams about glutens until a network of them forms. Belisle starts a poolish and a levain separately and brings the two together with some salt in the morning. The resulting loaves are eminently portable. They belong in a canvas bag with a bottle of red. The crust has a crunch but is not too thick, and the crumb is soft with a wonderful smell.
6. Runner & Stone
285 Third Ave., nr. Carroll St., Gowanus; 718-576-3360
Believe Peter Endriss when he says he is on a first-name basis with the people who mill his flour. The former Per Se baker, whose bona fides also include a stint running production at the acclaimed Hot Bread Kitchen, puts in a comparable time researching bread technique as others study religious texts. He knows his glutens and how high the gliadins will take the dough. He is a hydration master and fermentation sorcerer, and his underrated bakery baguettes, which sit among the stockpile of fresh-baked things Endriss sets out each day, have just the right amount of Maillard reaction. Somewhere on Third Avenue, right now, tiny microbes in the dough are feasting and producing boozy belches in advance of the next batch.
7. L'Imprimerie
1524 Myrtle Ave., nr. Gates Ave., Bushwick; no phone
For some time now, Gus Reckel has been turning out an impressive big-and-tall baguette, dubbed the Parisienne, in his easy-to-miss shop under the elevated subway tracks in Bushwick. Cross-cut, the loaf has a network of uneven holes throughout, a sign of superlative form; the crumb is springy, and soft at that. The banker turned baker has gone on record saying he is less interested in expansion than he is in serving coffee and fantastic croissants (also, cookies) to the neighborhood, which is too bad. With its faintly salty exterior and admirable crackle, L'Imprimerie's baguette is the ideal vehicle for ham, cornichons, some mustard, and a slather of butter. As such, it should be everywhere.
8. Maison Kayser
1294 Third Ave., nr. 74th St.; 212-744-3100
The New York City Baguette Battle was a real thing that happened on a blistery night one January, and this bread, the yeasty brainchild of Eric Kayser, won its inaugural edition. The French bakery titan so completely slayed the competition with his Monge, in fact, that it should not surprise anyone if it turned out there had been a glut of 311 calls over the anguished cries of bakers and a heirloom-flour dust emanating from the Sofitel hotel. In recent years, the common refrain from anyone invested in the city's bread-scape is that the number of floppy, achromic, and tasteless baguettes has been the norm for far too long. The rapid proliferation of Maison Kayser locations — a dozen and counting — may seem a little Starbucksy, but for good baguettes it's certainly a step in the opposite direction.