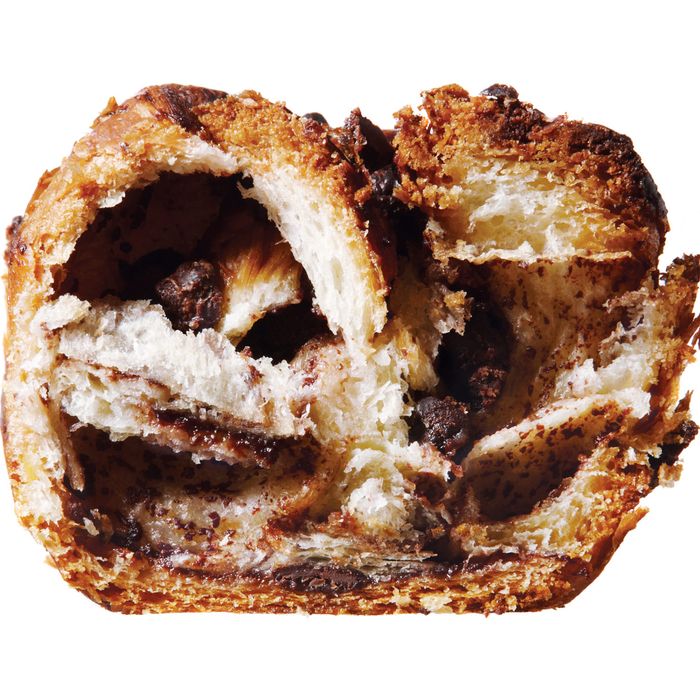 Breads Bakery's chocolate babka.
Photo: Victor Prado
Once the province of Jewish bakeries, the twisted sweet bread has gone mainstream, with the most compelling new versions made from such unconventional ingredients as laminated dough, Nutella, and buckwheat. Below, the top babkas in New York.
1. Breads Bakery
18 E. 16th St., nr. Union Sq. W.; 212-633-2253
What do we talk about when we talk about babka? Chocolate or cinnamon? Bread or cake? Crumb streusel or ganache? Butter or oil? (Let's not even get started on margarine.) These are just some of the finer points tirelessly debated by New York's persnicketiest babka mavens. The answers to these questions, of course, are dictated by the hallowed recipe of whichever babka one happened to grow up with, be it Zomick's or Moishe's or your favorite Aunt Gert's. None of these, it's fair to say, faintly resembles Breads Bakery's chocolate babka (come on, is there really any other kind?). Since it debuted, in 2013, a bunch of new babkas have flooded the market, but Breads remains unbeatable. Danish-Israeli baker Uri Scheft learned the art of babka baking in his native Israel, where it's called krantz cake, and his version has changed the way many connoisseurs view the old-world confection. (This is especially true given how different it is from Green's, the Brooklyn-based wholesaler that has long exerted a babka stranglehold on the dessert menus of New York's most iconic delis, appetizing shops, and gourmet groceries.) Breads' superiority is a triumph of top-notch ingredients, flawless technique, and playful innovation: The laminated dough employs the butter-encasing technique used for croissants and Danishes, which makes for light, flaky layers — a Frenchier take on the often stodgy sweet yeast cake, which many old-timers bake with vegetable oils. The twisted strands are thickly veined with a lavish, somewhat scandalous mix of Nutella and dark-chocolate chips, which detractors call a cheat but fans recognize as the delectable innovation that it is. And when it emerges from the oven, the loaf is doused in sugar syrup, which preserves its tender moistness for days.
2. Arcade Bakery
220 Church St., nr. Worth St.; 212-227-7895
French-trained pastry chef Roger Gural laminates his dough, too, and the results are nearly as transcendent: light, golden, with crisp burnished surfaces and a delicate texture that seems almost to disintegrate on contact. Gural sells his babka in whole loaves and fat slices, which pull apart to reveal caches of serious dark chocolate and walnuts. And despite what we just said about chocolate babka being the only babka, Gural's whiskey-pecan variety might be even better.
3. Bklyn Larder
228 Flatbush Ave., nr. Sixth Ave., Park Slope; 718-783-1250
If you think alternative grains don't belong anywhere near a babka, you haven't tried this nutty, earthy, awesome loaf, made with just enough buckwheat and rye flour to register on your palate. Although the honey-tinged chocolate is ample and tasty, this not-too-sweet bread is all about the dough, which peels apart in multiple moist, speckled layers.
4. Sadelle's
463 W. Broadway, nr. Prince St.; 212-254-3000
Although Melissa Weller didn't grow up with babka, she has become a devoted scholar of it, and the fussed-over rendition she created for Sadelle's might be the prettiest in town, with its smooth coat of chocolate icing, its concentric spiraling circles, and its sturdy bottom and crisp-shell crust. The Valrhona-chocolate filling is supplemented with chocolate-shortbread crumbs, and the moist enriched dough is almost pound-cake soft. Bonus hostess-gift tip: It comes in one of the most elegant bakery boxes we've ever seen.
5. Oneg Heimishe
188 Lee Ave., nr. Rutledge St., Williamsburg; 718-797-0971
Deep in the heart of Hasidic Williamsburg, this nondescript bakery churns out New York's most distinctive chocolate babka — sticky as tar; dense with rivulets of wet, fudgy chocolate; heavy as a cinder block and sold by weight. There is nothing subtle about this thing, but you have to admire its sheer audacity — not to mention its fudgy texture and crisp, sugar-crumbed, cookielike crust.