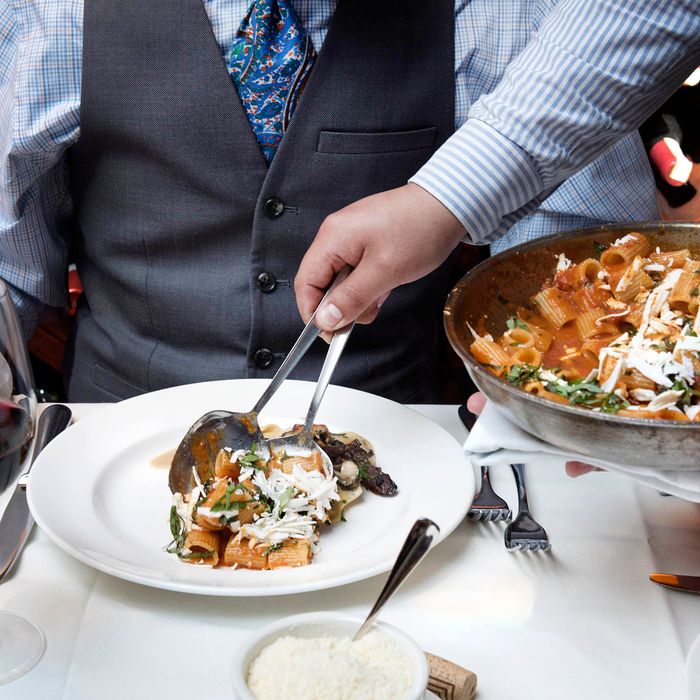 Becco.
Photo: Liz Clayman
How do you judge an all-you-can-eat restaurant? Of course if you're going to stuff yourself silly, you want the food to be great. But you also don't want to feel shamed for asking for seconds. New York isn't home to many unlimited specials, and when they exist they typically come with caveats (e.g.: If you get an all-you-can-eat-and-drink ticket at the Yankees game, you'll be limited, mostly, to pretzels, hot dogs, and nonalcoholic Pepsi products, and the deal ends after the fifth inning). Here, some of our favorites, where you won't be judged — and often you'll be encouraged — for getting that third or fourth plate, and where you'll be able to taste till your heart's content as much great food as you could imagine.
1. Becco
355 W. 46th St., nr. Ninth Ave.; 212-397-7597
For $25 ($20 at lunch), every day of the week, you get an unlimited plate of three kinds of pasta, which change nightly but recently included an excellent linguine with clams. "Do you want a to-go box?" your server will ask you, once you've slowed down on your third or fourth plate. So it's truly all you can eat, which is remarkable: Many restaurants calling themselves all you can eat have time limits, or signs encouraging you to order slowly and not ask for more than you are sure you can handle; hardly any allow you to take food to go. Not Becco, which stands out from the pack in this regard and because it's not a one-night-a-week special. Also nice: the $29-bottle wine list, and the included pre-pasta bites like slices of octopus, olives, and the bread basket with good grissini.
2. The Door
163-07 Baisley Blvd., Jamaica; 718-525-1083
Come for the Sunday buffet ($19), which is usually very busy with well-dressed churchgoers out for lunch after a service, and you may feel like you should move out to Jamaica just to make the trip to this restaurant easier. (It's easiest to drive, and there's a big parking lot.) The prettily arranged buffet table is decorated with plantains and filled with trays of sauce-coated, spicy "bar b fry" chicken; cinnamony, sweet cornmeal porridge; traditional provisions (boiled starchy vegetables like cassava). Order a glass of sorrel, and if you're not dressed to the nines like most of your neighbors at the white-tableclothed restaurant will be, sit at the bar so you can watch rugby on TV.
3. Ahimsa
210 Thompson St., nr. Bleecker St.; 212-533-7290
There are lots of Indian buffets in town. We love this vegetarian option, which has plenty of fantastic offerings at its $12 weekday-lunch special: delicious, crispy dosas filled with mustard-seed-flavored aloo-gobi; tomato rice flecked with cumin seeds; and chutneys like a bright-green, spicy cilantro one you'll want to eat by the spoonful. Plus: sticky-sweet mango bundi payasam (it's like a mango pudding) for dessert.
4. Jams
1414 Sixth Ave., at 58th St.; 212-703-2007
Pricey, yes — it's $45 a person, drinks not included — but a really beautiful, artfully arranged brunch buffet. If you're alone, sit at the soapstone bar, order a drink, and keep visiting the buffet for new plates of triangles of avocado toast; strip steak with cilantro sauce; roasted carrots; granola cups; smoked salmon, cream cheese, cornichons, and bagels (brought up from Kossar's). The space is pretty and light-filled and the service impeccable — when we asked if a bread was sourdough, the server manning the buffet station said "No, it's white, but do you want sourdough?," apparently offering to go to the kitchen to retrieve some. There's also a whole table devoted to pretty desserts like mini éclairs and tarts. You can end up in a sort of haze, sitting here happily for hours before ambling off, food-drunk, to Central Park for a stroll. Because of this proximity, and because the food is great and so varied and the room so appealing, the Sunday special is perfect for visitors to the city.
5. Hou Yi Hot Pot
92 Hester St., nr. Eldridge St.; 212-966-3420
Plenty of hot-pot restaurants are all you can eat; our favorite is Hou Yi, a little place that maybe isn't as fancy as nearby options like 99 Favor Taste but is fantastic ($29 per person). Choose two soup bases like Thai spicy pork or pickled cabbage — beware, even the "mild" broth is intensely spicy — and your server will bring over a split pot to boil on your table's electric burner. Drop in a huge variety of meats, noodles, vegetables, and fish. (You'll check off what you want with a pencil on a paper menu.) Up front is an open kitchen, where the cooks shave to order flavorful meats like bacon and sirloin steak, forming the meat into little rolls. There's also a condiment bar with plenty of options like garlic, sesame oil, and peanut butter, and a scoop-your-own ice-cream station. Nonalcoholic drinks like yakult and apple juice are included (and beer's only $3); just go to the fridge and grab them.
Bea
403 W. 43rd St., at Ninth Ave.; 212-602-1910
For $45, you can eat and drink a Sunday afternoon away while listening to live jazz at this little Times Square–adjacent spot. It gets crowded; call ahead for reservations and request the covered, light-filled garden. Pleasantly, it's not a buffet. You order from a menu of small plates (skip the "egg boat"; don't miss the ricotta with rosemary honey), and cocktails like the Carpe Diem with absinthe and orange juice are made to order — there aren't pitchers of mimosas being passed around.
Clemente's Maryland Crab House
3939 Emmons Ave., Sheepshead Bay; 718-646-7373
"Is crab ever really 'all you can eat'?" a friend asked, and he makes a good point: Eating it requires so much effort that after a dozen or so, you're unlikely to want to put in the work of picking the meat from another huge bowl (so it's hard to fill up on crab alone). But occasionally it's called for: If it's a breezy summer evening, maybe after a day at nearby Brighton Beach, call Clemente's for a reservation — request the patio — and order the AYCE special ($35; crabs come to the table with a dozen or so in a bowl to start, plus a shell bucket). Go for the Old Bay flavoring.
El Cantinero
86 University Pl., nr. 12th St.; 212-255-9378
Is it the best Mexican restaurant in town? Well, no, but this NYU favorite turns out perfectly good enchiladas, chiles rellenos, and flautas. The offerings on the AYCE menu ($13; Monday nights only) come in normal entrée portions, with rice and beans, so if you're looking to try a lot, your server will encourage you to order the small version of a plate. P.S.: There's a second floor with a weird, charming bar and a patio.
Hill Country
Multiple locations
Barbecue can be pricey, so any unlimited option from a decent place is a smart bet. The brisket here is included in this Monday-night special ($32). It isn't our favorite brisket, but it's perfectly fine, and the other included meats are good pork spare ribs and a fine barbecue chicken. Also, in a very–not–New York move, kids 12 and under eat free. Make reservations.
Sigiri
91 First Ave., nr. 6th St.; 212-614-9333
The Sunday brunch buffet at this Sri Lankan restaurant is affordable ($15) and delicious; clay pots up front are filled with spicy black pork, baby jackfruit, slices of tingly bitter melon, and good, very crisp papadum. Bring a six-pack if you're planning to hang out, which the peaceful space (in stark contrast to its neighbor Panna II) lends itself to.
This post has been updated to show that the dinner special at Becco is $25 and the lunch $20, not $29 and $19.