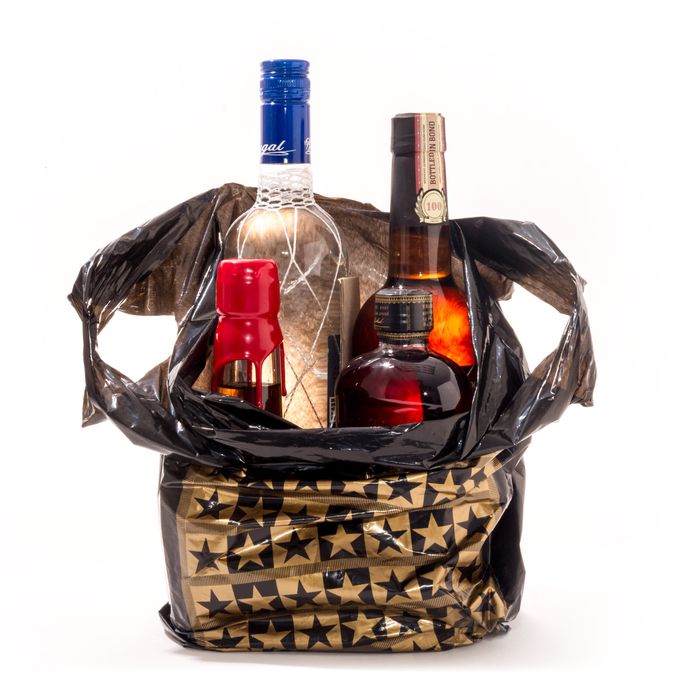 Arriving at your apartment in less than an hour.
Photo: Jed Egan
One of the main perks of New York living is the ability to get anything you could possibly want delivered right to your apartment — including plenty of booze. Grub Street tested out every option it could find (short of calling local liquor stores) and scored them based on ease of use, variety of options, and — most crucial — speed. These three came out on top.
1. Drizly
This app scores points for its simple setup and streamlined interface that makes it easy to find pretty much everything. The app connects users to nearby liquor stores, so the selection will vary based on your location, but our tests indicate the inventory is always varied, if not exactly vast. (There are solid liquor brands like Bulleit bourbon, a so-so selection of straightforward wines, and some craft beers, but you'll have to look elsewhere for more esoteric options.) Where Drizly excels, and the reason it sits at the top of this list, is sheer speed. Again, your mileage will vary depending on where you live, but, in our tests, Drizly delivered booze to a Downtown Brooklyn apartment building in a lightning-fast 11 minutes. A late-afternoon delivery to New York's Manhattan office required all of 17 minutes. If you want to quickly (and easily) get a case of beer or need a batch of party supplies, or if you're looking to restock some items in your home bar, this is the service to use.
2. Astor Wines
One of New York City's most glorious wine and liquor emporiums also offers seriously solid delivery options. Orders that come in at $100 or more will be delivered free of charge to most of Manhattan or Brooklyn — there's a $150 threshold for other parts of the city — on the following business day. (Optimal delivery days vary, so check the official site to get the full lowdown for your area.) It's less immediate than Drizly, but Astor's selection is also markedly superior, offering almost anything you could want. It's a trade-off, and you can't get beer from Astor, but an extra day of planning hardly feels like a deal-breaker for world-class wine and spirits. (People in lower Manhattan can also check out Chambers Street Wines, which is also very well stocked and has similar courier options, even offering same-day delivery to people who live or work in the neighborhood.)
3. Minibar
Minibar is the Lyft to Drizly's Uber, essentially the same service, but an underdog nonetheless. We might actually prefer Minibar's interface, which feels snappier than Drizly's, and the selection is roughly the same, but for whatever reason, orders placed in Minibar were always just a tad slower to arrive. (Though the service gets points for its custom bags, which reinforce the brand's added level of polish.) This is still a very useful, convenient service, but we nevertheless found ourselves opting for Drizly whenever speed was key.