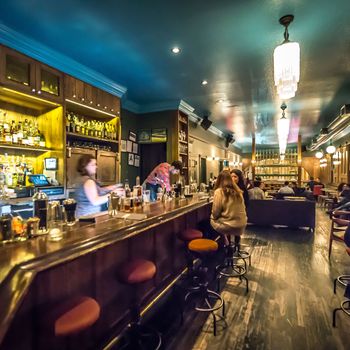 Stellar cocktails and a variety of party packages at Pouring Ribbons.
Photo: Noah Fecks
Here are the best bars for 30th-birthday parties, from a fun-loving speakeasy that welcomes you with boozy punch to a sky-high venue reminiscent of old New York.
1. Pouring Ribbons
225 Ave. B, nr. 13th St., second fl.; 917-656-6788
Celebrating 30 is an unofficial marker of adulthood in New York, and while you still might love your dive bars, the occasion feels like a moment when you want to take it up a notch in the sophistication department. Enter Pouring Ribbons. The dark, speakeasy-style spot above a liquor store in Alphabet City is our pick not only for its stellar cocktails, but also for its variety of party-package options, all with a welcome punch included. Depending on your party size, you can choose a semiprivate room, a private room, or go all the way up to a full buyout. The entire space holds up to 100 guests, and, depending on time of week and size of reservation, the all-inclusive packages are $26 to $30 per person per hour (plus tax and gratuity). That's all you can drink, for cocktails that generally run about $15 a pop.
2. Ramona
113 Franklin St., nr. Greenpoint Ave., Greenpoint; 347-227-8164
This elegant, iron-laced bar in Greenpoint is not only a great backdrop for your party pics, but it's also quite roomy, making it easy to score some personal space. Reserve the L-shaped upstairs balcony for free for up to 30 people, but just make sure your buds don't have too many delicious cocktails and topple over the railing. And if you need a conversation starter, maybe begin with the fact that the space used to be home to a strip club.
3. Lavender Lake
383 Carroll St., nr. Bond St., Gowanus; 347-799-2154
Lavender Lake is where you'd throw your party if you wanted to have your buds over to your backyard, but you live in New York and you don't actually have one. A casual space that was formerly a horse stable, the bar allows you to reserve a spot for between 15 and 30 people with no fee, and if you're lucky you may be able to snag their sprawling wooden-fenced outdoor area. Drinking arrangements (including open-bar packages and prepurchased bottles of wine or growlers) can be set up for a single tab, or just let your friends roam and pay as they go. Seasonal platters are available, including a charcuterie-and-cheese board, pork-belly lollipops, and a variety of vegan, vegetarian, and gluten-free options. And bonus: If you don't want balloons — because, hey, you're 30 now — just say you can't have them because it's against the bar's policy.
4. Genuine Liquorette
191 Grand St., at Mulberry St.; 646-726-4633
The scenario: Some of your friends are booze hounds, and others prefer a well-crafted cocktail. The solution: this subterranean lounge lined with bottles that offers a pay-as-you-go option where you're charged by the gram. If you'd rather trust someone else to make your cocktails, bartender Eben Freeman has whipped up some festive options utilizing the "Cha-Chunker," a machine he rigged to widen the mouths of eight-ounce cans, into which he then overturns airline bottles of liquor — for example, the Dark and Stormy, where Gosling's Black Seal rum is tipped over into a ginger beer. Tables can be reserved for minimum food and drink purchase. More than 30 people necessitates a buyout.
5. SixtyFive
30 Rockefeller Plaza, at 49th St., 65th fl.; 212-632-5000
For the "go big or go home" set, celebrate the day 65 floors up on the top of Rockefeller Center, next to the iconic Rainbow Room, in the vintage-style bar and restaurant with arguably the most breathtaking views in Manhattan. On-point curated cocktails, both classic and specialty, will help you ring in a new decade, but if you want a very expensive whiskey, of course they have that, too. The space offers standard reservations for up to 12 people, while semiprivate events can be booked for up to 60 people inside and 50 people on the outside terrace. Anything over 60 people constitutes a full buyout.
6. Louie and Chan
303 Broome St., nr. Forsyth St.; 212-837-2816
You roll with a tight crew, and they like to eat. The dinner-then-partying option is downtown bar and restaurant Louie and Chan, which boasts a gorgeous (and some say haunted) private dining room that, like the rest of the décor, is inspired by the 1920s. Reservations are free for up to 16 people, and the space comes with a bar and private butler to fulfill (almost) every whim. A seasonal prix fixe menu, including housemade pasta served family-style beginning at $50 per person, and a customized wine list or open-bar options get you in the celebrating mood. Once you're full, head to the bar next door for classic and specialty cocktails, or the downstairs lounge for dancing, where they host parties themed from swing to hip-hop.
7. The Royal Palms Shuffleboard Club
514 Union St., nr. Nevins St., Gowanus; 347-223-4410
Just because you're 30 doesn't mean you have to stop playing games. The cavernous Royal Palms Shuffleboard Club will reserve cabanas and a court for groups of ten or more, with all-you-can-drink bar packages beginning at $20 per person per hour. Bonus: The space is Florida-inspired (shuffleboard was popularized in St. Petersburg) and feels like a vacation.