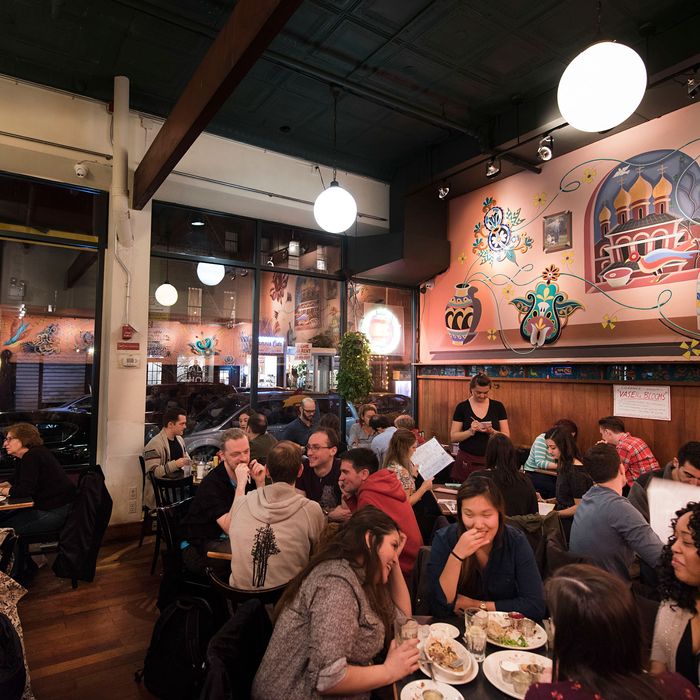 Veselka has been serving New Yorkers for more than six decades.
Photo: Liz Clayman
The true 24-hour restaurant seems to struggle in New York — that is, outside of K-Town, where all-night barbecue spots thrive. We didn't consider diners for this list (stay tuned for more on that topic in the weeks to come), and we focused on what we considered true restaurants: no to-go samosa shops (excellent though they are), no cupcake ATMs, no doughnut counters. And we included only places that truly never close, even for a few hours a week. Here, then, are the best 24-hour restaurants in New York.
1. Veselka
144 Second Ave., at 9th St.; 212-228-9682

Did you know veselka means rainbow in Ukrainian? It feels appropriate for a restaurant that's brought so much joy to the East Village for so many years. There are lots of places to get food at 6 a.m. in New York. Your bodega likely makes a respectable sandwich. What's much, much more elusive is great food in fantastic environs, and that's what Veselka provides. Occasionally, you will hear complaints registered about its trendiness or attractiveness to tourists, but the people voicing these complaints can usually be quieted with a plate of pierogies. Of course, you should order those, too, and add a bowl of the borscht. But the true fun of Veselka is becoming a regular — learning your servers' names (you'll notice the staff stays relatively constant, a sign that a restaurant probably treats its employees well), and finding your menu favorites that aren't the well-known classics. We're partial to the chili and the Rice Krispies Treats at the counter up front. In sum: Whereas some 24-hour spots are good only at 5 a.m. under the spell of one too many drinks, we'd come to Veselka anytime. And because the restaurant serves beer, why even bother with the bar component of the evening?
2. Coppelia
207 W. 14th St., nr. Seventh Ave.; 212-858-5001
There's an indescribable feeling in 24-hour restaurants: You don't have to see the posted hours of a place to know — by the slow, glassy feel — that it serves around the clock. The sense isn't as present at cheery, colorful Coppelia, which passes for a "normal" restaurant. There's a good happy hour: $5 off cocktails. Order the spicy Atrevido, which has strawberry purée, mezcal, and a sal de gusano rim (that's agave-worm salt), then check out the menu. Go for the churrasco with plantains. It's ultrasatisfying 4 a.m. food that you can feel much better about in the morning than, say, a drunken McDonald's run.
3. Empanada Mama
763 Ninth Ave., nr. 51st St.; 212-698-9008;
95 Allen St., nr. Delancey St.; 212-673-0300
This Colombian restaurant's Lower East Side location was condo'ed out of its old Houston Street digs in 2015, upon which it moved to the former Sorella space. There's more seating, and a dedicated takeout area, so you can avoid a steady stream of in-and-out customers, and belly up to the bar to watch TV while plucking from the basket your empanadas come in. Each is wrapped in a glassine bag stamped with its name. The most popular order is the Viagra, which has shrimp, scallops, and crabmeat; and also good is the Brasil, with ground beef and olive. Avoid the corn-flour empanadas, and instead go for a substantially sized guacamole with plantain chips. A gripe: The serene, skylit back dining room of Sorella has been closed off to customers, which is a real shame.
4. Red Bowl Noodle Shop
40-52 Main St., Flushing; 718-353-7683
Join a young, buzzing crowd in Flushing who flock here for — well, bowls of noodles. The service is incredibly fast (tea's brought to the table before you can take off your coat and take a seat in a colorful acrylic plastic chair) and unintrusive, which leaves you to peacefully slurp udon noodles swimming in broth with mustard greens, roast duck, marinated pig's feet, etc. Neon-pink poster boards advertise Sharpie-written specials; there's also an all-you-can-eat breakfast from 6:30 to 11:30 a.m. (soy-milk pudding, pork buns, red-bean pastries).
5. Sarge's Deli
548 Third Ave., nr. 37th St.; 212-679-0442
If you're craving pastrami, you'd do well to hit up Katz's. But if it's late on a weeknight (the Houston Street deli is open 24 hours only on Fridays and Saturdays), head up to Sarge's for a great, towering sandwich; removed from the Lower East Side bustle and the tourist-line gluts, you might even call the place peaceful.
L'Express
249 Park Ave. S., at 20th St.; 212-254-5858
We're partial to this Murray Hill spot when craving a croque madame at any hour. Come by at brunch and you'll meet lots of children whose parents have co-op bags on their arms.
Grand Morelos
727 Grand St., nr. Graham Ave.; 718-218-9441
A Williamsburg standby that's been around since 2001, and is one of very few all-night options in the area if you aren't in the mood for Kellogg's Diner. (Because it's such a standby, you'll probably run into someone you know or have at least hooked up with.) You can eat saucy chilaquiles, chicken enchiladas, $2 tamales, and good guacamole. There's also an American-food menu and hamburgers, but stick to the Mexican dishes. And thanks to an affordably priced bar, you can wash it all down with a Negra Modelo.
IHOP
235–237 E. 14th St., nr. Second Ave.; 212-388-1499
Order a plate of (perfectly decent) hash browns, so you can experience the "ambience," which — very late on weekend nights — can be bonkers. Once on a weekend around 5 a.m., we saw a girl at an adjacent table, who'd just found out her boyfriend was cheating on her, upend a bottle of syrup on his head.
New Wonjo
23 W. 32nd St., nr. Fifth Ave.; 212-695-5815
A Koreatown favorite. Come late at night for tabletop barbecue. The sticker shock on a BBQ plate like marinated galbi ($34) might initially seem a bit overwhelming, but recall the $16 cocktails you drank all night before coming here and order that restorative plate. You'll see almost instantly it's a good deal, because the banchan offerings are plentiful: gyeran jjim, or the customary egg custard; pungent kimchee; blanched broccoli; jalapeño slices in soy sauce. (On a recent visit, we ordered galbi and a barbecued-vegetable plate and were given 13 additional banchan plates.) Don't forget the soju.