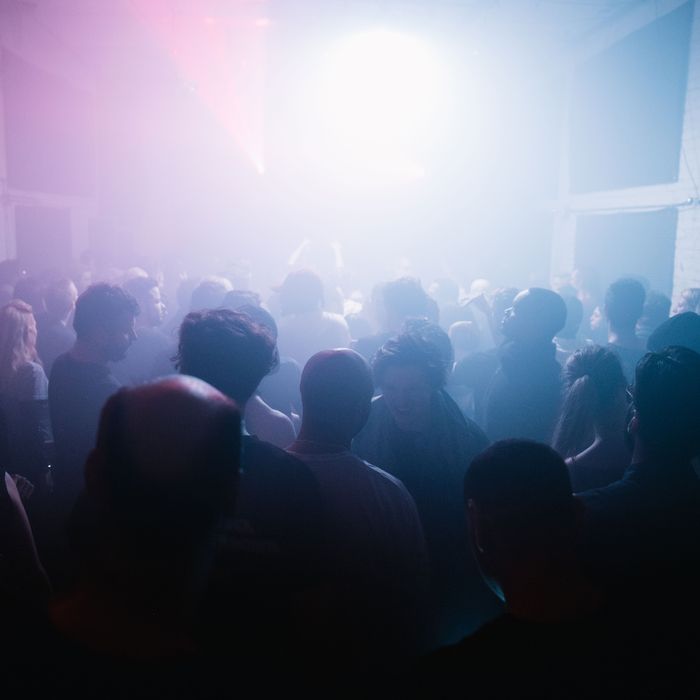 Unter, a bare-bones techno after-party, has a cult following among Bushwick's rave freaks.
Photo: Rebecca Smeyne
From a German-inspired techno rave to a secret warehouse in Hasidic Williamsburg that bumps till 11 a.m., here are the best places to go when the bar is shutting down but you're just not ready to head home.
1. Unter
Monthly at various locations, 2am-9am; $15-$20
Unter is German for "under," and it doesn't get much more underground than this bare-bones techno after-party, which began a year ago in the dank concrete basement of a Bushwick café. Unter has a cult following among Bushwick's rave freaks, but, really, it's for everyone with a weakness for pummeling European techno and unhealthy sleep schedules. The roving party has since taken over a cavernous bar in the outskirts of Queens, a former office building in East Williamsburg, and Market Hotel, where they teamed up with local music label the Bunker to throw a now-infamous rager for 36 hours straight.
2. Sublimate at Space Is the Place
Monthly at secret location, 11 p.m. to 11 a.m. (or later); $10 to $20
Named after the 1974 film Space Is the Place, this near-mythical loft sits on an isolated stretch of industrial Brooklyn where Detroit DJ Mike Huckaby once played a reel-to-reel session of Sun Ra tapes as skaters whizzed by on a hand-built ramp on the roof. According to local legend, in a punk-as-fuck move, the loft's raver-squatters only throw parties on Friday nights, when, according to Shabbat laws, their Hasidic neighbors can't use electricity to call the cops and complain. In exchange, these Hasids have an open invite to party for free. So this monthly party is the best excuse to meet your neighbors and wile away an hour or 12 while dancing to everyone from Japanese house pioneer Soichi Terada to London boogie master FunkinEven.
3. Cityfox/The Brooklyn Mirage
Weekends (time varies), 140 Stewart Ave., at Meserole St., East Williamsburg; $40 to $70
When Cityfox opened a pop-up club called the Brooklyn Mirage last year, it felt like a surreal slice of Ibiza in Brooklyn, complete with swaying palm trees, imported sand, and towering outdoor platforms overlooking the Manhattan skyline. Part of the magic was that the indoor-outdoor space only lasted a summer before it reverted into an empty lot, but now the club is back in a new location, with promoters promising a "tropical jungle" theme, state-of-the-art sound system, and 3-D-mapped visuals. Best of all, their parties often run past 6 a.m. — sometimes even all weekend — meaning you can stroll in after your morning bagel and still find hundreds of partygoers under the sunshine, locked into a groove of hypnotic house.
4. Bushwick A/V
Every Friday and Saturday at various secret locations, 3 a.m. to noon (or later); $15 to $30
Bushwick A/V might be the most consistent go-to for all of the resilient souls who refuse to call it quits once the city's clubs flip on the lights. Up a narrow flight of stairs in the skylit loft of a warehouse in — where else? — Bushwick, you'll find the late-night lurkers here every Saturday and Sunday morning. According to one of its three founders (who prefers to remain anonymous), the DJs are nearly always homegrown stars, selected to emphasize "the rich local talent of our native city." Expect an anything-goes crowd on the wilder end of the spectrum, including strangers offering casual romps in the creaky bathrooms, if that's your kind of thing. This den of depravity is not for the weak of heart.