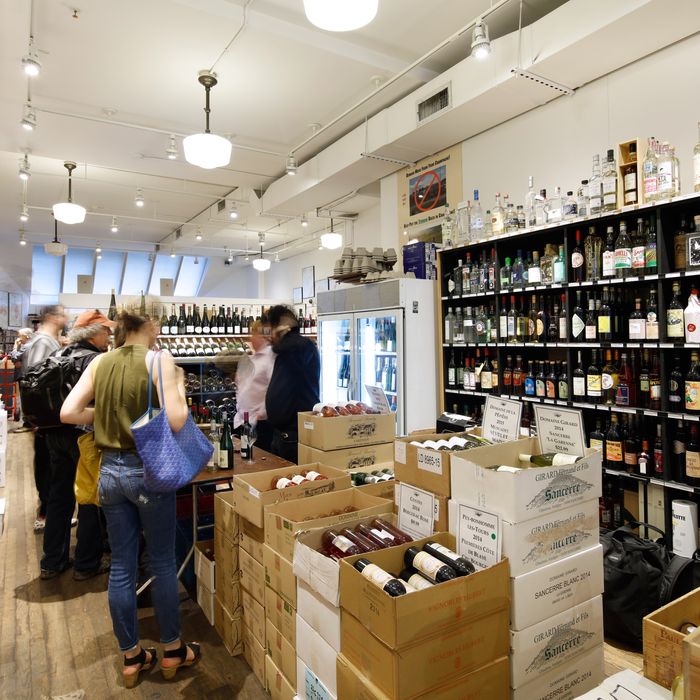 Chambers Street Wines prioritizes personalized, almost telepathic service as much as fastidious selection.
Photo: Melissa Hom
While arguments over the staying power of rosé or the underrated nature of Sauternes rage on, it's all but universally agreed that New York is one of the world's best cities in which to buy wine. Williamsburg alone is home to at least 14 shops focused on small-production viticulture. Standouts excel at navigating the often awkward social space between welcoming and pushy by employing patient, intuitive salespeople trained to make spot-on recommendations without over- or upselling. A superb shop moves inventory; stores higher-priced, harder-sell bottles with great care; and lets regulars know about highly allocated or just plain interesting bottles coming in, through newsletters or social media. A few shops do all of this better than everyone else. Here are the absolute best wine stores in New York.
1. Chambers Street Wines
148 Chambers St., nr. Hudson St.; 212-227-1434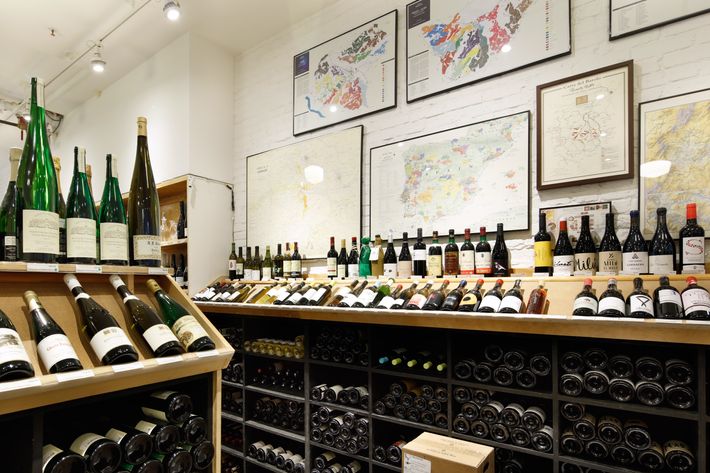 Pretty much all of the 2,000 bottles here are small-production, and amazing bargains abound. For the most part, the abundant Loire wines, grower Champagnes, and Mosel pét-nats (short for pétillant naturel, fizzy wines that complete fermentation in bottle) hail from biodynamic, certified organic, or practicing organic wineries. The shop eschews score-bearing placards and adjective soups from third-party critics in favor of conversation, and at least one person on duty will know a detail or two about the weather in Tourmont or the slate in the soil, or even the cool dog that patrols the vines. They'll scrutinize your dinner plans and zero in with a handful of bottles similar to past likes, or better yet, a few left-field suggestions. Regular email blasts with news of aged Burgundy from professionally stored collections, a stash of 1970s Napa deep-cuts, a manifesto from an upstart Spanish winemaker, or just the dates of some unmissable incoming Crozes-Hermitage are required reading.
2. Flatiron Wines & Spirits
929 Broadway, nr. 22nd St.; 212-477-1315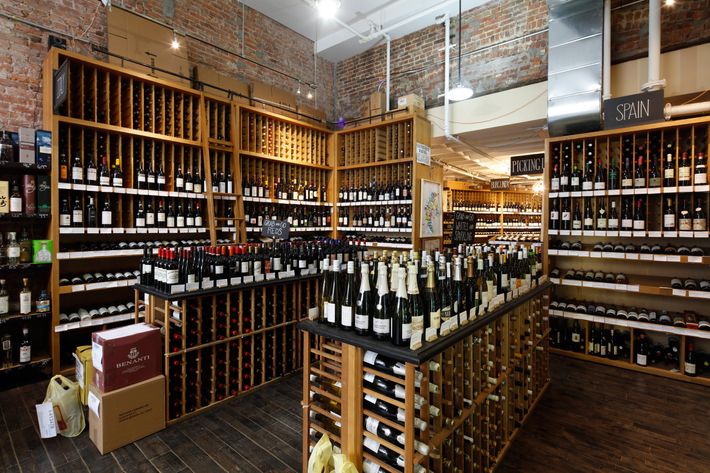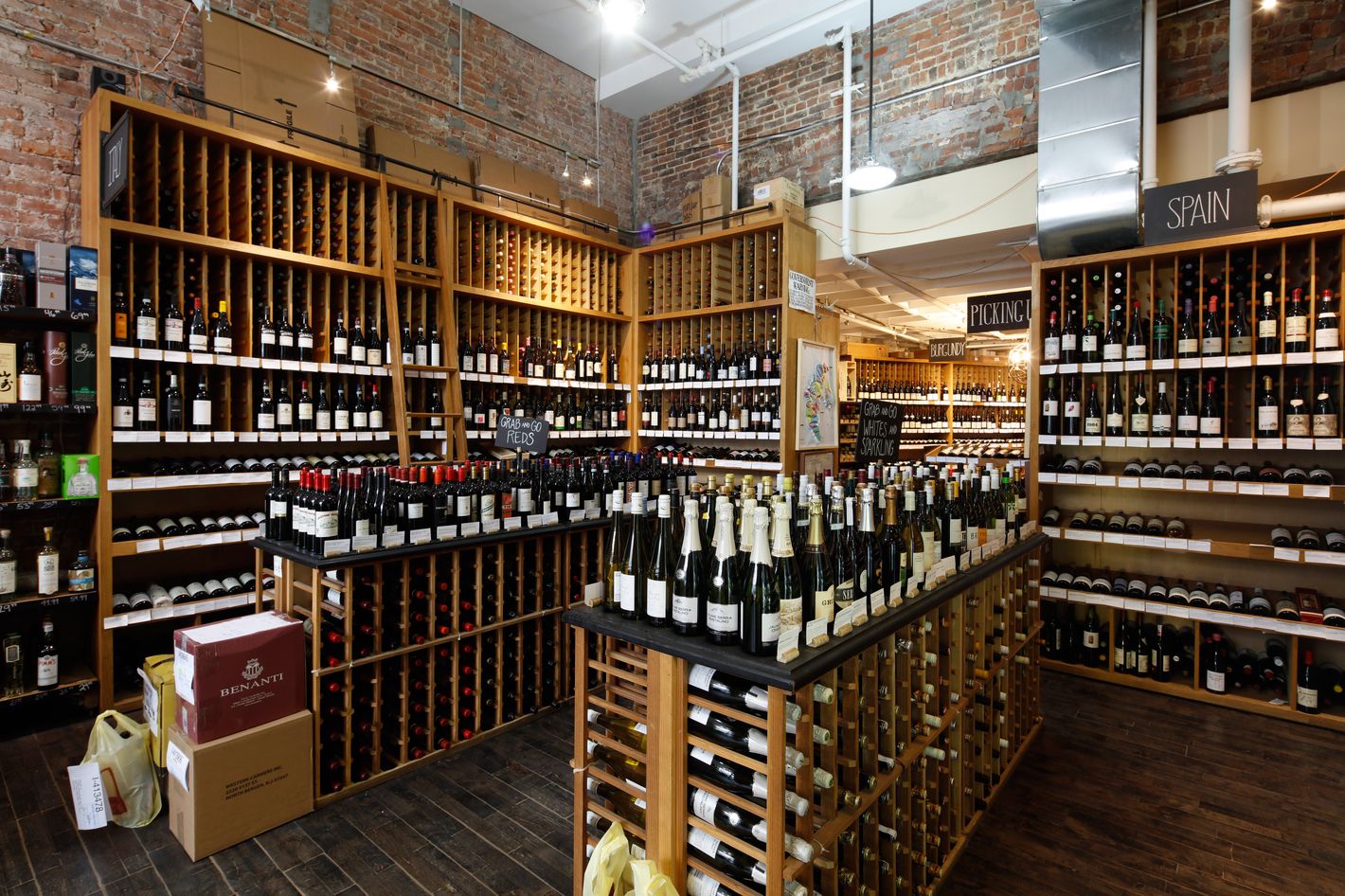 All the benchmark regions are amply represented, which makes Flatiron a fantastic resource for those seeking to add on new wings to already well-built collections, as well as more frugal customers who just want to try an older wine at an inexpensive price or be introduced to next-generation, undiscovered Burgundies. There are exceptional $32 white Bordeaux ideal for stockpiling, as well as bottles that over-deliver for their $16 price point. The shop's newsletter is indispensable, and programming for regular in-store tastings is consistently wonderful.
3. Astor Wines & Spirits
399 Lafayette St., at 4th St.; 212-674-7500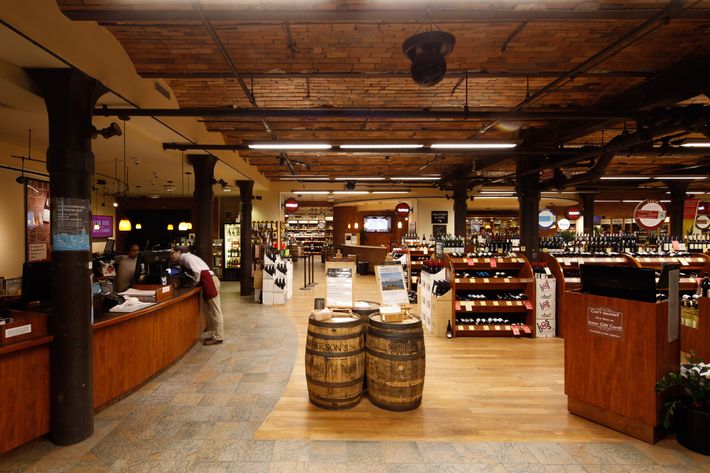 Aside from a comprehensive selection of bottles from every conceivable French and Italian region and subregion, Astor carries what's probably the largest breadth of wines from just about every other grape-growing country, spanning Argentina, New Zealand, Croatia, and then some. Also found here are sake and shochu in abundance, the city's best showing of local Long Island and Finger Lakes wine, obscure aperitivi, assorted Madeiras, and even artsy bottles from the likes of Enlightenment, the upstart Bushwick meadery. The store regularly offers unbeatable discounts on niche wines, like a red Moscato from a microscopic DOCG vineyard in Scanzo, marked down 40 percent.
4. MCF Rare Wine
249 W. 13th St., nr. Greenwich Ave.; 212-255-8870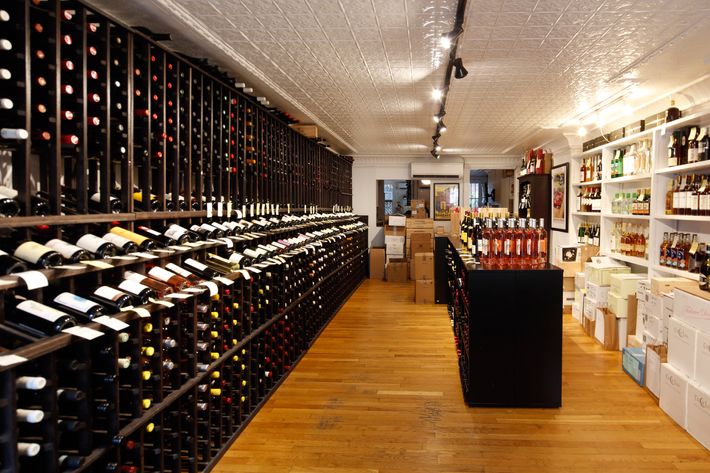 Though the trove maintained by Matt Franco might at any time include a scarce Quintarelli or a large-format reference point Pepe Raventós sparkler, the "rare" part of the diminutive shop's name relates more to sometimes-overlooked bottles the opinionated proprietor likes, some of which may not be huge sellers elsewhere. The unorthodox approach asks customers to consider an untrendy but delicious Pouilly-Fumé, a welcoming, fruity organic wine made from the grape Treixadura in Galicia, or an outré Gamay from quirky Oregon outfit the Color Collector. Just over 100 bottles are offered at any given time, so staff are adept at emphatically pointing out the strengths of every selection, and at every price point.
5. Le Dû's Wines
600 Washington St., at Leroy St.; 212-924-6999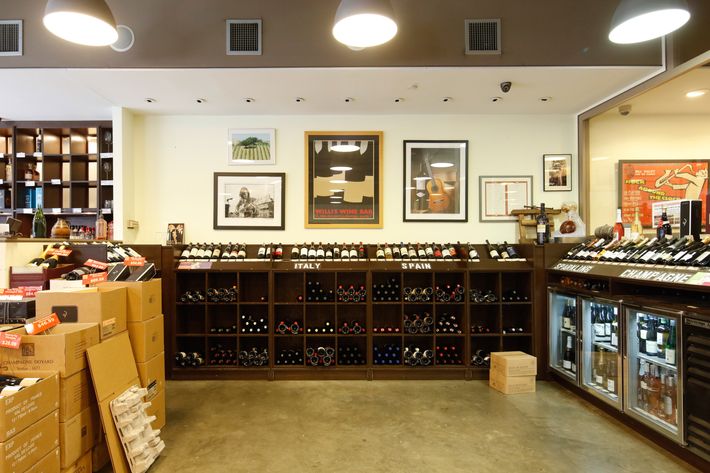 Jean-Luc Le Dû, who died in December of 2017, put a particular focus on wine education without pretense in a dapper, sophisticated setting. That continues with the shop's unparalleled seminars, which feature heavy-hitter winemakers from around the world. There's plenty of Yquem and rare Bordeaux in the cellar, and an exceptional selection of everything you'd want to sip up front.
6. Crush Wine & Spirits
153 E. 57th St., nr. Lexington Ave.; 212-980-9463
Many junior-executive types building out collections source their wine here, and it's not hard to imagine Crush as a more unbuttoned, younger brother of Sherry-Lehmann, one who wants you to know he's been to Bushwick twice. The Eurocentric "Fine & Rare" department is a draw for regulars, and the straightforward explainers that herald special offers on buzzy allocations are informative with a minimum of hype. The $35-and-under "Everyday Values" is helpful for anyone headed to a party or looking for a Riesling with the balanced acidity to pair with tonight's baked salmon.
7. Moore Brothers Wine Company
51 35th St., nr. Second Ave., Sunset Park; 212-375-1575
As was standard at the retailer's now-closed Manhattan shop, the thermostat is kept at a perpetual 56 degrees in the name of proper storage at its fantastically roomy Industry City showroom, where fleeces hang on the wall for customers in July. Trends and conventional tribalism tend to be shunned, and the practice of stocking multiple wines from the same producer makes sampling three same-vintage Ojai Chardonnays or stunning Weingut Ratzenberger Rieslings attractively easy. Detailed fact sheets are included with each purchase.
8. Leon & Son Wine and Spirits
995 Fulton St., nr. Cambridge Pl., Clinton Hill; 347-689-9253
Staff have a lightning-quick Goldilocks-level knack for gauging what customers are seeking. A table full of inexpensive reds and whites takes center stage, and a back room is stocked with both benchmark and obscure wines from Spain and France. Though smallish in terms of square footage, Leon & Son is the type of place that both invites browsing and rewards it, most notably with an impressive number of forward-thinking American producers like Anthill Farms, Dirty and Rowdy, Bedrock, Ridge, Amplify, Red Car, Vaughn Duffy, and even generally hard-to-locate Ceritas.
9. PJ Wine
4898 Broadway, nr. 204th St.; 212-567-5500
Inwood's superstore is certainly chaotic, and its layout defiantly haphazard, with fine old Riojas stocked side by side with Cupcake's ubiquitous Sauvignon Blanc and the Chocolate Shop's Chocolate Lover's NV, a Merlot-heavy novelty from Walla Walla. The best approach might be to discard your shopping list in favor of stumbled-upon gems, like an amphorae-fermented Spanish Macabeu that ends up costing five bucks less than you'll find it for anywhere else.
10. Thirst Wine Merchants
11 Greene Ave., nr. Fulton St., Fort Greene; 718-596-7643
Thirst can't compete with any emporium or midsize shop on this list. This is by design; the focus is on makers who adhere to organic or biodynamic viticulture standards that yield "living" wines. Here's the spot to score one of Axel Prüfer's edgy, skin-contact bottles, or get on the allocation wait list for one of Frank Cornelissen's rugged Etnas. The monthly Wine Share lands customers four bottles for $98, and is a great way to secure sought-after releases.
11. Sherry-Lehmann
505 Park Ave., at 59th St.; 212-838-7500
It's a trip to stroll through the showroom of one of the city's oldest and most venerated merchants and see the floor-to-ceiling stock of blue-chip bottles that would invariably get popped in a film about college kids hosting an ill-advised house party at someone's father's Central Park West duplex. You've got Château Margaux imperials over here, a magnum of 2005 Dom Pérignon Rosé over there, and marquee Bordeaux in between. The shop's storage is as famously exacting as its standards, and the "30 Under $30" section is a decent option on days when banner-year Château Pétrus isn't on the agenda.
12. Vanderbilt Wine Merchants
573 Vanderbilt Ave., nr. Pacific St., Prospect Heights; 718-398-1800
Fantastic Gamays that do well with ten minutes in the fridge, value Rieslings, and lower-priced field blends produced by California mavericks are among the constantly interesting lineup here. Shop owner Greg Rubin is affable and his suggestions are jargon-free.
13. Some Good Wine
13 E. 8th St., nr. University Pl.; 212-777-3151
Similar to the poppy, paradigm-shifting layout at Bottlerocket Wine & Spirit, the organizing principle here allows customers to find a delicious Chardonnay from Russian River Valley outlet Zepaltas under "Random Whites," or intriguing stuff from the Canary Islands and Corsica, two retail focal points, under "Island Wines." The approach, paired with expert guidance from low-key and funny staff, loosens up the retail experience and fosters the discovery of something new.
14. Vine Wine
616 Lorimer St., nr. Skillman Ave., Williamsburg; 718-349-1718
Williamsburg's many wonderful wine shops include Uva, which opened doors to organic and biodynamic wines; the Natural Wine Company, which specializes in them; and the tautly organized Bibber & Bell on the other side of the BQE. But we're singling out Vine Wine for its greatest strength: an exceptionally impressive range of bottles priced between $15 and $25.
15. Frankly Wines
66 W. Broadway, nr. Murray St.; 212-346-9544
Frankly doubled down on its core business following the 2017 departure of Christy Frank, the Tribeca shop's namesake. New co-owner Liz Nicholson, formerly of Maialino and Marea, similarly favors wines with stories, so one may encounter Martin (son of Eric) Texier's bubbly Petite Nature, a Saumur wine made by an American expat in Bizay, or just a fine value, nonvintage, old-house Champagne for $32. Tastings, held Thursdays from 5 p.m. to 7 p.m., are rendered genuinely intimate by the shop's tiny footprint.
16. Eastside Cellars
1743 First Ave., nr. 90th St.; 212-996-9463
What had been a standard-issue bulletproof-glass-fronted liquor-and-lotto depot has morphed into a destination for high-demand Gut Oggau and fizzy Les Capriades. Management has a particular knack for sourcing off-the-beaten-path bottles, including California pét-nats, two-barrel bottlings from Oregon's Teutonic Wine Company, and powerhouse Lagrein from Southold Farm & Cellar, the iconoclastic winery that recently ditched Long Island's North Fork for the flinty and sandstone soil of Fredericksburg, Texas.
17. Smith & Vine
317 Smith St., nr. Union St., Carroll Gardens; 718-243-2864
The well-loved neighborhood wine shop with unfailingly helpful staff moved a few blocks in the direction of the Gowanus Expressway in early 2017, gaining some much-needed storage space. The 10 percent still-wine discount on Mondays from 6 p.m. to 9 p.m is a nice perk, and the central $14-and-under table, with value bottles from the Loire, Baden, and Jumilla, continues to function as a house-party-goer's best friend.
18. Burgundy Wine Company
143 W. 26th St., nr. Sixth Ave.; 212-691-9092
Burgundy Wine Company, which opened in 1988, was the first of its kind to zero in on a single region. Its current Chelsea showroom has an endearingly creaky old New York feel, along with an open office in the back where congenial staff members track down four- and five-figure bottles without breaking a sweat. There are bargain 1er Cru Burgundies to be found, however, plus Oregon Pinot Noirs, and a bathtub full of bubbly up front when all else fails. In-store tastings are thronged, and an Instagram follow is worth it just for news of flash sales.
19. Dandelion Wine
153 Franklin St., nr. India St., Greenpoint; 347-689-4563
The reliably interesting inventory of everyday-drinking French bottles is a draw, as are perpetually new releases from sustainability-minded producers from Europe and beyond. The dimmed lights, spinning vinyl, and proximity to the Greenpoint waterfront have a residual charm that borders on magical: Evenings, world-weary customers not only chat up the congenial staff for recs, they decompress at tastings with cheese and sliced She Wolf Bakery bread.
20. Amsterdam Wine Co.
271 Amsterdam Ave., nr. 73rd St.; 212-201-1224
Nimble staff, an arsenal of high-end Napa reds kept at regulated temps, and Thursday through Saturday tastings are just a few reasons why the Upper West Side shop has become a neighborhood fixture just a few years after its debut. For picnic season, look out for California Pinot Noir, available by the 375 ml can, or sommelier Jordan Salcito's eminently spritzish Ramona, a mash-up of white wine and Sicilian grapefruit.
21. Vintry Fine Wines
230 Murray St., nr. West St.; 888-686-8767
The curvy, contoured shelves suggest a cool, subdued futurism, and the Goldman Alley location means oodles of ritzy Champagne and a "rare" division that's chockablock with old Italian reds, so those in search of formidable Nebbiolo may find a bottle of Gaja Barbaresco that predates the moon landing. For weeknight drinking, however, a handful of Langhe Nebbiolos hover around the $20 price point.
22. Slope Cellars
436 Seventh Ave., nr. 15th St., Park Slope; 718-369-7307
Laconic bottle descriptions, a standard 15 percent mixed-case discount on still wine, regular tastings, and the diverse range of organic-leaning producers are among the reasons this shop draws in devoted regulars who have long since left the neighborhood, but still return to buy.
23. Vin des Amis
375b Canal St., nr. W. Broadway; 646-918-6141
Here's the model of a neighborhood wine store smack-dab in a stretch of un-neighborhoody Canal Street, on what's been called one of the city's "worst commercial streetscapes." Interesting wines from Jura and Sicily are abundant, and for every heady, attention-demanding natural bottle of, say, Julien Courtois Sava Sol, there's an easygoing white Burgundy for less than $20.
24. Wineshop
438 E. 9th St., nr. Ave. A; 212-477-9463
The space is small and homey, inventory is versatile, and while the general focus is European, Wineshop's special strength is its selection of Greek wines.