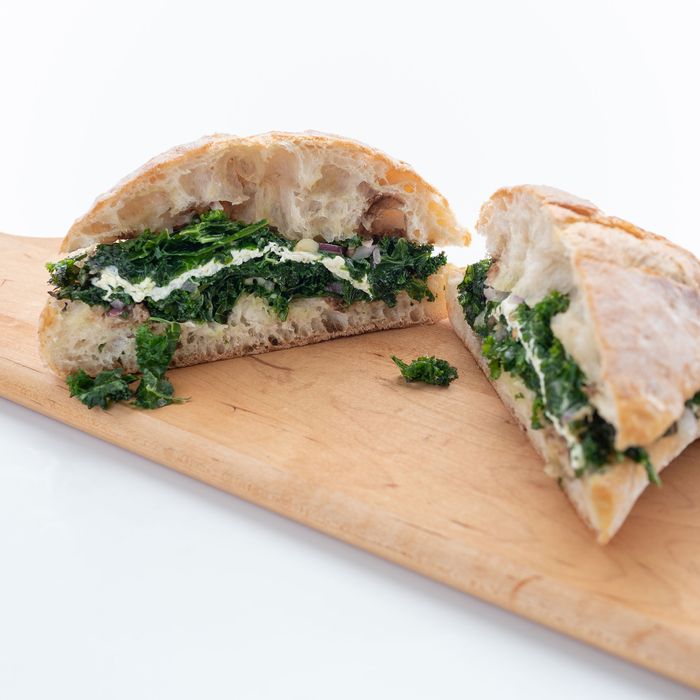 R&D Foods' Kale Salad Sandwich.
Photo: Roque Nonini
The problem with vegetarian sandwiches is the name: It sounds like something's missing. Vegetable sandwiches, on the other hand, sound celebratory. Henceforth, no matter the title of this listicle, we intend to call vegetarian sandwiches vegetable sandwiches. And really, what's not to love about artful constructions of caramelized cauliflower, garlicky broccoli rabe, and zucchini parm? Like their meaty counterparts, the following masterworks rely on balance, textural contrast, zesty condiments, good bread, and fresh ingredients. For logistical purposes, we've excluded from this ranking sandwich types that merit their own lists, like egg sandwiches, veggie burgers, and falafel. Here, then, the best (vegetarian) vegetable sandwiches in New York.
1. R&D Foods' Kale Salad Sandwich
602 Vanderbilt Ave., nr. St. Marks Ave., Prospect Heights; 347-915-1196
Back around the turn of the millennium, when roughage aficionados subsisted on arugula and escarole, Ilene Rosen invented kale salad, or so the legend goes. Or if she didn't actually invent it, she at least popularized it by stocking City Bakery's cult salad bar with the savory stuff — a crunchy, piquant tangle of well-massaged curly kale riddled with red onion, hazelnuts, and Grana Padano cheese. It's a healthful medley with a rich, satisfying mouthfeel and enough "good fats" to dispel any association with goats clearing fields. The recipe traveled with her to her Brooklyn market and takeout shop, where she made the slight modification of replacing the nuts with toasted sunflower seeds, and sometime later, had the bright idea to heap the greenery onto both sides of a square ciabatta roll dressed with oil and balsamic, top it with mozzarella and crisp the whole thing in the oven. It might be not only an improvement over its raw material but also the world's first kale-salad sandwich.
2. Shorty's Broccoli Rabe Sandwich
Multiple locations
A few of life's great unanswered questions that keep us up at night: Is a Grand Unified Theory possible? Why are we here? Who built Stonehenge? And why does the Roast Pork Italian play second fiddle to the cheesesteak? For the uninitiated, a Roast Pork Italian is a Philadelphia invention consisting of thinly sliced pork loin, broccoli rabe, and provolone cheese, and although it is that city's No. 2 signature sandwich, it's way better than its No. 1, the cheesesteak. An equivalent Bizarro World scenario would be if New York were known for its garlic knots instead of its pizza slices, or for flagels and not bagels, or if people went to Katz's looking for turkey sandwiches instead of pastrami on rye. Another thing we wonder about is why they call it a Roast Pork or Roast Pork Italian when clearly the key to the thing is the strange and delicious alchemy that happens when bitter broccoli rabe meets sharp provolone cheese. If you've ever tried the (pork-free) broccoli-rabe sandwich at Shorty's, the rowdy home away from home for expat Philadelphia sports fans, you know what we mean. In the Italian-grandma fashion, they cook down the broccoli rabe with garlic and red chile flakes until it's nice and soft, fold in shards of provolone so it melds with the greenery, then layer the cheesy rabe concoction onto a certified hoagie roll trucked in from Philly. The result is rich and salty, sharp and pungent, fairly juicy and wholly satisfying. You'll never miss the meat.
3. Daily Provisions' Broccoli Melt
103 E. 19th St., nr. Park Ave. S.; 212-488-1505
You might think that, like the proverbial OG oyster eater, it was one bold dude who first ate a broccoli sandwich. But what is there to fear? Like its cruciferous cousin, broccoli rabe, plain old broccoli has a natural affinity for sharp cheeses, a quality that's well-articulated in Daily Provisions' Broccoli Melt: roasted florets dressed with lemon, seasoned like a bowl of spaghetti cacio e pepe with grated Pecorino and Grana Padano, and served on a housemade focaccia roll lined with slices of six-month-aged manchego. Executive sous-chef Donovan Tian says that, thanks to his fancy TurboChef oven, it takes but a minute to turn the thing into an oozy, melty, succulent snack. If you lack all restraint in the presence of oozy, melty, succulent snacks like we do, it may take even less time to gobble it down.
4. Court Street Grocers' Veg-uletta
378 Metropolitan Ave., nr. Havemeyer St., Williamsburg; 718-384-4218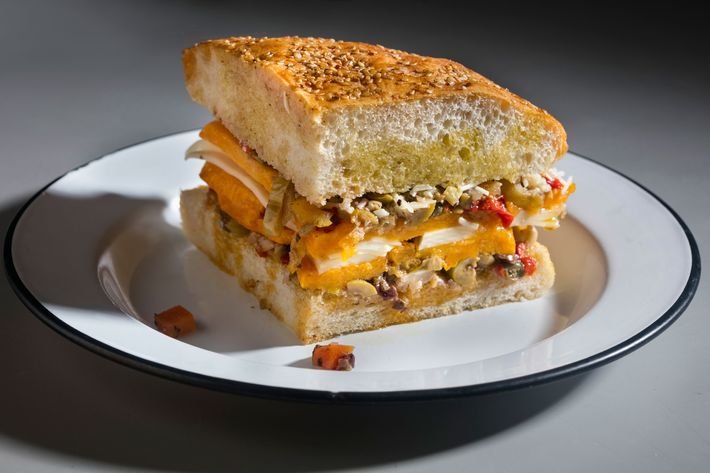 Never mind what the muffuletta mavens say about the bread. The key to the great New Orleans sandwich is the olive-salad condiment. And no one does a zingier olive salad than those superb sandwich artists over at Court Street Grocers. For their vegetarian take (like the traditional salumi-stuffed variety, only available at the chainlet's Williamsburg branch), they swap out the meat for slices of butternut squash whose sweetness serves as a foil for the briny tang of the salad and the sharpness of the cheese. As for the bread, it's made for them by Caputo Bakery, and would probably pass muster down in the French Quarter, too. (And in further examples of iconic meat sandwiches rendered vegetable-centric, Court Street's Broccoli Reuben demonstrates the enduring power of the sauerkraut–Swiss–creamy dressing triumvirate, and suggests that hot corned beef has nothing over a deftly roasted crucifer.)
5. Superiority Burger's Yuba Verde
430 E. 9th St., nr. Ave. A.; 212-256-1192
Brooks Headley and his kitchen compatriot Dave Rizo have probably done more to popularize California-made Hodo Soy yuba than any official brand ambassador, utilizing the skin that forms when soy milk is heated in many inventive and delicious ways. First there was the cheesesteaklike Yuba Philly, then its successor, the New Creation. Regulars, though, know to ask for the off-menu Yuba Verde, a meaty but meatless mix of griddled broccoli rabe and yuba strips marinated in a liquid meant to evoke unsmoked "city ham." Added texture comes from quasi-crumbled, oven-dried chickpeas flavored with Italian-sausage-style seasoning (heavy on the fennel seed and smoked paprika), plus fried onions and shredded iceberg, all squeezed inside a Big Marty's burger bun.
6. No. 7 Sub's Zucchini Parm
The Plaza Food Hall, 1 W. 59th St., at Fifth Ave.; 646-755-3228
Tyler Kord, sandwich subversive, wants to jolt us out of our comfort zones. He accomplishes this by pickling lychees, smoking French dressing, and reinventing sandwiches that seemed to be doing just fine on their own. One such is that old Italian-American stalwart, the eggplant parm, which Kord rebuilt some years back from the ground up: Instead of eggplant, thick slabs of fried zucchini; instead of mozzarella, provolone; and most radically, where you might be expecting a puddle of tomato sauce, a sweet purée of white onions. But Kord's genius is in the details, like the BBQ potato chips and pickled jalapeños that add essential texture and zingy spice and make the whole thing so much fun to eat.
7. Breads Bakery's Vegan Sandwich
Multiple locations
Premade, plastic-wrapped, and stashed in the display cases of this bakery's Union Square and Lincoln Center locations, the Vegan doesn't look like much. But it's these seeming deficits that make the sandwich so irresistible. The sourdough bread alone, baked in-house like everything else, is a crusty, airy tour de force, but given time to absorb the flavor and oil of a rich walnut pesto brightened with parsley and basil makes it even better. Roasted cauliflower florets and stems are crisp-edged, tender, and almost sweet, and a flurry of radish sprouts lends a fresh vegetal bite.
8. Golden Diner's Vegetalian Hero
123 Madison St., nr. Market St.
There's much to love about this vegan version of an Italian hero with charred yuba that is salty, smoky, crunchy, pickly, vinegary, and saucy in equally mouthwatering measure. Chef Sam Yoo did time in the hero-making trenches of pre-Parm Torrisi Italian Specialties, and it shows, especially in the sesame-seeded Parisi roll, and the spicy pickled-red-pepper condiment that could improve the taste of just about anything with which it comes in contact.
9. Zyara's Vegan Arabic Sandwich
57 Clinton St., nr. Rivington St.; 646-586-3317
Is Zyara's Vegan Arabic sandwich a vegetable cornucopia harboring a secret stash of falafel, or a falafel pita ornamented with deep-fried cauliflower, eggplant, and paper-thin zucchini, plus tomato, cabbage, and pickles? It could go either way, but however you look at it, it's a distinctive creation and worthy of a spot in the vegetable-sandwich pantheon. Ask for extra tahini and housemade hot sauce and go to town.
10. Ferdinando's Focacceria's Panelle Special
151 Union St., nr. Hicks St., Carroll Gardens; 718-855-1545
As it has for well over a century, the excellent Sicilian snack shop deep-fries thin slabs of chickpea fritters until they're nice and crisp, and then tucks them into toasty, house-baked semolina rolls along with creamy ricotta and salty Pecorino Romano. One heavenly bite and you could be in Palermo.
11. Miznon's Lavan
Multiple locations
This clamorous, chaotic, culinarily inventive Israeli import with outposts in Chelsea Market and on the Upper West Side serves lots of crazy stuff (folded cheeseburgers, run-over potatoes) but is most famous for two things: the whole cauliflower heads it salt-boils, olive-oils, and oven-chars, and the cushiony rounds of fluffy pita it commissions from a local bakery. These star ingredients come together in the lavan sandwich, along with tomato salsa, green chiles, and enough of the rich house tahini to spackle it all together.
12. Souk & Sandwich's Batata
117 Sixth Ave., at Watts St.; 212-625-3982
The sleekest, silliest, tastiest French-fry sandwich we know: greasy fries rolled up tight with coleslaw and pickles in a paper-thin pita like a Persian rug. The secret sauces? The high-octane Lebanese garlic condiment called toum and Heinz ketchup.