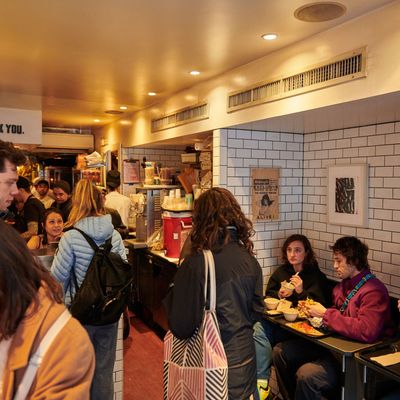 Superiority Burger.
Photo: Christian Rodriguez
Since we last ranked New York's best places to eat vegan food, the field has become even more crowded. The East Village is now a hotly contested culinary territory, with empire-builders Matthew Kenney and Ravi DeRossi engaged in some sort of cruelty-free turf war. Vegan cheese keeps improving, and so does vegan pizza. Vegan Thai has joined Mexican and French options. And with the ever-increasing number of vegivores prowling the streets, the appeal of a plant-based diet continues to grow exponentially, as do the number and quality of places catering to it. Some are strictly vegan; others will happily veganize otherwise vegetarian items upon request. Some rely on mock meats made of wheat gluten or soy products to mimic familiar fare; others choose to showcase only vegetables. Here, the absolute best places to eat vegan food in New York, for vegans and omnivores alike.
1. Superiority Burger
430 E. 9th St., nr. Ave. A; 212-256-1192
True, this glorified veggie-burger joint isn't strictly vegan (and thank god, from a gelato-lover's perspective). And yes, it might be overstating the case to call a broom closet-sized room with only a handful of seats and no actual tables a restaurant. But in his willingness — make that unbridled enthusiasm — to veganize nearly everything, in his restless culinary creativity, and in the inclusive community he fosters at the counter and on his endearing and hilarious Instagram feed, Brooks Headley has catapulted Superiority Burger to the top spot on this list of the best places to eat vegan food. Unlike many of his competitors, he shops at the Greenmarket, where he's as familiar a presence as corn in August, but he keeps his prices low. He improvises daily specials like a reality-show cooking dude who's never lost a mystery-box challenge. And although he's best known for his veggie burger, he has turned weekly specials like the Italian hoagie, the tofu-fried tofu, and Friday night's crisp-edged, springy-crumbed focaccia into bona fide Happenings. Headley has made vegan food not only cool, but atypically seasonal, objectively crave-able, and exciting.
2. Modern Love
317 Union Ave., nr. S. 1st St.; Williamsburg; 929-298-0626
Nice Jewish girl from Sheepshead Bay goes punk and vegan, becomes a cookbook author and internet personality, moves to Omaha, and opens a restaurant. Then Isa Chandra Moskowitz returned to her native borough to expand the franchise with knockout dishes like hen-of-the-woods piccata, a glorious mess of crisp-fried maitake, whipped potatoes, soupy gigante beans, and a vibrant lemon-and-wine sauce that binds it all together. Olive oil is responsible for the pot pie's addictive crust, pulverized cashews for its creamy innards. This is comfort food for vegetable lovers: Note the kimchee and baby carrots that accompany borderline-junky cauliflower wings, and the sautéed kale and blackened cauliflower cohabiting with mac 'n' cheese. If April Bloomfield cooked vegan, it might go something like this.
3. Dirt Candy
86 Allen St., nr. Broome St.; 212-228-7732
Dirt Candy is vegetarian, not vegan; pioneering vegetable chef Amanda Cohen does love her dairy. But she'll veganize everything on her prix-fixe menu, a nine-course, $97 extravaganza featuring such theatrics as binchotan-grill-your-own snap-pea pancakes, and a tableside eggplant flambé. Is it as good as the vegetarian version? Almost: We tried both side by side, and the vegan version more than held its own.
4. Kajitsu
125 E. 39th St., nr. Lexington Ave.; 212-228-4873
For something slightly less dramatic than blazing eggplants, try this Murray Hill restaurant devoted to the ritual of shojin ryori cuisine, an outgrowth of Japan's Zen Buddhist monasteries and the forerunner of kaiseki, the seasonal multicourse meal. The mood is serene, the service precise, and the ceramics antique, some over two centuries old. Chef Hiroki Abe's pristine vegetable-centric food is arranged in carefully wrought compositions that reflect and celebrate nature. You won't miss the meat, the fish, the eggs, or dairy one bit.
5. abcV
38 E. 19th St., nr. Broadway; 212-475-5829
More L.A. glam than health-food co-op, the latest addition to Jean-Georges Vongerichten's ABC restaurant stable makes several valuable contributions to the plant-based category: It's open for three meals a day, and might even be best at breakfast; though the menu isn't strictly vegan, nearly everything can be made so; and the kitchen, under the direction of vegetable guru Neal Harden, is much more seasonally attuned and market-driven than most. Which means that if it's fall, it's time for sweet roasted carrots, slathered with nut-and-seed butter; a forestful of mushrooms; and even white truffle, shaved over a bowl of tofu and yuba.
6. JaJaJa Plantas Mexicana
162 E. Broadway, at Rutgers St.; 646-883-5453
Sunny, cheerful corner space. Lively crowd. Beyond-friendly service. A killer lime-coconut-mezcal cocktail. The whole atmosphere is kind of like Café Habana crossed with Dimes or abcV. And then there's the artfully plated, all-vegan menu. Go for a gravity–defying pyramid of nachos with faux queso, fake chorizo, and fermented black beans; and a round or two of mock-meat tacos (fish, chorizo, spicy tinga, and Buffalo cauliflower are best). Even the brunch menu's dubious-sounding kale pancakes bring around skeptics of both brunch and vegan food.
7. Divya's Kitchen
25 First Ave., nr. 2nd St.; 212-477-4834
Even if you don't know your particular dosha, you can eat well at this tranquil East Village ayurvedic canteen. We recommend vegetable curry in cashew sauce, which is inherently vegan, or the seasonal khichari, which isn't but can easily be modified. Both are generously endowed with all the healing legumes and plant matter one needs to achieve mental clarity and clockwork digestion. And if you still feel like your system's not in perfect balance, Divya's probably got a tea for that.
8. Nix
72 University Pl., nr. 11th St.; 212-498-9393
Nix is the culmination of the plant-based path chef John Fraser has been on since he instituted Meatless Mondays at Dovetail. Here, he makes things simple with a separate vegan menu, stripped of the main one's eggs and dairy. It still leaves plenty of tempting options, which happily include bubbling flatbread baked in the tandoor inherited from the Indian restaurant that preceded Nix, plus Fraser's take on the great Indo-Chinese dish Manchurian cauliflower, served with steamed buns for stuffing.
9. Le Botaniste
Multiple locations
Le Pain Quotidien's organic and vegan (or, as they say in the Belgium home office, botanical) fast-casual spinoff has an apothecary design motif, lab-coat-clad servers, and a catchphrase: "Let food be the medicine." Luckily, it also has a satisfying, well-conceived menu that marries Mediterranean flavors with macrobiotic underpinnings, and a selection of natural wines. Of the "prescriptions" doled out from a long marble counter, self-medicate with mezze like green-pea-mint hummus and caper-strewn potato bacalao, followed by the three-bean "chili sin carne" or the coconut-curry-and-peanut-sauced Tibetan Mama.
10. Champs Diner
197 Meserole St., nr. Bushwick Ave., East Williamsburg; 718-599-2743
The all-vegan cooking at Champs is not the sort you read about in newspaper lifestyle pieces about vegans going glam. Presumably, the Drunken Cowgirl breakfast plate (tofu scramble, tater tots, chili, cheese, avocado, and Texas toast) is not what Mark Bittman means when he talks about eating vegan before 6 p.m. Ditto the Chocolate-chip Pancake Slam. A meal at Champs at any time of day is probably going to shave a month or two off your life. But health and wellness isn't the point. Indulging your inner vegan-junk-food-junkie is. Pretty much everything except the egg cream (which is terrible) is good; the Philly cheesesteak, the mozzarella sticks, and the Chik'n & Waffles are great.
11. Plant Food + Wine
67 Second Ave., at 4th St.; 212-658-1948
Of the four Matthew Kenney–run storefronts on a single Second Avenue block, the best (and fanciest) is Plant Food + Wine, which claims to be an outpost of the Venice, California flagship. But locals might trace a direct link to Pure Food and Wine, the aughts-era Gramercy restaurant where Kenney debuted his breakthrough dish, which he's revived here — a raw lasagna built with zucchini layers sandwiching macadamia ricotta, pistachio pesto, and sun-dried-tomato marinara. Cold and crisp, it might be the world's most (only?) refreshing lasagna (but we wonder where this "local and seasonal" kitchen sources heirloom tomatoes from in February). "Cacio e Pepe" kelp noodles in a cashew-based "cream" sauce is equally radical (and delicious). The bread is from She Wolf Bakery and costs $8 (along with "butter" that tastes like frosting). The wine glasses are Zalto. And the deconstructed "new tiramisu" is as much abstraction as it is dessert.
12. Screamer's Pizzeria (Greenpoint)
620 Manhattan Ave., nr. Nassau Ave., Greenpoint; 347-844-9412
Lots of pizzerias cater to vegans with a faux cheese offering or two, or even a vegan-friendly menu category. But Screamer's is the only full-fledged, 100 percent, all-vegan slice joint in New York, at least that we know of, so that alone is something. The slices are titanic, the plates are paper, and the vibe is punk rock meets Joe's of Carmine Street. We're partial to the seitan pepperoni with "mozzarella" made from coconut oil (much better than it sounds), and also an exquisitely sloppy Buffalo cauliflower number drizzled with faux ranch dressing. Watch out, though, for the clunky grandma pie, which seems like it's been made with two separate planks of dough fused into one, and is a discredit to vegan grandmas everywhere.
13. Screamer's Pizzeria (Crown Heights)
685 Franklin Ave., at Prospect Pl., Crown Heights; 718-623-6000
This satellite Screamer's, which opened in late 2018, picks up where the original Greenpoint shop leaves off. For one, it's about four times the size of the mother ship, with plenty of seating. And it delves deeper into the realm of vegan specialty pizza, the type that falls under the heading of "Sounds Terrible, Tastes Great." To wit: a dairy-free mac 'n' cheese-topped pie drizzled with sriracha aïoli; a Reuben pizza with spiced seitan playing the part of corned beef; and the so-called quesadilla pie, a pizza that's topped with three molten vegan cheeses, vegan chorizo, and a truckload of pickled jalapeño, then lidded like a coffin with another pizza. Again: all much, much better than they sound. There's fried food, too, like curly fries and seitan wings, plus pasta, and for vegans who actually eat vegetables, something called a salad. Best of all might be the supremely spicy-tangy Buffalo–style Chik'n finger hero, which proves that condiments — vegan or otherwise — really do make the sandwich.
14. Bunna Cafe
1084 Flushing Ave., at Porter Ave., Bushwick; 347-295-2227
The food is only part of the draw at this vegan Ethiopian restaurant, where the teff-and-barley flatbread called injera serves as edible platform for a colorful, deftly seasoned array of puréed and stewed pulses, steamed and sautéed vegetables, and the irresistible kale-avocado mixture called kedija selata. There's also the coffee ceremony, an engaging reminder of the bean's Northeast African origins.
15. Avant Garden
130 E. 7th St., nr. Ave. A; 646-922-7948
At this Ravi DeRossi restaurant, the best seats in the house are upholstered bar stools overlooking the open kitchen where cooks fry broccoli and cauliflower to an almost delicate crisp, slather thick slabs of toast with rich purées, and arrange vegetables into artful compositions that, while sometimes overwrought, are generally tasty.
16. Hangawi
12 E. 32nd St., nr. Madison Ave.; 212-213-0077
Root-vegetable rice bowls, pumpkin porridge, fermented cabbage, an abundance of mushrooms, and lots of greens. Hangawi's veggie-centric Korean temple cuisine may not seem as exotic as it did a couple of decades ago when New York magazine declared it the best vegetarian food in New York. Nor is it up there with today's most accomplished vegivore cooking. But just yanking at the imposing, practically castle-moat doors and entering this oddball oasis — a kind of cross between a monastery mess hall and a cozy mountain ski lodge — is still a thrill. Take off your shoes (it's mandatory), grab a surprisingly comfortable cushioned seat on the floor, and for an hour or two forget all about meat.
17. Sunshine Hummus and Happiness
59 E. 8th St., nr. Broadway; 212-420-5999
The Greenwich Village branch of the Israeli–born hummus chain Vish has changed its name to Sunshine, after its chef and owner. Everything else has stayed the same: the congenial, 16-seat setting, the free Turkish coffee, and, most crucially, the specialty of the house: sufficiently creamy, tahini-rich, ground fresh for each order, and served as warm and fluffy as the accompanying pita. Hummus has always been filling, high-protein manna for those abstaining from meat, and with the exception of a few dishes with eggs (including a hummus-shakshuka hybrid), everything is vegan. Should you ever grow tired of eating mashed chickpeas straight up, you can get it topped with garnishes like fava beans, eggplant, mushrooms, and even a vegan shawarma fashioned from soy protein, though the less said about this last the better.
18. Beyond Sushi
Multiple locations
Vegan sushi calls to mind white rice concealing a sad sliver of cucumber or burdock. Nothing like the multihued constructions served up by this chainlet, which has carved a niche for itself by transforming the globally-inspired contents of latter-day grain bowls into distinctive plant-based rolls. The Mediterranean-themed Chic Pea, for instance, enfolds roasted eggplant, artichoke, and saffron-chickpea purée in nutty black rice, and garnishes it with tahini.
19. Buddha Bodai Kosher Vegetarian Restaurant
5 Mott Street, nr. Worth St.; 212-566-8388
Contrary to popular belief, hippies from Woodstock did not invent mock meats; Chinese Buddhists did, and this unassuming spot at the southern tip of Mott Street is a worthy descendent of the tradition. If we counted correctly, there are 193 dishes on the menu, not including lunch specials, but the place earns a spot on this vegan food list for its Bar-B-Q Veg Meat alone – sweet, chewy, compulsively edible strips of wheat gluten that bear a striking resemblance to char siu. The chicken in the General Tso's is made from soy and may remind you, in a not unpleasant way, of a Krispy Kreme doughnut crossed with a McNugget. There's dim sum every day until 4 p.m. And if you're just looking for something nice and green, the kitchen stir-fries a mean mess of pea shoots.
20. Adelina's Fraschetta Romana
159 Greenpoint Ave., nr. Leonard St., Greenpoint; 347-763-0152
This under-the-radar osteria with a vegetarian bent went totally meatless in early 2019, but 75 percent of the menu is straight-up vegan or vegan-izable. What's more, it's all pretty good, especially crisp squares of panelle served with vegan lemon aïoli and pastas like butternut-squash-stuffed ravioli. Pizza's the thing, though, and it comes two ways: as oval-shaped pinsa Romana (made with a high-hydration dough and a mix of flours), and in the Neapolitan montanara-style: flash-fried, topped with vegan "cheese," then baked, which gives the dough a bit of a flavor boost.
21. Délice & Sarrasin
20 Christopher St., nr. Gay St.; 212-243-7200
The menu at this family-run restaurant and crêperie reads like a greatest-Gallics-hits list: Boeuf bourguignon. Coq au vin. Foie gras with fig jam. Escargot. But nothing is precisely what it seems. The "boeuf" and "coq" are pea protein; the foie is a cultured mix of tahini and cashew cream; and the snails are oyster mushrooms, doused in coconut-based garlic "butter."
22. Double Zero
65 Second Ave., nr. 4th St.; 212-777-1608
After abandoning New York for the warmer climes and superior produce of the West Coast, Matthew Kenney returned to New York (in spirit, at least) to open this plant-based pizzeria, named for the finely ground flour favored by Neapolitan pizzaioli. Nobody will mistake the spongy-doughed oval-shaped pies or their nut-cheese and farro-fennel sausage for Totonno's, but the kitchen earns points for creativity — and for the simpler salads and vegetable sides.
23. May Kaidee
215 E. Broadway, nr. Clinton St.; 212-448-1200
How you feel about this American outpost of a Bangkok–based restaurant chainlet and cooking school depends on whether you think Thai food made without fish sauce and shrimp paste qualifies as Thai food. If not, the low-key, subterranean space, relocated in December 2018 from its original Curry Hill digs, might not be for you. But once you accept that "Thai" and "Vegan Thai" aren't culinarily identical, there's a satisfying, health-food-co-op pleasure to be found in the $25, five-course set menu. Green mango salad is fresh and vibrant, with a perceptible chili bite; loosely wrapped summer rolls are plump and crunchy with foliage; and Indian-inspired Massaman curry appears as a sort of tofu-and-vegetable medley served with a salutary heap of brown and red rice. Dinner unfolds at a leisurely (too leisurely, some might say) pace, and ends with a mug of restorative tea.
24. Veggie Castle II
132-09 Liberty Ave., South Richmond Hill; 718-641-8347
Great neighborhood juice bar and steam-table buffet catering to Rastafarians on an ital diet, meat-abstaining celebrities, and everyday vegan soul-food aficionados who like their mac 'n' cheese dairy-free. The Jamaican patties are stuffed with callaloo and peas, or soy versions of meat. Fake chicken is big here: There's jerk "chicken," stew "chicken," curry "chicken," and BBQ tofu "chicken drumsticks" — all good. If none of this fixes you up, there's a juice "cure" for everything from arthritis to PMS.
25. Toad Style
93 Ralph Ave., nr. Putnam Ave., Bedford-Stuyvesant; 347-789-1589
Bed-Stuy's estimable answer to the vegan-junk-food trend is this 12-seat, deep-fry dive, whose name alludes to a 1970s martial-arts movie. This is vegan cooking that ought to come with a defibrillator. We like it for its quirky kung fu décor, its quirkier clientele, and the kitchen's commitment to making a lot of ingredients from scratch — including ketchup, Heinz be damned. Best dishes: a finger-licking BBQ jackfruit sandwich on a potato bun, a deep-fried oyster-mushroom bánh mì with mushroom pâté, and a Yeah Dawg!!! frankfurter served Jersey-style, which means deep-fried and stuffed into a split baguette with crispy potatoes, onions, and peppers.
26. P.S. Kitchen
246 W. 48th St., nr. Eighth Ave.; 212-651-7247
On the surface, P.S. Kitchen looks like any number of bar-restaurants specializing in elaborate cocktails and globally-inspired shareable small plates. But P.S.: They're all vegan. (Get it?) This includes the (duckless) Peking-glazed-mushroom steamed buns, (chickenless) Buffalo-sauced maitakes with vegan blue cheese, and a piquillo pepper stuffed with Beyond Burger meat instead of chorizo, tuna, or goat cheese.
*This post has been updated.