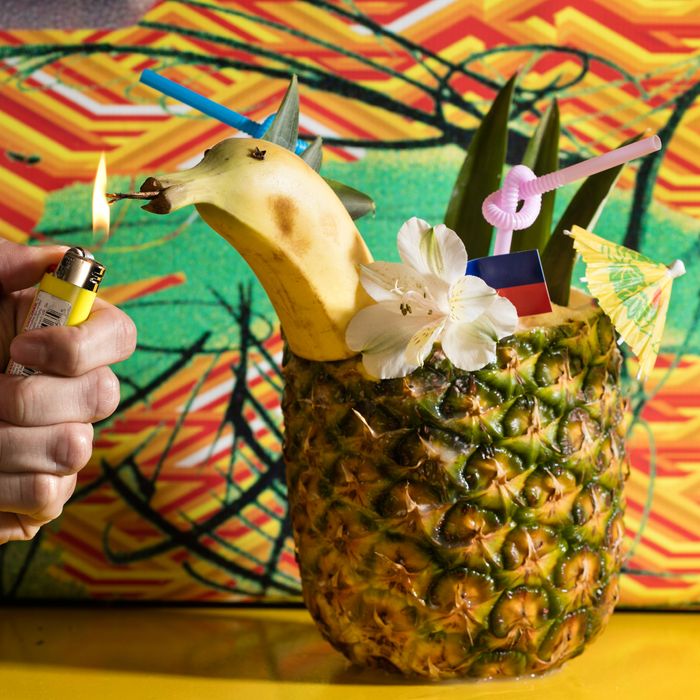 Jeepney's Pinay Colada.
Photo: Melissa Hom
Tiki means many things: the style of tropical-escape-themed bar pioneered by Donn Beach and Victor Bergeron in mid-twentieth-century California; a strict formula emphasizing rum (often multiple rums), Caribbean ingredients like falernum and tropical juices, and warm spices; and, of course, the religious Polynesian totem co-opted, in sometimes questionable taste, as drinking vessel and design motif. Its popularity has waxed and waned, both nationally and in New York, where Donald Trump ignominiously shut down Trader Vic's after he bought the Plaza, and where promising newcomers like Lani Kai and PKNY came and went. But through the efforts of cultishly attended pop-ups and the cocktail renaissance in general, tiki has persisted, and even evolved. And with the recent publication of Brooklyn-based bartender Shannon Mustipher's Tiki: Modern Tropical Cocktails, high-profile openings like Major Food Group's Polynesian, and the prospect of a second-floor tiki bar at Downtown Brooklyn's soon-to-be-revived Gage & Tollner, things are looking up. More than anything, tiki might be a mind-set, with a reprieve from the troubles of the day delivered by an artful combination of mood, music, and Mai Tai. Here are the best places for tiki drinks in New York.
1. Jeepney
201 First Ave., nr. 12th St.; 212-533-4121
Nicole Ponseca named her gastropub after a Philippine national symbol of ingenuity and resilience: American jeeps left behind by U.S. troops after World War II, which locals structurally altered, garishly decorated, and used as public transportation. Similarly, Ponseca and her staff flex their creativity in co-opting the tiki bar, an American concept built on Filipino immigrant labor in mid-20th-century California, to catapult your psyche almost 8,500 miles westward into the Pacific. Transcendence here is inevitable, although it's largely the result of resident tiki maven Chris Toribio, who dedicates hours to infusing syrups and steeping and squeezing cashews for house-made orgeat. The result is drinks like the Pacific Theatre — rum layered with an otherworldly funk-flecked sweetness from pandan syrup — and the depth-charged Ube Mai Tai that warrant repeat visits. Where you wind up after sipping one of Toribio's large-format piña coladas, a tropical or "resort" cocktail that has by now almost become tiki by association — Manila, Cartagena, an island in your mind — is for you to decide, but rest easy knowing that there will be meaty, taquito-like lumpia to soak up the booze.
2. Super Power
722 Nostrand Ave., nr. Prospect Pl., Crown Heights; 718-484-0020
Nights for most revelers at this dimly lit hideaway involve at least one coconut shell full of our favorite frozen Painkiller, a riff on the newer tiki-bar standby that mixes orange and pineapple juices with coconut and Pusser's rum. Still, the staff at Super Power looks beyond the cocktail genre's familiar canon, a tendency made evident with the Sranan Song, which impressively melds the anise-y German bitter Underberg with homemade orgeat and bonded rye to evoke sweetened warm spices. For those partial to the stronger stuff, there's the Super Fashioned — bolstered with Dos Maderas PX 5 + 5 Rum — which you'll wish you could take to go by the pitcher on your next Rockaways trip.
3. Lei-Enda at Leyenda
221 Smith St., nr. Butler St., Carroll Gardens; 347-987-3260
On the last Wednesday of the month, Ivy Mix and Julie Reiner's cocteleria busts out the tiki mugs and homemade falernum to celebrate the aspirational beachcomber lifestyle. Don't let bartenders dressed in flamingo-patterned shirts fool you — they pay as much attention to these monthly specials as they do to the daily offerings. The menus change seasonally, but the cashew-milkshake-like Santo Buzo is a must-order, as is the Jungle Babbler, a blend of Caribbean rums brightened by lime, passion fruit, pineapple, and grenadine. If you can't make the monthly festivities, Lei-Enda's Corporal Captain Ryan Liloia works the bar every Wednesday (and weekends at Reiner's Clover Club), with tiki aficionados regularly turning up in Aloha shirts to talk shop over Cobra's Fangs.
4. The Polynesian
400 W. 42nd St., nr. Ninth Ave.; no phone
After years of hosting "Tiki Monday" pop-ups at bars including Mother's Ruin and the late Lani Kai, tiki legend Brian Miller joined forces with New York high-rollers Major Food Group in 2018 to build the tropical Versailles of his dreams — inside the Pod Hotel on the fringes of Times Square. The space could easily host island-themed bar mitzvah receptions, and yes, cocktails cost much more than Sweetgreen salads, but that's all forgivable for the Vaya Kon Tiki, a Painkiller riding the spice train via ginger syrup and coconut-rooibos-tea-infused rum, or Gone Rumming, a rum-and-Coke elevated by a four-rum blend that includes the funky El Dorado 8 and Appleton Estate Reserve.
5. Donna
27 Broadway, at Dunham Pl., Williamsburg; 646-568-6622
Some people connect to their heritage through community festivals or Ancestry.com; to the public's benefit, Donna's owner Leif Huckman decided to explore his maternal Honduran roots by opening a cocktail lounge focusing on cane and agave spirits. This haunt is by no means your grandad's tiki bar, with its vaulted ceilings, Fernet Branca Menta–spiked frozen piña colada, and occasional DJs spinning Kendrick Lamar, but the menu happily leans into tiki's grocery-list maximalism with the Luck Dragon, a beach-worthy riff on a salted-plum soda bolstered with Haitian rum and briny miso syrup, and the very solid four-rum-blend Mai Tai. Two drinks in and it's easy to forget that you're not on a resort in La Ceiba, but across the street from a Bikram-yoga studio in the shadows of the Williamsburg Bridge.
6. Sunken Harbor at Fort Defiance
365 Van Brunt St., at Dikeman St., Red Hook; 347-453-6672
"A delightful way to start a hangover" is the motto for the Thursday-night Sunken Harbor Club at Fort Defiance. But this devil-may-care attitude belies the evening's quest: to push the limits of this fast-and-loose cocktail genre. Beneath lei-strewn lights and yellowing postcards, monthly rotating cocktail lists might feature concoctions like the bone-dry "Ango-Colada," a mix of 160-proof Stroh "Austrian rum" with an ounce of Angostura bitters, that easily justify the trek to Red Hook if you don't live there. The go-to option (and only staple besides the daiquiri-and-noodles special), however, is their White Zombie, which blends zesty housemade falernum and passion fruit with aged white rum, navy-strength gin, and Kalani coconut liqueur.
7. Shaka Shaka Tiki
64 Sixth Ave., nr. Bergen St., Prospect Heights; 347-689-3184
Just a stone's throw from Barclays Center, the plant-festooned shoebox that is Shaka Shaka Tiki — known by day as coffee bar Companion Cafe — is a tropical-tinged refuge popular among locals, commuters, and oft-dispirited Nets fans. Trading polished cocktail-lounge frills for watering-hole intimacy, bartender-partner Garrett Mukai offers a menu of delicious and unexpectedly complex concoctions like the zesty "Hi Tai," flush with homemade macadamia orgeat and Angostura bitters, as well as daily spiked juices in lieu of rotating punches. (Carrot-mango with mezcal, anyone?) Paradise, however, is pairing your order with a very large bowl of the furikake-showered popcorn, mixed with Arare rice crackers, or the snack-size onigiri.
8. Dromedary Bar
266 Irving Ave., at Menahan St., Bushwick; 347-715-4255
Dromedary dabbles in hosting monthly burlesque performances, lip-synching drag brunches, and stand-up comedy sets, among many other right-brained pursuits. But tiki is the full-time concern here, and your commitment to escapism is best met by the refreshing Frosty Flamingo — frosé vodka with lavender, allspice, and guava, cut with a cava float and served in mini flamingo inflatable tubes. Still, you can't go wrong in pursuing a beachside mind-set through the Analgésico, a multifaceted creamy and fruity smoke pit of Santa Teresa 1796 rum and mezcal, or the Mt. Kilauea Colada, which evokes its namesake with white and aged rums, coconut cream, and an "eruption" of blood-orange juice.
9. The Highwater
34-20 Broadway, Astoria; 917-745-0407
A pan-tropical Astoria bar with Tulum as a likely influence, along with hints of Jamaica and the Bay of Bengal? Why not? Though the Highwater's expansive menu meanders into garden-variety cocktail nerdery — Peppercorn-infused bourbon! Specialty salt! — its strength is undeniably in the tiki realm. The What's In Your Head, a Zombie riff fortified with absinthe and Peychaud bitters, is both kitschy (thanks to an accompanying syringe of rum and cinnamon-cherry syrup) and formidable, its boozy heat mercifully mellowed by orange, lime, and cranberry. With a baking-spice aroma derived from Sailor Jerry Spiced Rum and cinnamon orgeat, the Chuzzlewit Cobbler demonstrates that deft hands are being guided by Donn Beach's spirit.
10. Otto's Shrunken Head
538 E. 14th St., nr. Ave. B; 212-228-2240
It's 2002 — more than a decade after Donald Trump razed Trader Vic's and almost another before bespoke orgeat becomes commonplace. What's a group of New Yorkers thirsty for Mai Tais to do? Open Otto's Shrunken Head, a thatch-and-totem-adorned oasis where rum has continued to flow like the Nile ever since. Order the mango-rum-based Shrunken Skirt or the Otto's Octane, which, with its mix of pineapple rum, coffee, and banana liqueur, has a brunchtime vibe, and fork over the $6 deposit for the collector's mug that inexplicably heightens the experience. And while you're there, consider checking out backroom performances by improv comedians and leather-clad punks, including, on occasion, co-owner/drummer Steve Pang and his band.
11. Mother of Pearl
95 Ave. A, at 6th St.; 212-614-6818
As with much of owner Ravi DeRossi's East Village–based empire, this self-styled "postmodern Polynesian-inspired tiki restaurant" is vegan. It's also a tropical fun house, popular among the social-media-driven masses for its flapping mechanical fronds, inescapable turquoise motifs, and kaleidoscopic cocktails. But the drinks aren't just for looking at, you know. The once-viral Shark Eye easily proves its worth offline as a powerful passion-fruit sour, built on a base of both bourbon and rye. Similarly, the flaming Skittles-adorned Taste the Rainbow finds its sweetness tempered by a complementary blend of overproof rum and pisco. The photos might last longer, but the flavors are what you'll actually want to remember.
12. El Cortez
17 Ingraham St., nr. Bogart St., Bushwick; 347-599-2976
This Tex-Mex-ish haunt from the team behind Williamsburg's the Commodore and the Drift in Greenpoint dives deepest into tiki waters. Zombies, strong and not too sweet despite pours of falernum and grenadine, provide the perfect counterpart to late-night chimichangas and taco salads, as does the simple three-rum punch, lengthened with pineapple and orange juices. Still, as at its sister bars, you can easily find yourself sucking down one too many Commodores, co-owner Chris Young's highly addictive, amaretto-topped frozen piña colada.