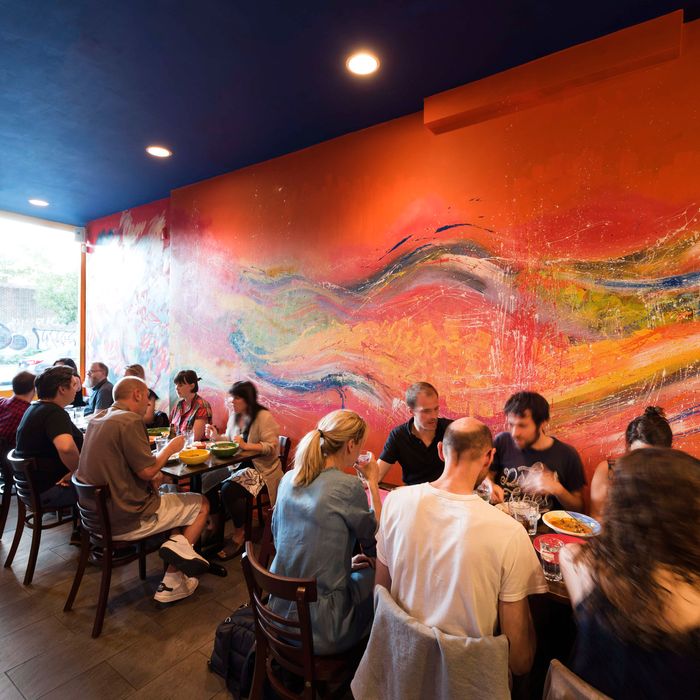 Ugly Baby is New York's No. 1 Thai restaurant and it's not even in Queens.
Photo: Liz Clayman
In the beginning, there was Sripraphai, a Woodside mecca for those craving the aromatic, pungent, frequently torrid flavors of real Thai food. But over the years, the field has grown crowded; nowadays even Manhattanites trip over first-rate larb in their own backyards. Queens remains a vibrant hub, of course — especially Elmhurst, where the diversity of regional styles and restaurant types provides a continuing culinary education. Here, the absolute best Thai restaurants in New York.
1. Ugly Baby
407 Smith St., nr. 4th St.; Carroll Gardens; 347-689-3075
At first you think that the entire dining room has a cold. But then you notice that the dazed expressions, pervasive eye-tearing, and rampant nose-blowing are accompanied by the telltale flush and trickle of perspiration that can only signify serious, wanton capsaicin consumption. Yes, heat freaks, Ugly Baby is Thai-spicy. It's also the domain of chef Sirichai Sreparplarn, who first won a following at Red Hook's short-lived Kao Soy and Chiang Mai. His single-page menu is a streamlined selection of dishes drawn from all over Thailand, some of which you probably haven't encountered before: a first sweet, then hot mushroom-pineapple curry with fragrant lime leaves and thin planks of tofu; sea bream with a turmeric-and-garlic rub that's scraped off before the fish is deep-fried, fried separately, then reapplied like frosting on a cake; mini-muffin-like coconut-milk cakes embedded with black beans and taro, slicked with tamarind-chile sauce, and scattered with crushed peanuts. What makes Ugly Baby truly great is the extent to which everything feels like a pure manifestation of its chef-owner's taste and personality, from the thoughtful wine list, comprising grapes and blends attuned to the cuisine's complex flavor palette, to the steadfast refusal to compromise dishes by adjusting spice levels. If you can't stand the heat, this isn't the kitchen for you. — Robin Raisfeld and Rob Patronite
2. Lamoon
81-40 Broadway, Elmhurst; 917-745-1168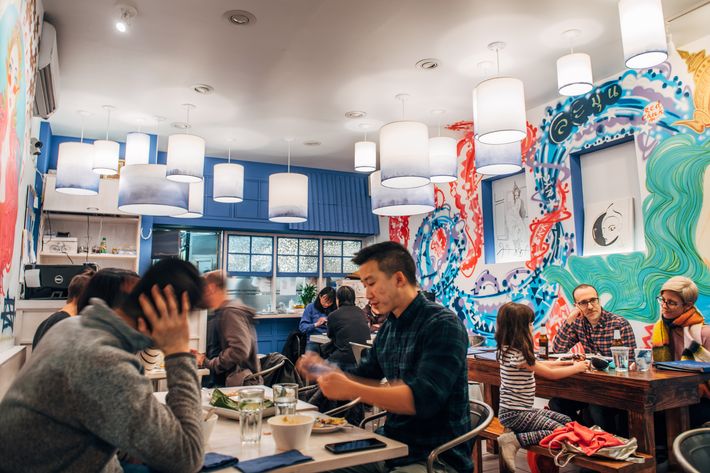 Lamoon specializes in the cuisine of Lanna, the "kingdom of a million rice fields" which once encompassed Thailand's northern provinces, including chef Arada Moonroj's native Chiang Mai. And though rice certainly plays a big part here, the real star of the show is the noble pig. Kang hung ley, a rich curry with pork belly stewed for hours, is traditionally served at weddings and funerals. Don't be surprised if the first spoonful calls to mind Indian food; it contains masala, which Moonroj imports from Thailand's Mae Hong Son province on the Burmese border. The words "nose to tail" don't appear anywhere on the menu, but they certainly inform the cooking philosophy: Sai aua sausage hums with chile and lime leaf, and sports crunchy white flecks of pig's ear. Creamy, smoky, spicy abb ong oor is pork brain seasoned with turmeric, chile, and lemongrass, then grilled in a banana leaf. As for the tail, you can find it in leng zabb, which features hunks of slow-cooked pork spine looming above a bright broth that balances the acidity of fresh lime juice with the funkiness of fish sauce and the herby spiciness of green bird's eye chiles, minced garlic, and cilantro. — Joe DiStefano
3. Sripraphai
64-13 39th Ave., Woodside; 718-899-9599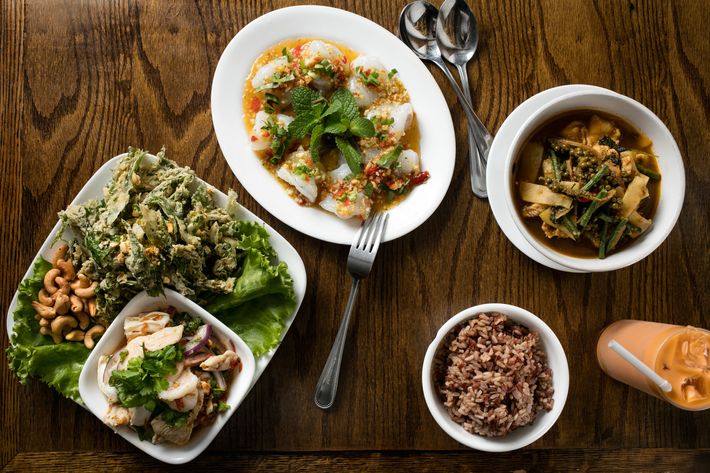 Sripraphai has come a long way since its early days as the no-frills holy grail of New York Thai food. Expansions and renovations have brought a beautiful patio out back, replete with burbling fountain and leafy apple tree, and actual (if not Wallpaper*-worthy) décor. The takeout menu gives a phonetic spelling (see-pra-pie), and servers ask, unprompted, if you'd like "Thai spicy." Happily, these new and somewhat self-conscious developments have had no deleterious effects on the food, which is, indeed, Thai spicy, but also multilayered and nearly impossible to stop eating. Crispy fried catfish, fiery beef panang, and minced pork with chiles, peanuts, and lemon juice are as good as ever. The pad might be fancier, but not the pad Thai. — R.R. & R.P.
4. Ayada
77-08 Woodside Ave., Elmhurst; 718-424-0844
Like Sripraphai, Ayada has grown from humble origins – first expanding into the space next door, and then spawning a Chelsea Market outpost slated to open this summer. The reasons for this success are clearly visible in the form of the raw-shrimp salad, redolent of lime and garlic; the panang duck curry, with its pinpoint calibration of sweet, sour, and spicy; the crisp, lacy catfish salad; and the mango sticky rice, a dissertation in ripeness. Factor in the ­super-friendly service, the cheerful décor, and maybe a tableside visit from chef Duangjai "Kitty" Thammasat, and you have one of the city's best Thai restaurants. — R.R. & R.P.
5. Thailand's Center Point
63-19 39th Ave., Woodside; 718-651-6888
This cozy spot in Woodside is charmingly down-to-earth and homey, thanks to the chef and owner Annie Phinphattakul, who presides over both the dining room and the kitchen. The food, then, is even more impressive for its sharp perfection — she may be smiling warmly but she is also cooking fiercely: a mix of traditional, mostly northern dishes and her own witty, playful concoctions. Sections of the menu are labeled "Food to Die For" and "Something So Special" and the dishes within them tend to earn these distinctions. The "egg sandwich" — which turns out to be richly sauced, sticky chunks of stir-fried pork, scattered across one shatteringly crispy fried egg and topped with another, plus basil — is the sort of thing you might think about wistfully until you get to eat it again. — Hannah Goldfield
6. Kitchen 79
37-70 79th St., at Roosevelt Ave., Jackson Heights; 718-803-6227
If the food of Isan, Thailand's largest and most northeastern region, has become well-represented in New York, we could use more from the south, where it tends to be very, very spicy, thrillingly and complexly so. Kitchen 79, on the border of Jackson Heights and Elmhurst and decorated a bit like a tidy, high-end nightclub (lots of black-and-white leather and glitzy light fixtures), is an excellent place to retrain your palate by familiarizing yourself with classics like gaeng tai pla — a deeply fishy, insanely fiery (not for everyone, but catnip for some) mackerel-based curry bobbing with curls of shrimp, tender cubes of pumpkin, and half-globes of barely crunchy Thai eggplant. Pad ped moo pah, which features wild boar sautéed in spicy curry paste with bamboo, basil, and sprigs of young peppercorn, is an antidote to pork-belly fatigue — it's nearly as rich, but significantly meatier and bears a subtle gamy tang. — H.G.
7. Khao Khang
76-20 Woodside Ave., Elmhurst; 718-806-1807
If only the word "cafeteria" more often described places like this one, where food is ordered by pointing to unlabeled sections of a steam table, à la rice-curry stalls and shops in Thailand. Combos feature two or three dishes plus rice. You never know what you're going to get but you can be sure it will be delicious, from super-spicy curries to stewed pork belly with tofu. — H.G.
8. Uncle Boons
7 Spring St., nr. Elizabeth St.; 646-370-6650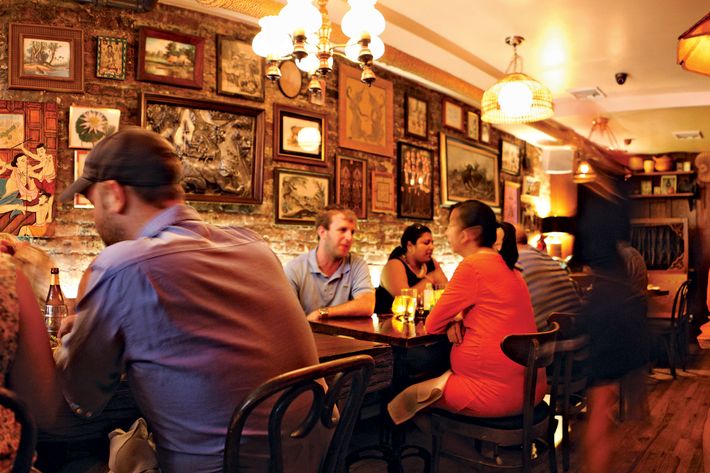 Ann Redding and Matt Danzer, the married chefs behind Uncle Boons, want to transform the way the average American (or at least New York) diner thinks about Thai food, as not just an interesting, exotic "ethnic" option but in fact one of the great cuisines of the world, on par with French or Italian. Their restaurant is as buzzy and stylish as any other in Nolita, and though they hew carefully to tradition when it comes to each dish, they follow their whims in terms of the wide array of them, inspired by their travels all across the country, and place a premium on using the highest quality ingredients. When betel leaves are available, it'd be nothing short of a mistake to skip them, wrapped around a heady mixture of fresh ginger, coconut, dried shrimp, and shrimp paste, plus peanuts and chiles. And you'd be hard-pressed to find a better khao soy, the northern-style, coconut-based, whole-chicken-leg curry, made golden with fresh turmeric and featuring homemade egg noodles. — H.G.
9. Khao Nom
42-06 77th St., Elmhurst; 929-208-0108
For an immersion course in the pandan-floral, coconut-creamy, tapioca-chewy, occasionally salty, and often translucent pleasures of the Thai-dessert pantheon, you could do no better than the display case of this quaint Elmhurst café. It used to be that the plan of action was to dine on incendiary steam-table curries around the corner at sister shop Khao Kang, then repair here for something sweet(ish). But the savory-snack menu has expanded to such a degree that that's no longer necessary — especially if you're in the mood for a credible khao soy, or one of the over-rice dishes, including what passes for American fried rice in Thailand (it involves fried chicken, hot dogs, ketchup, and a sunnyside egg). For dessert: a coconut-ice-cream sundae, showered with peanuts, palm seeds, sweet-potato cubes, and a healthy splash of condensed milk. — R.R. & R.P.
10. Chao Thai
85-03 Whitney Ave., Elmhurst; 718-424-4999
Another Queens pioneer, Chao Thai is toward the literal end of "hole-in-the-wall" when it comes to atmosphere, but the food has seriously held its own for years now, and the chef-owner, Ratchanee Sumpatboon, has made her mark by expanding all over the city (see Lan Larb Soho), scattering spicy specialties from her native Isan in her wake. — H.G.
11. Pure Thai Cookhouse
766 Ninth Ave., nr. 51st St.; 212-581-0999
Among the many Thai restaurants in Hell's Kitchen, Pure Thai stands out for its appealingly narrow, snaky dining room (you feel you've happened upon a secret cave) and pared-down menu, featuring one of the city's best som tum salads, each strand of pert green papaya glistening in a perfect sheath of lime juice and fish sauce. — H.G.
12. Fish Cheeks
55 Bond St., nr. Bowery; 212-677-2223
The Thai chef-owners of this Noho restaurant, brothers Chat and Ohm Suansilphong, have carved out a very specific niche for themselves: a seafood restaurant with a Thai flavor profile, a lively bar scene, and the kind of loud, buzzy vibe that doesn't often coexist in Thai restaurants with serious kitchens. But the food is fresh and flavorful, and certain dishes — the complexly spiced coconut-crab curry, the mouth-puckering zabb chicken wings — have gained a cult following. And if you're hankering for a whole fish, you can order one grilled, fried, or best of all, steamed and served in a cilantro-lime broth in a fish-shaped pan under a blizzard of fresh herbs and red chiles. — R.R. & R.P.
13. Som Tum Der
85 Ave. A, nr. 5th St.; 212-260-8570
Somtum Der's raison d'etre is the invigorating green-papaya salads known as som tum. There are eight made-to-order variations on the theme, the way there are, say, nine signature salads at Sweetgreen. Our favorite is the "tum pla too + kao mun" (with mackerel). But don't neglect the equally hot larbs, or the deep-fried chicken thighs marinated in a garlic, pepper, lemongrass, and red-curry paste that will knock your socks off. — R.R. & R.P.
14. Wayla
100 Forsyth St., nr. Grand St.; 212-206-2500
Wayla, which opened about a minute ago, is too new to shove onto an assiduously researched list like this. But — what the hell — we're going to do it anyway. Chef Tom Naumsuwan's street-food-inspired cooking so far is that good: three fat pork sausages on sticks, a green-papaya salad as perky and invigorating as they come, tiny meatballs wrapped in noodles like rubber-band balls then deep-fried, and a Thai fried chicken worthy of the former tenant of this subterranean space, Birds & Bubbles. The restaurant is run by Erika Chou, who you may or may not remember from the late, great Yunnan Kitchen. Bonus points for Anthony Baker's cocktails, close quarters that manage to feel spacious and comfortable, and the fairly transporting backyard, where you can linger over your housemade coconut-ice-cream dessert beneath some palm fronds and, on a clear night, maybe even a star or two. — R.R. & R.P.
15. Eim Khao Mun Kai
81-32 Broadway, nr. Britton Ave., Elmhurst; 718-424-7156
Khao mun kai, which means "oiled-rice chicken" (eim means "full"), is the popular Thai adaptation of a common Hainanese street food and the specialty of this Elmhurst storefront shop, by which we mean that's all they've got. It's enough; in fact, it's plenty. Whole chickens are boiled, jasmine rice is cooked in the stock, a zingy garlic-chile-ginger condiment is Vitamixed. That the plastic-plated result, along with a cup of broth and some slices of cucumbers, looks a bit like convalescent food belies how satisfying this oiled-rice chicken is. It's a bit removed from the Jewish pick-me-up chicken in the pot, but the remarkable soul-soothing effect is the same.— R.R. & R.P.
16. Lan Larb Soho
227 Centre St., nr. Grand St.; 646-895-9264
Here is another unassuming nook overseen by the prolific Ratchanee Sumpatboon (See Chao Thai). Sumpatboon apparently wants to do for larb, the fiery minced-meat salad of northeastern Thailand's Isan region, what David Chang has done for pork buns. (She also consulted on a Lan Larb in Murray Hill and ran the now-defunct Larb Ubol in Hell's Kitchen.) The namesake dish comes in several guises (get the duck or the pork), and it does not disappoint. And though larb is most definitely the thing, Lan Larb is no one-hit wonder. The papaya salad is at once spicy hot and refreshingly cool. The grilled Isan-style sausage served with roasted peanuts and slivers of ginger is snappy, smoky, and mottled with fat. And the pla krapong rard prik, a deep-fried whole red snapper bathed in a sweet-tart chile sauce, is good to the last shred of crispy-skinned meat. — R.R. & R.P.
17. Pata Cafe
56-14 Van Horn St., Elmhurst; 347-469-7142
"Respect others please be quiet," reads a red sign, a nod to the fact that this sweet little spot is often packed with schoolchildren. Most order hot dogs and French fries, but "some of the Filipino kids get pad Thai," says Suchasinee Nitmai, who handles the front of the house while her mother, Sunisa, whips up homestyle favorites including papaya salad with preserved crab and pickled fish and num tok beef dressed with red onion, mint, lime juice, and chiles. Roasted rice powder lends a pleasant nuttiness to the beefy salad. Specials include khanom jeen ya poo, rice noodles served with a sidecar of crab in a yellow curry that gets its color from hand-ground turmeric and its flavor from galangal, chile, and lemongrass. It comes with a platter of fresh herbs. Mix the whole lot together and dig into a real Thai after-school special. — Joe DiStefano
18. LOOK by Plant Love House
622 Washington Ave., nr. Pacific St., Prospect Heights; 718-622-0026
The name of this Elmhurst transplant — the Anglicization of the Thai word for children, because the food is meant to be the sort that Thai mothers prepare for their kids — doubles as a serious mandate, urging residents of Prospect Heights to wake up and reconsider what they thought of as Thai food. Try finding pork-blood noodle soup or hor mok pla, a steamed-fish-curry custard, elsewhere in the neighborhood, let alone the borough. — H.G.
19. Paet Rio
81-10 Broadway, Elmhurst; 917-832-6672
The chef-owner behind the popular, unusually tasty if unthrilling Wondee Siam restaurants in Hell's Kitchen and the Upper West Side is freer in Queens, focusing on the kinds of dishes likely to appear only on her "secret" menu in Manhattan, like fermented rice noodles in tomato-and-pork sauce and shredded-catfish salad. — H.G.
*This post has been updated.