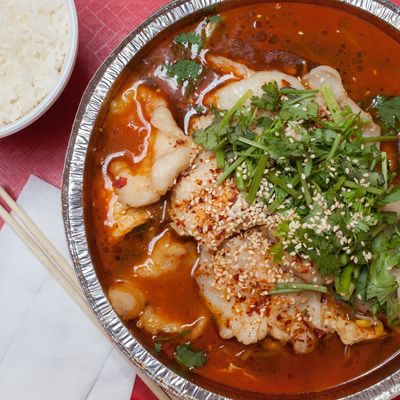 Peng Shun is the perfect beginning to a movable feast.
Photo: Miachel Breton
The best way to eat Chinese food in Sunset Park — a neighborhood teeming with handsome banquet-style venues, dim sum rooms, hot-pot specialists, and long-menued Cantonese establishments — is to focus on the fast and the cheap. Here, the nine to visit.
1. Peng Shun Spicy Pot
6301 Eighth Ave., nr. 63rd St.; 917-388-0989
The expansive sprawl of Fei Long Supermarket on Eighth Avenue includes a food court with ten inside stalls. There are some fine choices in there — including a Shanghai-style dumpling vendor and a few spots that sell dollar congee and soy-braised chicken thighs — but the best and first dining option for anyone visiting Sunset Park is Peng Shun. It is an excellent way to sample dozens of ingredients in one go. The menu's focus is essentially the quick-serve version of the stew-your-own-adventure hot-pot format. It starts with base proteins (fatty beef, razor clams, crab stick) and is blasted in a superhot pan with vegetables like cabbage and crunchy sliced lotus root. There's offal, from gizzards to pork kidneys, and you choose between five punishing spice levels. Meats are $8 a pound, vegetable-based pots are $7; the background music to whatever you choose is a numbing Sichuan pepper-based sauce with brilliant flashes of raw garlic.
Peng Shun also serves a bargain jianbing, the dosa-like stuffed crêpe strewn with egg, meat, and an application of sweet, dark fermented soybean paste. Perhaps best of all is an $8 bowlful of whitefish fillets served with rolls of yuba; a mix of bean sprouts, yellow chives, and raw, shredded ginger; and a fiery broth garnished with chopped coriander stems and a scattering of dried red chiles. The spice level is less aggressive, more of a slow burn. And the final reason for Peng Shun landing the No. 1 spot is that it is the perfect beginning to a movable feast: You're just steps from hand-pulled noodles, Peking duck, and dozens of other dishes from other regions to sample.
2. He Yi Xiaochi
5301 Eighth Ave., nr. 53rd St.; no phone
The Fuzhou rice balls, hand-made noodles, and bone-broth soups laden with bone-in meat are all worth trying, but what makes this pint-size shop essential is its fried jiaozi. The floppy dumplings are packed loosely with juicy pork and green onion and served ten to an order with a gingery dipping sauce. The dining area is a handful of small tables appointed with hot sauce and sleeves of sad little napkins, and the satellite television might be blasting Chinese military dramas, but the jiaozi and steamed bao are so good that you probably won't notice.
3. Yun Nan Flavour Garden
5121 Eighth Ave., nr. 53nd St.; 718-633-3090
What began as a comically adorable husband-and-wife operation in a cramped side-street kitchen is now a fully staffed restaurant on Eighth Avenue's main stretch. The most idiosyncratic aspects of Yun Nan 1.0 remain — roughly half the menu is still 86'd in perpetuity — but the new digs have given the kitchen enough space to showcase their "Crossing the Bridge" noodles, a brothy and aromatic Yunnan specialty put together tableside, not unlike phở, built on squiggly rice noodles and layered with thin-sliced meats, sprouts, and barely cooked quail eggs. Order the cold noodles with chicken if the dish is available. But there are other highlights on the menu, including a plump, sturdy pork dumpling served with hot-and-sour sauce, whose one-two punch comes courtesy of a flotilla of dark toasted chiles and glugs of tangy black vinegar. The housemade rice noodles appear again at the foundation of the "crispy meat sauce," which is shorthand for nubs of chicharrons and slices of pig intestine. Perhaps in response to an influx of new customers, the staff now double-checks to make sure you know what you're eating. Don't be afraid: Just think of the dish as a duel between peppery heat and subtle sweetness, with the offal caught in the crossfire.
4. Chi Ken
5401 Eighth Ave., nr. 54th St.; 718-633-8877
This fast-food shop, which specializes in popcorn chicken fried in a portable style popularized at Taiwan's night markets, opened this winter. It is still working out the kinks. And yet the deep-fryer spectacle is worth it for anyone who appreciates the idea of crispy chicken hearts on a skewer. Chi Ken is not a first-date place (or a 19th-date place) unless you are most confident in a quasi-gonzo setting of pork necks and slabs of blood-thickened rice cake and bottles of imported milk tea that come in quirky bottles shaped like ripped naked dudes. The signature popcorn chicken is made from spice-marinated thigh meat that has been dredged with sweet-potato flour. Also recommended: the "crazy jumbo" squid, which is apparently trending in Taiwan. This monstrous fried item has a pleasant malty flavor and is scored into peel-and-eat pieces, but is otherwise whole and propped up with two large skewers, scarecrow style. One recent $7 specimen measured in at 16 inches, fins to suckers. Chi Ken also fries an assortment of cutlets and sausages. There's some broccoli and tofu served as well, but they are perfunctory. Within a year, Chi Ken might easily be known as the Chipotle of battered, tentacled leviathans.
5. Taste of Guilin
6307 Eighth Ave., nr. 63rd St.; 718-833-8806

"No. 1 authentic Guilin cuisine in NY." That is how the menu puts it, though up until recently this tiny storefront outside the Fei Long food court was the only place in New York to find Guilin food. It's all about thick mifen, a particularly tubular noodle with an origin story that dates back a few thousand years to the southern Chinese city. (The gist: a unification-minded emperor dispatched a roving army to an area where the soldiers had little experience with eating rice, so it was blanched white and converted into notoriously elastic rice noodles.) First eat some noodles with beef or pork that you choose; then add the broth, which is served on the side. Spicy dried soybeans, fermented bamboo shoots, pickled long beans, and preserved cabbage round out the flavors, and some customers add a couple of eggs that are braised in tea until purplish-brown. Think of the tripe, which is golden-fried and served with sweet chile sauce, as Guilin-style fries.
6. King's Kitchen
5223 Eighth Ave., at 53rd St.; 718-853-1288
The Sunset Park branch of this Cantonese chainlet, open from 6 a.m. to 2 a.m. daily, is pretty much a diner that teems with customers slurping congee and eating rice casseroles with salted chicken and preserved duck. There's orange-sweet cuttlefish, slices of Thai-style jellyfish, and 21 kinds of rice-noodle rolls on the menu, which are rolled around everything from roast pork to shrimp. King's Kitchen is the most dependable spot to find a wide array of barbecue meats at inexpensive prices, and the smell of anise and clove is strongest at the counter, where the cooks slice excellent char siu and hack apart caramelized rib racks hanging in the window. The "chef special" — red-cooked donpo pork belly — is a sauce-slicked powerhouse of salty meat and candied fat. If you pop in after 9 p.m., sit down and order the duck with crisp, sticky skin, or any roast meat on rice — you'll see dozens of customers opting for the same. King's Kitchen may be built for speed above all, but that doesn't mean it's not delicious.
7. Xin Fa Bakery
5617 Eighth Ave., nr. 57th St.; 718-871-2889
A proliferation of bakeries along Eighth Avenue has resulted in a boutique dessert-scape where you're almost guaranteed to run into a platoon of dainty matcha cheesecakes, a tray of mini hot dogs baked in glazed triangles of sweet dough, or something flavored with pumpkin that has the appearance of a cartoon character. Xin Fa does all this and more, offering the most diverse range of opera cakes in flavors like mango, as well as buns topped with pork floss and sesame balls of all dispositions. Mochi-like pancakes stuffed with a mound of eggs are portable and filling, but the signature item here are the fresh Portuguese and Hong Kongish egg tarts. One of the original mash-up desserts, these egg tarts are a teatime wonder made of wobbly custard set in a beautifully flaky pastry. They emerge warm from the oven looking a little like dejected soufflés; the taste is sweet without being cloying, rich without heaviness. It's important to preorder the creamy and airy tarts ahead of time (by phone or in person), because while the kitchen bakes them all day, it's not unusual to encounter an hour-long wait.

8. Golden Steamer
5224 Eighth Ave., at 53rd St.; 718-853-8588
This long-running house of steamed buns is the sister establishment to Manhattan's Golden Steamer. (Its other siblings include Golden Bun in Bath Beach and Lucky II Bakery in Dyker Heights.) The shelves are stacked with clamshells of take-home bao in flavors like salted yolk and sausage. Your best move is to order whatever smells like buttery brioche and is fresh from the steamer, even if that means lurking on the periphery of the establishment until the moment the keep-warm cabinets are restocked. The fatty buns filled with roast pork are thickened with sweet soy and glazed with a Parker Roll–like sheen; three of them cost less than $1.50.
9. Kai Feng Fu
4801 Eighth Ave., at 48th St.; 718-437-3542
The meaty pork-and-chive dumplings are still the thing to order. It's not a precision operation by any stretch of the imagination, and the dumpling skins may not be gossamer thin, but service tends to be quick and the cost is still a comforting $1 for four. Thanks to its appearance on dumpling crawl lists and convenient proximity to a few different bus lines, the shop is also a nice polyglot hub for Fujianese, Russians, and anyone else who might politely ask to borrow your bottles of black vinegar and knockoff sriracha as soon as you're done with them. Grab a bag of 50 frozen dumplings on your way out.