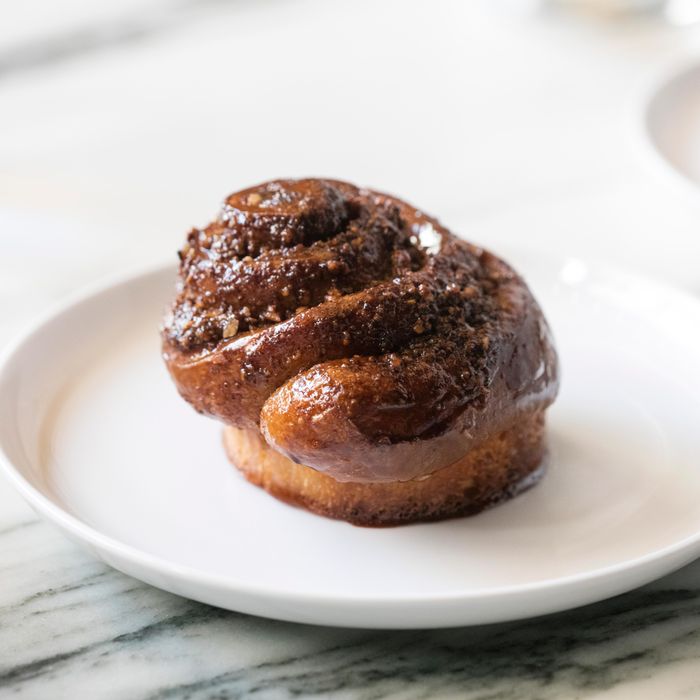 Flora Coffee's sticky bun is spiked with black cardamom.
Photo: Melissa Hom
There tends to be some confusion around the sticky bun — namely, how it differs from a cinnamon roll. Our on-the-ground research has determined that, despite similarities in shape and many ingredients, the key distinction lies within the source of stickiness itself: Where the cinnamon roll is draped in some variety of white icing (generally cream-cheese- or just powdered-sugar-based), the sticky bun gets a glaze of a glassier nature, whether it be a thin syrup or a thicker caramel — super sticky of course — and often, though not always, incorporates nuts. Herewith, the best sticky buns in New York.
1. Flora Coffee's Sticky Bun
945 Madison Ave., at 75th St.; 646-558-5383
Over the past few years, our museum cafés have gotten better and better, and Flora Coffee, which offers counter-service snacks and drinks in the surprisingly sunny basement at the Met Breuer, next to the full-service restaurant Flora Bar — both from the same masterminds who gave us Estela — has played a big part in upping the stakes. One of the best things on the short menu is one of the best pastries in New York: the sticky bun, a marvel of architecture as much as flavor, the yeasty yellow brioche dough layered evenly with an intensely concentrated, black-cardamom-spiked spice mixture and uniformly chopped buttered pecans, then rolled carefully into a fat fist-sized spiral as sound as the Guggenheim. It's perfectly dense throughout and bewitchingly satisfying, if slightly unconventional thanks to that serious kick of black cardamom.
2. Balthazar's Sticky Bun
80 Spring St., nr. Crosby St.; 212-965-1414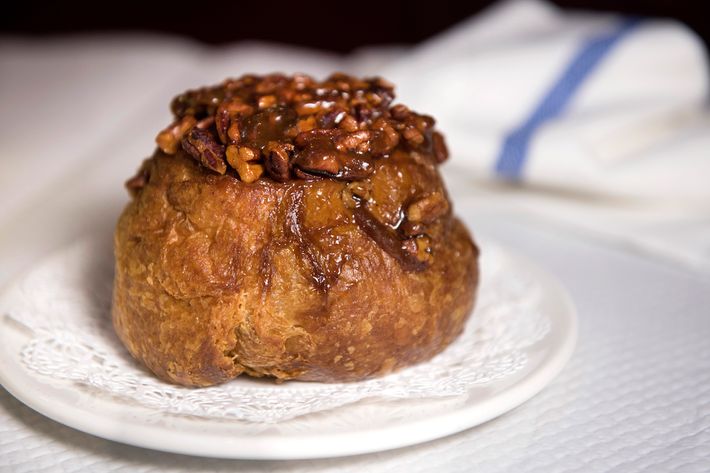 Where Flora's bun has a hint of mystery to it, Balthazar's provides a deeply comforting familiarity: It's basically a big, round, buttery, yeasty, crisp-edged croissant that flakes apart with ease and is so generously coated in a sticky caramel redolent of burnt sugar — and thickly studded with coarsely chopped candied pecans and walnuts — that you can't even tell it's coiled from the outside, nor that it contains a scattering of juicy raisins. If you find yourself craving the platonic ideal of a sticky bun, this is probably the one you're looking for.
3. William Greenberg's Schnecken
1100 Madison Ave., nr. 82nd St.; 212-861-1340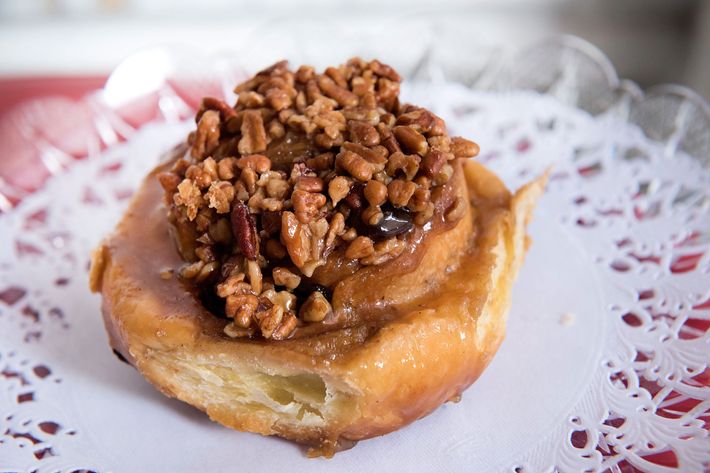 This classic kosher bakery of the Upper East Side (going strong since 1946!) is known for its superlative chocolate cake and black-and-white cookies, but also for its schnecken, or German-style sticky buns (schnecken translates literally to "snail"). The yeasted sour-cream dough, which gets twisted into a sort of hybrid spiral-knot, makes for a pastry that's moist within but crumbly and crispy on the outside, despite being soaked in a cinnamon-brown-sugar syrup so sweet it will make your teeth ache (in a good way). It incorporates chopped walnuts and juicy raisins, too, and comes in three sizes — miniature, regular, and large — all available in person or by mail order.
4. Sadelle's Sticky Bun
463 W. Broadway, nr. Prince St.; 212-254-3000
Melissa Weller's baking has earned her many accolades, and her sticky bun has an especially devoted following: It's almost kouign-amann-like in structure, made with laminated brioche dough that bakes into a spiral of crispy, papery layers and gets topped with a brown-sugar glaze and flaky sea salt, no nuts.
5. Roberta's Sticky Bun
261 Moore St., nr. Bogart St., Bushwick; 718-417-1118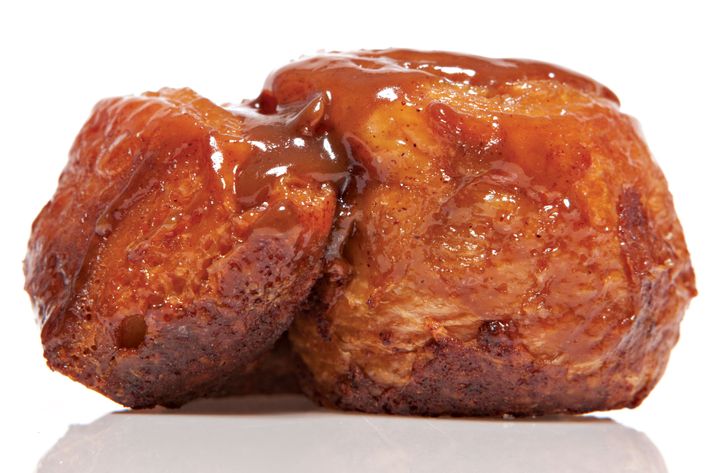 Before Sadelle's, Weller worked at Roberta's, and so the world owes her for this recipe, too — also a buttery brioche, but a bit airier and more popover-like, and topped with a stick-to-your-teeth salted caramel, plus flaky salt.
6. Amy's Bread's Sticky Bun
Multiple locations
Another straightforward classic, this pillowy pastry has chewy edges, a sweet and slightly salty glaze, a nice hint of cinnamon, and a substantial, handsome crown of rough chopped pecans.