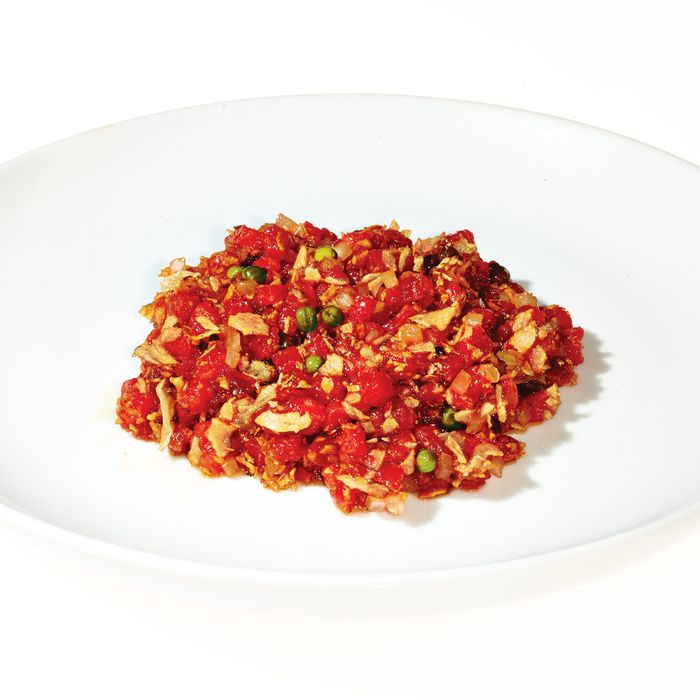 Estela's secret ingredient: grass-fed bison.
Photo: Bobby Doherty/New York Magazine
Before the chopped-beef burger, before the beer-braised brat or the hot dog, before pork belly or the roasted pork chop (or the steamed pork bun), before the ice box, the gas range, or even the campfire, there was raw meat. So it's no wonder that in this age of comfort-food manias and rampant, chef-fueled nose-to-tail worship, the primal gourmet delicacy steak tartare has been experiencing a renaissance at restaurants all over town. A good tartare comes in all sorts of strange shapes and sizes these days, but for the purposes of this competition, we'll limit our discussion to the traditional beefsteak variety, although that original raw meat of the Americas, bison, is also allowed.
1. Estela
47 E. Houston St., nr. Mulberry St.; 212-219-7693
Like the inventors of the original, heavily sauced French bistro specialty, Ignacio Mattos knows that one of the keys to a truly great tartare is to make people forget that they're actually eating raw meat at all. But instead of muffling the beef with the usual mix of egg yolk and mustard, the inventive chef uses a variety of other, slightly more progressive tricks to produce this mind-bending, much-imitated dish. He substitutes tiny pickled elderberries for the usual capers, and leavens the egg yolk with splashes of lemon, red wine vinegar, and fish sauce. There are chile flakes for a hint of heat, and diced Spanish onions and crisped sunchokes for not one, but two kinds of crunchy textures. But the key is the beef itself, which is hand-chopped fresh before each service. We've heard that the chef favors the leanest-possible cut of beef — strip loin or tenderloin — which accounts for its clean, almost unearthly freshness. But the last time we bellied up to the bar for a taste, one of the bartenders let slip the real secret: It's not beef at all; it's free-range, grass-fed bison.

2. Chumley's
86 Bedford St., nr. Barrow St.; 212-675-2081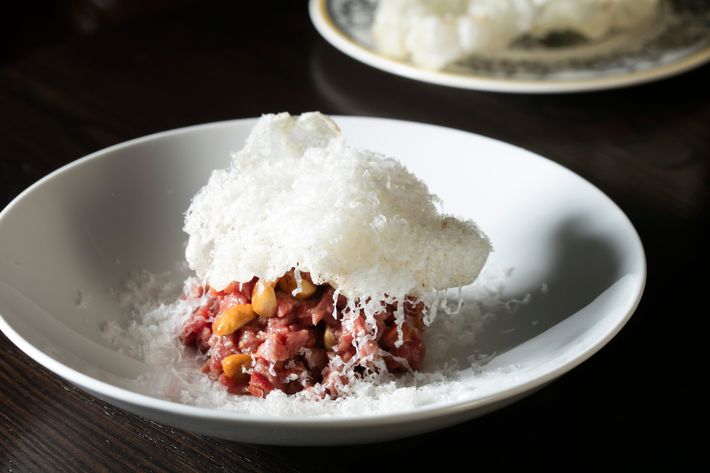 If steak tartare showed up at all on the original menu of this venerable West Village speakeasy back in the day, we're betting it consisted of some garden-variety burger meat thrown together with capers, your standard egg yolk, and the usual splashes of Worcestershire. Well, not anymore. Victoria Blamey, who spent time as the sous chef at Atera before taking over the kitchen at the lavish Chumley's 2.0 reboot, constructs her perfectly sized, intensely flavorful tartare with a modest chop of top round steak, mixed with mustard, shallots, confit tomatoes, anchovy paste, lemon juice, olive oil, and a speckling of crushed hazelnuts. The tartare is covered in a drift of tangy Ombra sheep's-milk cheese from Spain that adds an extra umami kick as you mix it into the meat, and served with a salty, puffy trencherman's confection called "tendon crackers," which melt from crisps down to a kind of bone-marrow richness in the mouth, and manage to elevate the entire dish up into the great beef-tartare pantheon.
3. Lafayette
380 Lafayette St., nr. Great Jones St.; 212-533-3000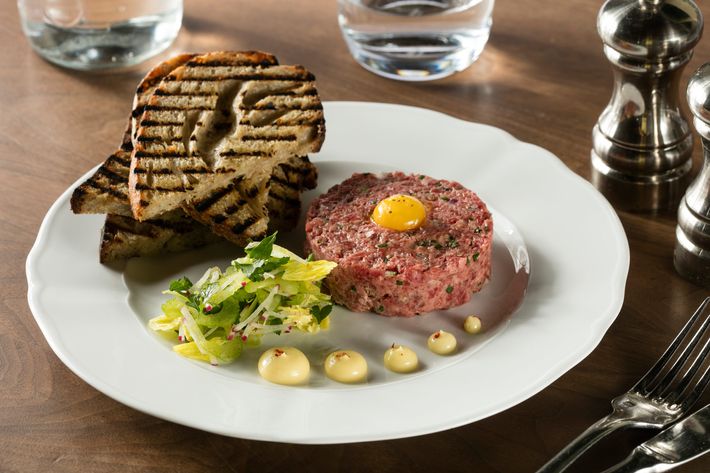 The city may be awash in newfangled tartares, but for practitioners of the original French version, the ancient rules still apply. The serving should be not too small and not too large ("no bigger than a lady's fist" is one rule we've heard), and the condiments (capers, yolk, cornichons, mustard, etc.) must be measured out in a way that doesn't turn the meat into a gooey mess, or leave it underseasoned, or dry. All of these touches are on display in Andrew Carmellini's elegant Provençal interpretation, along with enough newfangled wrinkles to give the dish a modern, updated punch. The rosy chuck flap is dotted with the tiny yolk of a quail egg. There is a celery salad on the side for a healthful crunch, and dabs of faintly spicy aioli, which you can mix into the delicate mash as you wish. Add the triangles of grilled toast and a twirl of the thin, not-too-greasy house frites and you have what my father, a tartare scholar from way back, rightly describes as "everything the tartare experience should be in color, texture, and taste."
4. The Dutch
131 Sullivan St., nr. Prince St.; 212-677-6200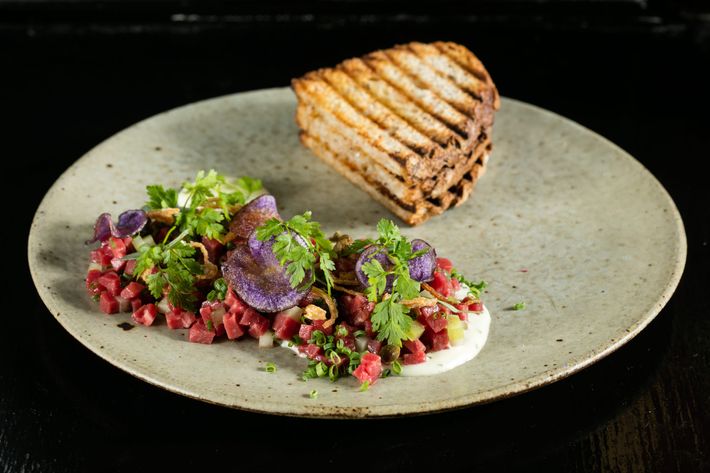 Like beef hearts, marrow bones, and calves' brains spread on toast, chopped raw beef has long been a favorite chef's delicacy, so leave it to that chef's chef, Carmellini, to come up with a second, equally refined version for scholars of the more progressive tartare experience. This one is constructed with a generous helping of hand-chopped Wagyu, instead of the usual filet, and arranged lengthwise on a decorative porcelain plate, in the shape of a brick or a chocolate bar. There's a barely visible chopping of celery folded into the pearly bits of Wagyu, and the patty is styled on its top with sprigs of different herbs and microgreens, and crinkly little chips made from purple Greenmarket potatoes. The de rigueur toast points on the side are cut from a fresh loaf of ale bread; although, the key to this tartare might be an addictive hidden ingredient called "dry-aged beef-fat oil," which the kitchen makes with ground, dry-aged beef fat from the rib-eye, rendered with shallots, garlic, thyme, and a dash of green peppercorn.
5. Carbone
181 Thompson St., nr. Bleecker St.; 212-254-3000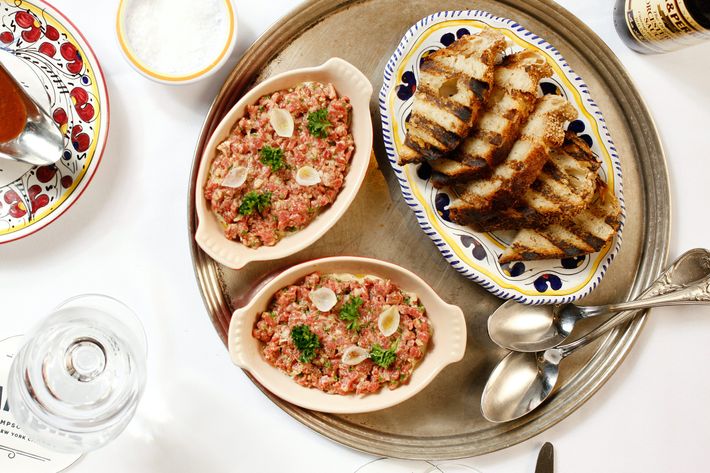 Mario Carbone and Rich Torrisi's homage to the grandiose tartares of old beefsteak New York might be higher up on this list if you didn't have to purchase an entire porterhouse steak (recent market price, $195) to get a taste of it. Upon request, the kitchen makes their luxurious tartare from the filet portion of porter house, and serves it as a kind of delicate, pre-beef-bomb appetizer, before hoisting the grilled-strip portion of the show to the table. Seasoned tartare hounds will detect a touch of Worcestershire on the nose, some olive oil, a little mustard, and the sweet crunch of baby pearl onions. The chefs give the beef a quick sear before mixing in these ingredients, which may account for the more or less perfect texture, which is dense in a lightly melting way, but not too gummy. There's an updated Bearnaise in this presentation, too (they substitute an anchovy emulsion for actual for egg yolks), several generous slabs of toasty garlic bread, and, since not a shred of the large filet goes to waste, enough meat to feed a small army of beefeaters.
6. Vaucluse
100 E. 63rd. St., at Park Ave.; 646-869-2300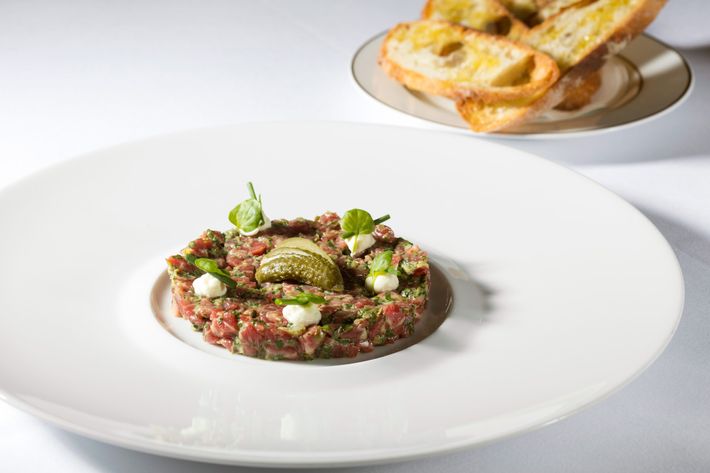 Trendy downtown chefs have hijacked the dish in recent years, but for those of you who still consider tartare de boeuf to be a ritual uptown delicacy, this version, served at lunchtime and dinner, at Michael White's grand Park Avenue establishment, is the one to get. The portion of hand-cut filet is perfectly sized, and White and his chefs stick to classic French condiments: egg yolk, capers, chopped onions and parsley, mustard, and a furtive little dab of ketchup for texture and sweetness. The tartare is decorated with a little gherkin carved in the shape of a fan, and dollops of horseradish cream, each one topped with a single watercress leaf, and after you've mixed everything together, you can spread it on slices of buttered baguette toast, which are served in a little white cup on the side. For maximum uptown effect, order the house frites, which come to the table in a little silver bucket, along with a sip (or two) of one of the inky, old-fashioned Rhônes from the restaurant's impressive, but predictably pricey list.
Honorable Mentions
Bar Boulud
1900 Broadway, nr. 64th St.; 212-595-0303
Variations of classic tartare de boeuf are available at several posh Daniel Boulud outlets around town. But if you're craving a taste of raw beef before (or after) the theater, this wet, saucy iteration, which is arranged on the plate in a neat square, and mixed, among other things, with sherry vinegar, two kinds of mustard, a liberal sprinkling of frizzled capers, and possibly a little too much egg yolk, is the one to get.
Cherche Midi
282 Bowery, at Houston St.; 212-226-3055

Keith McNally was one of the originators of the great tartare craze. This version is the same as the original one at Balthazar but costs a dollar less, and the last time we sampled it, was a third larger. The traditional yolky mix has a comforting lightness to it, but the presence on the plate, in both versions, of scraggly, dried-out croutons is unfortunate.
Claudette
24 Fifth Ave., at 9th St.; 212-868-2424

The yolk comes from the egg of a quail, the mystery ingredient is hon-shimeji mushrooms, and, in accordance with this restaurant's southern Mediterranean theme, there's plenty of chile and harissa in the fresh filet mignon mix. The slices of slim, toasted garlic baguette are large enough to make yourself a dainty tea-time-sized steak tartare sandwich.
I Sodi
105 Christopher St., nr. Bleecker St.; 212-414-5774

Rita Sodi's partner in crime, Jody Williams, produces a solid Francophile tartare at her excellent, always mobbed West Village bistro, Buvette, but this Italian-themed "tartara" at Sodi's Tuscan outpost around the corner is worth a special trip. The meat is chopped filet mignon, seasoned with olive oil and liberal splashes of balsamic, with a hint of invisible anchovy hidden in its rosy-red depths.
Oiji
119 First Ave., nr. 7th St.; 646-767-9050

Like all of the cooking at this polished little East Village establishment, the Korean tartare here (with bits of Asian pear, pickled mustard seeds, and a ramp-flavored aioli, among other things) is filtered through deceptively sophisticated, gourmet sensibility. The fabled honey-butter potato chips are technically a dessert, but if you beg, they might let you have an order with your tartare.
Rebelle
218 Bowery, nr. Prince St.; 917-639-3880
Daniel Eddy is a downtown chef who spent many formative cooking years in Paris, so it's no surprise that this clean, tingly, compulsively edible tartare contains elements from both worlds. There are newfangled sunchokes in the mix of hand-chopped top round steak (in crisped and purée form), along with traditional horseradish, a splash of Cabernet Sauvignon vinaigrette, and a balancing touch of orange zest for sweetness.
Upland
345 Park Ave. S. (entrance on E. 26th St.); 212-686-1006

Justin Smillie arranges the elements of this elegant little tartare (teres major beef, farro, a coddled egg yolk sprinkled with Espelette pepper and chives) on the plate with such a painterly precision, that you almost feel bad mixing them all together. Pay attention to the Rice Krispies crunch of the puffed farro — and that semisweet tang you're tasting isn't cornichon, it's pickled Thai eggplant.