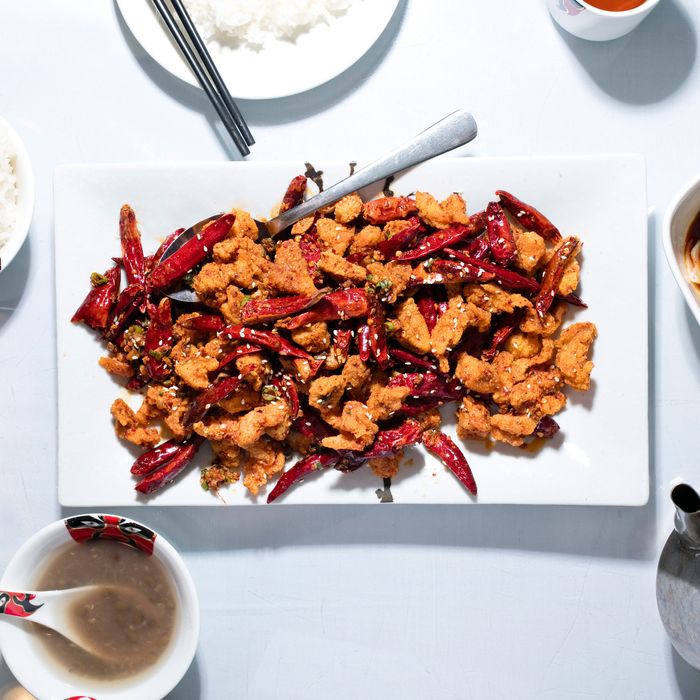 Szechuan House's Chongqing chicken and dumplings.
Photo: Melissa Hom
New Yorkers who love Sichuan food are incredibly lucky: There's an almost shocking number of places in this city where you can get really, really good mala cooking, from the Bowery to Bensonhurst to Bayside. Whether you're looking to get your fix of dan-dan noodles, double-cooked pork belly, fiery Chongqing chicken, and other go-to classics, or discover a new favorite, here are the absolute best Sichuan restaurants in New York.
1. Szechuan House
133-47 Roosevelt Ave., Flushing; 718-762-2664
At what is said to be the oldest continuously operated Sichuan restaurant in Flushing, open since 1985 (though it seems to have changed hands and names over the years), the food is simply a cut above. Highlights include the generously portioned, super-spicy dan-dan noodles, made with crispy pork and a deeply funky umami slick; Chongqing chicken fried in an aggressively seasoned batter that brings to mind both the Korean and southern varieties, shatters satisfyingly between the teeth, and vibrates on the tongue; exemplary mapo tofu; and the taut-skinned, half-moon-shaped "Wonton Szechuan style," served in a dark pool of slightly sweet chile oil and topped with an impressively dense layer of minced garlic and scattering of snipped scallion. There are dozens of other dishes on the menu, all capable of distracting you from the generic dining room's lack of atmosphere. And the complimentary dessert course is the tie-breaking final touch: instead of the obligatory orange slices, a perfectly palate-cleansing delicate cold soup, featuring dried white fungus soaked until it's gone translucent and gelatinous in a subtly sweet broth.
2. Guan Fu Sichuan
39-16 Prince St., Ste. G01, Flushing; 347-610-6999
This Flushing newcomer earned a rare three-star rave from the Times' Pete Wells, and we concur: The place is exceptional, from the atmosphere to the service to the food, which eschews many of the greatest-hit dishes you'll find everywhere else for more unusual and refined offerings. You'll want to skip things like dan-dan noodles, wontons in chile oil, and mapo tofu here (get those at Szechuan House!), and focus instead on the boiled fish with pickled vegetable: bony fillets of freshwater carp in an intensely concentrated, flavorful, and fragrant opaque yellow broth, rich and luscious and bobbing with dried chiles and shreds of sour cabbage and whole enoki mushrooms, softened to the texture of noodles. The Chongqing chicken from the "special dishes" section of the menu is another thrill: It looks and tastes extremely similar to Spicy Village's "big tray spicy chicken," featuring bony chunks of meat in a tantalizing murky, deep red, cumin-heavy broth, but instead of quartered potatoes to round it out, as at Spicy Village, Guan Fu's version uses slightly softer, slightly sweeter chunks of yellow taro. This way is truer to the traditional recipe, according to the helpful and attentive manager, who is full of tips and suggestions.
3. Bamboo Pavilion
6920 18th Ave., nr. 70th St., Bensonhurst; 718-236-8088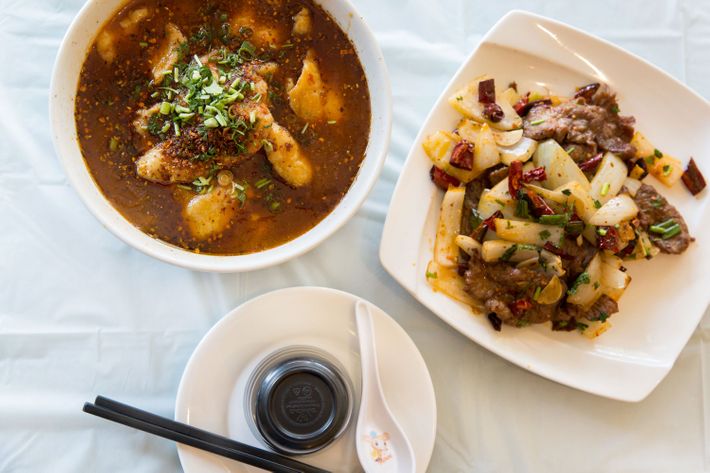 Good Chinese food, let alone good Sichuan food, might be the last thing you'd expect to find in Bensonhurst, which makes a trip to Bamboo Pavilion (formerly known as Spicy Bampa) all the more surprising and delightful. The small dining room is oddly shaped and somehow meandering, with the biggest round tables hidden around a corner in a rather cramped back area, but manages to be cheerful enough. And though the place advertises itself as a hot-pot spot, and you could eat well going that route, the menu is full of other Sichuan specialties, like an excellent, addictive dish of fish fillets and cabbage braised in chile oil and flecked with cilantro, which achieves just the right balance of sweetness and spice, and the cumin-spiced beef sautéed with dried chiles and huge chunks of softened onion. For the ultimate New York experience, head directly across the street afterward to Villabate Alba bakery for the city's absolute best cannoli.
4. Szechuan Gourmet
21 W. 39th St., nr. Fifth Ave.; 212-921-0233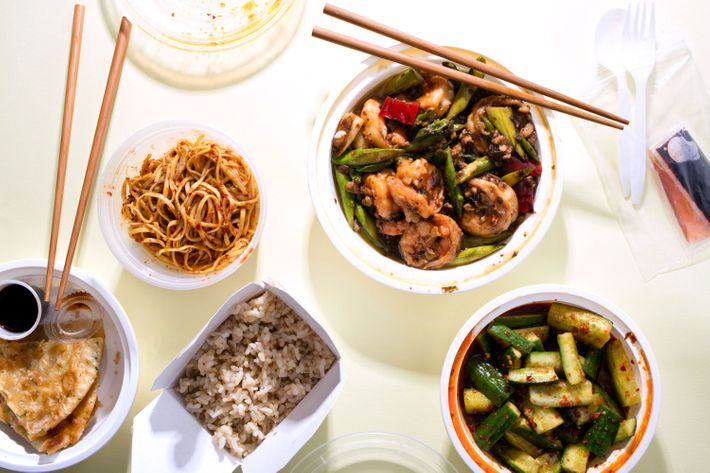 There's an embarrassment of riches when it comes to Sichuan restaurants in midtown, but we're partial to this one, which has been around since 2004 and also has a branch on 56th Street and another (the original) in Flushing. The dining room is pleasantly appointed, with white tablecloths and tasteful if generic art; the service is speedy and professional; and it's packed during lunch for good reason: a menu full of tantalizing and reasonably priced Sichuan dishes. There are many standouts, especially memorable among them the custardy mapo tofu; the tingly salad of smoked, pressed tofu and dense, skinny Chinese celery; the sweet, fiery, ultracrunchy cucumbers; and the sautéed prawns with chile-minced pork and asparagus.
5. Legend Bar and Restaurant
88 Seventh Ave., nr. 15th St.; 212-929-1778
Chelsea is less fortunate than midtown in terms of Sichuan-restaurant density, but wins points in quality with Legend, whose unassuming storefront gives way to a surprisingly elegant dining room, making it both a great choice for a special occasion and a nice place for any old evening or afternoon. The dan-dan noodles are some of the city's best: al dente, strewn with pea shoots (when in season), instead of the usual spinach leaves, and seriously spicy — although, if you really want to sweat, you might try the "Tears in Eyes (Very Spicy Mung Bean Noodle)." The Sichuan entrées are divided into two columns, "Traditional" and "New-Style," both loaded with gems, including super-salty, luscious ribbons of double-cooked pork belly, tossed with leek greens and fermented black beans; and perfectly gamy, thin-cut lamb sautéed in a heavy dose of cumin plus Chinese celery and scallions.
6. Lao Cheng Du
37-17 Prince St., Flushing; 718-886-5595
There's a lot to like about this homey-feeling spot (formerly known as Prince Noodle House), just around the corner from Szechuan House in primo Flushing: the friendly service, the helpfully photograph-heavy menu, the cold-appetizer bar, the dumbwaiter that delivers the hot food from a mysterious location. And, of course, the food itself, including an unctuous Bolognese-like mapo tofu; shell-on, sweet-meat, salted shrimp on a bed of charred clusters of puffed rice, strewn with dried chiles, garlic, and scallions; and tingly cold rabbit hacked into chunks of tender meat clinging to bone and tossed with peanuts and white-sesame seeds.
7. Land of Plenty
204 E. 58th St., nr. Third Ave.; 212-308-8788
This part of Manhattan, where midtown gives way to the Upper East Side, can feel like a bit of a restaurant wasteland, which makes Land of Plenty extra delightful, with its series of conjoined, sleekly decorated, white-tablecloth dining rooms, and a menu that's a joy to explore. Focus especially on the section labeled "Plenty's," which features the kitchen's specialities, from crispy double-cooked fish fillets and mapo tofu to more adventurous options like wok-tossed duck tongues or braised frog.
8. Hot Kitchen
Multiple locations
You'd be remiss not to begin a meal here with the pitch-perfect smashed-cucumber salad, which hits all the right notes of spicy, garlicky, and sweet — and you'd be remiss not to have a meal here, especially at the cheerful, brightly painted East Village location. That salad sets the tone for the rest of the excellent offerings, which include a wonderful mapo tofu, fragrant cumin lamb, blistery dry-sautéed string beans with ground pork, eight different preparations of whole fish, and a host of options for both dry-pot- and hot-pot-style dishes, with your choice of seafood, frog, or cuts of offal.
9. Flaming Kitchen
97 Bowery, nr. Hester St.; 212-925-8083
This triple threat offers dim sum, hot pot, and a sort of preprepared hot pot, no effort required on the diner's part, which appears on the menu as "House Special Ma-la tang": a huge, piping-hot bowl of various cuts of meat, offal, chicken, and seafood, plus thin slices of potato and taro root, cabbage, bean sprouts, and glass noodles, all bobbing in a fiery broth flecked with chiles and Sichuan peppercorn. It's delicious, and alone could sate a small family or group of friends, but then you'd miss out on dishes like the excellent Chongqing chicken and the spicy sautéed Chinese broccoli, which come elegantly garnished with herbs, doilies, and orchids.
10. Legend of Taste
2002 Utopia Pkwy., Whitestone; 718-423-4888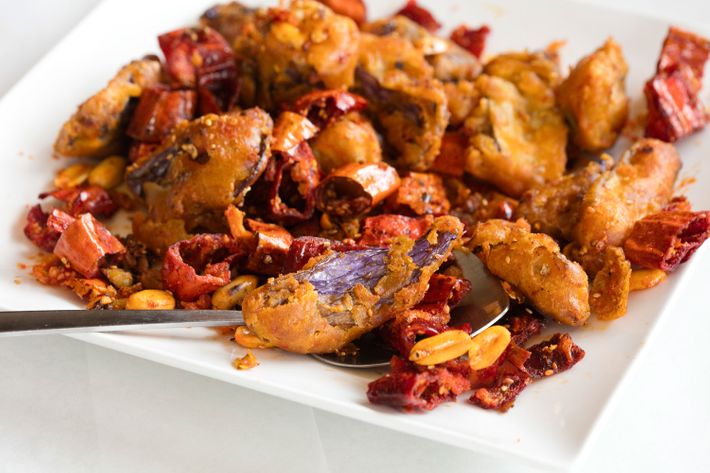 If you have access to a car or are willing to pony up for a taxi, it's hard to imagine a more pleasant spot to indulge in a Sichuan feast than this thoroughly suburban-feeling and relatively inaccessible corner of Queens, on the border of Bayside and Whitestone. The restaurant is airy, bright, and inviting, and a meal begins with complimentary dishes of chile-roasted peanuts and a vinegary little tangle of pickled carrots and radish, which set the tone nicely for delights to come. These include, especially, the crispy Chinese eggplant — cloaked in a puffy, translucent batter that lets its purple skin peek out, and tossed with peanuts, Sichuan peppercorns, and dried chiles, perfect foils to its sweet, creamy flesh — and a Chongqing chicken that gives Szechuan House's version a run for its money.
Honorable Mentions
Cafe China
13 E. 37th St., nr. Madison Ave.; 212-213-2810
Of all the Sichuan restaurants in the city, this one is probably the chicest, outfitted with cool, vintage chinoiserie and pretty ceramics, old schoolroom-style chairs and blue-velvet-backed booths. And the food is very good, enough so to have earned a Michelin star — but the fact that it did is evidence that it's also a bit reined-in, perhaps to please a milder palate, and some dishes leave you wishing they were spicier, saltier, and funkier.
Grand Sichuan House
8701 Fifth Ave., Fort Hamilton; 718-680-8887
Another pleasant surprise in an unlikely Brooklyn neighborhood, this small, quiet spot makes up for what it lacks in spice with other nuanced flavors, and offers a particularly good, leek-heavy double-cooked pork belly, and Chengdu dumplings in chile oil with a deep and satisfying funk.
Han Dynasty
90 Third Ave., nr. 12th St.; 212-390-8685
The two New York outposts of the Philadelphia chain are unfortunately not created equal, and the East Village location is the one to return to (though, in a pinch, its massive Upper West Side counterpart will do just fine, especially for a large group). The mix-and-match menu is easy to navigate: Pick a style of preparation (dry-pot, cumin, double-cooked), a protein (fish, pork belly, lamb), and a level of spice (from one to ten), and you basically can't go wrong. If the choices overwhelm, you can opt for the greatest-hits tasting menu for the exceedingly reasonable price of $25 per person.
Little Pepper
18-24 College Point Blvd., nr. 20th Ave., College Point; 718-939-7788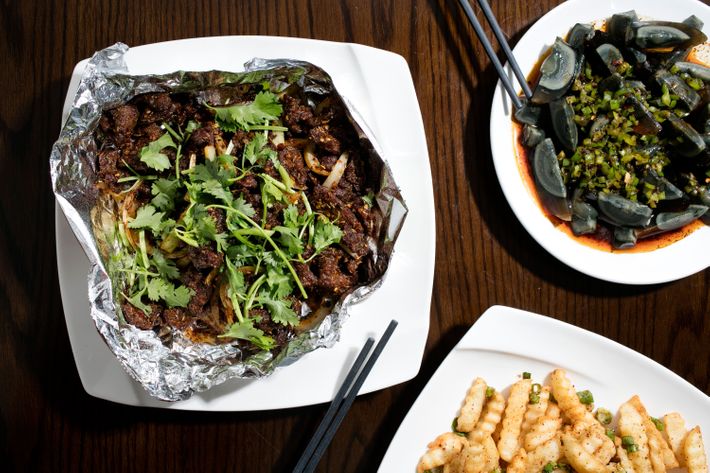 This Flushing transplant is as beloved for its familiar classics — excellent dan-dan noodles; gummy, crispy cumin lamb that arrives in a packet of tinfoil; richly flavored, sticky-textured, batterless Chongqing chicken — as it is for its more unusual specialities, which include a platter of head-scratchingly satisfying crinkle-cut fries dusted in ground Sichuan peppercorn, a dish of sautéed pine nuts and corn kernels, and glassine-preserved black eggs with sautéed bell pepper.
Spicy & Tasty
39-07 Prince St., Flushing; 718-359-1601
Spicy & Tasty long reigned as the go-to Sichuan spot for destination diners trekking to Flushing, and it's easy to see why: It's big, bright, and welcoming, with multiple dining rooms and a cold-appetizer bar at the entrance. In today's crowded field, the Sichuan classics don't stand out quite as much as they used to, but you can still eat very well — the mapo tofu, for example, remains one of the city's best.
Szechuan Mountain House
39-16 Prince St., Ste. G03, Flushing; 718-888-7893
When it comes to aesthetics, Szechuan Mountain House has no competition — which means there is sometimes competition to get a table here. Nearly hidden within a luxury mall (the entrance is not on Prince Street, but rather a sort of alley at the back), the dining room is carefully designed to feel romantically transportive, with details like a koi pond, lush plants, semi-private booths, and paper lanterns. The food, too, is presented with great artistry, in beautiful ceramic, stoneware, and cast-iron vessels.
Wu Liang Ye
36 W. 48th St., nr. Fifth Ave.; 212-398-2308
Wu Liang Ye, with its chandeliers and carpeting and heavy crown molding, feels like a holdover from another era, formal and stuffy in a decidedly dusty kind of way, on the second floor of a brownstone that's seen better days. But one might also view it as charmingly retro, and the menu is quite good, if on the pricey side (and sadly lacking lunch specials): dan-dan noodles that made it into the great Mimi Sheraton's "1,000 Foods to Eat Before You Die"; glisteningly juicy ribbons of cumin lamb with sliced garlic and bell peppers; a hefty bowl of braised fish fillets and cabbage, blanketed in whole dried chiles and fresh cilantro.
Zest
45 W. 39th St., nr. Sixth Ave.; 646-870-0521
The newest of three Sichuan restaurants on a single midtown block (including Szechuan Gourmet), Zest holds its own with excellent versions of dishes like thin-sliced sautéed smoked pork belly with leeks, spicy cucumber salad, and finely minced, slightly sour pickled long beans with ground pork.