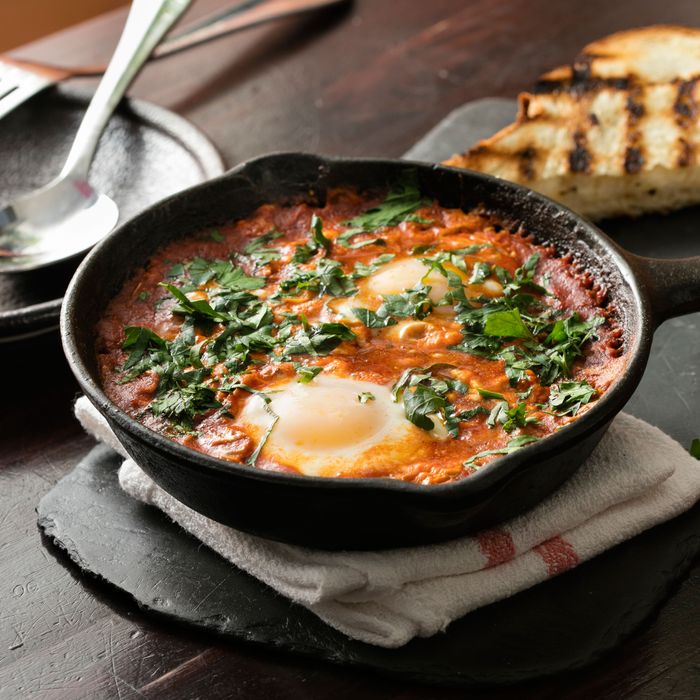 Miss Ada's shakshuka benefits from enhancements like goat cheese and two kinds of hot sauce.
Photo: Melissa Hom
Shakshuka, a hearty breakfast dish of skillet-poached eggs in a spiced tomato (or other vegetable-based) sauce, originated in North Africa but has become equally associated with Israel, where many immigrants from the former region have settled. In New York, it's ridden the modern Middle Eastern food wave from relative obscurity to brunch (and even dinner) darling status, as familiar a weekend-morning presence as mimosas and avocado toast. Across the city, chefs are turning out classic and innovative takes on the humble recipe — both celebrating the elemental mix of stewed tomatoes, garlic, cumin, and eggs, and pushing its boundaries into saucy new territory. Whether traditional or experimental, the best versions have a boldly flavored base, a touch (or more!) of heat, and transcendently runny-yolked eggs. Here are the best places to eat shakshuka in New York. (Just be sure to wear clothes that can withstand a little splatter.)
1. Miss Ada
184 Dekalb Ave., nr. Carlton Ave., Ft. Greene; 917-909-1023
With its gently smoky, Bolognese-thick sauce and wisps of goat cheese threaded throughout, chef Tomer Blechman's shakshuka (served at brunch and dinner) dazzles at the table. The poached eggs come dolloped with harissa and an herbaceous pool of emerald green hot sauce. Crack the yolks and let them meld and mingle before swiping up the dreamy mixture with the warm bread served alongside the skillet. If it is possible for a plate of shakshuka to haunt your dreams, this is the one that will.
2. Reunion
544 Union Ave., nr. Frost St., Williamsburg; 718-599-3670
A quick scan of neighboring tables at this sunny, Tel Aviv–inspired café reveals the justifiable popularity of its brunch-time shakshuka. The tomato-and-red-pepper base is intricately spiced and hits the ideal textural midpoint between sauce and stew. It satisfies all on its own, and can be customized with silky sautéed eggplant, crumbled feta, spiced lamb, or a few (decidedly unorthodox) ribbons of crisped bacon. A swirl of the accompanying lemon-tahini sauce lends richness and tang, and a petite loaf of challah stands at the ready for sauce-mopping.
3. Shuka
38 Macdougal St., nr. Prince St.; 212-475-7500
This posh Middle Eastern eatery, with its multiple palm-frond-bedecked dining rooms, serves several sophisticated takes on shakshuka throughout the day. One standout, offered at lunch, wilts silky Swiss chard leaves into the tomato sauce and tops the poached egg mixture with a cap of blistered halloumi cheese for an effect reminiscent of a bowl of French onion soup. Also notable: the dinner shakshuka, which layers chickpeas, currants, and lamb meatballs into the poached eggs and sauce.
4. Balaboosta
611 Hudson St., at 12th St.; 212-390-1545
Chef Einat Admony's secret weapon is pilpelchuma — a robust Libyan chile-and-garlic paste, similar to harissa, that intensifies the tomato-based poaching sauce she uses as the base for her brunch shakshuka. (Her recipe combines ground cayenne and Thai bird chiles.) The plush slices of lightly singed challah that come perched on the side of the dish are the ideal vehicle for scraping up any extra sauce.
5. Timna
109 St. Marks Pl., nr. Ave. A; 646-964-5181
A mix of smoked paprika, cumin, and flame-charred eggplants gives chef Nir Mesika's long-simmered tomato sauce wonderful depth and smokiness. The poached eggs are also amply dolloped with mole-textured harissa modeled after Mesika's Moroccan grandmother's recipe. Order the shakshuka at brunch straight up or go for the cheekily named "cowshuka," which drapes the top of the skillet with grilled skirt steak.
6. Nish Nush
Multiple locations
This kosher, fast-casual Mediterranean spot with locations in FiDi and Tribeca turns out one of the city's most fiery shakshukas, thanks to the addition of chopped jalapeños to the tomato sauce. The hot peppers lend a potent (though not overwhelming) tingle that can be cooled with a drizzle of tahini. The pita (white or whole wheat ) is steaming hot, downy soft, and delightfully yeasty — a standout amongst this list's carby accompaniments.
7. 19 Cleveland
19 Cleveland Pl., nr. Kenmare St.; 646-823-9227
Nish Nush's stylish sister restaurant in Nolita turns out an equally memorable rendition, and although the sauce dispenses with the jalapeños, it's rich and well-seasoned with a pleasant cayenne burn that sneaks up a few bites in. Dipping the pita toast-soldier style into the center of each wobbly yolk releases a saffron-colored river that is a testament to the perfectly cooked eggs. The shakshuka, which is served for brunch and lunch, is delicious as-is, but can be enlivened with a sprinkle of feta or cooled with slices of avocado.
8. Tsion Cafe
763 St. Nicholas Ave., nr. 148th St.; 212-234-2070
Shakshuka is not the first dish one would expect at an Ethiopian restaurant, but its inclusion on Tsion's dinner menu nods to owner Beejhy Barhany's Ethiopian-Israeli roots. The organic tomato-and-pepper sauce is richly textured and assertively spiced with paprika and cumin. A shower of feta and cilantro on top adds freshness and brine to the mix, and the pita that comes alongside is sturdy and flavorful. Four poached eggs (double the usual amount) crowd the skillet, making it ideal for sharing, and diners with varying group sizes (or appetites) can request two or six instead.
9. Bessou
5 Bleecker St., nr. Bowery; 212-228-8502
There is very little one could call traditional about the brunch shakshuka at Bessou, and that is a wonderful thing. The tomato sauce is augmented with curry and layered with velvety pieces of kabocha squash alongside the eggs. The dish also gets a dollop of savory, tofu-based miso "labne" and a pop of sweetness from pomegranate seeds. Instead of pita or challah, you'll find thick-cut pieces of toasted milk bread for dipping. The resulting Japan-meets-Morocco mash-up is unconventional but entirely delightful.
10. 12 Chairs
Multiple locations
With Hebrew street signs and an oversize line drawing of the Tel Aviv skyline dominating the décor, this South Village café (a sister location sits across the river in Williamsburg) could easily be located along the Mediterranean coast. The shakshuka only adds to the breezy illusion. The tomato-forward sauce is on the brothy side but well-flavored. Cracking the runny yolks helps to emulsify and thicken the mixture, while a sprinkle of (optional but recommended) Bulgarian feta lends funky brightness. A refreshing lemon-and-olive-oil-dressed chop of tomato, cucumber, and red onion comes alongside, plus rustic bread from Grandaisy Bakery.
11. Hummus Market
361 Graham Ave., nr. Conselyea St., Williamsburg; 718-599-5600
Despite the name of this vegetarian Middle Eastern café, shakshuka is inarguably a focal point of the menu. The tomato-poached eggs are offered all day, three different ways — as a platter, tucked inside a pita, or as an indulgent topping for hummus. In each case, the sauce is bright and balanced with a hint of lushness from an extra drizzle of olive oil. The house harissa delivers a welcome dose of smoke, so dollop with abandon.
12. Barbounia
250 Park Ave. S., at 20th St.; 212-995-0242
Gramercy's upscale Mediterranean oasis offers its paprika-spiced tomato shakshuka layered with either chicken-foie-gras sausage or a spiral of lamb merguez (the latter option is particularly beguiling — garlicky and not too rich). Fans of green shakshuka can also choose a decadent creamed spinach-based version enriched with mozzarella and Parmesan. None of the variations comes with bread or pita (a pity, with such delicious sauces and three eggs swimming in each skillet), so be sure to add a side of warm, sage-dusted flatbread to your order.
13. Mimi's Hummus
Multiple locations
This Middle Eastern café with locations in Ditmas Park, Brooklyn, and a Midtown food hall takes a highly customizable approach, offering its poached eggs and roasted-onion-and-tomato stew with or without nuggets of spicy merguez, and either swimming in a piping hot skillet or spooned into a pita pocket. As if that weren't enough, a green version is made with braised Swiss chard and generously garnished with sheep's-milk feta. Whatever the style, pita and a virtuous quinoa tabbouleh round out the meal.
14. Miriam
79 Fifth Ave., at Prospect Pl., Park Slope; 718-622-2250
Both shakshukas on the daily brunch menu at Park Slope's beloved Israeli restaurant — the chunky, tomato-and-bell-pepper-based red, and a tomatillo-and-poblano-based green — are on the tame side in terms of flavor and spice. But they come alive when stirred with a bit of Miriam's relish-thick hot sauce. If you're especially hungry, opt for the red, which is served with a plate of creamy, olive oil-drizzled hummus in addition to pita, turning the dish into a miniature mezze spread.