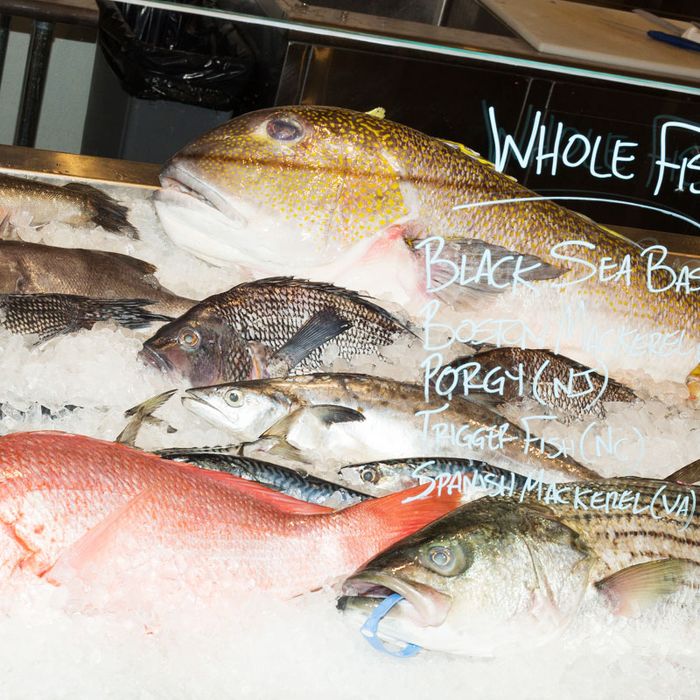 Greenpoint Fish & Lobster
Photo: Camilo Fuentealba
Clear eyes and plump gills are entry-level indicators of freshness, but global concerns such as overfishing have upended all ideas of what makes for a decent, ethical seafood purchase. In the last few years, some scientists have come to recommend avoiding fish altogether, while the centuries-old Fulton Market has finally opened up online. In lieu of a full-blown fish-market identity crisis, perhaps the best advice is what it's always been: Get to know your local fishmonger. That said, here are the absolute best fish markets in New York.
1. Greenpoint Fish & Lobster
Multiple locations
When Greenpoint debuted in 2014, business partners Adam Geringer-Dunn and Vinny Milburn weren't necessarily looking to rejigger the seafood shop for the 21st century. For starters, they wanted to cook underutilized species, or trash fish, they had read about. "New York is the second largest market in the world," says Geringer-Dunn, "why are options so limited?" Three years in, regulars have become acquainted with invasive spear-caught lionfish, and wild blue catfish from the Chesapeake, packed with more meaty flavor compared to its pallid, farmed cousin. Wild salmon comes in iced only in the summer, with black bass arriving later, along with live bay scallops. (Top-notch Spanish conservas and lobster are stocked year-round, along with boutique seaweed and prepared sauces.) Milburn, a fifth-generation fishmonger, painstakingly follows conservation data while building relationships with fishermen. "In reality, all wild fish is unsustainable. What we do instead is chase the seasons," he says.
2. The Lobster Place
75 Ninth Ave., nr. 16th St.; 212-255-5672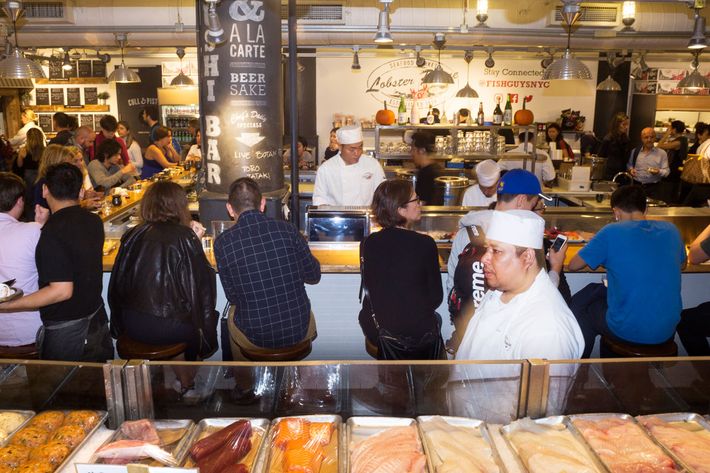 Extensive 2013 renovations not only brightened up the cavernous, subway-tiled space, but girded the Chelsea Market powerhouse to better manage its 21,000 weekly visitors. Tourists dressed to the nines in GoPros now mostly hover near the lobster rolls or omakase station, which somehow makes the abundance of immaculate trout and niche cured stuff (rollmops, boquerones) feel like an open secret, a feat for a spot that sells two tons of impeccable finfish a week, and steams 7,000 pounds of live lobster.
3. Randazzo's Seafood
2327 Arthur Ave., nr. E. 184th St., Belmont; 718-367-4139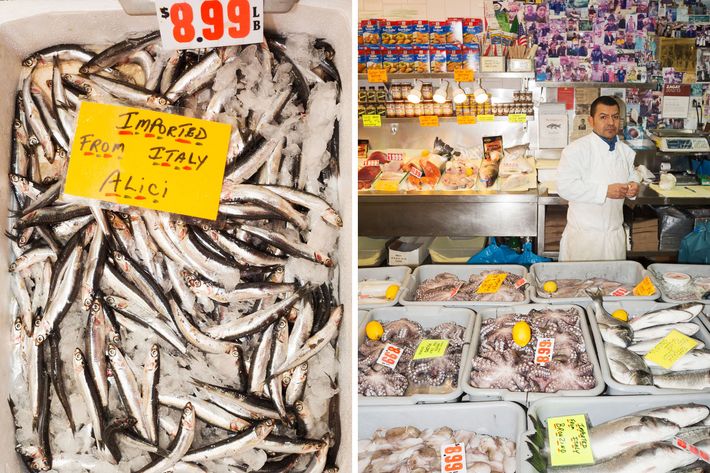 The famed Catania Market is represented in miniature, Bronx-style, with eels galore and platinum-toned anchovies, giant mussels and craggy oysters, not to mention a Shakespearean repertories' worth of cephalopods. (Ink, too.) Ice-cold options like mahi-mahi are stocked, but the best route is Sicilian. Customers can watch staffers bone out whole fish at purchase time, though most opt to pop a raw cherrystone or two, shucked alfresco near the baccala boxes out front.
4. Osakana
290 Graham Ave., nr. Powers St., Williamsburg; no phone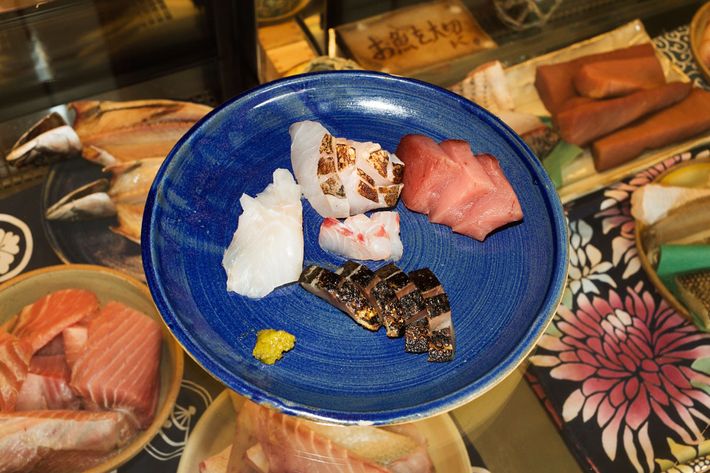 Ramen maestro Yuji Haraguchi was dissatisfied with seafood provenance, quality, and choices — he wanted more local, better handled, and generally more oily fish — and now has an unprecedented store for wonderfully marbled bigeye meant "for sashimi," one of two menu sections, or slender fillets of shime saba mackerel or bluefish glammed up with miso in his "for cooking" section. The shop's boutique stature and front-and-center glass display that opens like a diamond dealer's case is a clear sign that no one comes here for dinner-party lobsters. The care and precision that goes into the prep of each fish makes this place a treasure, and should convince anyone to instead try serving konbu-cured tilefish.
5. Dorian's Seafood Market
1580 York Ave., nr. E. 83rd St.; 212-535-2256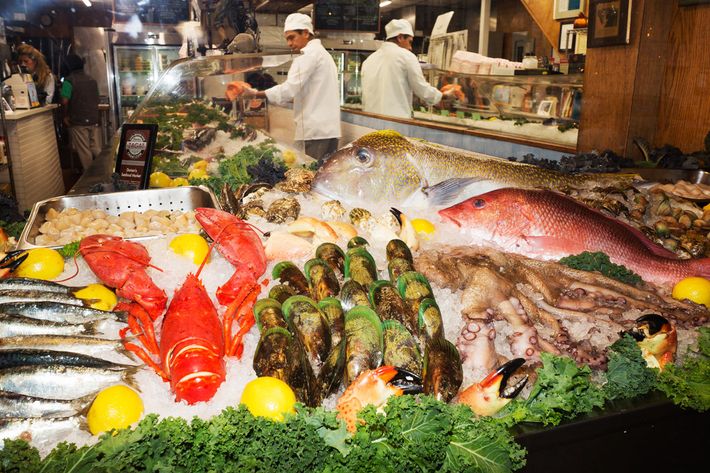 Bianca Jagger, Woody Allen, and S.I. Newhouse were regulars at Rosedale Market, which before its 2004 demise was probably the closest thing the retail fish world had to Elaine's. Luckily, longtime employee Dorian Mecir debuted this high-end successor, a kind of legacy fish market for legacy fish, like sword and halibut. Admirably, Mecir also saved the livelihoods of several employees in the process, who now demonstrate unparalleled pin-boning prowess, and oblige customers who demand to see shellfish tags. The atmosphere, like the UES itself, is simultaneously rarefied and accessible.
6. Mermaid's Garden
644 Vanderbilt Ave., nr. Park Pl., Prospect Heights; 718-638-1910
The many reasons to love this sustainable Brooklyn shop include fat steamers, healthy with un-chipped shells, plus sheeny sardines that are local, not from some unknown Adriatic estuary. Seasonal deliveries of shrimp from Montauk are wild, while Alaskan salmon roe comes in fierce, undeniably wild shades of red. In just a few short years, in everything from wild oysters to petite blowfish tails, Mermaid's Garden makes the case that responsibly sourced seafood tastes better.
7. Blue Moon Fish
Multiple locations
To be fair, Greenmarket vendors Pura Vida, PE & DD, and Seatuck are all fantastic. We're putting the Mattituck-based fishery here for its unwavering fan base and staggering volume, and as a model of what synchronicity between urban food systems and local fishermen should look like, but rarely does. Sea robin, tautog, scrod, bass, and even oddball stuff like Long Island whelk are always worth it. Beguiling smoked bluefish is a nice, old-school touch, as are the free fish heads.
Honorable Mentions
Aqua Best
276 Grand St., nr. Forsyth St.; 212-285-1422
The busy chef-favorite combines choice old-guard Fulton style and new-school Chinatown threads in service of a mind-boggling marketplace stocked to the gills with snappy blue crabs, iridescent crawfish, and in season, lumps of fresh shad roe and deluxe Fourchu lobster. Anyone desperately seeking squirmy geoducks, moon snails, or in-shell uni from either Maine or Santa Barbara should head here first.
Citarella
Multiple locations
Some 105 years ago Citarella only sold fish, adding boutique teas and bouquets and aged rib eye only in the 1990s. Fishmongers knew Chilean sea bass when it went by "Patagonian toothfish," its pre-fame name, and they have war stories about turbot as big as manhole covers. The front-window fish tableaux are still impressively Doonan-esque, but the move toward more sustainable fish is even better.
Fish Tales
191A Court St., nr. Bergen St., Cobble Hill; 718-246-1346
Selection tends to skew the halibut hunks and thick tuna loin, and aside from the vast repertoire of take-home soups and bisques, the recent addition of bagels and lox demonstrates the lengths the affable Fish Tales staff goes to to meet customer demand, and Katz's Deli–style photos of food luminaries like Melissa Clark and Mark Bittman on the walls are indicators of satisfied customers.
Greene Grape Provisions
753 Fulton St., at S. Portland Ave., Fort Greene; 718-233-2700
Pouty black bass join blunt-headed porgy in a small but mighty selection of finfish, many from New York and New England waters. A fishmonger will happily hand over a slab of center-cut salmon, but why not try bluefish? Even at dockside clam bars in Montauk, oily bluefish can be a race-against-time gamble; here it is firm and remarkably steaklike.
Katagiri
Multiple locations
Japanese provisions at the ancient Midtown East grocer have long included a sprinkle of top-notch seafood, and there's a stealth fish market at Katagiri's new, Grand Central–adjacent location, where a quasi-hidden, lone employee in the back slices coral-hued whelk and ribbons of the flavorful, spindly fish known as sayori. Tail-on sweet shrimp, bonito tataki, and fatty tuna belly are available prepacked, as is green and red tobiko by the tub.
Lisa's Fish Market
69-04 Myrtle Ave., nr. 69th St., Glendale; 718-821-6630
Your first visit, Lisa recommends the Nile perch over gray sole, especially since it's just fish and lemon and herbs going into a hot oven. Second visit, she'll say it's no trouble to open clams at no charge. It's been the house policy for 20 years. With a relatively small selection, it may not be a destination fish market, but Lisa knows hundreds of regulars by name, and that's got more value than the low, low price of sashimi-grade anything just about anywhere else.
Metropolitan Fish Market
635 Metropolitan Ave., at Leonard St., Williamsburg; 718-387-6835
All those who grew up with an Italian fish store should feel at home in the bustle. Lots of squid and shrimp and smoked fish are on offer, and like other, older-school shops, it can be found frozen whenever it's not in stock fresh. Need two dozen lobster rolls on short notice? Score a block of claw and knuckle meat on the fly here.
Midtown Catch
405 E. 57th St., nr. First Ave., Midtown East; 646-918-7560
This tidy shop opened in 2016 as the direct successor to the venerated, 160-year-old Pisacane Seafood, which bowed out five blocks south to make room for a tower of swanky condos. The name has changed but some personnel remain, so expect the yellowfin to be first-pick and glistening vermilion, and in season, live scallops wiggling in their shells.
Ocean Fish Market
35-08 30th Ave., nr. 35th St., Astoria; 718-721-2391
An almost cartoonish bounty of Aegean seafood is packed on ice in the curvy, cerulean space, where the layout makes it easy to get a close look at any given fillet. The Poseidon's grotto motif is, of course, resolutely Greek. A recent whole-fish lineup included sargo, scorpaena, and scarus — and that's just the S fish.
Whole Foods
Multiple locations
All fish is traceable; the glut of color-coded labels signaling tiers of sustainability and efficient professionals wondering aloud about omega-3 content can induce serious information-overload anxiety, but Whole Foods nonetheless deserves plaudits for relationships with a number of marine stewardship organizations. Vast reserves of self-serve frozen fish, like family-pack sockeye, remain an uncommonly good value, giant chain or not.