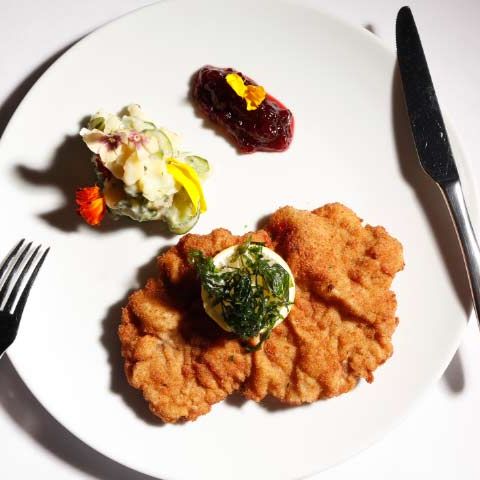 Wallsé's flawless Wiener schnitzel.
Photo: Melissa Hom
When it comes to the cuisines of the world, traditional Austro-German food might not be at the top of your list — it tends toward the mild, and the heavy. But consider the schnitzel: When done well — meat pounded to optimal thinness, breading well-seasoned, fried so that it's extra crispy and golden hued — it's one of the all-time most satisfying dishes. Even the fun-to-say name offers a little thrill. Here, we've rounded up the absolute best in New York, focusing on the classic veal Wiener (Viennese) schnitzel favored by hard-line traditionalists as well as the popular pork variant.
1. Wallsé
344 W. 11th St., at Washington St.; 212-352-2300
At what is probably the best known of the Austrian chef Kurt Gutenbrunner's New York restaurants, the schnitzel is simply stellar. The meat, a single, giant cutlet, is veal, pounded just enough so that it's properly thin, but still has a juicy bite to it, its slightly gamy flavor set off beautifully by an aggressive dose of salt and pepper. It wears its well-seasoned, fine-grained breading like a jacket: golden brown, crisp, and slightly gritty, but puffed out so that you could slip it right off if you tried, a marvel of technique. Topped with a round of lemon and some glistening, crunchy, fried parsley, it also comes with a potato salad, made with clean little coins flecked with herbs; a pickled-cucumber salad; and a dollop of lingonberry preserves. (N.B.: The schnitzel at Gutenbrunner's Café Sabarsky, uptown in the Neue Galerie, is all but identical, also made with veal.)
2. Blaue Gans
139 Duane St., nr. West Broadway; 212-571-8880
Over at the more casual, criminally under-patronized Blaue Gans, in Tribeca, Gutenbrunner uses pork in the Wiener schnitzel, which, compared to the veal, has a slightly milder, creamier texture, but is otherwise very similar to the Wallsé/Sabarsky version, and equally delicious. This one also gets a lemon round and fried parsley on top, and lingonberries on the side, but here the chunkier, saucier potato salad has the pickled cucumbers mixed into it.
3. Prime Meats
465 Court St., at Luquer St., Carroll Gardens; 718-254-0327
At Frank Falcinelli and Frank Castronovo's homage to a beer hall, the kitchen turns out a top-notch pork schnitzel with a satisfyingly puffy, ruffled surface that's golden brown, glistening ever so slightly with oil, and scattered with a trail of Maldon sea salt and crumbled, fried parsley. There's no lingonberry on the side, just a lemon wedge or two and a spectacular, vinegar-based, bacon-flecked potato salad that more than makes up for it.
4. Werkstatt
509 Coney Island Ave., at Turner Pl., Prospect Park South; 718-284-5800
The Vienna-born chef Thomas Ferlesch knows schnitzel, and has been making it all over New York for almost 40 years. At his schnitzel-centric Werkstatt, the pork iteration (there are also celeriac and chicken versions) is enormous, with a slightly flatter, clingier but crispy breading and tender meat. Served with lemon and lingonberry and a medley of side salads, including potato, tomato, and cabbage, it hits the spot.
5. Schnitzel & Things
Multiple locations; 347-772-7341
If you don't think schnitzel particularly lends itself to the food-truck treatment, this mobile operation proves you wrong. The pork is pounded exceptionally thin and deep-fried beyond a golden-brown crisp to a dark, ruddy crunch — the delicious result brings to mind a hefty, meaty potato chip that you could eat with your hands if you were so inclined (and asked for extra napkins). Each order comes in a Styrofoam clamshell with a choice of sides (the sweetish potato salad is quite good, as is the cucumber salad) and condiments (spicy sour cream, pesto mayo, etc.).
Honorable Mentions
Edi & the Wolf 
102 Ave. C, at 7th St.; 212-598-1040
The setting alone is reason enough to dine at Edi & the Wolf, which feels like a secret woodland hideaway in the far reaches of the East Village. But the schnitzel is another good reason, made with Heritage pork cloaked in a puffy, crispy, slightly gritty sheath, plated with lingonberry and accompanied by ramekins of a silky potato salad and a creamy cucumber one. The only thing it needs is a little salt.
Grünauer Bistro
1578 First Ave., at 82nd St.; 212-988-1077
The veal schnitzel at this upscale uptown spot is a crispy, craggy-faced beauty, served with lingonberry, a lemon cut elegantly in a flowerlike fashion, and a side dish with a pile of mashed-potato salad and tangle of thin-sliced pickled cukes.
Mont Blanc 52
344 W. 52nd St., nr. Ninth Ave.; 212-582-9648
This recently reopened Theater District favorite (in its last location, it was called Maria's Mont Blanc, after the owner) is technically Swiss, but it offers a tasty veal schnitzel as well, which comes as two small, coarsely breaded, parsley-flecked cutlets with a side of rösti and steamed broccoli, and is preceded by a green-salad course.