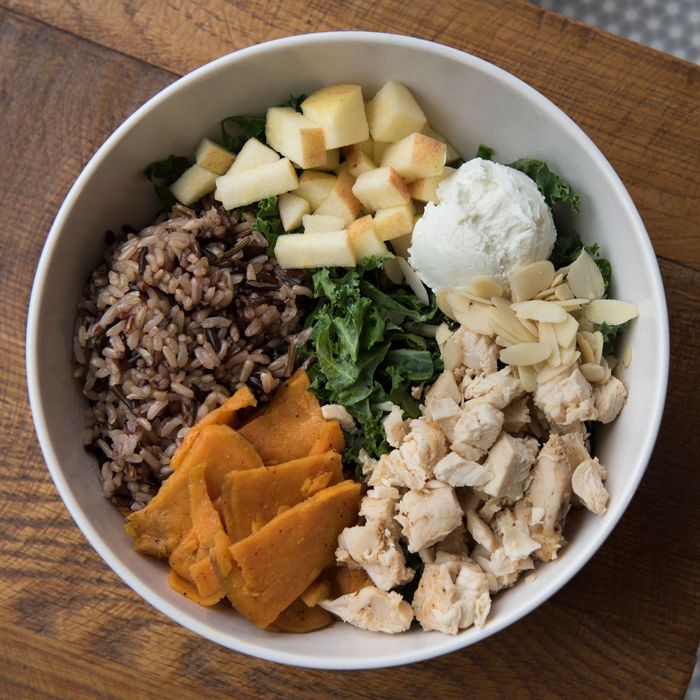 Sweetgreen's Harvest Bowl: warm, fresh, filling.
Photo: Liz Clayman
In considering the city's best salad bars, we looked only at places where you could easily take away a salad at lunch, focusing on venues with plenty of options. That means big, corporate salad-buffet-style spots (Whole Foods), customizable-salad vendors (Just Salad), and small restaurants with particularly good salad options (Court Street Grocers). Here, the absolute best places for takeout salads in New York.
1. Sweetgreen
Multiple locations
Sweetgreen has spread so quickly in the city that you wonder what we ate at lunch before it came along. At this salad chain, you won't find onions chopped hours before, or limp carrot slices. That means, sometimes, you might have to wait for a prep cook to emerge from the back with a new pan of flavor-rich chicken, and you can watch your kale being shredded moments before it's in your bowl, and roasted sweet potatoes will often still be warm from the oven. All those ingredients go in what might be our favorite salad, the Harvest Bowl, which is warm and made with organic wild rice, and thus hearty enough to get you through a workday without snacking, or perhaps serve as dinner. But the options are across-the-board fantastic. Plus, the staffers are quick and helpful, and the physical spaces attractive.
2. Court Street Grocers
Multiple locations
The sandwich kings also make pretty great salads, and predictably, they're a lot like the sandwiches, but without the bread. Meaning: While they're filling, they won't leave you feeling sluggish, like you might after eating an entire CSG sandwich in 60 seconds, owing to a lack of self-control around foods that tasty. The ranch has a mix of heartily dressed greens — big pieces of kale, butter lettuce, little spicy pockets of arugula — which means there's a nice mélange of flavor and texture. Adding to that: sweet potato! Bites of cheddar! Pickled red onion! (The closest sandwich relative is probably the Yam and Cheese.)
3. Tiny's Giant
129 Rivington St., at Norfolk St.; 212-228-4919
There are nine salads, give or take, on this little shop's menu (available for taking out, eating in, and getting delivered via Caviar). A favorite is the Caesar, with a couple of fistfuls of flavorful grilled chicken atop romaine that's coated in salty Parmesan crumbles and mixed with housemade croutons, served in a large stainless-steel mixing bowl with real silverware and plenty of creamy dressing.
4. Just Salad
Various locations
Why we like it: Just Salad sells reusable bowls, for which you'll get a discount; we find the ordering system less flummoxing than that of Chop't; the ingredients are generally pretty fresh, minus a slightly wilted piece of romaine here and there; there are fun options like a chicken-tikka-masala salad and the ever-popular buffalo chicken. Also, when we asked chef Elise Kornack to build her ideal salad at this chain, she put the salad-makers to the test, asking them to add dressings in a particular order, forgo greens for grains, use a certain amount of each ingredient, etc., and the workers were totally game.
5. Cipriani le Specialità
110 E. 42nd St., nr. Park Ave.; 212-557-5088
It's surprisingly affordable; on Seamless; and has many options, including some unlike the offerings elsewhere, like a white-asparagus salad with beets, goat cheese, and mushrooms ($5). Create-your-own salads start at $4, and include the standard toppings (red onion, sun-dried tomato), but also more exciting ones like pine nuts and fennel.
The City Bakery
3 W. 18th St., nr. Fifth Ave.; 212-366-1414
Like a fancier version of your standard grocery salad bar, condensed to only the good, mostly seasonal parts. You can create your own with fillings like pretty slices of Chioggia beets, and add dressings that aren't typically available (like mustard oil). Or choose a composed salad, like a recent offering of bright-green kale with notably rich roasted chicken. It's not cheap, at $18.99 a pound (at the nearby Chelsea Whole Foods, that price is $9.99), but it feels better tended to than many other city salad-buffet options.
If not incredibly exciting, it is reliable. (Except when it replaced the cookie with a poster of the cookie.) That's good for a desk lunch sometimes! The salad options change often, and come undressed with an oval container of dressing, so nothing's soggy. A chicken-heavy number with fine ribbons of kale has guacamole and a mustardy, vinegary dressing. Another — with delightfully herby, well-cooked bites of steak — has plenty of cheese, hazelnuts (useful for texture here), and more kale. Were it up to us, we'd increase the dressing portion, but we're fiends for the fat stuff.
Smile to Go
22 Howard St., nr. Crosby St.; 646-863-3893
It can be hard to ignore the dark-chocolate-and-sea-salt cookie at this little takeout shop, but try to pay at least some attention to the on-trend, seasonal, and delicious salads, kept in a display case in pans that would look more appropriate at a small dinner party at your coolest friend's home. Most of the salads are offered as "market sides," so get a takeout container filled with three choices to feel satiated. Stand in line between girls with hip finger tattoos toting Opening Ceremony bags and choose from the daily-changing menu — it cycles through about 40 options seasonally. You might encounter a vegan, gluten-free escarole with maple-lime dressing and ground hazelnuts, or one with Little Gem lettuces and purple fingerling potatoes.
Whole Foods
Multiple locations
Our favorite, freshest-seeming large-buffet build-your-own salad in New York. That's owing to the fact that Whole Foods is always crowded, so turnover of the pans of sliced onions, bright-green lettuces, crunchy string beans, and crumbled Parmesan is high. The array of dressings ranges from a rich, thick avocado-flavored one to a simple balsamic vinaigrette.
'Wichcraft
Multiple locations
Tom Colicchio's casual chain has a number of great salad and greens-and-grains bowl options. The Avocado and Greens is terrific: It has radish, arugula, plenty of sliced avocado, delicious sun-dried tomatoes, and tangy tahini dressing. On one instance, we ordered delivery, and it took far above the estimated amount of time to arrive, but Seamless mistakes happen to everyone.