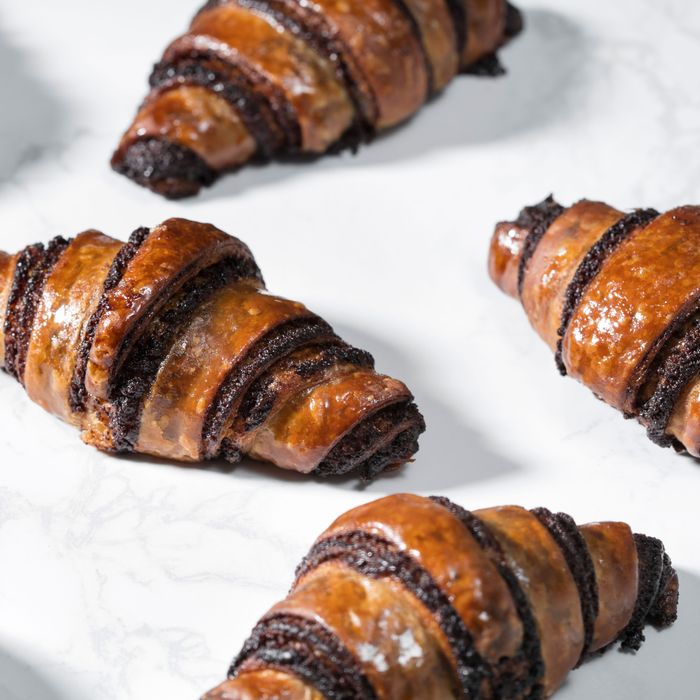 Breads Bakery's rugelach could almost pass for miniature chocolate croissants (but chocolaty-er).
Photo: Melissa Hom
The cookie-pastry hybrid known as rugelach has roots in Eastern Europe and esteemed standing amongst New York's Jewish bakery cases. They are typically made with either crumbly shortcrust dough enriched with butter and cream cheese, or a softer yeasted dough, though the city's very best break with tradition by employing French-inspired laminated dough, the kind you'd find in a flaky croissant. Whether shaped into majestic crescents or smaller, spiraled nuggets, and filled with myriad combinations of jam, chopped nuts, dried fruits, cinnamon, and chocolate, destination rugelach can be found in the city's boutique bakeries, Orthodox-Jewish enclaves, and even in the occasional praiseworthy gluten-free form. Here, the absolute best rugelach in New York.
1. Breads Bakery
Multiple locations
The chocolate babka is the indisputable star of this beloved Union Square bakery (with outposts in Bryant Park and Lincoln Center). But Breads's rugelach, which swirl chocolate ganache and Nutella inside seemingly endless layers of ultra-thin pastry, are equally beguiling. The filling captures the fudge-y indulgence of a slightly underbaked brownie, while a coat of simple syrup painted over the top lends sticky softness to the tradition-breaking (but stunningly flaky) laminated dough. Breads occasionally introduces seasonal flavors to the rotation, but the chocolate is all you need.
2. Russ & Daughters
Multiple locations
Is it any surprise that one of New York's most venerable Jewish food institutions turns out killer rugelach? Although the company formerly outsourced production, it started baking its own in 2017 and now carries them at the flagship East Houston Street shop, as well as at restaurant outposts on the Lower East Side and at the Jewish Museum. A blend of butter, cream cheese, and sour cream in the dough gives the pastry a supple texture with a crackly crust. The traditional raspberry version is slicked with sweet-tart jam, studded with both raisins and currants, and topped with cinnamon-sugar. The chocolate cookies, meanwhile, come spiraled with both chopped Valrhona baking chocolate and chocolate chips.
3. Orwashers
Multiple locations
Amidst the many delights at this iconic New York bakery — sour-cherry-jelly doughnuts, sticky-bun babka, black-and-whites — the rugelach more than hold their own. The twisted nuggets of shortbread pastry glisten with mouth-puckering raspberry or apricot jam — arguably the preeminent jam in the rugelach oeuvre. And they come packed with chewy bites of raisins, a scattering of sunflower seeds, and, if you're making your rugelach run at the original Upper East Side location, a sultry dip into melted baking chocolate.
4. Lee Lee's Rugelach
283 W. 118th St., at Frederick Douglass Blvd.; 917-493-6633
Harlem may not be the first neighborhood one thinks of for rugelach procurement, but Alvin "Lee Lee" Smalls's cookies have garnered a devoted cult following. (Smalls, an African-American man originally from South Carolina, first fell in love with the Jewish pastry after moving to New York in the early 1960s.) As far as rugelach go, they aren't exactly lookers, but their deeply bronzed, crumbly crust and butter-forward flavor are utterly enchanting. So are the sizable hunks of walnut and plumped raisins threaded within. The chocolate version gets a drizzle of ganache glaze. And the apricot and raspberry specimens are generously dusted, cake-doughnut style, with cinnamon sugar.
5. The City Bakery
3 W. 18th St., nr. Fifth Ave; 212-366-1414
With their feather-light layer of crust encasing an oversized jumble of honey-slicked walnuts, the City Bakery's rugelach edge towards strudel territory. But never mind labels, they are delicious. The deeply toasted nuts gleam under their floral honey coating, and the pastry sparkles thanks to a crunchy cap of sugar. Arrive with the best intentions to share the oversized treat with a friend. But do not be surprised if you end up finishing it by yourself, nibble by glorious nibble.
6. Court Street Grocers
485 Court St., nr. Nelson St., Carroll Gardens; 718-722-7229
Some of the city's tastiest rugelach are also its most elusive. That's because Court Street's rugelach maven, co-owner Eric Finkelstein's father, Larry, doubles as a delivery driver, making his baking schedule a bit erratic. Still, he tries to get into the kitchen twice a week, and his apricot, raspberry, pecan, and (occasionally) chocolate-swirled handiwork is worth tracking down. The dough is substantial but light, and sprinkled with enough cinnamon-sugar to make an audible crackle upon first bite. And the cookies are bordered by a chewy ring of stained glass-like caramelized jam that oozed out in the oven. Those willing to wait for Larry's baking days will be handsomely rewarded — just be sure to call ahead.
7. Shelsky's of Brooklyn
141 Court St., nr. Atlantic Ave., Cobble Hill; 718-855-8817
This appetizing shop and delicatessen turns out some of the city's more avant-garde rugelach. In addition to the standard apricot and raspberry, the regular rotation includes a Northern European-inspired chocolate-and-lingonberry and, most notably, clementine-ginger. That one is named not only for its flavorings, but for owner Peter Shelsky's two daughters, and its Plugrá-butter-and-cream-cheese-based dough is spread with bright clementine jam and packed with nibbles of chopped crystallized ginger. A dusting of cane sugar lends a bit of crunch and ties the spice and citrus flavors together into an irresistible pastry package.
8. Margaret Palca Bakes
191 Columbia St., at Degraw St., Columbia Street Waterfront District; 718-802-9771
With a three-decade track record as one of Brooklyn's most skilled (if relatively under the radar) bakers, Palca is a rugelach force. The jammy, currant-speckled filling in her apricot version beautifully offsets the flaky dough. But for unbridled decadence, go with chocolate. The filling shares the chocolate-meets-browned-butter flavor profile of a fresh batch of chocolate-chip cookies. While you're there, be sure to pick up a copy of The Margaret Palca Bakes Cookbook (Skyhorse Publishing, 2018), which features — you guessed it — rugelach on the cover.
9. Erica's Rugelach & Baking Company
Multiple locations
The signature pastries from this Brooklyn company are fortified with butter and cream cheese, yielding a tender crust into which they hand roll a variety of traditional (raspberry, apricot, chocolate) and creative (espresso, chocolate chip-marmalade) fillings. And for those with a gentler sweet tooth, their fruit juice-sweetened rugelach, which come amply layered with jam and filled with sunflower seeds, chopped cashews, and raisins, perfectly satisfy. Erica's does a brisk online business, but can also be found at bagel shops and grocery stores across the city, including Zabar's. (They are a particularly welcome presence there, as Zabar's own rugelach have a lingering artificial aftertaste that makes them rather forgettable.)
10. Isaac's Bake Shop
1419 Ave. J, at E. 15th St., Midwood; 718-377-9291
Of all the haimish (Yiddish for "homey") kosher bakeries scattered across Brooklyn's religious Jewish neighborhoods, the pastries at Isaac's are consistently among the best. That applies to their rugelach, too: Big and light with an airy, croissant-like structure (despite the use of vegetable shortening instead of butter and other dairy), they come coiled with either chocolate or cinnamon filling, the latter version drizzled with a thick powdered-sugar glaze reminiscent of a gooey cinnamon roll. Considering Isaac's location directly across the street from Di Fara Pizza — as legendary for its extended wait times as for its pies — a couple of rugelach serves as a fitting hors d'oeuvre.
11. Du Jour Bakery
365 Fifth Ave., at 5th St., Park Slope; 347-227-8953
The petite rugelach at this Park Slope café have a distinctly homemade quality, as if a bespectacled bubbe just pulled them from the depths of her ancient oven. They are hardly "bells and whistles" cookies; they come topped with just a light snow-shower of powdered sugar, and the filling (chocolate or cinnamon) is modestly spread and mildly sweet. But the bakery's stripped-down approach allows the rugelach's real star to shine through: the deeply buttery dough that is at once supple and flaky.
12. Las Delicias Patisserie
Multiple locations
Founded by an Argentinian-Jewish baker named Deborah Brenner, Las Delicias is a kosher brand with a repertoire of both glutinous and gluten-free pastries, but no storefront of its own. Instead, it has built its reputation at farmer's markets around Manhattan, most notably at Union Square Greenmarket, as well as at a handful of retail shops and cafés. The gluten-free rugelach are made from an intricate combination of garbanzo flour, sorghum flour, millet, brown rice, and starches. But thanks to the copious amounts of cream cheese and locally-sourced butter folded into the dough — and the sweet cinnamon or chocolate-chip fillings — they taste every bit as decadent as their floury cousins.
13. By the Way Bakery
Multiple locations
Like everything made at this charming bakery (which has locations on the Upper West and Upper East Sides), the rugelach are gluten-free, dairy-free, and certified kosher. But their appeal transcends those dietary restrictions. The long and slender crescents are crunchy and crisp with a chewy jewel of apricot or raspberry jam, chopped nuts, and raisins tucked into the center. A generous shower of cinnamon-sugar makes them plenty satisfying for anyone in search of a rugelach fix.
14. Kaff's Bakery
Multiple locations
This modern kosher bake shop (with one location in Borough Park and two in Midwood) makes a half-dozen different flavors from the standard chocolate and cinnamon to the less common vanilla and blueberry. But the standout takes an entirely different approach. A pillowy spiral of yeast dough is swirled with softened sautéed onions and sprinkled with poppy seeds instead of the expected cinnamon-sugar. Rugelach have traditionally always been sweet, but Kaff's makes a convincing case for their savory side.
15. Oneg Heimishe Bakery
188 Lee Ave., nr. Rutledge St., South Williamsburg; 718-797-0971
This tiny, no-frills bakery in the heart of Hasidic South Williamsburg turns out both yeast dough and shortcrust (though dairy-free) style rugelach. Go for the softer yeast dough version, preferably chocolate. (They also make cinnamon and vanilla.) The pastry is tender and amply whorled, and the cocoa powder-based filling deeply chocolatey and not too sweet. If you arrive on a Thursday or Friday morning, when fresh challah is emerging from the oven, pair your cookies with a sesame seed-topped loaf.
16. Andre's Bakery
Multiple locations
Strudel and poppy seed rolls are the main game for this Hungarian bakery, but the chocolate rugelach are also worth trying. (Skip the overly saccharine fruit and sugar-free versions.) The pastry is light with a deeply tanned crispness that falls just on the right side of overdone. And the filling grinds rich baking chocolate and hazelnuts together into a fine, sweet paste that lends both crunch and nutty sweetness. Outside of the Forest Hills, Queens-based bakery, Andre's rugelach can also be found at two Manhattan outposts.