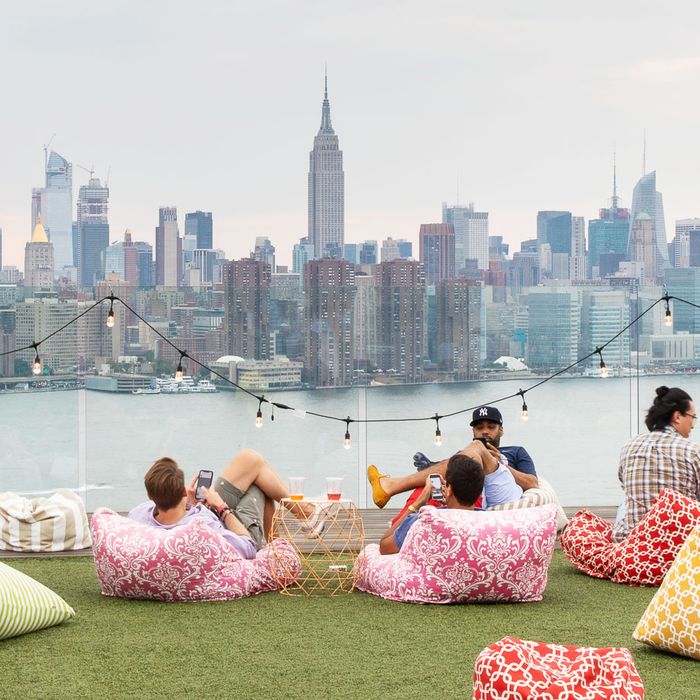 Lounge around at the William Vale's Turf Club.
Photo: Nitzan Rubin
If you're doing your alfresco eating and drinking at ground level, you've only seen a portion of what New York has to offer. We've scoured the influx of new up-high hangs and updated our list of the best — places that balance stunning scenery with top-notch drinks and reliable snacks; some that even serve full meals (!). Yes, these aeries can get crowded on nice nights, and some do maintain a bit of "scene" — but that's also sort of the point. Here, the absolute best rooftop bars in New York.
1. Outdoor spaces at the William Vale
111 N. 12th St., at Wythe Ave., Williamsburg; 718-307-7100
It would be easy — even ideal — to fritter away a dreamy day in the ever-expanding outdoor dominions of the William Vale hotel. This year, there's another reason to visit: Turf Club, the alfresco 23rd-floor top level once reserved for private events and Rooftop Films screenings, now open Friday through Sunday through mid-September for cornhole, Jenga, and Foosball fun, with oversize beanbag chairs. A $20 cover includes one ticket that can be used toward refreshments (a beer is one ticket, cocktails two, and so on). With tickets at just $8 and crowd size regulated, the entry fee quickly pays for itself. For a more upscale night, go one floor below to the spectacular Westlight, where you not only have a view, but the view, nearly 360 panoramas of Manhattan, Queens, and Brooklyn, enjoyed both inside and outside on low-slung furniture, with the city lights as the star. Reservations are strongly recommended for dynamic drinks that exceed rooftop expectations, like the refreshing Spring Fling, with cachaça, St. Germain, vodka, and lime. Bites, via Andrew Carmellini & Co., are upscale: charred eggplant dumplings; duck carnitas tacos; and the most decadent potato skins in New York, topped with caviar and yuzu hollandaise. You can also get Carmellini's grub at the hotel's secret weapon, the seventh-floor pool, where day passes can be purchased beginning at $150 for lazy waterside lounging with cocktails and snacks. But if all you want is a griddle-perfected burger and shake, there's a place for that, too. Head down to the gently sloping turf on the second floor helmed by the retro Mister Dips trailer. All seasonal, except Westlight, which is open year-round.
2. Ophelia
Beekman Tower, 3 Mitchell Pl., at First Ave.; 212-980-4796
You may doubt the storied Ophelia exists: It's on a street you've probably never heard of (Mitchell Place, the far eastern stretch of 49th) and the circa-1928 building's previous life includes being a women's-only dormitory, with the rooftop's last incarnation the restaurant Top of the Tower, once a hangout of Frank Sinatra, which closed in 2013. But exist this old soul does, perched on the 26th floor of the Beekman Tower and offering the best 360-degree high-altitude views of Long Island City this side of, well, Long Island City. Elevators open to a breathtaking bar lined with red-velvet stools and backed by three paneled windows, framing a mounted, stuffed albino pheasant lit from below. Deep-blue walls, two outdoor terraces, black-and-white tile flooring and plush banquettes lend drama, which is matched only by the cocktails: The namesake Ophelia's Ascension serves up a feast for the senses with pepper-infused mezcal, bourbon, sugar, and bitters, laced with cedar smoke. As for actual feasts, the food won't get any curtain calls, but you can't go wrong with some truffle fries. Reservations aren't necessary, but could be helpful when the diplomats descend from the nearby U.N. Open year-round.
3. Gallow Green
542 W. 27th St., nr. 11th Ave.; 212-904-1883
This city is full of hidden treasures, and Gallow Green, the verdant rooftop bar above Sleep No More's McKittrick Hotel, is a charming surprise. In line with the theatricality of the show, a mysterious elevator ride deposits you in a staged secret garden that not only adapts to the seasons, but leans into them. Lush in the warmer months with greenery-lined walkways, plus musical entertainment and a menu offering salads and pizza, the space is transformed in the winter into a rustic lodge with hidden rooms housing cozy, flannel-lined bunk beds, and multiple nooks and crannies to get lost in. The outdoor area is not off-limits in the cold; blazing fire pits warm you up along with specialty cocktails like the mulled cider, Jack Daniel's, and sherry Sleep No More — served individually or in samovars for group revelry. Reservations are recommended, especially if you're headed to weekend brunch. Open year-round.
4. Broken Shaker
Freehand Hotel, 23 Lexington Ave, at 24th St., 212-475-1920
Oh boy does the hype precede this import, which currently has lines outside the Freehand Hotel to prove it. But this 18th-floor bar — whose original in Miami has won Best American Hotel Bar at Tales of the Cocktail — does deliver on tropical flavors and city respite, bringing its breezy backyard vibe to a rooftop on the east side. Outside space is minimal, with some nooks and a sliver of rooftop enough for two-top seating plus a walkway where you can point to the Empire State Building in the distance and photograph your festive glasses against a backdrop of bamboo fencing. The heavy lifting is done by the spacious interior, rife with rattan, tropical plants, and kitschy ephemera. Drinks are ambitious but hit or miss — the Preserved Lime Caipirinha is a particular fruity favorite and the Cocoa Puff Old Fashioned does indeed taste like Cocoa Puffs. The food menu will also encourage you to stay a while; the light and delicious Yemeni malawach flatbread is especially recommended, and served with tahini, spinach, and artichoke labneh, and tomato-based matbucha. Open year-round.
5. The Crown
Hotel 50 Bowery, 50 Bowery, at Canal St.; 646-630-8057
Don't let the massive bottle-service menu fool you: At the risk of blowing up chef-partner Dale Talde's Chinatown rooftop bar, the low-key vibe of the Crown makes for a very chill, very pleasant afternoon to evening (you'll want to show up before it gets crowded). The décor is minimal, both in the indoor lounge with floor-to-ceiling windows, where DJs spin under graffiti-style portraits of Bowie and Biggie, and on the outdoor roof deck. Little distracts from the 21st-floor views, which reach from One World Trade to the Empire State, and look directly down to the stately grand archway and colonnade of the Manhattan Bridge. In a nod to location, cocktails incorporate Asian elements: The Crown Manhattan uses a Sichuan tincture, and the refreshing Thai-basil watermelon margarita is dangerously refreshing on a hot day. Reserve a table online for free or with a minimum when those are gone (depending on the number of guests it can range from $500 to $2,500 for three hours), or just grab a beer and enjoy the view. But if you plan to stay, don't come hungry: Food is limited to just guacamole and hummus. To fill up you'll want to hit Talde's Rice & Gold restaurant downstairs. Open year-round.
6. Bar SixtyFive
30 Rockefeller Plaza, at 49th St.; 212-632-5000
The scenario: Your friends are in town and they want to go up high. You could shell out $39 for a visit to Top of the Rock, which offers a breathtaking Manhattan view from 70 floors up, but you'd be doing it without booze in hand. Just five floors below at the same address is Bar SixtyFive, the comely drinkery just opposite the legendary Rainbow Room, where you'll pay about $20 for a bracing Martini, which comes with a side of scenery south, west, and north so high up that you could squish the whole of Central Park between your fingers. You can also get food, like a hefty rib eye, or above-average apps like Kobe pigs in a blanket, lobster corn dogs, or vegan options like an eggplant-and-quinoa slider. Stand at the bar with your yuzu spritz made with Nicolas Feuillatte Brut Reserve, reserve a mother-of-pearl-flecked table to hold your seafood tower, or sit outdoors if the day is particularly lovely (a $65 minimum is placed on outdoor table reservations). Caution if you leave your drink unattended: It gets windy up there. Open year-round.
7. 1 Rooftop Garden & Bar
1 Hotel Brooklyn Bridge, 60 Furman St., nr. Doughty St., Dumbo; 347-696-2500
Sometimes you need a vacation from this town, combined with a reminder of why you still live here. And that's when you head to the roof at the 1 Hotel Brooklyn Bridge, early, before the $20 entry fee is enacted at 4 p.m. weekdays and noon on the weekend (with $4 donated to the Oceanic Global Foundation). But hey, you wanted to day-drink anyway. The lodging brand commits itself to sustainability, which translates visually to serene natural-wood surroundings and greenery crawling up the walls. Take the elevator to the 11th floor and be gobsmacked by the panoramic views of lower Manhattan, the Statue of Liberty, and the almost eye-level Brooklyn Bridge. It almost doesn't even matter that the cocktails are just okay. If you do insist on one, we recommend the Dark and Stormy made the right way with Bermuda's own Gosling's dark rum and ginger beer, plus a lobster roll with chunks of lobster, light on the crème fraîche. Seasonal.
8. The Ides
Wythe Hotel, 80 Wythe Ave., at N. 11th St., Williamsburg; 718-460-8006
Just down the street from Westlight (and 16 floors down), this Wythe Hotel hot spot makes a solid argument for crossing the Williamsburg Bridge: considerable indoor-outdoor space for mingling, the pedigree of restaurateur Andrew Tarlow (Marlow & Sons, Diner, Reynard), and, yes, widespread vistas. But because of its limited reservation system, waits downstairs can be arduous, and once you get up to the sixth floor, you'll be hit with crowds. Survive both and be rewarded with the cityscape of Manhattan and Brooklyn, small plates like housemade ricotta and sourdough bread, and cocktails like the vodka, raspberry brandy, vermouth, and soda Storm in the Summer or the Dizzy World, a gin-and-tonic float with housemade sorbet. Open year-round.
9. Met Roof Garden Cafe & Martini Bar
The Metropolitan Museum of Art, 1000 Fifth Ave., at 82nd St; 212-535-7710
On the one hand, we love art. On the other, we also dig our drinks. The rooftop at the Met allows us to indulge both of these passions with seasonal installations that can be explored with a glass of wine or a cocktail like the gin, lime juice, and blackberry Mortal Kombat in hand, served up by two rooftop bars daily. And let's not forget the views: As the bar is just five floors up right on Central Park, your sight lines are sweeping and green, unlike any other in the city unless you actually live on Central Park (and in that case, good for you). Installations are usually sculptures, from glossy Jeff Koons toy dogs to the current site-specific We Come in Peace by Huma Bhabha, reflecting on how Western values distort how images are presented. At the very least, you'll have a conversation starter. Seasonal.
10. Williamsburg Hotel Rooftop and Pool
Williamsburg Hotel, 96 Wythe Ave., at N. 10th St., Williamsburg; 718-362-8100
There's a cocktail made with Steven Soderbergh's Bolivian-liquor brand, rosé, and rum served in a plastic coconut on the pool-decked roof of the Williamsburg Hotel — cheesy, but fitting: The newest addition to the neighborhood's rooftop-bar scene sets itself apart by being made for lazy afternoons. The public can purchase passes for rooftop and pool access for $65, but after 6 p.m. everyone is welcome to sink their toes into the turf-topped deck on various seating arrangements, from metal chairs to plush lounges all positioned with the requisite spectacular views you can only get from nine floors up on the waterfront. Light bites come from Harvey downstairs: shrimp and tomato salad, guacamole, and a lobster roll on a bun from the hotel's Brooklyn Bread Lab supplier. Things get more high-energy (and crowded) on Thursday and Friday evenings and the weekends, when DJs take over for themed, no-cover parties. Seasonal.
11. Castell
AC Hotel Times Square, 260 W. 40th St., nr. Eighth Ave.; 929-368-4636
Finding an ice-cold, well-made Martini on a midtown rooftop is difficult, to say the least. But at this sleek, Spanish-influenced Garment District hideaway, you have your pick of incarnations, served enticingly with slivers of garnish. Have your 50/50 with Reyka Vodka or the local Greenhook Gin (their suggestions) as you admire the tall arches behind the bar, or the humongous windows framing the Empire State Building and making the indoor-outdoor 21st-floor space almost seem to float. Ivy crawls up the outside walls, adding extra touches of green, and besides Martinis, you can choose from a decent number of sherries, wines, highballs (including a Salted Grapefruit Paloma on tap), a limited shaken and stirred menu, and decent tapas with ingredients like smoked Spanish paprika and Ibérico ham. There are only three heavier options, and if the steak makes you sleepy, at least you're in a hotel. Open year-round.
12. Le Bain
The Standard High Line, 848 Washington St., nr. 13th St.; 212-645-4646
Sometimes you're in the mood to party. And at those times, you want it all: the lights of Manhattan, the celebrity DJ, the goddamned disco ball. For those occasions, there's Le Bain. Sure it's scene-y, but come early enough or on a weekday and you can actually enjoy a quiet afternoon stretched out on the turf at the top of the Standard, spotting yachts on the Hudson as you sip your overpriced cocktail and nibble on a housemade crêpe. When the sun goes down, the music goes up, the energy gets fizzy, and by the end of the night, you may have even wound up in the Jacuzzi. (Yes, they have one of those.) The door is notoriously difficult at night, so if you're dead set on getting in, come during the day and just hang on. Open year-round.
13. Good Behavior
Made Hotel, 44 W. 29th St., nr. Sixth Ave.; 212-213-4429
A friend once said that when she first moved to New York she frequented rooftop bars just to get fresh air. (The booze, perhaps, was a bonus.) These days for her there's the convivial Good Behavior, on the 18th floor of Nomad's Made Hotel, dealing in good vibes and even better cocktails. Outfitted like an intimate flora-filled living room, the bar has retractable glass doors that open out to two terraces and up-close views of the Empire State Building. There's no food, but solid tiki-inspired cocktails — like the Dirty Finery with mezcal, bell pepper, pomegranate, and passion fruit — are supplied by the husband-and-wife team of Donna beverage director Jeremy Oertel and Nitecap owner Natasha David. Reserve the outside area for groups or come early for a seat, and conversation: As the night goes on, DJs and the bottle-service crowd take over the dance floor, heavy on the reggae. Open year-round.
14. Rooftop Reds
Brooklyn Navy Yards BLDG #275, 299 Sands St., nr. 4th St., Wallabout; 703-582-8609
This 15,000-square-foot fourth-floor rooftop in the Brooklyn Navy Yards is a working urban vineyard with its first bottles made from roof-grown grapes expected in 2019 (until then you can try wines produced with grapes from the Finger Lakes region). It's also a playground for oenophiles, transforming into a recreational bar that's also an ambassador for wines from upstate producers. Online reservations are required for free tickets reserved by time slot, which keeps the place from getting too crowded, and you can bring your own food for a picnic among the vines, with hammocks, movie screenings, cornhole, and views of Brooklyn and the lower Manhattan skyline. Seasonal.
15. La Birreria
200 Fifth Ave., at 23rd St.; 212-937-8910
Mingle with beer aficionados and stargazers alike 14 floors above the massive Eataly, with views of the Flatiron and Empire State Buildings. Note that the bar area — serving a selection of biodynamic wines from Italy, Italian sodas, and beer including craft ales brewed on-site — is relegated to the side, with restaurant tables reserved for dining. But you'll want to order food: Every year brings a different summer-menu theme, and this season the retractable roof has opened up for the Italian-countryside-inspired Serra, serving family-style dishes utilizing seasonal vegetables. Try a cocktail infused with herbs from their garden, order some nibbles, or stop by their monthly farmers' market in collaboration with GrowNYC, where you can chat with local farmers and producers and buy their product. But whatever you do, don't forget to look up. Open year-round.
16. Roof at Park South
Park South Hotel, 125 E. 27th St., nr. Lexington Ave.; 212-204-5222
A visit to the ninth-floor Roof at Park South need not be a production, just a breezy breather to grab a well-made drink with the Chrysler Building in the background. Choose from various seating arrangements: lounging under a sunburst orange umbrella, perched at a communal high-top, or cozy around a fireplace, in an atmosphere that feels congenially social. On a recent visit a fellow imbiber was an elderly gentleman heading home after a checkup at the nearby NYU Langone who saw the line downstairs and was curious. With his beer and bacon-wrapped Kobe hot dogs, courtesy of the same team that runs the hotel restaurants O Ya and Covina, he fit right in with the after-work crowd sipping gentle Italian Greyhounds (grapefruit juice, Punt e Mes) from an extensive and trustworthy cocktail list, and the pre-gamers battling head freeze from sucking down insanely potent Zombies (limit of two per person). Seasonal.