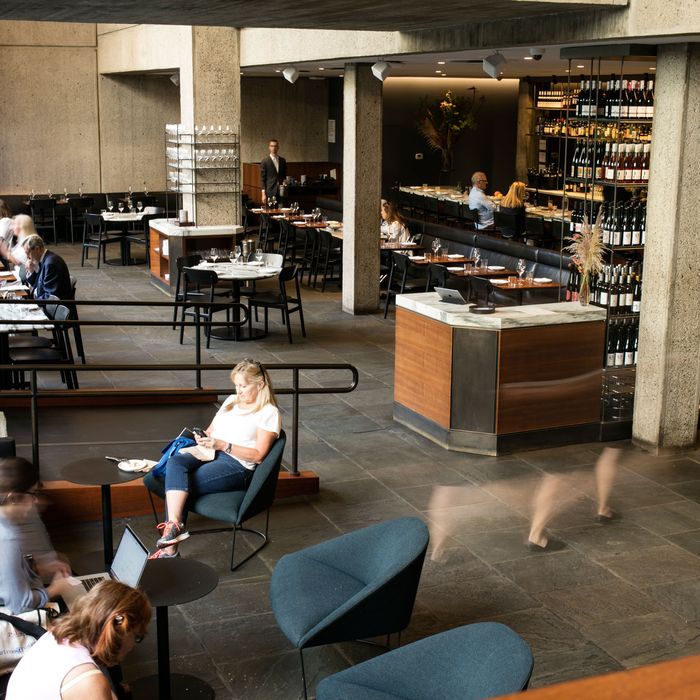 Flora Bar is a rare hub of cuisine and culture.
Photo: Melissa Hom
Upper East Siders love to think of themselves as the ultimate New York City sophisticates, but when it comes to restaurants, there's arguably no more hidebound, traditionalist, conservative group of diners anywhere in this great dining town. You'll find ancient French establishments still doing business in this part of the city, and venerable delis and burger joints that have survived for generations. You'll find German beer halls left over from the glory days of Yorkville, and ye olde clamorous red-sauce institutions where the menus haven't changed in many years (except for the inexorably rising prices) and aged waiters and bartenders still call out the names of the regulars every evening, as they totter into the house one by one. It's the height of presumption, we realize, to rank the absolute best restaurants in a region of such settled tastes and ritual. So consider this a kind of highly subjective outsider's guide, designed to raise the hackles of the locals and to serve as an anthropological survey for those travelers who find themselves wandering between East 64th Street, say, and the mid-90s, and are searching for a decent meal.
1. Flora Bar
945 Madison Ave., nr. 75th St.; 646-558-5383
Sure, the location is a little eccentric by local standards (the dining room sits on the semi-bunkered basement level of the Met Breuer museum on Madison Avenue). The decor is a little spare, too (did we mention that it's in the basement of the Met Breuer?), and local gourmets will complain that the chef, Ignacio Mattos, is an interloper from the wilder, much more unruly culinary regions further downtown (he operates two popular restaurants below 14th Street). But we'd argue that the mingling of high culture and high cuisine at this unlikely three-star establishment creates the kind of alchemy which is unique not just on the Upper East Side, but to the city as a whole. Throw in Mattos's refreshingly ingenious brand of high-low cooking (where else on the block can you get your crème fraîche and caviar served with house-frizzled potato chips?), the elegantly accessible lunchtime service (yes, there's a Wagyu burger), the exceptional all-day coffee-and-pastry bar, and one of the better brunch menus in this brunch-crazed part of town, and you have the ideal Upper East Side restaurant for this unfussy, post-gourmet age.
2. Daniel
60 E. 65th St., nr. Park Ave; 212-288-0033
The great master of haute uptown cuisine has recently installed a glittering new kitchen at his venerable flagship establishment, and the endlessly proliferating (and pricey) tasting-menu options continue to attract big-money gastronauts from far off places like Dubai and Beijing. But the best way to experience the essence of what certain plutocrats around the neighborhood like to call "our local canteen" is to belly up to the bar just outside the ornate dining room early on some weekday evening, call for one of the inky northern-Rhône wines from around Daniel Boulud's native Lyon, and bargain with your bartender for an à la carte taste of dishes from the old French canon, like wood-roasted pigeon (if it's even on the menu), opulent helpings of veal with artichokes, and dainty portions of suckling pig that the kitchen simmers in milk and garnishes with the freshest farm vegetables from upstate.
3. Sushi Noz
181 E. 78th St., nr. Lexington Ave.; 917-338-1792
It's always been chic, in New York's high-end sushi circles, to trace your lineage back to the old masters in Tokyo. Few restaurants have managed this theatrical trick in quite such an elaborate and convincing way as this polished little atelier with its white stucco façade, kimono-clad wait staff, and hushed little rooms constructed without nails in the ancient sukiya style. But what distinguishes this pricey restaurant ($300 for the full chef's-choice dinner, prepaid, before a drop of champagne or sake passes your lips) from the rest of the gilded new crop of sushi palaces around the city is the recent addition of the sushi-only six-seat Ash Room, where dinner costs a little over half the price of chef Nozomu Abe's expertly presented full menu next-door (cod milt soup, anyone?) and allows you a taste of the elegant, beautifully sourced nigiri portion of the omakase experience without breaking the bank.
4. Elio's
1621 Second Ave., nr. 84th St.; 212-772-2242
Elio Guaitolini passed from the scene a couple years back, but this clubby, boisterous, slightly maddening Second Avenue institution sails serenely on. Sure, the monied, Page Six clientele can seem pushy and entitled on crowded evenings, and the prices of the veal chops and platters of grilled calves' liver and the many spaghettis on the menu (seven, at last count) border on the insane. But if we had to choose one old standby joint in this red-sauce-mad part of town where the waiters barked out our name when we walked in the door and our regular table in the corner was kept open for an hour or two every night, this would be it.
5. J.G. Melon
1291 Third Ave., at 74th St.; 212-744-0585
A couple new Melon franchises have opened around town lately, but thanks to that particular patina that collects around great neighborhood institutions over the years, the famous burger (with cheese and pickles, please), always tastes better at this original spot, which opened in 1972 among the jumble of Third Avenue's other random neighborhood pubs and restaurants. On the off chance that you're not in the mood for a cheeseburger, don't sleep on the compact, deeply satisfying BLT, which is best consumed at the crowded little bar with a lunchtime martini and a side of those addictive cottage fries.
6. The Simone
151 E. 82nd St., nr. Lexington Ave.; 212-772-8861
Many of our most discerning friends in the neighborhood swear by this staid, elevated mom-and-pop shop, which Tina Vaughn and her chef-husband Chip Smith opened in 2014 on a quiet stretch of East 82nd Street. Tina is the wine person, and Chip heads a kitchen that specializes in the kind of intimate, elegantly mannered, unapologetically dated Continental-style cooking (try the pan-seared duck breast and thigh, the rabbit and foie gras terrine, and a slice of the dacquoise cake) that has been out of fashion for decades now in the more trendy dining precincts below 42nd Street.
7. Vaucluse
100 E. 63rd St., at Park Ave.; 646-869-2300
Michael White is one of the city's great pasta savants, but at this pleasantly gilded Park Avenue establishment, he and his seasoned team of cooks turn out a variety of durable French classics designed specifically for a certain kind of settled, uptown francophile palate. Go at lunchtime when, in the words of one our neighborhood spies, it doesn't feel like "you're eating dinner in the middle of a train station," and pay attention to the hors d'oeuvres section of the menu, which is chocked with familiar delicacies like smooth rounds of foie gras terrine, excellent escargots from Burgundy dressed with bits of roasted bone marrow, and a superior steak tartare, which is best enjoyed with a side of golden, crunchy frites, served with a proper uptown flourish in a silver cup.
8. Donohue's Steak House
845 Lexington Ave., nr. 64th St.; 212-744-0938
The menu of this storied Lexington Avenue local has changed little over the years, and so has the clientele, one of whom famously left his favorite server a final, lavish $50,000 tip on the occasion of his death. Our favorite time to visit is on a winter's evening, when the regulars are gathered in their usual black leather booths, with the old fedoras and mink coats slung up on the coat hooks above their heads. The serious-faced professionals behind the bar pour a fine, no-frills Beefeater martini, and there are some who whisper that the "chopped beef" pub burger might possibly be superior to the much more celebrated J.G. Melon offering further uptown.
9. The Mark Restaurant
25 E. 77th St., nr. Madison Ave.; 212-606-3030
The food at this posh, pink-hued hotel establishment is mid-level by Jean-Georges Vongerichten's lofty standards (pizza flecked with black truffles, plump crab cakes made with very fresh peekytoe, the first ever signature JGV burger, garnished with a melting wad of brie), but if you're interested in cataloguing the curious, slowly vanishing anthropological dining habits of the gilded uptown set, this is the place to start.
10. Tanoshi Sushi Sake Bar
1372 York Ave., nr. 73rd St.; 917-265-8254
There are much grander places in the neighborhood to get your elevated omakase fix these days, but not many of them combine the relaxed, slightly ramshackle sense of intimacy and occasion that this quirky little York Avenue institution does, a testament to the legacy of the late chef-owner, Toshio Oguma. The crowd has the convivial feeling that you find in the more casual, workaday sushi joints around the big fish markets of Japan, and the fish is almost as fresh. The great drawing card used to be the prices, which hovered in the mid-two figures for a standard 12-piece omakase, although lately they have been creeping up toward the $100 mark.
11. Pastrami Queen
1125 Lexington Ave., nr. 78th St.; 212-734-1500
This modest-looking Lexington Avenue deli is descended from the famous old kosher institution, Pastrami King, late of Kew Gardens, and although we don't have many elderly sources out in Kew Gardens these days, we'd wager the peppery, marbled, well-brined specialty of the house is almost as good as the original. Don't bother asking for the closely guarded family recipe ("What, you're thinking of opening your own pastrami joint?!"), but there are two kinds of tongue on the menu (center and tip), and if you enjoy a thicker slice of pastrami in your overstuffed sandwich, they'll hand-cut the meat, just like the old countermen used to do back in Queens.
12. Sfoglia
1402 Lexington Ave., nr. 92nd St.; 212-831-1402
The original proprietors of this late-aughts, nouveau-rustico standby are long gone, but whenever people ask us where to find a decent Bolognese ragù on the upper reaches of Lexington Avenue, we guide them here. In a region crowded with overpriced old red-sauce joints floating on their ancient reputations, the little ten-table room is refreshingly unstuffy, the service is professional without being overbearing, and the fresh rolled pastas (tagliatelle with speck, figs, and truffle cream; pici with clams and garlic; ribbons of pappardelle piled with that rich, crumbly Bolognese) are on a par with other, much grander pasta destinations around town.
13. Caravaggio
23 E. 74th St., nr. Madison Ave.; 212-288-1004
The wine list is as thick as a phone book at this fat-cat hangout just off Madison Avenue, and as is the tradition at such places, the pastas are stiffened with extravagant amounts of butter and cream, and the Italian (or maybe Albanian) waiters recite the endless list of daily specials with solemn ceremony, like actors on a stage. If you have the resources and enjoy this kind of show, it's one of the better ones in the neighborhood, and the menu includes high-minded renditions of the kind of peasant delicacies (risotto with chicken livers and bacon, polenta with venison ragù, roasted wild boar) you don't often find up in this part of town.
14. Sandro's
306 E. 81st St., nr. Second Ave.; 212-288-7374
After wandering from kitchen to kitchen around the city for decades, the itinerant pasta specialist Sandro Fioriti has finally found a permanent home at this little trattoria on 81st Street. The narrow room lacks some of the infectious bonhomie of other venerable old pasta joints in the neighborhood, by our humble estimation, but the Roman-accented cooking (fried artichokes, the bucatini all'amatriciana) is several notches above the usual local red-sauce fare, and the non-Roman "Sandro's Caesar" is one of the better Caesars in town.
15. Café Boulud
20 E. 76th St., nr. Madison Ave.; 212-772-2600
Chef Boulud's original restaurant space has been made over several times now, and on crowded evenings it can feel a little like you're visiting one of the several Café Boulud satellites that have opened over the years in places like Palm Beach and Toronto. To experience the essence of a certain kind of Upper East Side style, our experts in the neighborhood go for breakfast, when the tables are filled with locals dressed for work in their designer outfits and the menu includes all sorts of familiar, elevated treats, like omelets "aux fines herbes" filled with melted Gruyère, wheels of quiche dappled with wild mushrooms, and three kinds of eggs Benedict.
16. Café Sabarsky
1048 Fifth Ave., at 86th St.; 212-288-0665
It's easy to forget, in this era of plastic cups and lattés to go, that coffee was originally a luxurious, old-world drink. At the Austrian chef Kurt Gutenbrunner's lofty Viennese café, tucked into the Neue Galerie on upper Fifth Avenue, a single cup of the stuff costs $7 and will come to your marble-topped café table on a silver tray. You can enjoy it with a classic Bavarian ham and egg breakfast beginning at 9 a.m., or with a series of elegant Viennese strudels and chocolate tortes beginning at lunch. The savory specialties include potato dumplings filled with pork and sauerkraut, an elevated rendition of goulash, and what is arguably the finest wiener schnitzel served in this schnitzel-challenged part of town.
17. JoJo
160 E. 64th St., nr. Lexington Ave.; 212-223-5656
The rooms of this seminal townhouse restaurant have been renovated in a pale, slightly antiseptic spa-like palette to resemble other larger, more successful downtown ventures in the increasingly far-flung Vongerichten empire. The cooking won't shock the world, like it did when Jean-Georges was an ambitious young cook back in the go-go '90s, but dumplings stuffed with peekytoe crab isn't something you see in this staid part of the restaurant world every day, and if you want to relive the glory days, call for one of the blue-plate-special "JoJo Classics," like the famous roasted chicken with green olives, which is served Mondays only with a stack of chickpea fries.
18. The East Pole
133 E. 65th St., nr. Lexington Ave.; 212-249-2222
The decibels can reach unseemly levels at this popular farm-to-table outpost on East 65th Street, it's true. But if you're looking to taste an actual heritage pork chop (with wilted chicory), or an organic country-raised chicken (from Goffle Road Farm out in New Jersey), or a variety of seasonal vegetable preparations, done in the kind of modish, palatable haute-barnyard styles that have been all the rage downtown for years but haven't quite taken root in this more settled part of town (yes, there was a celery-root pot pie on the menu the last time we checked), this is the place to find it. The bacon cheeseburger (with duck-fat chips) is one of the better ones in the neighborhood, as is the large, pub-style Scotch egg, which the kitchen encases in freshly ground pork sausage, scented with just a touch of sage.
19. Sushi of Gari
402 E. 78th St., nr. First Ave.; 212-517-5340
The great Masatoshi "Gari" Sugio runs a large, unruly, somewhat uneven chain of high-end sushi joints around the city these days, but if you want to experience the vivid, high-wire creations that made him famous, this original, snug little flagship restaurant, which opened back in 1997 on a leafy, unobtrusive stretch of 78th Street near First Avenue, is the place to do it. As usual, the best seats in the house are at the bar, which fits only ten and tends to be filled with devoted regulars. Call well in advance for your spot, or show up early, like we do, and beg.
20. Heidelberg Restaurant
1648 Second Ave., nr. 86th St.; 212-628-2332
The last remnants of the dining culture of old Yorkville reside in this family-owned establishment, which has been in business on Second Avenue, a couple of doors down from the great Schaller & Weber deli, for close to a century. The bar is the place for serious beer drinking, of course, but for the real Yorkville experience, seat yourself at one of the sturdy, battered-wood tables, and enjoy specialties from the old country like leberknödelsuppe (liver dumplings), schweinshaxe (pork shank), or the imposing stammtisch, which contains a little bit of everything (beef tongue, Black Forest bacon, three kinds of wurst, mountains of sauerkraut and red cabbage) hoisted to the table on a platter the size of a pizza pan.
21. Beyoglu
1431 Third Ave., at 81st St.; 212-650-0850
The city's bumptious Johnny Appleseed of Turkish cuisine, Orhan Yegen, departed the premises long ago. But in a part of town not known for a plethora of choices in the realm of Middle Eastern cooking, this clubby little dining room on Third Avenue is still the place to go for a fix of reliably stiff, tar-black Turkish coffee, a platter of well-grilled lamb products (chops, meatballs, kebabs), and a clattering little flotilla of familiar meze plates filled with stuffed grape leaves, helpings of fried calves' liver, and spoonfuls of thick yogurt folded with garlic and cucumbers.