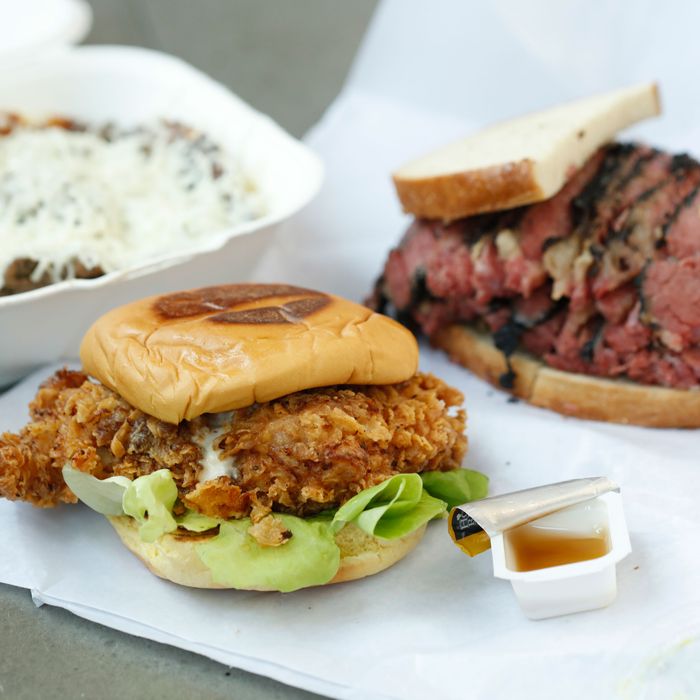 Pregame with pastrami, fried-chicken sandwiches, and arepas at DeKalb Market Hall.
Photo: Melissa Hom
As far as concessions go, there are plenty of options inside Barclays Center, ranging from decent to good. But if you're the sort of person who prefers not to wolf something down while crammed into a stadium seat and trying to watch a game or concert, you're in luck: The venue is ideally located at the meeting point of several neighborhoods that have seen a great deal of development since the stadium went up, and for someone looking to grab a bite pre- or post-event there are a lot of choices. Here, we've rounded up the absolute best spots within a 15-minute walk to get a quick-ish (you've got a game to watch, or a bed to get home to!) but still deeply satisfying meal.
1. DeKalb Market Hall
445 Albee Sq. W., nr. Dekalb Ave., Downtown Brooklyn; 914-288-8100
There's a lot of competition these days in the food-hall landscape, and DeKalb Market Hall is a formidable contender, with an unusually high batting average (we know, wrong sport), thanks to the residence of some seriously heavy hitters among its 50-plus vendors, many of whom have shown up on an Absolute Best list or two. They've got the second-ever location of Katz's, which gives them an enormous boost right out of the gate, and Hard Times Sundaes and Ample Hills and Arepa Lady and Bunker … we could go on, but suffice it to say that finding something delicious here is as easy as walking inside, and the diversity of options makes it great for groups.
2. Rose's
295 Flatbush Ave., nr. Prospect Pl., Prospect Heights; 718-230-0427
In the original Franny's location (and originally part of the Franny's family of establishments), a stone's throw from the stadium, Rose's is an ideal modern tavern. It's spacious and laid-back and relatively speedy, with a cool but not too-cool design scheme and cozy booths and a beautiful back garden. There's a nice selection of spins on classic cocktails and beer and wine from small producers, and it's easy to make a proper dinner out of the kitchen's clever takes on bar snacks. The tater tachos (tater-tot nachos, with pulled smoked chicken and house-fermented hot sauce) are as good as they sound, if you're into that sort of thing, as are the Fresno-chile poppers, the grass-fed burger, and the fancy grilled cheese (made with aged Gouda). For the truly refined among us, there's even a wood-grilled local trout, plus some rotating seasonal options.
3. Emily
919 Fulton St., nr. Waverly Ave., Clinton Hill; 347-844-9588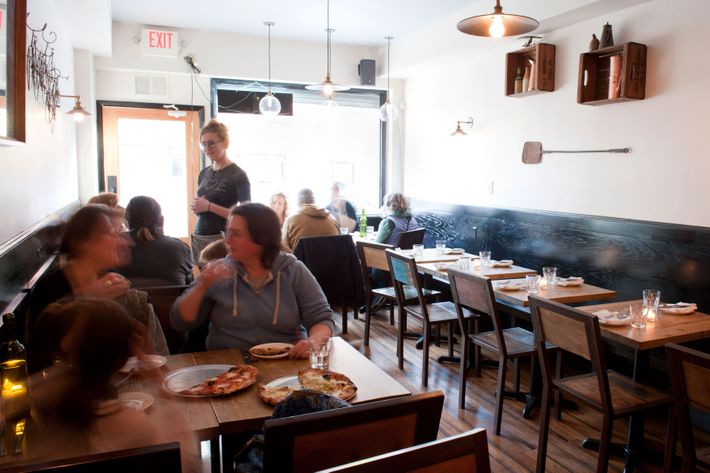 Securing a table at this no-reservations pizza palace can mean a long wait: They also serve what is truly one of the best burgers in town (we're hungry just thinking about it) not to mention great wings, and it's on the small side. So coming early, or late — say, pre- or post-Barclays — may be your best bet for access to that burger (dry-aged beef, Grafton Cheddar, caramelized onion, pretzel bun) and those wings (spicy, sweet, and sticky) plus pies like the namesake Emily, topped with mozzarella, truffle cheese, pistachios, and honey.
4. Threes Brewing
333 Douglass St., nr. Fourth Ave., Gowanus; 718-522-2110
Threes is just great. The space is enormous and comfortable but stylish, with a nice backyard whose use they extend into colder months with heated teepees. The beer — both what they brew themselves and what they tap and serve from other breweries — is top-notch. And the food, from a little box of a kitchen manned by the Meat Hook, covers all the bar-food basics with aplomb: There's a cheeseburger, a veggie burger, a hot chicken sandwich, a steak, mussels, great fries, and even a couple salads and a side of grilled greens for good measure.
5. Sisters
900 Fulton St., nr. Washington Ave., Clinton Hill; 347-763-2537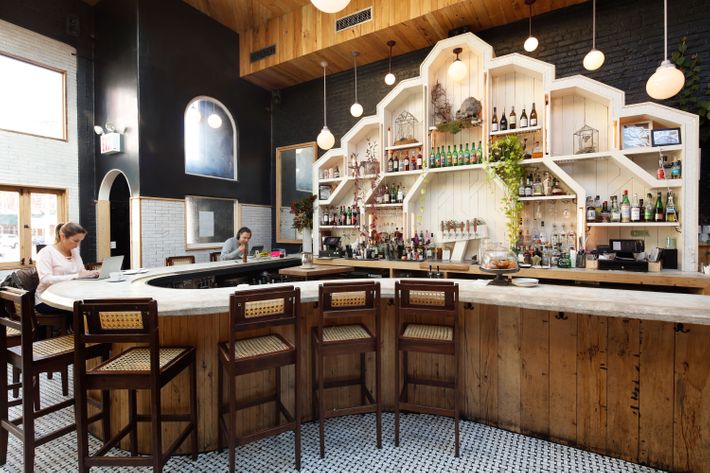 The hardware store turned restaurant known as Sisters isn't breaking the mold with any of its food, but it's sure doing a good job of offering familiar but pitch-perfect, classed-up plates of things like fried green tomatoes with mozzarella, a hearty Greek salad, mac 'n' cheese, and skirt steak. And the space itself is exceptionally beautiful, a marvel of tile- and woodwork, and surprisingly big, with two full dining rooms, each with its own gorgeous bar, which means plenty of seating.
Honorable Mentions
al di là
248 Fifth Ave., at Carroll St., Park Slope; 718-783-4565
Just because a restaurant's been around for what feels like forever in this fast-moving ecosystem doesn't mean it's not still great. Park Slope's favorite trattoria is still churning out the hits, from seppia and oxtail over creamy polenta to spaghetti vongole to that famous braised rabbit.
Bedouin Tent
405 Atlantic Ave., nr. Bond St., Boerum Hill; 718-852-5555
We've mentioned the magic of the made-to-order pita here before; if you're craving a falafel sandwich or chicken kebab or an array of Middle Eastern mezze, this will hit the spot.
Chuko Ramen
552 Vanderbilt Ave., nr. Dean St., Prospect Heights; 718-576-6701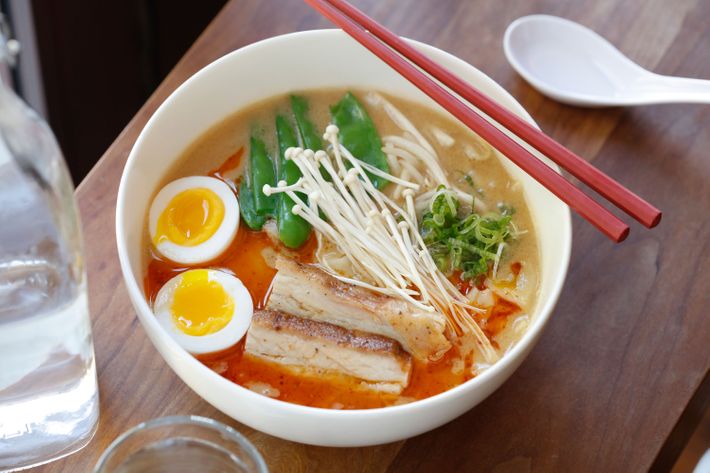 There are a few ramen places in the area, but our favorite is bright, cheerful, efficient Chuko, whose noodles are snappy and whose miso broth is especially good — a fun hack, if you're an omnivore, is to get the veggie miso and add roast pork. The small menu also includes great pork buns and crispy Brussels sprouts in fish sauce.
Insa
328 Douglass St., nr. Fourth Ave., Gowanus; 718-855-2620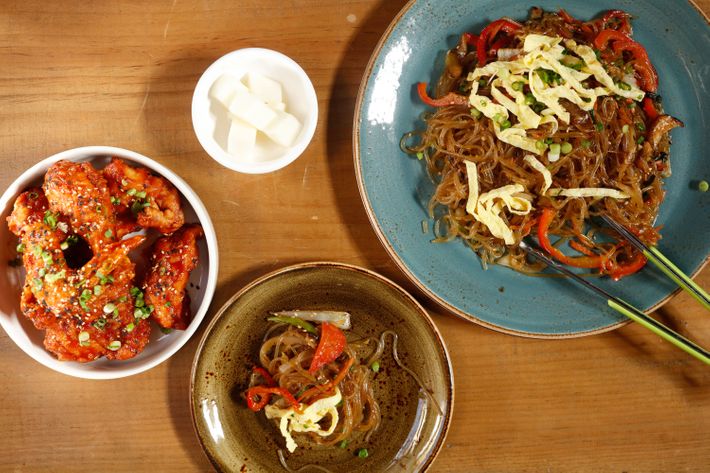 We think of Insa as first and foremost a destination in its own right, preferably involving a long night that includes karaoke, but if you're craving Korean barbecue or bibimbap, it's possible to have a relatively quick, casual meal here, too. The dining room accommodates 100, and everything except the barbecue — from bossam to fried chicken to japchae — is available at the 36-seat bar.