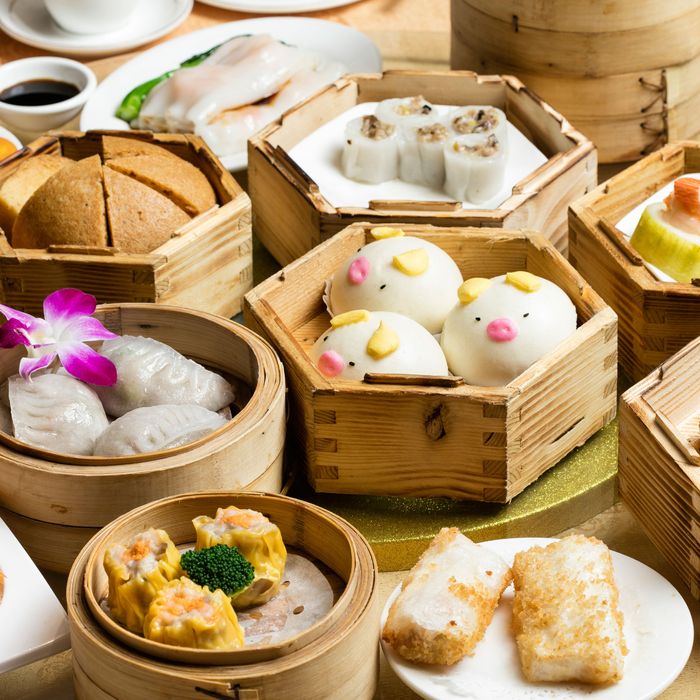 Bamboo Garden.
Photo: Melissa Hom
As home to sizable Asian, Central American, and South American immigrant populations, Sunset Park's restaurant culture bears little resemblance to just about anywhere else in New York. Though there seem to be two or three more places to eat on every block compared to, say, Carroll Gardens, most of these spots remain informal, trend-immune establishments to grab a plate of pork buns, or a rotisserie chicken with rice. While restaurants serving food from regions of China are increasingly common (find the best here), few seem to aim for destination status or even the Sichuan peppercorn-assisted theatricality of Flushing. That said, consideration for this list took into account value, economy, and diversity as much as deliciousness. Here, the absolute best restaurants in Sunset Park.
1. Bamboo Garden
6409 Eighth Ave., nr. 64th St.; 718-238-1122
When the space isn't rented out by Italian millionaires looking to re-create the iconic lit-floor disco from Saturday Night Fever, Bamboo Garden excels at Cantonese banquet food and a regular dinner service, most often served at once in adjacent rooms. (Try the clay-pot mutton brisket with wispy seared tofu skin, or get camphor-smoked duck from the barbecue-meat nook up front.) But it's best known as a home for consistently fine, interesting dim sum. On weekends, families clamor for seats among the crystal chandeliers to gossip loudly and endure vapor trails of chafing fuel as speeding dim-sum carts tailgate other dim-sum carts. Pork shumai, soy-braised chicken feet, jellyfish with ham, and plates of shrimpy rice rolls will keep coming until you draw the line. At this point, steady yourself with tea and move on to the ube-stuffed mochi, two-toned ginger jellies, and for the kids, custard buns shaped like tiny pigs.
2. Hot Space
774 51st St., nr. Eighth Ave.; 718-980-8801
The house specialty is a three-to-four-pound whole freshwater fish, like barramundi or sea bass. It's scored, plied with spices and garlic, then blasted in a custom contraption that servers say is big in Chengdu. Diners choose base flavors, ranging from mustard pickles to globlike tofu in chile crisp, which mix into a thick broth, and the finished dish is served inside a vast roasting pan that brims with eye-popping red chiles, snappy scallions, and piles of cilantro. The barramundi or sea bass has nicely charred, parchment-thin skin and lots of steamy white meat; add-on vegetables like cauliflower or cabbage offset the various range of umami boosters in the soup, including fermented peppers and radish pickles. The dish is a gauntlet, and a feast.
3. Parlay
4024 Eighth Ave., at 41st St.; no phone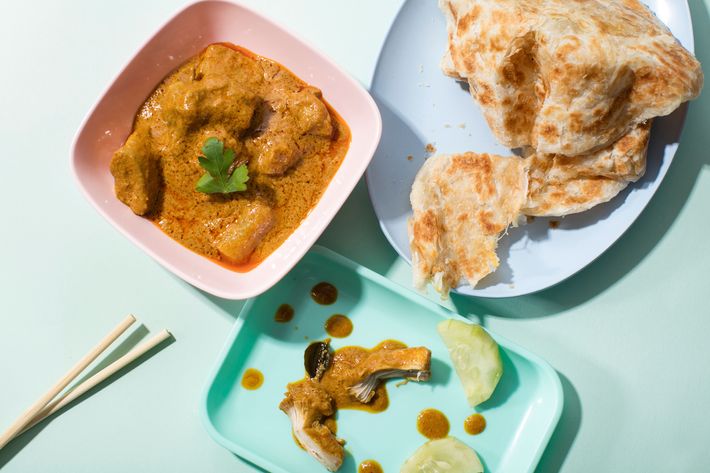 Matcha lattes and cortados are done well, but that's no surprise for a café filled with nattily dressed folks tapping away on MacBook keyboards while the gleaming Casadio hisses away in the back. Pulled-pork and fried-chicken sandwiches are also decent, but it's the Malaysian chicken curry that's most worth the trip. After cooking, dark meat rests overnight in its sauce, smooth but not creamy, so that it never dries out. In each bite, the unmistakable prickle of red chiles dissolves into a full complement of warming spices; little dots of infused schmaltz cling to the surface. An inestimably warm and flaky roti canai is served on the side, and it's just about perfect.
4. Golden Rich
4001 Eighth Ave., at 40th St.; 718-508-2993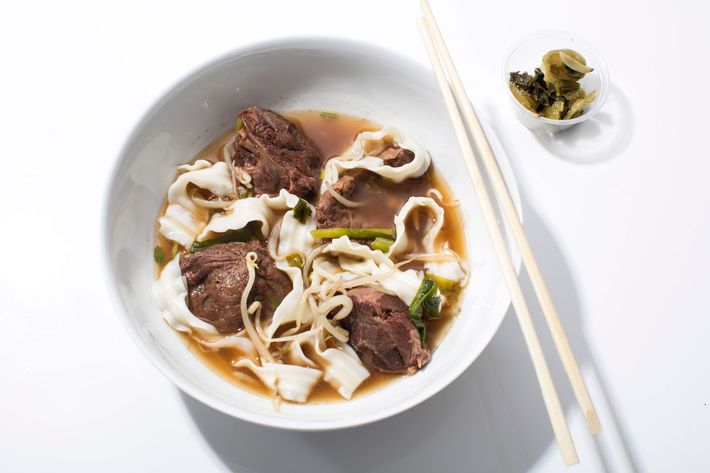 The affable Taiwanese couple who run this newish pint-size restaurant say they plan to offer more hard-to-find regional dishes in upcoming months, which is in itself a good reason to have it on your radar. Taiwanese beef noodle soup, which is having a moment, benefits from pulled shank and soft-cooked tendon, plus homey noodles that look like mafaldine but have the texture of rice sticks. Three-cup chicken has a sheeny sauce and a pleasant, almost candied garlic theme. Crêpelike oyster omelettes are topped with a sweet-and-sour sauce and jellylike glaze, and dumplings with chile crisp taste like they were stuffed ten minutes ago. They probably were.
5. La Brasa Peruana
4618 Fifth Ave., nr. 47th St.; 718-765-4088
It's family-style, maybe a frill or two below no-frills, with steam tables on full blast and a guy with a cleaver in the back dispatching bronzed rotisserie chickens into juicy wedges. Get the chicken. Also, the rotisserie ribs, abundantly meaty and glazed in the great, cross-cultural chifa tradition. Peruvian classics like lomo saltado are served alongside the stir-fries, plus straightforward sides like fried tostones, which are starchy and vaguely sticky with residual caramelized sugar. Order the "large" size fried rice and be prepared to carry home the largest folded Chinese paper takeout box you've ever seen.
6. The Roast
5124 Eighth Ave., at 51st St.; 718-633-8288
The Flushing original's counterpart is more organized, and more squarely focused on Hong Kong–style barbecue. Think wall-to-wall, or window-to-window, roast pig, soy-sauce chicken, and super-fatty ducks glistening with honey, plus lacquered ears and grilled tripe doled out into stainless pans by cooks wielding big knives. Service is fast and furious, and freebie portions of sliced char siu are parceled out to anyone who orders a lot. All barbecue comes with palate-cleansing consommé, slick with a topcoat of five-spice fat collected from pans arranged beneath the meat.
7. Open Rice
4418 Eighth Ave., nr. 45th St.; 718-633-6366
A dim-sum rule of thumb suggests that more deluxe environs correlate with higher-quality dumpling carts. Not here. During morning hours, this low-key Cantonese restaurant functions as a less palatial, but altogether commendable dumpling spot. Nearly every table picks at plates of honeycomb tripe or herbal chicken feet, and the usual suspects — siu mai, har gow, peppers stuffed with shrimp and bean paste — are paragons of their forms. A full menu of Cantonese standards is also available during off-hours or for takeout.
8. Tacos Matamoros
4508 Fifth Ave., at 45th St.; 718-871-7627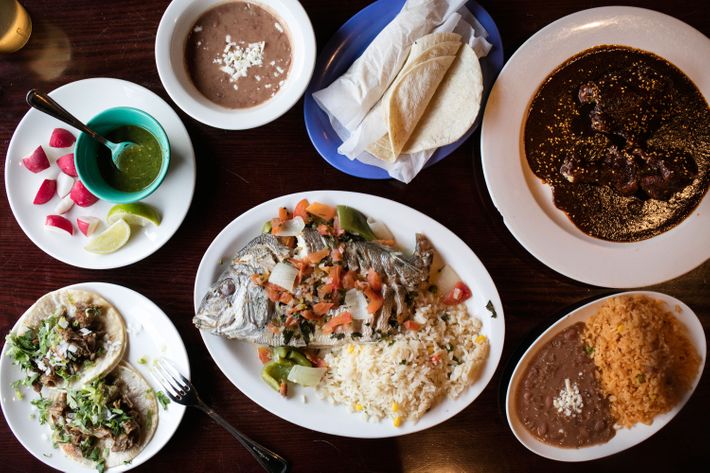 Matamoros made its name with excellent tortillas adorned with grilled tripe, wonderfully greasy chorizo, and al pastor pork sliced directly off the trompo onto warm tortillas. As a full-fledged Mexican diner, it offers a lot more: hearty mole-poblano tamales; shredded barbecued goat with rice and refried beans; whole porgy steamed with fresh epazote and jalapeños. Broad opening hours — 10 a.m. to 1 a.m., every day — make Matamoros something of an indispensable neighborhood hub, which is probably why Councilmember Carlos Menchaca celebrated his Democratic primary win here in 2017. At night, the restaurant's neon sputters to life, and servers bring festive piña coladas and queso fundido to diners.
9. Ejen Korean Comfort Food
254 36th St., nr. Third Ave., Industry City; no phone
Along with the reliable Taco Mix and Kotti Berliner Döner Kebab outlets inside the food court at Industry City, the single-location Ejen has emerged as one of the best, thanks to its mom-and-pop, Korean-gas-station-esque vibe and straightforward food. Perfect sunny-side-up eggs crown recycle bowls of well-made beef bibimbap, and pork dumplings, hot from the fryer with blistered wrappers, are presented with a minimalist sweet soy glaze.
10. He Yi Xiaochi
5301 B Eighth Ave., entrance on 53rd St.; 718-851-8878
Flat oyster omelettes, fish meatballs, and various bone broths simmered with ingredients like cartilaginous oxtail and bitter goji berries are served at this under-the-radar snack shop, which specializes in Fujian cuisine. Jiaozi are packed loosely with juicy pork and green onion; fried or steamed, with splashes of knockoff sriracha and black vinegar, they're also better than most of the dumpling competition nearby.
11. Ba Xuyên
4222 Eighth Ave., nr. 42nd St.; 718-633-6601
Like Thanh Da, its nearby competitor, Ba Xuyên functions best as a takeout spot for top-notch noodle soup and bánh mì. The entry-level sandwich — layered with ham, pickles, pork roll, jalapeños, buttery pâté, and actual butter — is one of the city's great, perpetually affordable snacks.
12. Yun Nan Flavour Garden
5121 Eighth Ave., nr. 53rd St.; 718-633-3090
When meat makes an appearance, it's a crumble of pork, crisp chicharrón, or slice of intestine. In other words, it's never the main attraction. Flavour Garden excels at fresh rice cakes, sticks, and noodles, most served with little more than a sheen of lamb or beef fat, dark fried chiles, some greenery, and a splash of Chinkiang vinegar. Wontons are wispy-skinned, and dumplings are as reliably juicy as they've always been.
13. Lucky Vegetarian
5101 Eighth Ave., entrance on 51st St.; 646-902-5779
An impressive constellation of faux char siu, mock prawns, bogus shark fin, unreal sausages, impostor fillet, and doppelgänger lamb skewers is readily available underneath the placid Xi Fang Buddhist Temple, where some requisite evangelizing goes with the territory and the lighting pays homage to some dim 1980s suburban bathroom. Tempura-fried orange "chicken" bits stand in just fine for the real deal, and starchy "shrimp" are indeed shrimp-shaped. The best dishes are those that never needed a vegan understudy, like mala noodles and custardy tofu, half-dunked in chile oil.
14. Peng Shun Spicy Pot
6301 Eighth Ave., nr. 63rd St.; 917-388-0989
The expansive sprawl of Fei Long Supermarket includes a food court with a dozen stalls, which right now notably includes several long-running acts, including Peng Shun, which serves Hunanese food. The pay-per-pound base proteins (fatty beef, fresh clams, lots of offal) are torched in a superhot pan with pick-your-own vegetables (okra, cabbage, lotus root). For the indecisive or offal-averse, one of the best options involves a preselected medley of filleted whitefish fried with yuba, bean sprouts, yellow chives, raw ginger, chopped coriander, and a healthy scattering of dried red chiles that take a moment to kick in, but light up all the other flavors in the bowl as soon as they do.
15. Ricos Tacos
505 51st St., nr. Fifth Ave.; 718-633-4816
The taco-crawl hordes have thinned out, and service is as spotty as ever. The dining room is, as always, cramped and a bit dinged, despite an expansion and some bright-green paint. But the tacos remain hard to beat; carnitas are crisp and fatty, chicken is charred and juicy, and a whole repertoire of well-handled offcuts and organ meats await the adventure-inclined.
16. Lanting Hotpot BBQ
705 59th St., nr. Seventh Ave.; 347-227-7698
At this AYCE hot-pot newcomer, various soup bases (tomato, pork bone, and more) have genuine depth; plus, it's the only spot in town with "authentic 9-grid pots." Table burners go from hot to roiling at turbo speed, and everything from the towelettes to loaner scrunchies to complimentary small plates (cold tapioca soup, kimchee) seems especially well-devised. The DIY sauce station is brilliant, towering plates of fresh herbs and lettuce are welcome, and dip-ins like tiger shrimp and short-rib slices are supremely fresh.
17. Western Yunnan Crossing Bridge Noodle
705 59th St., nr. Seventh Ave.; 718-838-4181
Though it's cool to see a plate of Hmong beef included in a menu of soup-adjacent sides, the main attraction is the namesake dish. Servers present a boxy tray of constituent ingredients to be added tableside, including pungent cabbage pickle, rippled wood-ear mushrooms, and curls of streaky raw beef, and the à la minute composition is what defines the bridge-crossing part. Noodles are chewy and fresh, and while broth options range from Sichuan-spicy to stewed tomato-tangy, most are pleasantly thick with collagen.
18. Nuan Xin Fan Tuan
Multiple locations
Like jianbing, fan tuan is a traditional breakfast food that's been retooled to go in all sorts of trendy, customizable directions. For years, Taiwanese street vendors have overseen the snack's build-out from a classic ball shape into a multitude of jumbo, rice-wrapped burritolike variations, and in Brooklyn, a group of young, franchise-minded restaurateurs have now settled on purple-rice interiors and nori wrappers. Fillings (eel, duck, Spammy ham) are plentiful, prices are low, and drinks like iced oolong with a floater of salty cream keep things interesting.
19. Chi Ken
5401 Eighth Ave., nr. 54th St.; 718-633-8877
Central to the business model here is lots of thigh meat, brined with rice wine and soy, then dredged with sweet-potato flour and fried into oblivion. When on point, the Taiwanese night-market-inspired popcorn chicken is downright greaseless, peppered with standout bits of fried basil. Fried oyster mushrooms prove that fried mushrooms should be more of a thing, and the malty "crazy jumbo" squid, propped together with skewers, registers as a sort of monstrous (and delicious) cephalopod schnitzel.
20. Kofte Piyaz
881 Fifth Ave., at 39th St.; 347-227-7036
Come for beefy meatballs or brawny lamb sausages dispatched fast-food style on focaccia-like bread, stay for Turkish coffee service in the shadow of the scenic Jackie Gleason Bus Depot. Çoban salatasi, which is Israeli or Palestinian salad by another name, is a colorful glut of diced cucumbers and peppers served with a plank of coriander- and chile-crusted Feta, and makes a fine foil for all that meat.
21. El Espino
5817 Fourth Ave., nr. 59th St.; 718-765-4144
Half the menu is devoted to Mexican tortas, seafood, and antojitos, with the rest covering home-style Salvadoran cooking: Expect slabs of spice-rubbed rib eye, fried yucca with crisp chicken chunks, and beany "pisques" tamales. Made-to-order pupusas invariably elicit apt comparisons to Solber and El Omega. Revueltas — which are stuffed with refried beans, chicharróns, and cheese — are hearty and portable.
22. Don Pepe Tortas & Jugos
3908 Fifth Ave., nr. 39th St.; 718-435-3326
What Defonte's is to heroes, Don Pepe is to a comprehensive lineup of stacked, sauced, and pressed tortas. The claustrophobic sandwich shop's signature is the Hawaiiana, a bizarrely impressive stack of carne enchilada in cutlet form, plus sliced ham and fresh Mexican cheese, all separated by a gonzo buffer of griddled pineapple. Of the dozens of smoothies and juices, the best are "spicy," like the watermelon, which benefits from the savory one-two punch of chamoy and the slow burn of dried chile.
23. Taste of Guilin
6307 Eighth Ave., nr. 63rd St.; 718-833-8806
The menu promises the "No. 1 authentic Guilin cuisine in NY," though up until a few years ago, this tiny storefront was the only place to find Guilin food. The focus here is mifen, an unfailingly elastic and tubular rice noodle with a long backstory that traces millennia back to the southern Chinese city of the same name. In its modern-day food-court setting, they're dry-fried in the more winning noodle bowls, with spiced soybeans, chile-pickled long beans, preserved cabbage, and hunks of fried pork intestine or cold roast beef.
24. Slimák
4110 Fourth Ave., nr. 41st St.; 347-689-3332
Weekdays, the focus is on espresso drinks made from Devoción coffee and takeaway pastries. Weekends, the place turns into a full-on Goliath of brunch, something like a South Brooklyn cousin to Williamsburg's Egg, with genteel quinoa bowls and various toasts. Highlights include eggs with perfectly wobbly and runny yolks.
25. Xochil Pizzeria
4613 Fifth Ave., nr. 46th St.; 718-435-2288
Next to carbon-datable old-timers Johnny's, Charles, and Royal Kings nearby, Xochil isn't likely winning much acclaim for its plain or vodka-sauced house specialties. Regardless, proprietors Germán and Yolanda are from Zacatelco, so they gave themselves an Aztec name, added crumbly polvorones and pitaya ices. Al pastor tacos are satisfying, but the homemade tlacoyos are exceptional. Boats of masa puff up on the griddle, then get doused in red or green chile salsa and blitzed with cooling crema and cheese.