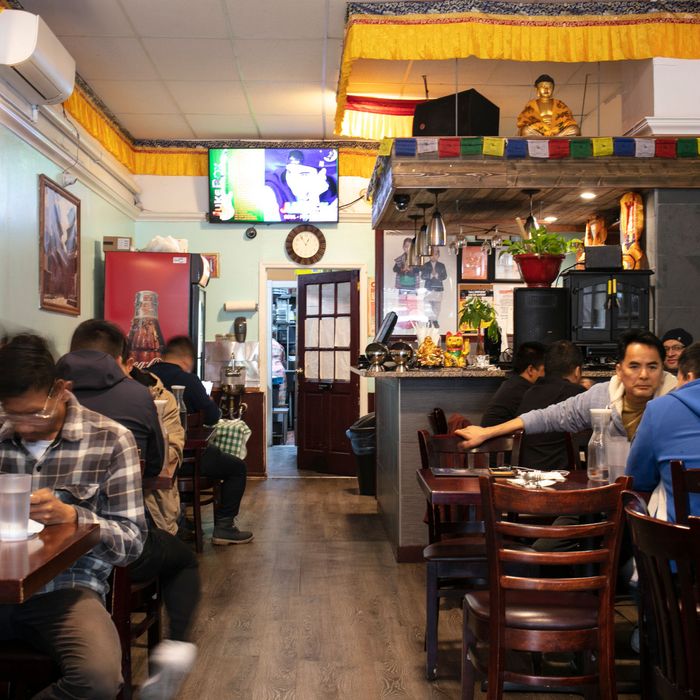 Kathmandu Fusion Cuisine
Photo: Melissa Hom
Sunnyside and Woodside — two neighboring communities that lie underneath the International Express (a.k.a. the 7 train) — are full of hidden gems that reflect the diversity of Queens, including a raucous Nepali hangout and a mosaic of Mexican fusion. They also happen to be home to a Paulie Gee-trained pizzaiolo and sushi flown directly from Japan. Here are the absolute best restaurants in both neighborhoods.
1. Kathmandu Fusion Kitchen
39-26 61st St., Woodside; 718-672-9500
The absolute best restaurant in the Woodside/Sunnyside corridor is a Nepali hangout decorated with photos of Kathmandu, and although the jhol momo — dumplings in a spicy tomato broth — are excellent, it's no mere momo parlor. Chef-owner Kamala Gauchan's father owned a restaurant back in Nepal and she's cooked at some of the best Nepali restaurants in nearby Jackson Heights, including Himalayan Yak and Laliguras. Saturday nights are a raucous BYO-lubricated affair as locals knock back their libations of choice, typically Johnnie Walker Black or beer, while tucking into spicy snacks like wai wai sadeko, a dish of crushed instant noodles mixed with green chiles and copious amounts of garlic. Mahogany-colored chunks of grilled wild boar belly (bandel dadeko) eat like a spicy version of Peter Luger's bacon, bursting with gloriously rich fat on a wave of soy sauce, black pepper, and Sichuan peppercorn. If you're especially hungry, get a thali, a platter bearing a mound of rice and the protein of your choice—all of the Nepali–style jerkies called sukuti are excellent, especially the goat—accompanied by pickles and a bowl of buttery lentil daal.
2. Philomena's
41-16 Queens Blvd., Sunnyside, 718-255-1778
With its red neon sign that reads "PIZZA," and a painting of a square slice dappled with mozzarella accompanied by the words "Artisan pizza" and "72h fermented," Philomena's at first looks like just another fancy-pants pizzeria, but the counter service joint is actually home to some of the best 'za in New York City. The lineup of 18 personal pies ranges from classics like marinara and margherita to originals like the Jersey Shore — tomatoes with sweet and spicy sausage, mozzarella, peppers, and onions — designed to evoke owner, lead pizzaiolo, and self-professed dough nerd Dave Acocella's childhood memories of sausage and pepper heroes. Acocella trained with Neapolitan master Gino Sorbillo and New York pizza guru Paulie Gee and it shows in his crunchy square slices. They change daily and include escarole with a shmear of white bean topped with pignoli nuts, a stellar pepperoni, and the carb-on-carb potato with oregano and olive oil. Covered in ultrathin slices of potato that crisp and caramelize along the slice's perimeter, the latter is a recipe that comes from another one of his mentors, his mother.
3. Takesushi
43-46 42nd St., nr. Queens Blvd., Sunnyside; 718-729-8253
Around the corner from an Irish supermarket sits what is not only the absolute best Sunnyside sushi-ya, but one of the top sushi counters in New York. It's run by Robin Kawada, a New York sushi pioneer who opened the first Takesushi in Manhattan in 1975. In 1996 he closed shop and embarked on a career as a fish distributor before opening Takesushi in Queens in 2012. Kawada-san's wholesale connections at home and in Tokyo are what enable him to serve some of the freshest and rarest fish in New York City. The baseball cap from Toyusu — Tokyo's largest wholesale fish market — he wears behind the sushi counter is no mere souvenir. Several times a month he flies to Tokyo and brings back fish, including such delicacies as nodokuro or black-throated sea perch and delicate Japanese ikura salmon roe, to serve at his restaurant. Don't worry if you are there on a non-Tokyo week though, Kawada-san takes just as much care with his stateside fish selection handpicking his fish daily from New York City markets instead of dealing with wholesalers.
4. Dawa's
51-18 Skillman Ave., Woodside 718-899-8629
Dawa Bhuti's restaurant, decorated with Buddhist imagery, has the distinction of being the only New American/Himalayan hybrid in all of New York City. The vet of the Mercer Kitchen and Reynard cooks side by side with her father, Ngodup Gyaltsen. Momos, the dumplings beloved throughout the Himalayas, lead off the Himalayan-inspired side of the menu. Bhuti says her momos, luxuriating in shallow pools of tomato sauce flavored with fenugreek, and finished with emma, as Sichuan peppercorn is called in Nepal, are inspired by those served at roadside stands in Kathmandu. Creamy beef tongue with Chinese black-bean chili paste served with a fluffy piping-hot whole-wheat tingmo bun is lovely. Whole wheat also plays a role in bartsa margu, rustic gnochetti pasta sautéed with butter, carraway, and kale that tastes positively Scandinavian. The bottom of the Himalayan menu reads, "CHECK NEW AMERICAN MENU AT BACK." There you'll find a delicious seared duck breast served with a sauce of lemon, olive oil, and pear, shishitos, and purple rice.
5. La Flor
53-02 Roosevelt Ave., Woodside; 718-426-8023
When Mexican chef Viko Ortega built his restaurant 20 years ago, people thought he was crazy. Not because he took on all the construction, but because he was smashing plates on the sidewalk outside. The fragments became part of a mosaic, along with red and green tiles that decorate the exterior. His menu is a mosaic, too, drawing on his Mexican heritage, French and Italian cuisine, and the neighborhood itself. An Irish breakfast plate shares the menu with a Pueblan breakfast one that features chorizo and tortilla chips, much the same way Mexican and Irish residents have shared the neighborhood for years. The tacos are great, but the "hometown" chicken enchiladas in a beguiling mole poblano, made from 20 different spices and five types of chiles, is outstanding. Lamb shank braised in red wine along with avocado leaves and chile de arbol eats like a cross between an Italian osso buco and Mexican barbacoa.
6. Kusina Pinoy Bistro
69-16 Roosevelt Ave., Woodside 347-924-9977
This spot, which takes its name from kusina, the Tagalog word for kitchen, opened in 2019. One of the best things from the kitchen is a take on Bicol express, a dish named for a train from Manila to Bicol. It's typically pork in a spicy coconut milk and shrimp sauce, but here it's called Bagnet express, an homage to the Iloco region's specialty of crispy pork belly. Crispy takyan stars deep-fried short ribs laquered in a sweet and sour glaze sauce that eats like candied beef stock. Sinigang na bangus, rich milkfish belly in a slightly spicy sour tamarind soup is a bracing counterpoint to the richer fare. Instagrammers are especially fond of the calamares gigantes, a comically huge deep-fried squid, served upright with a pair of scissors. It easily feeds five, which is exactly as it should be it at a pinoy bistro in the shadow of the 7 train.
7. Soleluna
40-01 Queens Blvd., Sunnyside, 929-296-3942
Sunnyside's top Italian restaurant takes its name from the neighborhood. Sole — the Italian word for sun — was too short for a restaurant name, says Luiga "Gina" Mastrovito who owns it with Valerio Marchi, so they added luna, the Italian word for moon. Standouts among the antipasti include a carpaccio di carne — rosy slices of tenderloin topped with peppery arugula and shaved parmigiano — and arancini del giorno, a daily selection of golden fried rice balls. Lasagna Bolognese served bubbling in a crockpot is lovely, as is gnocchi with black truffle, but the best of the homemade pasta is fagottini alla Valerio. The little bundles filled with pear and ricotta in a butter rosemary sauce resemble tiny moneybags. The menu ranges all over Italy as does the wine list, which features some unusual selections like Sagrantino di Montefalco, a full-bodied dry red from Umbria. Mastrovito, often working behind the bar, is in charge of dessert, which includes a mousse of the day, and torta della nonna, a gorgeous lemon tart.
8. Ricas Pupusas & Mas
47-55 47th St., Sunnyside; 929-296-0069
Irma Vargas, matriarch of this homey El Salvadoran café, isn't as famous as the Arepa Lady, but she started out the same way, selling pupusas, her country's griddle-made cakes of corn and cheese, on the street in Jackson Heights. The restaurant's signature snack — the crispy exterior of which yields to a combination of comforting corn and gooey cheese — lives up to the word "ricas," or delicious in Spanish. There are 11 varieties, including loroco, a Salvadoran flower that tastes like squash and is reputed to be an aphrodisiac, and frijol, small refried red beans. Revueltas is a fusion of frijol and pork slowly cooked with oregano and garlic that's known as chicharrón in El Salvador, and this shop's most popular pupusa. Curtido, a vibrantly pink carrot and cabbage slaw that cuts the richness nicely, accompanies every order. Customers are also encouraged to create their own pupusas. Vargas's favorite is loroco with chicharrón.
9. Thailand's Center Point
63-19 39th Ave., Woodside, 718-651-6888
Named for a Bangkok neighborhood that's the equivalent of Times Square, Aom "Annie" Phinphatthakul's laid-back restaurant lies just down the street from Thai juggernaut Sripraphai, which is often as crowded as the corner of 42nd St and Eighth Avenue. Not only is TCP less busy, the food's much better and more inventive than at Sripraphai. "Real Thai," trumpets a menu description for spicy noodle with Lao sausage. The tangle of noodles is riddled with pink chunks of chewy sour sausage, bits of dried fish that add bursts of umami, and whole fried dry chiles. Crumble up the chiles to adjust the dish's realness. Black ink spaghetti with nam prik ong — a northern Thai specialty of ground pork, tomatoes, and red chili — tastes like Bologna meets Bangkok. Be sure to check the specials written in multicolored chalk on a blackboard. Many like the whimsically named Over the Rainbow, a giant goblet filled with fried fish in a spicy lime sauce, eventually find their way to the regular menu.
10.  Souk El Shater
43-03 Queens Blvd., Sunnyside; 718-392-2702
Sunnyside is home to several Middle Eastern markets, but there's none quite like Souk El Shater, which is also part Lebanese restaurant. Beef and chicken shawarma make for tasty sandwiches, but they're even better as part of a mixed platter sluiced with tahini sauce. The white blob in the center looks like unmixed tahini, but it's actually toum, a lemony Lebanese garlic paste. Crunchy falafel made from fava and chickpeas mixed with a secret blend of spices imported from Lebanon are excellent. Ahmad Osman, whose grandfather's nickname was "El Shater," (Arabic for "the clever") opened the shop in 2010 and now his sons, Hussein and Mohammed, run the business. There are more than a dozen desserts, including several made by their mother Salwa. The best is shabiya — a triangle of flaky dough filled with sweet ashta cheese and a whisper of rose syrup.