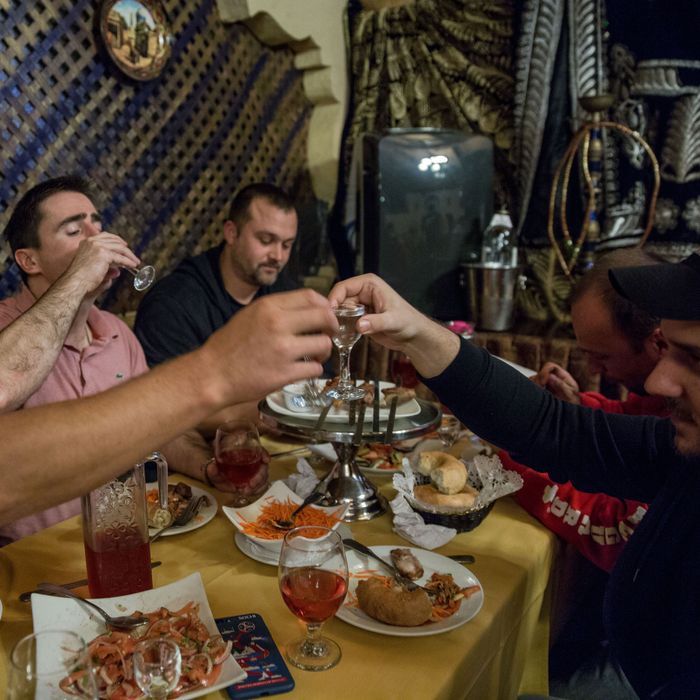 Cafe Dushanbe.
Photo: Scott Heins
The southern Brooklyn neighborhood's eponymous waterway was once home to abundant schools of sheepshead fish (a coastal Atlantic variety that feeds on oysters, clams, and other crustaceans). Today, most of the fishing fleets have been replaced by yachts and party boats, but the briny sea air still perfumes historic Emmons Avenue, and the glinting water offers a bit of respite amid the hustle of city life. Wending north and west, Sheepshead Bay's commercial sections are heavily dotted with restaurants and other storefronts that reflect its residents' diverse geographic origins, among them China, Turkey, Russia, and the former Soviet republics of Central Asia. The neighborhood took a serious hit during Superstorm Sandy, forcing some longtime establishments to shutter. But the intervening years have been a time of regrowth, with a mini-boom of condominium construction and a slew of new eateries. Here, the absolute best restaurants in Sheepshead Bay.
1. Cafe Dushanbe
1788 Sheepshead Bay Rd., nr. Shore Pkwy.; 718-676-9404
The most world-shatteringly delicious thing on the menu at this Central Asian eatery is hiding in plain sight. Kurotob — an indulgent salad of tomatoes and cucumbers, ripped slabs of croissant-textured fatir bread, dried yogurt dressing, fried onions, and a scattering of cilantro and thinly sliced chiles — is the national dish of Tajikistan. It is also, curiously, listed as a meat entrée on Cafe Dushanbe's menu. Do not miss it. Pair the salad with any of the succulent charred shashlik skewers and the Uzbek-style samsa: triangles or rounds of crunchy, whorl-topped pastry stuffed with spiced meat and onions or savory pumpkin. Then settle in among the tapestried walls, chairs upholstered with intricate patterns, and paintings of camel caravans, and prepare for a feast.
2. Lagman House
2612 E. 14th St., nr. Sheepshead Bay Rd.; 718-872-5979
When husband and wife Damirzhan Azimov and Gulshat Azimova opened Lagman House in the spring of 2018, they became the city's only proprietors of a Dungan restaurant. The western-Chinese Muslim cuisine is rich and bright, sharing touchstones with the dishes of Central Asia (where many Dungans resettled in the late 19th century), but also decidedly its own. A bowl of lagman soup (thon lamian) is beefy and brimming with red pepper and green beans. The tangle of noodles inside pull delightfully under the teeth and are slightly irregular in thickness, a sure indicator that they were made by hand. Together with the Dungan-style salad — a soy-sauce-dressed jumble of shredded carrots, scallion, and red pepper that can be stirred into the soup as a condiment — they make a satisfying meal for one. But best to arrive with friends and sample as many dishes as possible. The justai hezi (thin, fried pancakes filled with meat and softened chives) and the Napa-cabbage gravy, a saucy stew of pickled cabbage and beef that is spooned over rice, are two standouts among many.
3. Yiasou Estiatorio
2003 Emmons Ave., at Ocean Ave.; 718-332-6064
It is hard to imagine a nicer place to eat grilled fish than at an al fresco table overlooking clusters of boats bobbing in the bay. But if you can't snag an outside table at this Greek eatery, the dining room has plenty of bygone-era charm. (Think: painted murals of fishing boats, reveling dancers, and Greek gods interspersed with oversize floral decorations that are likely leftover from the previous night's rehearsal dinner or birthday party.) Pair your entrée — maybe a whole branzino, red snapper, dorado, or sea bass fried over a charcoal grill and elementally dressed with olive oil, lemon, and a showering of salt — with a selection of cold spreads and warm pita. Particularly memorable: the spicy Feta dip (tyrokafteri) that, in addition to a briny punch and pleasant burn, imparts hints of smokiness and is brimming with minced fresh cucumber and softened red pepper.
4. Belarussian Xata
1655 Sheepshead Bay Rd., nr. Voorhies Ave.; 718-332-4292
This two-story restaurant, which celebrates the cuisine of Belarus, is visually striking. The colorful, homey space is festooned with red-and-white-linen-adorned tables and shelves lined with nesting dolls, painted balalaikas (a Russian stringed instrument), and lacquered samovars. The Minsk-born chef, Ilya Frolov, turns out an equally impressive assortment of dishes; one could dine happily over the course of several meals without ever duplicating an order. Here is one combination: Begin with the village-style herring, which layers sliced hard-boiled egg, sour cream, and sashimilike nuggets of cured fish atop disks of steamed potato. Follow with grated-potato pancakes (called kolduni) stuffed with sautéed mushrooms or meat, and pan-crisped chicken tabaka served with a garlicky sauce. End the meal with slices of chocolate rulyada, a deeply cocoa-flavored log packed with prunes, hazelnuts, and crushed biscuits. And do not worry about missing out on other dishes — you will be back.
5. Safir Bakery
2724 Ave. U, at E. 28th St.; 718-934-3888
Those looking to impress dinner hosts with a sweet gift should stop by this Turkish bakery for a selection of impossibly flaky walnut baklava (arguably some of the borough's best), syrup-drenched squares of pistachio kadayif, and söbiyet — filo dough stuffed with semolina-thickened cream. But there are also plenty of reasons to linger in the airy café — specifically the mahogany, froth-topped Turkish coffee and sesame-encrusted simit (a bagel-like bread), which the shop will warm and serve with mild Feta and nutty kashkaval cheese, sour cherry jam, and an array of sliced cucumbers, tomatoes, and olives as part of the Turkish breakfast platter.
6. Roll-n-Roaster
2901 Emmons Ave., at E. 29th St.; 718-769-6000
Stepping through the doors at Roll-n-Roaster feels like opening a 1970s Brooklyn time capsule. That is because the menu, the brown-and-orange color scheme, and the kitsch served up at this stand-alone temple of roast beef and electric orange cheese sauce ("Cheez on anything you pleez" is the motto) have scarcely changed since Buddy Lamonica first opened the shop four decades ago. That is for the better. The de rigueur order includes a heap of roast beef on a house-baked kaiser roll, and ridged French fry coins — both smothered with the aforementioned cheez. Gild the lily with a thick black-and-white milkshake or apple pie topped with a softball-size scoop of ice cream. The proverbial diet can start tomorrow.
7. Nargis Cafe
2818 Coney Island Ave., at Kathleen Pl.; 718-872-7888
The word is out about this Uzbek restaurant — enough so that owner Boris Bangiev opened an outpost in Park Slope in 2017. Still, a meal in the original Nargis's sprawling and festively tapestried dining room remains a singular treat. Cooks marinate chunks of lamb, beef, and veal with sliced onions and knobs of fat, then use hair-dryer blasts to supercharge the charcoal grill, turning out beautifully blistered and juicy kebabs. The squat, beef-filled chuchvara dumplings are topped with a confetti of caramelized onions, and the Uzbek-style plov (rice pilaf with carrots, lamb, and chickpeas) shimmers seductively. Pro tip: Order a plate of pickled red cabbage, tomatoes, and cucumbers for a bit of reviving contrast.
8. Jimmy's Famous Heros
1786 Sheepshead Bay Rd., at Shore Pkwy.; 718-648-8001
First opened by German immigrants in 1938, Jimmy's has become a bona fide neighborhood icon. Current owner Victor Spadaro presides over the endearingly cluttered storefront, greeting old-timers with joking banter and handing newcomers a taste of sliced capicola, turkey breast, or provolone while graciously walking them through the sandwich options. He and his counter team then pile meat and cheese between an oversize hero roll (seeded or plain), slather it with mustard and mayo, and top it with "the works" (tomato, shredded lettuce, Italian seasoning, red-wine vinegar, and oil). Plan to eat half of the sandwich immediately with a freshly fried rice fritter — or three — and let the other half marinate in the fridge for an exceptional midnight snack.
9. Brooklyn Bread House
1718 Jerome Ave., nr. E. 18th St.; 718-714-9084
Freshly baked lavash — the ultrathin, tandoor-singed flatbread — is the main event at this Armenian bakery. But all of the savory baked goods — from the chewy, Georgian-style shoti and cheese-filled khachapuri to the lamadzho (flatbread rounds spread with spiced meat) — are worth the trip. A steam table stocked with housemade Russian and Central Asian dishes — beet-and-pickle salad, stuffed cabbage, marinated eggplant salads — offsets the carb overload. So do the jars of pickles, preserves, and honey that line the walls. After loading up, snag one of the few counter seats along the window or, better yet, walk five minutes to the waterfront for an Armenian picnic.
10. Randazzo's Clam Bar
2017 Emmons Ave., at E. 21st St.; 718-615-0010
Randazzo's history stretches back to the 1930s, when fishmonger Sam Randazzo moved his family from the Lower East Side to Sheepshead Bay, then a quaint fishing community. Today, that seafood legacy lives on in the spacious Emmons Avenue dining room, which is outfitted with nautical wall hangings and generations of family photos and portraits. Most diners arrive seeking the fried calamari ("gah-la-mah" in Brooklynese), a platter of steamers, or a cup of velvety chowder, studded with nibbles of potato and clam. But the family's signature marinara, which comes either "medium" or "hot," is delightfully jammy and concentrated spooned over spaghetti with a showering of Parmesan, or served alongside an order of sweet and slender fried zucchini spears.
11. Shaikh's Place/Donut Shoppe
1503 Ave. U, nr. E. 15th St.; 718-375-2572
Timing is paramount at this 24-hour fritter haven, owned by Shaikh Kalam since 1994. (He started working there in the 1980s, after immigrating from Calcutta.) Plan to arrive shortly after noon to be greeted by a bonanza of sheet trays holding just-fried rings, jellies, long johns, Boston creams, twists, and crullers. A warm, glazed yeast doughnut at Shaikh's is as ethereally tender as any artisanal counterpart across the borough. A chocolate cake ring is densely crumbed with a crackly crust, and a cinnamon-sugar-dusted pastry cradles vanilla cream or raspberry jam in a saucerlike well, akin to a sweet, deep-fried bialy. The humble hole-in-the-wall, which serves a devoted clientele (including ample men and women in blue), also turns out a few savory dishes — burgers, egg sandwiches, $2 tacos. But if you leave Shaikh's without a powdered-sugar mustache, you aren't doing it right.
12. Orso Coffee
1745 Sheepshead Bay Rd., at Shore Pkwy.; 718-484-9250
Matcha lattes and oat-milk cortados are a rare sight in Sheepshead Bay, but they feel right at home at this corner café. Opened by three Brooklyn natives in the summer of 2017, Orso fills the neighborhood's third-wave-coffee void and gives delighted locals access to croissants and Danishes from Bien Cuit without the 40-minute subway ride. The beans (which produce notably smooth and richly flavored espresso) are locally sourced from For Five Coffee Roasters, a micro roasting facility in Maspeth. And a refrigerator case stocks additional eclectic treats, including ready-to-eat overnight oats, kombucha, and sparkling juices and sodas to enjoy in the petite but sun-drenched space.
13. Luda's Dumplings
3371 Shore Pkwy., at Sheepshead Bay Rd.; 347-566-0604
There is a lot to love about this cheery little dumpling joint, from the yellow-and-white farmhouse aesthetic, to the peek-through windows that overlook the kitchen's giant, whirring mixer and half-dozen bubbling pelmeni pots. But the dumplings themselves — modern riffs on the classic Russian foodstuff — steal the show. Order potato-and-cheese-filled dumplings topped with fried onions, a showering of roasted mushrooms, and flecks of dill. Pair chicken-breast dumplings encased in a carrot-juice dough with a glass of Luda's housemade kompot (Russian fruit punch). Or tuck into sour-cherry-topped farmer-cheese parcels wrapped in a subtly chocolate-infused dough. A small freezer holds bags of to-go frozen dumplings for those who prefer to do their boiling at home.
14. Tandir Rokhat
2678 Coney Island Ave., nr. Ave. X; 718-676-4466
Tucked into a grungy stretch of Coney Island Avenue, this Central Asian eatery isn't much of a looker. (A rippled red aluminum roof constructed between the dining room and kitchen does lend the space a bit of charm.) But the food — silky grilled-vegetable salads studded with fiery bits of garlic, grilled kebabs, lamb manti (dumplings) — is invariably fresh and inviting. Around noon, the pace picks up, with locals stopping in for freshly baked samsa. Filled with a glistening mixture of cumin-heavy beef, lamb, and onions, and encased in pastry that shatters with an audible crunch, they make an indulgent tote-along lunch.