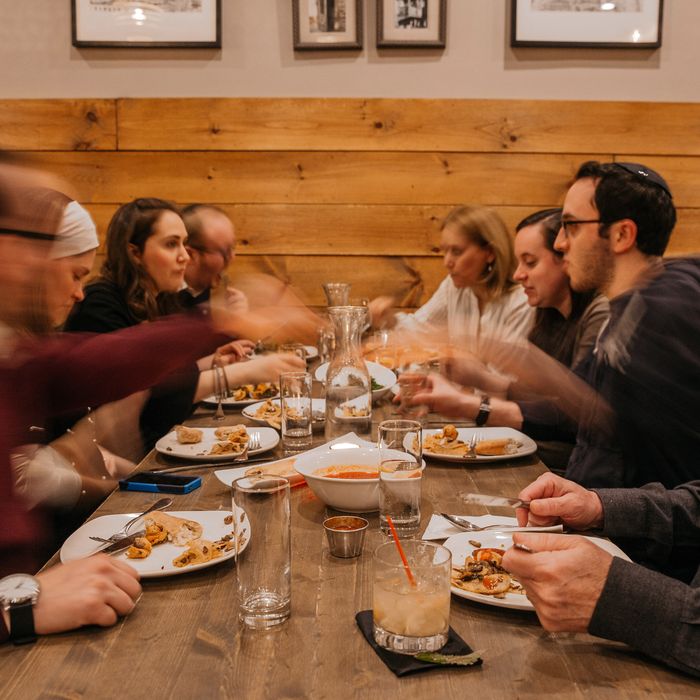 Kosher Georgian at Marani.
Photo: Scott Heins
Ben's Best Deli may have sliced its last pastrami in 2018 — after a 73-year run — but Rego Park maintains its reputation as a destination for Jewish fare. These days, the central-Queens neighborhood is known for kosher kebab parlors and foods beloved by the Bukharan Jews who began immigrating here from Uzbekistan 25 years ago. One subway stop away lies Forest Hills, which on its suburban-esque surface appears to be lacking in the culinary department. Dig deeper, though, and find a scene almost as diverse as Queens itself, with commendable sources of old-school pizza, Israeli shawarma, Peruvian ceviche, and Chinese hand-pulled noodles. Herewith, the absolute best places to eat in Rego Park and Forest Hills, neighboring communities at the easternmost terminus of the R train.
1. Marani
97-26 63rd Rd., Rego Park; 718-569-0600
Marani is Rego Park's only Georgian restaurant — or make that restaurants, plural. To adhere to kosher dietary laws, the meat kitchen is located upstairs and the dairy kitchen below, each with its own dedicated dining room. Head downstairs for the hearty Georgian cheese pies known as khachapuri. Adjaruli, the most decadent variety, is an eye-shaped affair filled with blistered molten cheese, slathered with butter, and crowned with a raw egg; mix it all up and tear off pieces of bread to dip into the rich lava. Should it be khinkhali you're after, you'll find those thick-skinned juicy meat dumplings upstairs, along with lamb in the forms of kebabs and ojakhuri, a roasted shank with onions, apricots, and prunes. Marani means wine cellar in Georgian, and of the 30 kosher bottles on offer, there's only one from the old country — Saperavi, a dry red with notes of pomegranate. Give it a shot for authenticity's sake, but don't expect it to be served in khantsi, the ram's horns traditionally used as drinking vessels by the hosts of celebratory feasts. Unfortunately, those are relegated to wall décor.
2. Nick's Pizza
108-26 Ascan Ave., nr. Austin St., Forest Hills; 718-263-1126
This vaguely nostalgic parlor has been serving up the neighborhood's best pizza since 1993, and it's the flagship of a chainlet that has locations in Rockville Centre and on the Upper East Side. Don't bother ordering a slice, though, because chef-owner Nick Angelis only serves whole pies. Pizza nerds swear by the half-red, half-white, and there are a half-dozen topping options, including crumbled sausage that goes great with broccoli rabe. All the pies share three traits: fresh mozzarella, a sauce that treads the line between tangy and sweet, and an amazing crust that's somehow produced in a gas oven. The calzone is a thing of beauty — flatter than most, sporting a golden-brown exterior and oozing fresh ricotta and mozzarella. It's fine as-is, but even better filled with salty prosciutto, and pairs nicely with a sidecar of marinara served in a teacup.
3. Kazan Mangal
97-13 Queens Blvd., nr. 63rd Dr., Rego Park; 718-997-7779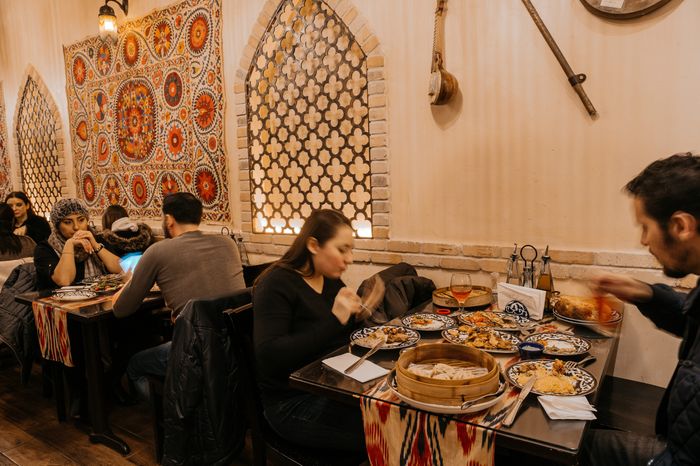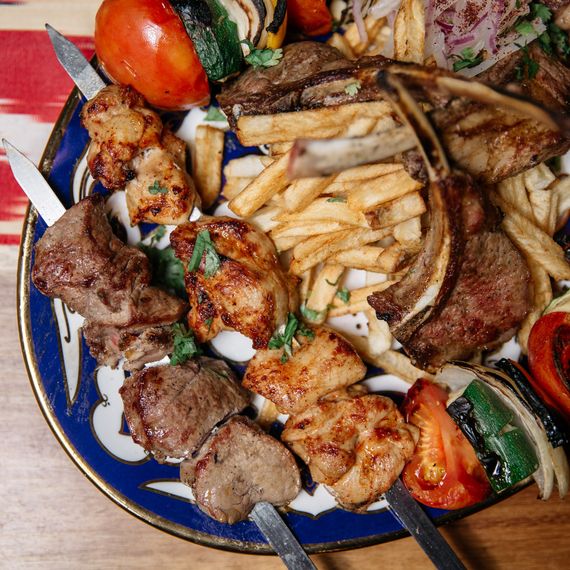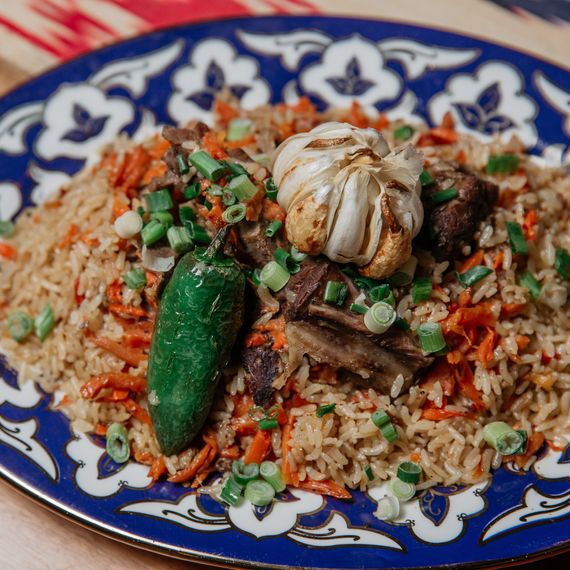 Festooned with tapestries and murals of the ancient cities of Samarkand and Bukhara, this Uzbeki newcomer is the prettiest Central Asian spot in Rego Park. Mangal refers to the rectangular grill used to cook Uzbek kebabs, of which you'll find 15 on offer here, including veal liver, skirt steak, and lamb ribs, all topped with thinly sliced onion and dill. Even better than the fatty lamb skewers is jiz-biz, a phalanx of fried lamb ribs served atop golden fried semicircles of potato. To cut through the richness, you'll want the achik-chuk, a small garden's worth of tomatoes, jalapeños, and onions, or a plate of kimchi. Kazan is the name of the pot used to cook plov, a hearty one-pot rice dish featuring chunks of meat atop grains fragrant with sweet carrots, cumin, and coriander. In addition to the traditional rendition, there's bahsh, its grains stained green by cilantro and other herbs.
4. Spy C Cuisine
72-06 Austin St., Forest Hills; 718-263-0357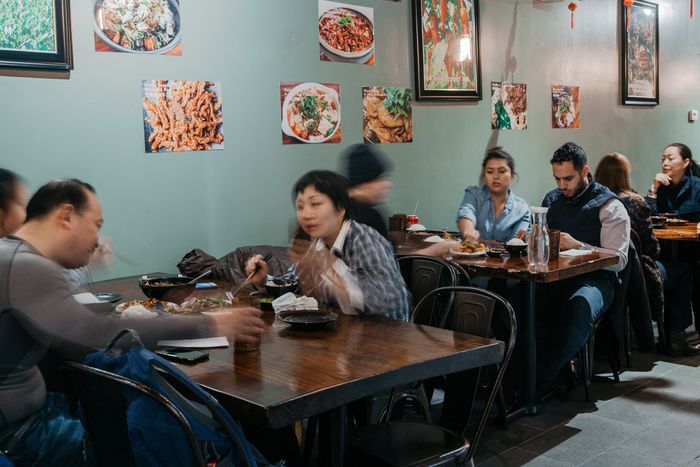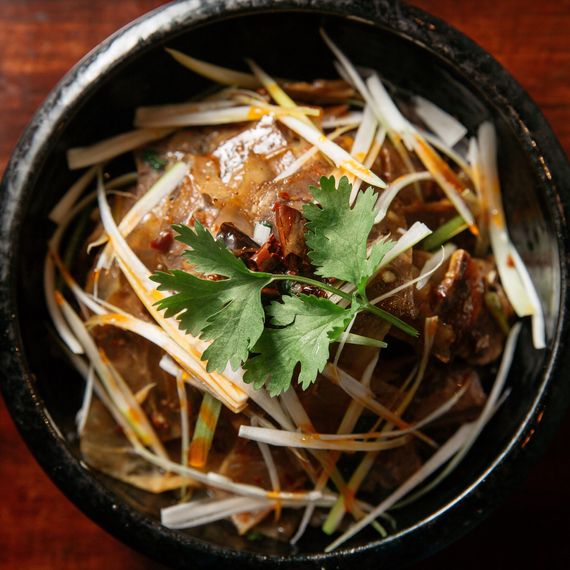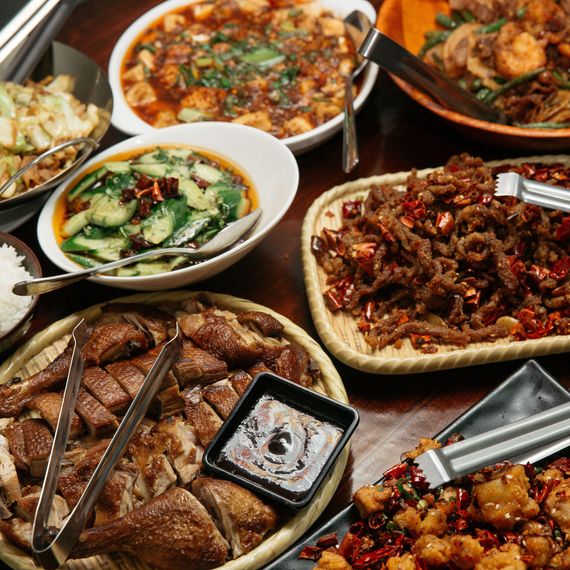 Despite the goofy name and décor that consists of little more than blown-up photos of Sichuan peppercorns and star anise, this restaurant serves the most authentic Sichuan fare to be had outside the confines of downtown Flushing's food courts. Ma po tofu — creamy curds sluiced in chile-reddened sauce shot through with ground pork — delivers on the má là, a combination of chile heat and Sichuan-peppercorn tingle that's a hallmark of the cuisine. Beef and tripe with chile oil — otherwise known as fu qi fei pian, or "husband-wife offal slices"—is a cool tangle of tendon, innards, and meat. Other standouts include crispy shredded beef and braised fish with pickled mustard greens, a study in sourness and spice flavored with pink peppercorns and, of all things, sliced lime.
5. Knish Nosh
98-104 Queens Blvd., nr. 67th Ave., Rego Park; 718-897-5554
This kosher establishment has been serving classic Jewish comfort food, including pillowy, piping hot, hand-rolled knishes, since 1952. Back then there were only three flavors: potato, kasha, and liver. These days the shop goes through more than 300 pounds of spuds a week and offers eight varieties, including a verdant spinach number that pairs especially well with matzo ball soup. Veteran cook Ana Vasilescu has added so many other dishes that customers have even been known to forgo the specialty of the house for latkes and pierogi smothered with sautéed onions. If you go that route, the brisket pierogi are especially lovely paired with an herbaceous Cel-Ray soda.
6. NetCost Market
97-10 Queens Blvd., nr. 64th Rd., Rego Park; 718-459-4400
The façade of the only Queens location of this sprawling supermarket chain depicts a globe in a shopping cart, but the shelves are mostly devoted to imports from Russia and the former Soviet Union, like caviar and Slivochniy Sort, an 82.5-percent butterfat sweet cream butter from Ukraine. If you're more interested in eating than shopping, you'll want to acquaint yourself with one of the most extravagantly stocked steam tables in Queens. There, you'll find bundles of cabbage stuffed with rice and chicken, pork ribs with prunes, and spiral slabs of buttery chicken Kiev. Other delicacies include garlicky pork tongue, which is great eaten with Ventos rye bread, a hearty Lithuanian–style loaf baked in-house. The bakery counter abuts a seafood station with a staggering selection of smoked fish — from whole Norwegian semga, better known in the States as steelhead trout, to cold-smoked buffalo fish and hot-smoked paddlefish — and several types of salmon caviar.
7. Violet's Bake Shoppe
72-36 Austin Street, Forest Hills; 718-263-3839
This Vietnamese sandwich specialist changed the name on the menu to Violet's Vietnamese Shoppe two years ago to reflect the addition of pho and other items, but the awning still reads Violet's Bake Shoppe. There are ten bánh mì on offer, including baked fish with lemongrass and turmeric, but the best is the house special. A toasted baguette daubed with umami-rich Maggi sauce cradles red-tinged crumbled roast pork, some of it crunchy, some supple; layers of head cheese and Vietnamese bologna; plus cilantro, cucumber, and a cool tangle of pickled carrot and daikon. Bánh mì aficionados may find the sandwich tastes quite familiar. That's because the owners learned their craft from Kim Nguyen, the one-time Bánh Mì Queen of Broome Street who owned Banh Mi So 1 back in the early aughts. Try to schedule your visit on the weekend, when there are buttery Chinese egg tarts for dessert.
8. Rokhat Kosher Bakery
65-43 Austin St., Rego Park; 718-897-4493
Don't come here in pursuit of buttery rugelach or braids of challah. Bukharan Jewish taste in bread runs to circular loaves like chak chak, a Tashkent–style sesame-studded loaf with a swirled surface, and Samarkand, a bread that's named for the ancient Uzbek city and resembles a giant bialy. There's also a takeout shop next door offering a few Bukharan specialties, making it one of New York City's smallest Uzbek eateries. The excellent plov features chunks of beef shank, and the samsa — meat pies stuffed with either beef or lamb, onions, and a goodly dose of black pepper — are cooked in an igloo-shaped tandoor. The owners opened a restaurant a few doors down that goes by the same name, but the best way to enjoy these hearty Uzbek dishes remains standing at the tiny shop's stainless-steel counter while the aroma of meat pies fills the air.
9. Pahal Zan
106-12 71st Ave., nr. Austin St., Forest Hills; 718-793-7177
The absolute best kosher Israeli cuisine in Forest Hills — crunchy, herb-flecked falafel and a selection of kebabs, including beef and lamb, as well as turkey shawarma — can be had at this shoebox of a space hard by the LIRR station. Grab a seat at one of the stools lining the walls and watch some Israeli TV while you tuck into one of the dozen salads that the counterman will gladly pack into your pita. Standouts include smoky baba ghannouj and sweet fried eggplant with onions.
10. Xin Taste Lan Zhou Hand Pull Noodle
72-38 Austin St., Forest Hills; 718-520-5199
A smiling cartoon chef with a skein of lamian between his hands graces the awning of the neighborhood's only hand-pulled noodle spot. Open the door to be greeted by sights and smells more familiar in Flushing's food courts than in Forest Hills. Beef, five-spice, and star anise perfume the air as a real-life smiling chef, stretching strands of noodles and tossing them into a broad arc, provides dinner and a show. There are many options, including eel, but the best are the beef and beef tendon. Doctor up your bowl with some black vinegar and chile paste. In addition to lamian, there are hand-peel noodles, chewy shards whittled from a big block into a pot of boiling water before your eyes.
11. Morning Glory Bakery
93-05A 63rd Dr., nr. Wetherole St., Rego Park; 718-830-0888
Even though Forest Hills can now claim a few good Chinese restaurants, the area's best Chinese bakery is in neighboring Rego Park, next to a Russian apothecary. The black awning sports a cheery yellow sun and Chinese characters that read "Wing Suk Sai Beng," or "Uncle Wing's Bakery." Uncle Wing is one Lee Ping Wing, a former pastry chef at the Mandarin Oriental Hotel in Hong Kong. Standards like roast pork buns, pineapple buns, and dried pork floss buns are great, and there's even a buttery coconut-egg tart, but Morning Glory's Hong Kong–style pastries, like the passion-fruit-and-mango cheesecake, lemongrass crème brûlée, and silky black-sesame egg-white pudding are where Chef Wing's artistry really shines. Seating consists of one tiny communal table, so plan on getting your goods to go.
12. El Pollito Pio
68-60 Austin St., nr. Yellowstone Blvd., Forest Hills; 347-809-7009
Underneath the sign for a dry cleaner and next to the Forest Hills Diner sits this tiny takeout flaunting a Peruvian flag and a jaunty little chicken. Despite the name, the chicken is not the greatest, but the ceviche de pescado, chunks of basa (a type of catfish) marinated in zippy lime juice and served with hominy corn, crunchy toasted cancha kernels, and sweet potato is truly amazing. Don't forget to ask for some fiery rocoto sauce if you like your ceviche spicy. Best of all, you can enjoy it — along with other Peruvian specialties like lomo saltado, sautéed beef with red onion and tomato — in the comfort of the diner's dining room, since the two businesses are affiliated. (The Peruvian menu is the brainchild of one of the diner cooks.) For dessert, there's helado de lúcuma, an orange-colored ice cream that tastes of butterscotch.