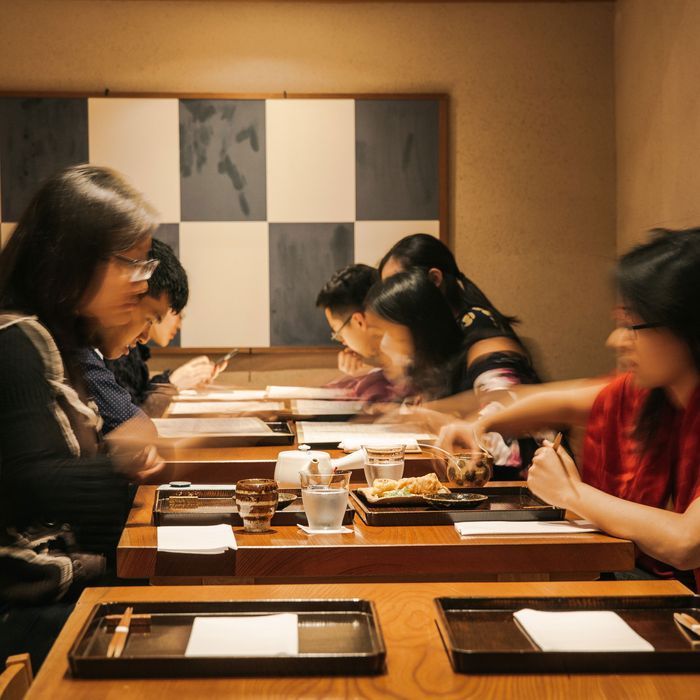 Kokage by Kajitsu.
Photo: Scott Heins
It's tarred with a frat-boy reputation — and deservedly so, as a walk past the Third Avenue bars on any given evening will attest — but Murray Hill has its share of restaurants that do not serve shooters and wings. We're defining the neighborhood here as Madison Avenue to the East River, and 42nd to the north side of 34th Street (and we'll note that there are quite a few restaurants on 33rd Street, which we'll cover separately in a Kips Bay list). General notes: It's a good neighborhood for Japanese food but short on Italian, with a lot of decent bars and uneven Chinese takeout (though a couple of good places west of Madison will deliver). If all else fails, there's a Shake Shack at 40th and Third and a Bareburger at 35th and Third. Here, the absolute best restaurants in Murray Hill.
1. Kokage by Kajitsu
125 E. 39th St., nr. Lexington Ave.; 212-228-4873
Gorgeous, austere, tranquil: Kokage and its vegan upstairs sibling Kajitsu are very un–Murray Hill places. That said, do not mistake its Japanese minimalism for joyless severity. Kokage's menu includes an unusual sushi preparation called saba-zushi, sort of an oversize inside-out roll made with cured thin-sliced mackerel, and a lot of preserved and pickled dishes along those lines. But a number of better-known options (tempura, noodles) fill out the menu, and if you order something simple like a bowl of soba, what comes out is unique, with an astonishing mix of sweet, tart, herbal, and floral notes in the broth. (We're recommending Kokage over its sibling because, no matter how good a vegan restaurant is, you'll have a hard time getting some of your protein-eating friends to go there.) The music is better now, too.
2. Sarge's Delicatessen & Diner
548 Third Ave., nr. 37th St.; 212-679-0442
One of the last great New York Jewish delis, opened in 1964 and spiffed-up a few years ago after a fire, has stayed a little bit under the radar all its life. It's time to change that because there's a good case to be made that Sarge's pastrami is — yes — better than Katz's, better than 2nd Avenue's, better than anybody's. (Your palate may differ.) The rest of the traditional menu — the chicken soup, the kreplach — is more than solid, and locals know that the burger is much better than your average diner slider. It is also open 24/7, making it a genuine goddamned treasure.
3. The Shakespeare
24 E. 39th St., nr. Madison Ave.; 646-837-6779
Built in (and retaining the feel of) the old Williams College clubhouse, it's actually two restaurants: a burger-and-beer pub below grade and a more elevated menu above. The fancier food upstairs is in the gastropub vein with an English inflection, and the cooking is precise and the quality control high, with a menu that changes each month. If the steelhead trout — which looks uncannily like salmon but is not — is still in season, go for it, and do not discard the crispy skin. The dinner prix fixe is a really good deal for this level of cuisine soignée: $37 for two courses, $42 with dessert.
4. Momosan
342 Lexington Ave., nr. 40th St.; 646-201-5529
It's a noisy noodle bar built more or less on the Momofuku model, with open kitchen and highly tattooed chefs. (This Momo, though, is not David Chang, but Iron Chef Masaharu Morimoto.) It's hopping on weeknights, and for good reason: You will not find a better bowl of pork-belly ramen around. Sharp, rich broth; silky, fatty chunk of meat; mild garlic-oil kick — all for $11. Get a beer and you're still out for less than $20. Best cheap meal in the neighborhood.
5. Hakubai
66 Park Ave. S., at 38th St., at the Kitano Hotel; 212-885-7111
Couldn't be more different from Momosan: This is a basement hotel restaurant, with the waitstaff in somewhat costumey kimonos and tasteful neutrals everywhere. It is also formidably expensive. (The kaiseki dinner, omakase-style, is $200 per person, and a beer is $14.) But it is also committed to sushi, and the basic assortment is an amazing mix of texture and bite, fatty toro and lean white fish. Go when you're expensing it.
6. Little Alley
550 Third Ave., near 37th St.; 646-998-3976
Murray Hill had been light on good Chinese takeout for some time. (Billy J, rest in peace.) That changed recently with the arrival of Little Alley, which has a menu that omits the General Tso, the lo mein, and most of the usual neighborhood-takeout staples. Instead, there are things like salted duck eggs with corn, a great marinated-cucumber appetizer, and a house-special fish head with chopped chilies. If seafood-offal is a little too much for you, the way to go is the "pork buns," which are not exactly buns, but are instead like a Peking-duck setup (crêpes, meat in sweet plum sauce, cucumbers, scallions) with pork substituted for the poultry.
7. Wine:34
127 E. 34th St., nr. Lexington Ave.; 212-213-1700
It's a wine bar, obviously, one whose name is hard to remember no matter how often one sees the sign. ("You know, that place down on the corner. 34th and Wine? 34 Wines?") And the menu is a pretty straight-up bistro selection — steak-frites, grilled salmon over red quinoa. But here's what's important: The kitchen is much better than it has to be. The chicken is crisped up really perfectly every time, and the pastas are reliably excellent. One of the best places around where you can eat very late (till 2 a.m. on weekends).
8. Villa Berulia
107 E. 34th St., nr. Park Ave.; 212-689-1970
A restaurant that intends to convey a whiff of the Adriatic is, in fact, a trip to 1981. The waiters are older men in dinner jackets; the linens are white, the walls stucco; the celebrity-visitor photos in the vestibule include Ed Koch and a couple of other dead folks; the zingiest thing on the dessert cart is a lemon tart. Zero innovation has taken place on the menu; in fact, it's the opposite of innovative. But the thing is, you order your veal piccata or your shrimp francese or your Dalmatian seafood stew over pasta, and it's … really pretty good. (That lemon tart isn't half bad either.) There are so few of these survivors nowadays — and even fewer that haven't gone to pot — that dinner at Villa Berulia is a real pleasure.
9. Rare Bar & Grill
303 Lexington Ave., at 37th St., at the Shelburne Hotel; 212-481-1999
Another one that doesn't feel very New Yorky, but who cares when it's this tasty? Most people are here for steak and/or burgers, and the kitchen certainly knows how to do that well. But try an out-of-left-field item on the menu: the lobster burger. Grilled rather than fried (so it's not quite like a crab cake) and containing nearly a half-pound of lobster meat bound with ground scallops, it is springy and meaty and a pretty solid deal at $23.
10. Ted's Corner Tavern
523 Third Ave., at 35th St.; 212-689-2676
This place is at least as much bar as restaurant, and the menu isn't huge. But Ted, or his chef, knows his Greek food, and there's a very good pastitsio (here billed as "Aegean lasagna") on the menu, which is made up mostly of small plates and mezedes. Raw oysters during happy hour (or rather happy two hours, because it runs from five to seven) are a buck apiece. If you are here to drink rather than eat, the very large, very varied beer menu is the way to go. On weekends, it's open till 4 a.m.
11. Wokuni
327 Lexington Ave., nr. 39th St.; 212-447-1212
It looks slick and annoying, a high-ceilinged, showier version of the restaurant in a Hyatt somewhere. But honestly, the fish itself is what matters at a sushi restaurant, and at Wokuni it is extremely fresh and bright, and it comes out fast, nicely if not super inventively presented, at a middling price. You can spend more and eat less well at many, many sushi restaurants. A good place to bring a big group because nobody will care if you get a little loud.