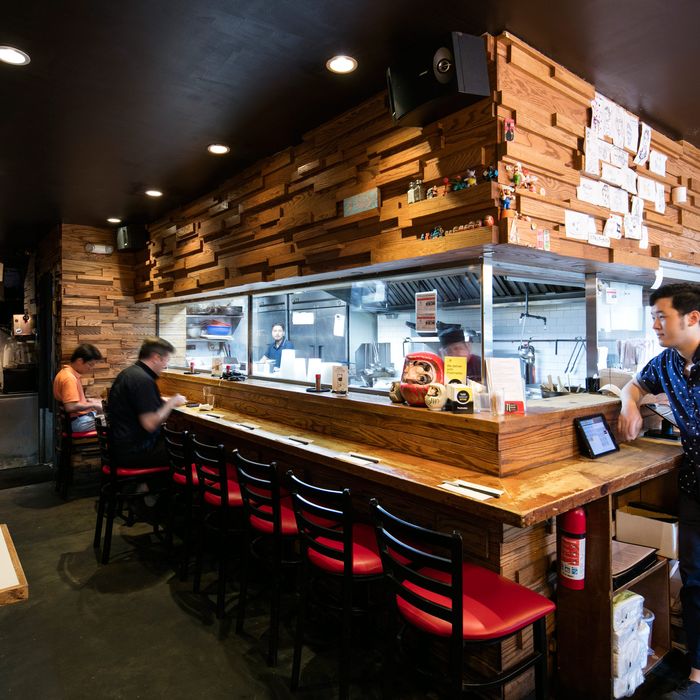 Jin Ramen.
Photo: Melissa Hom
The Columbia University area isn't known as a dining destination, but you can actually find a lot of very good Asian options in, and in very close proximity to, the Upper Manhattan neighborhood — Japanese, Vietnamese, even Malaysian cuisines are well-represented, plus there's a new branch of the Asian supermarket H Mart. In recent years it's also seen some very good newcomers, as if people suddenly picked up on the fact that there's a condensed population of hungry students in this neighborhood. While the area can't boast luxe dining rooms or spaces with stunning or innovative design, it is surrounded by three of Manhattan's best parks: Central Park, Riverside Park, and Morningside Park, not to mention the picturesque lawns of St. John the Divine Cathedral's gardens and Columbia University itself. In other words, spend a day exploring the parks and filling your lungs with fresh air before filling your stomach with a good meal. Here, then, are the absolute best restaurants in Morningside Heights.
1. Jin Ramen
3183 Broadway, nr. 125th St.; 646-559-2862
Every neighborhood needs noodles, but perhaps none as much as a neighborhood that houses thousands of hungry, cash-strapped students. Luckily, Morningside Heights has Jin Ramen, which serves up some very good noodles. Irasshaimasse-saluting servers move briskly through the small space, which feels exactly like a ramen-ya should — comfortably crowded, kept warm from the steam pouring out of the kitchen, suitably noisy with slurping and chattering and chopsticks dinging against bowls. The miso ramen is perfectly balanced; the chicken-broth base lets the fermented funk of the miso shine through and coat the curly handmade noodles. The spicy tonkotsu ramen has an addictive heat and a deeply flavored broth that speaks to the six hours it spends simmering. Round out the meal with the sweet sesame green beans — a variation of the classic goma ae — togarashi-spiked karaage, and a draft Sapporo. It's the most satisfying dinner in the neighborhood, and a must-try for anyone on a New York ramen crawl.
2. Mama's Too
2750 Broadway, nr. 106th St.; 212-510-7256
How perfect: a high-achieving square slice in a neighborhood of high-achieving squares. It used to be that if you wanted truly good pizza, you had to trek down to Sal & Carmine's at Broadway and 102nd, but that's since changed with the arrival of Mama's Too's seriously good "New York–Sicilian–Detroit–style pizza al taglio." The menu posted on one of the brick walls lists pasta and panini, but the thing to get here is a square self-titled "focaccia" slice. Each component is pretty much perfect: The dough is pillowy with a nice chew and crispy, golden underside; the tomato sauce is deeply savory; the toppings (mushrooms and sausages, potato and rosemary) all terrific. The 'roni-cup square slice is everything your middle-school cafeteria pizza wishes it was, with the pepperoni acting as little cups of spicy grease on your slab of pie. Their New York–style round pizzas are tasty, too, with the house pie conjuring up Di Fara comparisons, but your best bet is to stick to the square.
3. Max Soha
1274 Amsterdam Ave., nr. 123 St.; 212-531-2221
Max Soha is that casual yet intimate Italian restaurant that's the first to spring to mind when your significant other suggests an impromptu date night. It checks all the boxes: house wine by the glass, carafe, or bottle; tiny wooden tables that encourage soft conversation; and a menu of red-sauce classics done very well, particularly the pastas. The lasagna fatta in casa is served straight from the oven in its own shallow ceramic crock to better capture the saucy, melty-cheesy goodness; the fettuccine al sugo Toscano is nicely balanced between rich meat, acidic tomatoes, and toothsome homemade pasta. Salads — arugula with pear, Pecorino, and lemon; beets with goat cheese and hazelnuts — are simple and straightforward. Save the nearby Pisticci for group dinners or when the parents are in town — there's more elbow room there — and keep Max Soha for yourself and your chosen dining partner, if only so there are fewer people to fight for the tasty marinara-like, oil-slicked dip and focaccia placed on your table to begin your dinner.
4. Grain House
929 Amsterdam Ave., nr. 106 St.; 212-531-1130
Morningside Heights finally has some super Sichuan food, thanks to the arrival of Grain House, the first Manhattan outpost of the popular Little Neck restaurant. Scratch your itch for spicy here: The tender braised fish fillet swims in a deep bowl of vermilion chile oil sauce; even the salty chiba tofu with pork belly has slices of green long hots to cut through its soft fattiness. Be sure to get the burning noodles, a gently spicy mix of oily chile crisp, ground pork, chopped peanuts, Sichuanese preserved vegetable, scallions, and plenty of black pepper; it's a specialty of Chengdu. Service is friendly and portions are very generous, so unless you're eating with a large, hungry group (in which case you'll likely want to call ahead so they can arrange seating in the small and spare space) be prepared to bring home leftovers for the next day's tasty lunch. And maybe swing by a liquor store for some malty beers first; Grain House is BYOB.
5. Saiguette
935 Columbus Ave., nr. 106 St.; 212-866-8886
To quote the great Liz Lemon, "I believe that all anyone really wants in this life is to sit in peace and eat a sandwich." And a sandwich from Saiguette would especially do the trick, as its bánh mìs are hefty, generous, and consistently good. They're pretty much ideal: juicy and nicely charred cuts of lemongrass pork shoulder, chicken thigh, or flank steak; snappy pickled carrot, cucumber, and jalapeño; crunchy stems of cilantro; creamy sriracha-laced mayo, all barely contained in a freshly baked French roll. (Don't worry, there's a pork terrine and cold-cuts combo for the bánh mì purists out there, too.) You'll also want to try the beef pho, which doesn't skimp on the aromatic spices and arrives so hot that you'll want to pull the thin slices of raw beef eye round from your soup before they cook through. Seating-wise, there isn't much beyond high-top window-side counter seating, so call in an order to pick up — which gets you 10 percent off — to eat in peaceful solitude two blocks away in Central Park.
6. Marlow Bistro
1018 Amsterdam Ave., nr. 110 St.; 212-662-9020
Every neighborhood needs a "nice" restaurant — a place where the décor is lovely yet comfortable, the glassware feels expensive, and the plating involves a squeeze bottle or two. Marlow Bistro is Morningside's nice restaurant. Potted plants lined up above the windows create a halo of green for the airy, rustic-chic space; partners and purveyors are listed on a grand chalkboard on an exposed-brick wall. And all that natural light makes for excellent Instagrams of your meal, which thankfully is just as delicious as it is photogenic. Octopus served with Castelvetrano olives and salsa verde is perfectly tender, and the squid-ink cavatelli has a nice bite from chorizo and harissa. They're also sending out well-charred Neapolitan-style pizzas from their brick oven, which run from the basic margherita to bresaola with parm and lemon. The wine list is a thoughtful collection of mainly French and Italian varietals, with some good European beers on the draft list, too, including Belgian Kwak golden ale (with its own special serving apparatus). When friends or parents come to visit, make a reservation for an outside table, sip your Super Tuscan under the awning with St. John the Divine in your view, and let the "you live in such a nice neighborhood" compliments roll in.
7. Kissaten Jin
3187 Broadway, nr. 125 St.; 646-490-2888
While translating to "tea-drinking shop" in Japanese, kissaten has come to signify a coffee shop that also serves snacks and light bites, and while this kissaten started with a coffee and breakfast-pastry selection, it's since evolved into more of a meal destination. There's a variety of donburi (rice bowls) offered, from the clean saltiness of salmon sashimi and ikura to sweet chicken-and-egg oyakodon, spicy mapo tofu with extra vegetables, or a thick house curry. The soba noodles are made by Worldwide Soba, Inc., founder Shuichi Kotani (who also makes the ramen for sister restaurant Jin) and can be served hot or cold; the cold zaru soba with a hiyayakko appetizer — soft tofu in a light soy-based sauce served cold garnished with scallions, nori, and fluttering bonito flakes — makes for a nice summer lunch.
8. Dinosaur Bar-B-Que
700 W. 125 St., nr. Riverside Dr.; 212-694-1777
It's pretty nice that Morningside Heights can claim its own barbecue spot, even if that spot originated in Syracuse in 1988. The Harlem location (its first and only Manhattan location), which opened in 2004, has been a group-dinner standby since; it's hard to argue with the crowd-friendly appeal of platters of dry-rubbed, house-BBQ-sauce-slathered rib racks, a subtly sweet apple-brined half-chicken, and wilted greens and salt potatoes. Don't neglect the apps, either, where you can put together a combination of smoked chicken wings, deviled eggs, puck-size fried green tomatoes, and spiced peel-and-eat shrimp. If the rowdy, honky-tonk space isn't quite your style, do what the locals do and take your order to go — weather permitting, to the West Harlem Piers one block away, where you can spread out your barbecue picnic on the grass and watch the fishermen and kayakers do their thing.
9. Junzi Kitchen
2896 Broadway, nr. 113 St.; 917-261-2497
It's a concept that seems like it should have been around a lot longer: a Sweetgreen-style operation for Northern Chinese bings — burritolike wraps in thin flour pancakes — and noodles, with seasonal ingredients in a stylish, blond-wood space. Choose from their suggested combinations, or assemble your own meal by selecting your protein (among them beef braised with star anise, cardamom, and cloves, or seared chicken thigh with galangal and garlic), sauce, and vegetables. It's hard to go wrong: Sauces, like the sesame-and-fermented-tofu-based furu, are impressively complex, and vegetables always include seasonal selections with informative explanations (such as, in Northern China celery is most commonly eaten blanched). Noodles, either wide or thin, make for a more substantial meal than the relatively petite bings, but both benefit from a spoonful or two of the house chile oil, which adds heat and a bit of crunch. Unlike Sweetgreen, however, Junzi stays open late on Fridays and Saturdays with a menu of fruit-based cocktails and pretty ideal drunk food: Think a bacon-and-egg bing and spicy instant noodles with pork belly.
10. Community Food & Juice
2893 Broadway, nr. 113 St.; 212-665-2800
It's hard to imagine Morningside Heights without Community Food & Juice, which has held fast to its stretch on Broadway since 2007. It's a no-brainer for brunch or lunch, with filling, feel-good food in a bright, high-ceilinged space. Quiches, frittatas, and bowls are generous with the vegetables, and adding heritage bacon to the veggie sandwich (avocado, Muenster, tomato, sprouts, and romaine, with beet chips on the side) makes for a supreme BLT. The hefty veggie burger stands out from its neighborhood kin with smashed avocado and spicy tomato jam. In warmer weather, snag one of the orange seats outside and watch the tourists snapping photos of the Seinfeld diner across the street. The weekday early bird can enjoy the pancake special, where $12 gets you blueberry pancakes, fresh orange juice, and a coffee from 8 a.m. to 9 a.m. There's usually a wait on weekends, and it's likely you'll see familiar faces — this is a community favorite, after all.
11. Malaysia Grill
224 W. 104 St., nr. Broadway; 212-579-1333
While a couple of blocks beyond the boundaries of our Morningside Heights territory, it's worth walking to 104th in order to eat Malaysia Grill's Southeast Asian specialties. The extensive menu covers some Thai and Chinese-American standbys, but it's not called Malaysia Grill for nothing. The beef rendang is a sweet-and-spicy stew of onion paste, lemongrass, potatoes, and a good dose of chile; the mee goreng — pan-fried egg noodles with shrimp, egg, and tofu — has a similarly addictive heat. For a lighter meal, the nasi lemak is a good stand-alone choice, with a little bit of everything: fragrant coconut rice, salty-spicy dried anchovies sautéed in sambal oelek, hard-boiled eggs, pickles, and a shrimp puff. It's a small restaurant that's usually full at dinnertime, but the staff is friendly and waits are never too long.
12. Go! Go! Curry
567 W. 125 St., nr. Broadway; 646-833-7143
If you are capital-H Hungry, you could do little better than head to the Morningside Heights location of this Japanese curry chain import. Named for beloved baseball player Hideki Matsui's jersey number 55 (go means five in Japanese), the curry rice size options are baseball-themed, the largest being the World Champion curry: Four pork sausages, two each chicken and pork fried katsu cutlets, two shrimp tempura, and two hard-boiled eggs, served on short grain Koshihikari rice that's smothered with thick curry sauce and garnished with a mound of shredded cabbage. Regardless of the size you order, you'll want to add the rakkyo and fukujinzuke — small pickled onions and daikon radish pickles stewed in soy sauce — to cut through the richness with necessary acidity and crunch. Compared to their other locations, this Go! Go! Curry feels spacious, if characterless, but that means more room for more curry for more hungry people.
13. Mokja
852 Amsterdam, nr. 102 St.; 646-964-4296
For how simple dolsot bibimbap reads on paper — rice topped with meat, an egg, and vegetables, served in a hot stone pot — there's a surprising amount of things that can go wrong. Maybe the bowl isn't hot enough to properly toast the rice. Maybe the rice sticks to the bowl, depriving you of the crunchy, sesame-scented crust. Maybe the vegetable medley isn't varied enough, and you're cheated of a mix of textures and tastes. Thankfully, Mokja's version avoids these bibimbap failings, and the result is delicious: a mix of bulgogi beef or spicy pork, creamy egg yolk, zucchini, spinach, tofu, two types of mushrooms, and rice that crisps up and releases nicely from the sizzling bowl. The rest of the menu holds its own as well: The seafood pancake carries squid and tiny octopuses in every wedge, and the kimchee stew balances sweet, spicy, and fermented flavors. It's not the most charming restaurant — the décor largely consists of an Ikea-ish mural of Manhattan — but you'll be too busy digging into your bowl to notice.
14. Hungarian Pastry Shop
1030 Amsterdam Ave., nr. 111 St.; 212-866-4230
Sometimes the meal you need is just coffee and a pastry, and for that there's the Hungarian Pastry Shop, a neighborhood flagship since 1961. Snag a seat at a communal table for your coffee, which will be brought to you, along with your hamantaschen, baklava, strudel, cake, torte, cookie, or cream puff, all of which are sturdy and generous with the filling. For a truly old-world treat, try the poppy-seed strudel with a glass of milk; the cold dairy is a natural pairing for the sticky-sweet, muskily floral poppy-seed filling. And if the café is crowded — a likely scenario, given its popularity with students — have your order boxed and wrapped up with the twine hanging from the ceiling-mounted spool and take it across the street to eat in the garden of St. John the Divine Cathedral, where you can ponder one of the city's ugliest statues in one of the city's most beautiful secret spots.
15. Doaba Deli
945 Columbus Ave., nr. 107 St.; 212-222-2636
One special part of the neighborhood is the cluster of Indian restaurants on Columbus between 106th and 107th that cater to taxi drivers, as evidenced by the yellow cabs always parked outside. A standout among them is Doaba Deli, which consists of little more than a small room with a steam table and beverage fridge, with an adjacent small room holding tables, chairs, and a bulletin board advertising driving jobs. But the steam tray in that first room is doing some very important work, keeping vegetarian curries and stews ready to be spooned into combination plates with rice and freshly baked naan. The offerings change based on what the cook next to the guy handling your order is cooking that day, but look for velvety palak paneer, or chana masala chickpeas, which have lost all of their chalkiness thanks to a good, long simmer. On your way out, spoon a handful of mukhwas — a mixture of anise and fennel seeds, some with pink and white sugar coating — into your palm to crunch on and freshen your breath.
16. Taqueria y Fonda La Mexicana
968 Amsterdam Ave., nr. 108 St.; 212-531-0383
What's a college neighborhood without a place to get a giant burrito? Sure, there's a Chipotle right off the 110th Street 1 station, but over on Amsterdam there's Taqueria y Fonda, where blanket-size flour tortillas enclose a hefty dose of meat, rice, beans, tomatoes, sour cream, and stringy white Oaxacan cheese. They also contain romaine lettuce, which adds a more substantial bit of green freshness, so that you can eat your gut bomb without feeling totally destroyed. The house salsas (all three of them) have kick, and while the rest of the menu offers many options — among them sopes, tortas, and green and red mole entrées — don't fight it. Get your giant burrito, an horchata, and go home happy (and very full).