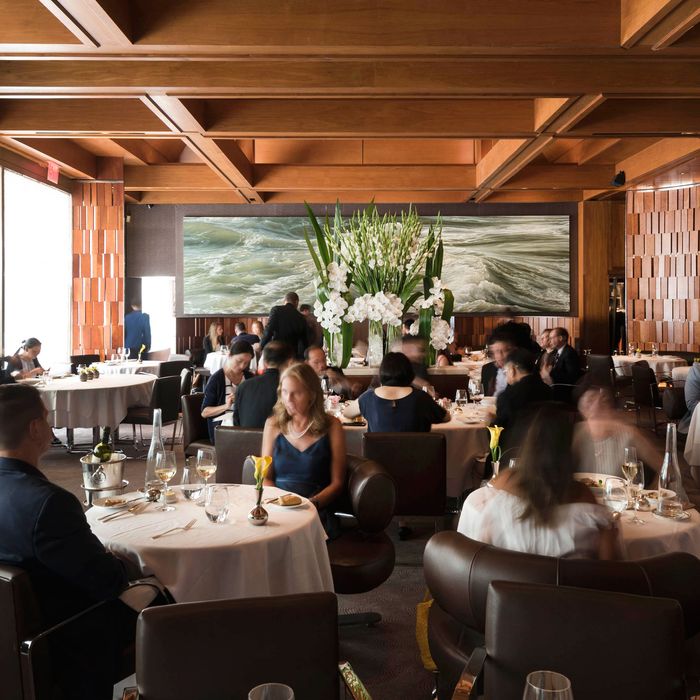 Le Bernardin.
Photo: Liz Clayman
A true reckoning of what's considered, by traditionalists, to be the most storied and restaurant-rich of all New York City neighborhoods could ruin the constitution of even the most diligent big-city gourmand. So for argument's sake, let's define "midtown" as roughly everything between 42nd Street and 59th Street from south to north, and Lexington and Eighth Avenues from east to west. As you can see from the following lengthy, meandering, highly subjective compilation, this encompasses a whole menagerie of dining establishments, from upscale steak and seafood palaces, to Bukharan Diamond District joints, to venerable old oyster bars. Since there are many worthy entries in each restaurant category (sushi bar, expense-account joint, steak house, Chinese, etc.) we've tended to choose one from every genre. The following rankings (and omissions) of the absolute best restaurants in midtown are designed, as usual, to provoke maximum amounts of outrage and debate, and have been heavily weighted toward that great specialty of the region — the midtown lunch.
Le Bernardin
155 W. 51st St., nr. Seventh Ave.; 212-554-1515
Every deep-pocketed midtown regular will have their own absolute favorite in a sprawling, highly competitive, subjective listicle competition like this one, and for a whole variety of self-evident reasons, this is ours. Let's start with the cool, dark, ultracivilized room which, after several tastefully executed makeovers and the relatively recent addition of a modest bar area, remains an oasis of calm in this bustling, endlessly hectic neighborhood. Then there's the consistently high level of the cooking and service, which in range, inventive ambition, and exacting attention to detail and style make Eric Ripert and Maguy Le Coze's great midtown seafood palace a destination not just for the local power lunchers and pre-theater-dinner crowd, but for gastronauts from around the globe. But what separates this highly decorated gourmet establishment from all of the other highly decorated gourmet destinations in the neighborhood is that uniquely local gestalt that Ripert and Le Coze have cultivated better than anyone else over the years — one that combines their own, ever-evolving artistic sensibilities, with a touch of international style, and the grandeur of a slowly vanishing New York.
2. Marea
240 Central Park S., nr. Broadway; 212-582-5100
Michael White's famous gourmet Italian seafood destination has a little something for every deep-pocketed midtown diner — world-class pasta prepared by one of the masters of the genre, some of the finest high-end Mediterranean-style seafood this side of the Amalfi Coast (there were 12 varieties of raw fish crudo, the last time we checked the menu), and a posh, reasonably sized five-star venue right on Central Park South, across from the park. There's also a compact bar menu available at lunch or dinner if you're in a hurry, a fine weekend brunch, and a surprisingly spectacular cut of sirloin beef "tagliata" served on our last visit with a panzanella bread salad studded with bits of bone marrow.
3. The Grill
99 E. 52nd St., nr. Park Ave.; 212-375-9003
We're on record preferring a quiet, dignified luncheon to the more hectic dinner service at Major Food Group's makeover of this storied Park Avenue restaurant space, and since lunch is the go-to meal in this particular neighborhood, we'll respectfully bump the restaurant toward the top of our list. Go to enjoy the very good (though not inexpensive) afternoon cheeseburger, or the avocado crab Louis salad, or the elegant rendition of that venerable mid-20th-century luncheon dish, cold poached salmon, which Mario Carbone and his cooks serve with a cool cucumber salad on the side. But mostly go to enjoy the grandeur of Philip Johnson's famous room, which looks especially fine with the light filtering down through the tall cathedral windows on a sunny midtown afternoon.
4. The Modern
9 W. 53rd St., nr. Fifth Ave.; 212-333-1220
The town is awash in high-profile museum-dining destinations these days, it's true, but if mixing food and culture are your particular thing, this original haute culture Danny Meyer joint remains the gold standard not just in the neighborhood, but arguably, the entire world. The prime, high-roller tables are along the north wall, looking out over the famous MoMA sculpture garden, but in the famous Meyer tradition, it's possible to eat just as well at the long, convivial bar of the more casual Bar Room, where the menu included shrimp fritters the last time we visited, and lobster en croute, doused, in high midtown fashion, with Champagne sauce.
5. Aquavit
65 E. 55th St., nr. Madison Ave.; 212-307-7311
Despite changing chefs and locations several times over the last three decades, this fabled midtown temple of haute Scandinavian cuisine sails serenely on. The current maestro in the kitchen, Emma Bengtsson, is a former pastry chef who has a special talent for imbuing the familiar, slightly chaste, Nordic cannon with a sense of lightness and color. Pay special attention to the desserts (we're thinking of the superb "Arctic Bird's Nest") and remember to enliven your dinner with a shot or two of the famous house aquavit.
6. Gabriel Kreuther
41 W. 42nd St., nr. Fifth Ave.; 212-257-5826
The much-praised fine-dining portion of this great Alsatian chef's restaurant has its refined charms. But if you work or live in the vicinity of Sixth Avenue and 42nd Street, chances are you're spending a lot more time in the elegantly appointed, somewhat more modestly priced "lounge" portion of the restaurant. The libations (cocktails and wines) in this elegantly casual space are worth a special trip (the Alsatian whites, the martini), and so are Kreuther's bar-menu riffs on the great Alsatian comfort dishes of his youth, like tarte flambée, truffled liverwurst, and pots of tripe braised to a happy tenderness in red wine, and served with a gratiné top.
7. La Grenouille
3 E. 52nd St., nr. Fifth Ave.; 212-752-1495
There may be better destination restaurants in the neighborhood, better expense-account restaurants, and even better French restaurants, but none of them convey the grand, mostly vanished essence of the classic, old-world midtown dining experience better than this one. Agitate for a table in the front of the gilded, pink-hued dining room, where the famous flowers tend to be concentrated, especially early in the afternoon, and call for that most timeless of all fin de siècle specialties, the grilled Dover sole, which is served, just as it has been from the dawn of time, with a squeeze of lemon and a decorous boat of hollandaise on the side.
8. Sushi Yasuda
204 E. 43rd St., nr. Third Ave.; 212-972-1001
There are smaller, more exclusive sushi dens in the neighborhood, and larger, more populous ones, but none combine these two styles in quite such a unique and satisfying way. The best seat in the house is at the bar, of course, during the weekday lunchtime rush, when the room is filled with a mix of tourists, Japanese salarymen, and animated wise-guy regulars from the trading desks around East 43rd Street, gobbling their Hokkaido uni and rosy pieces of fatty tuna belly with their winter coats slung over the backs of their chairs.
9. Empellón
510 Madison Ave., at E. 53rd St.; 212-367-0999
Leave it that downtown taco-and-dessert maestro, Alex Stupak, to conjure up a taco joint that even the most gilded, status-conscious, Westchester-commuting Master of the Universe can love. The tortillas are made on the premises of this 53rd Street restaurant with traditional Mexican corn masa, and they come stuffed with all sorts of elaborate fillings (octopus, fish tempura, soft strips of pastrami), but don't leave without sampling Stupak's other upmarket Mexican-fusion creations (the crab nachos with sea-urchin "queso," sticky-rice duck tamale), or the famously realistic avocado parfait for dessert.
10. Porter House Bar and Grill
10 Columbus Circle, at 59th St., 4th fl.; 212-823-9500
Like many members of the local Time Warner Center dining cognoscenti, we've been saying for years that Thomas Keller's Per Se is for out-of-towners, and Masa Takayama's absurdly priced sushi atelier is for gullible, deep-pocketed billionaires. For day-in-and-day-out meat-and-potatoes pleasure, their choice, and ours, is this polished, Columbus Circle chop house, where the chef, Michael Lomonaco, is in his kitchen night after night, and the variety (and quality) of the beefsteak is the best in town.
11. Danji
346 W. 52nd St., nr. Ninth Ave.; 212-586-2880
With the recent shuttering of David Chang's star-crossed midtown experiment Má Pêche, Hooni Kim's inventive, bustling little establishment on West 52nd Street is the place to go for your fix of addictive, umami-laced Korean-fusion creations like bulgogi beef sliders, spicy "KFC Korean fire" wings, and platters of "kimchi-fried rice" folded with bacon and soft scrambled eggs. If you have time for a digestive afternoon nap in your cubicle, we commend the impressive selection of lunchtime bibimbaps garnished with vegetables, marinated yellowtail, or pork belly, of course.
12. Yakitori Totto
251 W. 55th St., nr. Broadway, 2nd fl.; 212-245-4555
There are enough worthy yakitori and izakaya joints in this part of town to fill a listicle all their own, but we'll go with this old Tony Bourdain hangout thanks to the relatively central location (on West 55th Street), and the snug little second-floor room, which looks like it's been transported, waitstaff, customers and all, from the backstreets of Tokyo. The Totto empire's excellent ramen outlets — there's one a few blocks away — are also our choice for a quick midtown noodle fix.
13.  The Polo Bar
1 E. 55th St., nr. Fifth Ave.; 212-207-8562
Yes, it's still more or less impossible to secure a table, and when you do finally secure one, the abundance of faux anglophile objets on the walls can make it feel like you're dining in some strange glorified mash-up of what a London dining club should be. But the A-list crowd is reliably entertaining, the best of the haute comfort dishes (Ralph's corned beef sandwich, Ralph's coffee ice cream) are reliably good, and in this famously commercial, transient region of the city, Mr. Lauren's restaurant is about as close to a true neighborhood joint as you're going to get.
14. Sparks Steak House
210 E. 46th St., nr. Third Ave.; 212-687-4855
Those of us who are partial to this storied wise-guy institution on East 46th Street were relieved to hear the news that the owners have settled their issues with the landlord, and will continue to serve their great New York strip for at least another decade or two. The late luncheon hour is our favorite time to visit the convivial, low-slung room, and if you're on an ample expense account, and have the afternoon off, be sure to peruse the fabled cellar of inky red, beef-friendly wines.
15. Molyvos
871 Seventh Ave., nr. 55th St.; 212-582-7500
The venerable Livanos family runs several fine-dining establishments in this part of town, but for our money, this durable, satisfying Greek-themed operation, which opened just over two decades ago around the corner from Carnegie Hall, is their flagship. All of the bountiful Mediterranean classics are represented on the impressively sized menu, including a variety of salads and spreads, a sturdy, lamb-centric lineup of moussakas and meat pies, and what is arguably the finest selection of whole grilled fish in the neighborhood.
16. Grand Central Oyster Bar & Restaurant
Grand Central Terminal; 89 E. 42nd St., at Vanderbilt Ave., lower level; 212-490-6650
The service had gone all to hell the last time we bellied up to our favorite seat at the eastern end of the original bar on the western end of the room (avoid the chaotic, overpriced dining room, and the low-slung counter), but on a good day, the cherrystones are still among the best in town at this great landmark establishment, and so is that most regal of all ye olde New York concoctions, the Oyster Pan Roast, which the countermen still make the old-fashioned way, with half a dozen Blue Points, a sprinkling of paprika, a splash of Worcestershire, and flagons of cream.
17. Taam-Tov
41 W. 47th St., nr. Fifth Ave., third fl.; 212-768-8001
Like the Oyster Bar in Grand Central, or Katz's Deli, further downtown, this ancient Diamond District culinary landmark, serving Middle Eastern Bukharan cuisine to a voluble lunchtime crowd of burly, kosher, mostly male regulars, feels like a place from a distant time in the city's great dining history. Get the Bakhsh pilaf (a specialty of Bukhara, tossed with cilantro), the stroganoffs (chicken or beef), and any dish with the word "kebab" at the end of it. And no, after all these years, you still can't beat the prices.
18. Casa Lever
390 Park Ave., at 53rd St.; 212-888-2700
There are plenty of exorbitantly priced, glam Euro destinations in this part of town, but for our expense-account money, this is our pick. The bar works well for a quick lunchtime bite (ask for the grilled-cheese sandwich), or a glass of after-work Barolo. The Northern Italian menu is solid, especially if you choose to spend your cash on the $25 spaghetti carbonara (instead of, say, the $155, 40-ounce New York Strip), and starting at 7 a.m., the kitchen serves the best Italian-accented power breakfast in the neighborhood.
19.  Wu Liang Ye
36 W. 48th St., nr. Fifth Ave.; 212-398-2308
There are many worthy options here in the bustling, ever-popular realm of Chinese dining, including the million-dollar DaDong Peking-duck franchise, which landed on 42nd Street early last winter, like a glimmering ship from another planet. But for solid, day-in-and-day-out reliability, we'll take this old West 48th Street standby, with its chandeliered ceiling, its tall, slightly faded Chinese watercolors on the walls, and its stolid roster of Sichuan specialties like double-cooked pork with plum sauce, camphor-tea-smoked duck, and silky smooth vats of mapo tofu laced with fermented black beans and plenty of ground pork.
20. Agern/Great Northern Food Hall
Grand Central Terminal; 89 E. 42nd St., at Park Ave.; 646-568-4018
Since the over-ambitious, helter-skelter opening, a couple of years back, former Noma co-founder, Claus Meyer, and his Icelandic chef, Gunnar Gíslason, have been adjusting the menu of Agern, their Nordic-centric Grand Central fine-dining restaurant to local tastes (barbecue "bar snack" chicken wings with your grass fed "Grand Burger" anyone?). The adjoining Scandi themed food hall has been a hit since it opened, however, and if you want a taste of this trendy dining revolution while running to catch your train back to Westchester, there's no better place in town.
21. Hakkasan
311 W. 43rd St., nr. Eighth Ave.; 212-776-1818
Certain grumpy local critics savaged this 43rd Street outlet of the famous London-based Hakkasan empire when it opened several years back, but repeated visits (mercifully, with our deep-pocketed hosts usually footing the bill) have softened our attitudes a little. The selection of Cantonese dim sum is the best in the vicinity, by far, and so is the crisped, un-fatty Peking duck, which the chefs pre-carve in little candy-sized slices, and serve with all the trimmings, on a round white plate.
22. The Sea Grill
Rockefeller Center; 19 W. 49th St., nr. Rockefeller Plz.; 212-332-7610
Oceana, off of Sixth Avenue, and the local Molyvos outlet a few blocks uptown, are worthy expense-account seafood destinations, but we choose this venerable old power-lunch spot for that most elemental of reasons — real estate. We can't always vouch for the grander preparations on the menu (or the sushi), but the lunchtime shrimp cocktail remains one of the classics of the genre, and on a wintery afternoon, with the skaters spinning around the Rockefeller Center Rink, you can't beat the view.