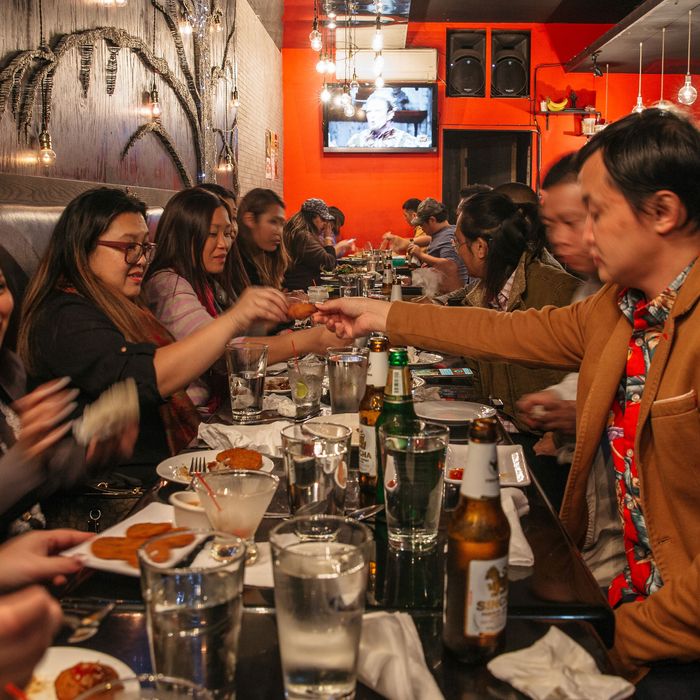 Playground.
Photo: Scott Heins
Jackson Heights has been known as a Little India — packed with jewelry shops, sari emporiums, and places to eat, notably Jackson Diner — since the 1980s. Back then the restaurant was actually a diner; these days it sprawls across three storefronts. For a more home-style Indian experience there's Raja Sweets & Fast Food, where north Indians tuck into samosa chaat and other vegetarian fare. Beginning in the early 2000s, an influx of immigrants from Tibet and Nepal gave rise to the neighborhood's nickname, Himalayan Heights, as well as a surplus of momos, the juicy dumplings from that region of the world. Many of the best spots, like La Esquina del Camarón Mexicano, located in the back of a bodega, make eating in one of New York City's most diverse neighborhoods a culinary treasure hunt. Here, the absolute best restaurants in Jackson Heights, Queens.
1. Playground
71-30 Roosevelt Ave.; 718-779-7912
"You okay with raw crab?" the waitress will ask if you order som tum plala — a tangle of shredded papaya surmounted by salted raw blue crab. It's one of 13 exceptional papaya salads, or som tum, on the menu at this multiregional Thai restaurant, opened in 2010 by Sudarat Yingyong. (It was familiar territory, as her late husband, Sompoch Siribongkoch, had opened the well-received Zabb Elee on the same block five years earlier.) If you prefer the cooked to the raw, opt for an appetizer of BBQ beef; the rosy grilled sliced steak is served with a piquant sauce bolstered by nutty roasted-rice powder. The menu playfully terms yum — the category of aromatic, often unabashedly spicy Thai "salads" — as "yum yums." The yummiest? A tangle of crunchy rice croquettes enlivened by red curry with preserved pork sausage that explodes with chile heat and a sour porky undercurrent. It's topped with dried chilies, which might be overkill: For all but the most masochistic heat seekers, a five on the "How spicy do you want it?" scale of one to ten should do the trick. For a refreshing finale, cool down with "ice crush with mix Thai jelly," a tower of shaved ice drowned in sweet red syrup and condensed milk sitting atop black grass jelly and chewy toddy palm seeds.
2. The Crus-Z Family Corp. Restaurant
89-09 Roosevelt Ave.; 718-205-7977
Sporting a green, white, and red awning with its odd name stretching across the front, this Mexican restaurant is one of the best on Roosevelt Avenue. Many similar spots serve barbacoa de chivo — tender, long-simmered young goat — as a weekend special, but at Crus-Z it's available daily. The tacos de chivo are great, but for a real feast, get the barbacoa enchilada, a bountiful plate of goat cooked with chilies and avocado leaves. Served with tortillas, rice, refried beans, pickled nopales, charred green onions, and guacamole, it can easily feed two. As for the name, it was a printer's error, but the owners of the restaurant liked it anyway and decided to keep it.
3. Nepali Bhanchha Ghar
74-06 37th Rd.; 929-522-0625
Like many of Jackson Heights' Himalayan restaurants, Nepali Bhanchha Ghar specializes in momos, or juicy stuffed dumplings. The traditional beef version is lovely, but don't miss the chicken jhol momo. Served in an earthy orange chicken broth spiked with ginger and garlic, it makes for good eating on a cold night. Downstairs, Nepali men sip whiskey paired with samaya bajee, a bento box filled with flattened bits of nutty-tasting beaten rice, crunchy fried soybeans seasoned with chili and salt, bitter melon, and a choice of protein. Go for the goat offal seasoned with a blend of mace, cumin, and black pepper, or sukuti, a Nepali-style beef jerky. For dessert or munching with tea, there's sel roti, a nubbly, fried rice doughnut served with a garlicky tomato chutney.
4. Raja Sweets & Fast Food
72-31 37th Ave.; 718-424-1850
The food comes out quickly at this Punjabi soul-food specialist, but it's the furthest thing from Mickey D's, and not just because it's vegetarian. The 120-item menu boasts 16 kinds of roti, including the deluxe saag and makki di roti, two freshly griddled corn-based rounds slathered with butter and a sidecar of spinach. Golden-brown samosas packed with peas and potatoes and flavored with fresh and toasted coriander seeds are available on their own or as a chaat, wherein they're mashed up, topped with yogurt, red onions, chickpeas, and tamarind and mint chutneys.
5. La Esquina del Camarón Mexicano
80-02 Roosevelt Ave.; 347-885-2946
At the back of a bodega down a narrow aisle lined with Café Bustelo, ragù pasta sauce, and La Morena chipotle peppers lies the absolute best Mexican seafood kitchen in Queens. The specialty of the house, as prepared by Pedro Rodriguez and his squad of seafood mixologists, is cócteles de camaron, or Mexican-style shrimp cocktail. The plump crustaceans go into the cup first, followed by salt, olive oil, and a goodly pour of a crimson elixir consisting of tomato juice, OJ, and clam juice. The hangover cure comes with an edible garnish: cilantro, onion, and avocado. Top it off with a splash of Valentina hot sauce and some crumbled saltines. The mixto brings tender chunks of octopus to the party.
6. Kababish
70-64 Broadway; 718-565-5131
Since it's open until 4 a.m., this tiny hole-in-the-wall is a popular hangout for South Asian cabbies and night owls. Beef Bihari kebab studded with coriander is excellent, as is the beef gola kebab. The latter, a Pakistani specialty, is a minced beef bound with string and flavored with a heady blend of cumin, garam masala, and chile. There's also succulent tandoori quail. The best of the half-dozen breads on offer, garlic naan, is great wrapped around the spicy kebabs and even better as a vehicle for the goat offal fry-up called tawa kata-kat, which combines liver, kidney, and brain with butter, ginger, and chile and is a favorite of no less an offal enthusiast than Andrew Zimmern.
7. The Queensboro
80-02 Northern Blvd.; 929-296-0038
In a neighborhood dominated by South Asian and Latin American restaurants, the Queensboro seems downright exotic. Chef Tony Liu's contemporary American menu runs the gamut from blistered shishito peppers to garlic clam bread. Liu, who worked at Morandi and ran the kitchen at Keith McNally's Pulino pizzeria, also slings wood-fired pies, including a crowd-pleasing margherita and a cheffed-up eggplant number with currants, cocoa, and garlic. Other standouts include a hearty fusilli Bolognese and a Thai steak salad sluiced with a punchy lemongrass vinaigrette that has just the right amount of heat. To wash it all down, there are classic cocktails, mostly French and Italian wines, and a beer list that reads like a Who's Who of Queens-based craft breweries.
8. Lhasa Fast Food
37-50 74th St.; 646-256-3805
Tucked between an Indian jeweler and a sari shop lies a passage to culinary Nirvana. Don't be thrown off by the cell-phone stores flanking either side of the corridor. Follow the prayer flags lining the ceiling and you'll find yourself in Lhasa Fast Food, Himalayan Heights' secret Tibetan restaurant. Sang Jien Ben's restaurant is a home away from home for immigrants from the Himalayan diaspora. The pleated momos filled with beef that's seasoned with Sichuan peppercorn, celery, ginger, and garlic are the most popular items, and rightly so. Other good things to eat here include thenthuk, a soup whose noodles take the form of irregular swatches of chewy dough, and laphing sherpo, yellow mung-bean noodles seasoned with garlic and roasted chile.
9. Areperia Arepa Lady
77-17 37th Ave.; 917-745-1111
Queens residents hungry for the borough's best arepas — Colombian corn cakes oozing with cheese and margarine — no longer have to trek to Brooklyn's Dekalb Market. Maria Piedad Cano, a.k.a. the Arepa Lady, and her family recently returned to their stamping grounds to sell the very same arepa de choclo (a disc of sweet yellow corn folded over and filled with salty quesillo cheese) and arepa de queso (which resembles a puck of grits infused with quesillo and topped with still more cheese) that the smiling matriarch once sold at a cart underneath the 7 train. Sauces include pineapple; green-tinged garlic; and leche condensada, a thick, sweet condensed milk that's perfect for the rich arepa de queso. Although Cano is semi-retired, "she comes at like 5 in the morning to make arepas," says her son, Alejandro Osorio, and sometimes she returns in the evening. "I can't tell her no. Her name is on the door."
10. Premium Sweets & Restaurant
37-14 73rd St.; 718-672-5000
There's no menu in sight at this Bangladeshi restaurant, since locals know their way around the biryanis and vegetable dishes like alu begun bhaji, sliced potato with sweet eggplant and Indian bay leaf, and lau bhaji, strips of squash bolstered with baby shrimp and enlivened with fierce chilies. Among the rice dishes find beef tehari, tiny kalijira grains stained yellow from turmeric and shot through with chunks of beef curry, the whole lot seasoned with cardamom, black pepper, and green chile. For dessert there's cardamom-scented chai, perfect with mishti doi, a creamy orange yogurt pudding sweetened with jaggery that's sure to tame any lingering chile heat.
11. Juanita's
84-15 Northern Blvd.; 718-779-7272
Named for the matriarch of the Torres family, who founded rotisserie chicken empire Pio Pio, this café specializes in sandwiches from Peru. In addition to a juicy pollo a la brasa, there's a gussied-up version of chicharrón con camote, the popular Peruvian breakfast sandwich of pork belly and sweet potato. Here, they substitute crisp pork shoulder. The accompanying salsa criolla — a mix of red onions, lime, and peppers — adds a bright note to the hearty sandwich. The lomo saltado takes a dish that has its roots in chifa (Peruvian-Chinese cuisine) and turns it into a mash-up of a French dip and a Philly cheesesteak. Flank steak seasoned with soy sauce and topped with red onion, tomato, and Swiss cheese fill the hero. Served with a sidecar of beef jus, it makes for mighty fine eating.
12. Los Amigos Thin Crust Pizza
82-02 Northern Blvd.; 347-580-9149
Located in the back of an unassuming corner store is the neighborhood's smallest pizzeria, which is where you'll find some excellent artisanal pies made by a team of Mexican pizzaioli. Like all of the pizzas here, the margherita — topped with tomato, basil, and fresh mozzarella — has an impossibly thin, crunchy, almost crackerlike crust, which curls upward at the outer edge. The al pastor consists of strips of spicy pork, pineapple, and cilantro macho — coriander's more vibrant south-of-the-border cousin. Other intriguing combinations include the avocado-pepperoni (with jalapeño, cilantro, and onions), and La Griega, which features Feta and black olives.
13. 969 NYC Coffee
37-61 80th St., nr. Roosevelt Ave.; 646-203-7304
This is the only authentic Japanese restaurant in Jackson Heights. Named for owner Mitsumine Oda's favorite number, it's really more of a snack shop than a full-blown restaurant. Oda, who once worked at Tokyo's fabled Tsukiji fish market, offers 13 types of heart-shaped onigiri — including a firm sweet pork that treads the line between char siu and teriyaki, salty umeboshi or pickled plum, and a breakfast ball filled with bacon and egg — each girded by a jaunty seaweed sash. 969's organic matcha comes straight from Japan, and Oda uses Joe Coffee to make proper cortados and espresso. He makes sushi, too, and a surprisingly good tonkotsu ramen.
14. 5 De Mayo Food Market
81-06 Roosevelt Ave.; 718-205-3280
Just beyond the plastic snowman and a red-and-yellow sign that reads "Carniceria" lies a miniature version of the sprawling mercados that can be found throughout Mexico City. It's stocked with Tlaxcalan chile locos, guaje pods, and granadilla, or passion fruit, among many other things. There are tacos, too, but only on weekends. That's when owner Juan Morales and his crew set up a wildly popular taco stand in the back of the store. Hunks of suadero, a cut of beef breast, sizzle in their own fat atop the dome of one of two comal taqueros. The other is devoted to tripa de res, fatty bits of beef small intestine. Barbacoa (succulent young goat) and borrego (rich lamb), both stewed for hours in banana leaves, are also available either in tacos or by the pound. The tortillas may come from a Brooklyn factory, but the few minutes they spend in the fat before being filled make them taste almost as good as those in Mexico City.
15. Merit Kabab Dumpling Palace
37-67 74th St., nr. Roosevelt Ave.; 718-396-5827
As befits a neighborhood populated by South Asians and people from the Himalayas, Merit is really two — or depending on how you look at it maybe four — eateries in one. The front area is devoted to snacks like plump vegetable samosas and a smaller spicy-ground-chicken variety with a crisp pastry shell, but there's also a station for French fries, chicken wings, and onion rings that would seem more at home in a bowling-alley snack shop than a South Asian food court. Beyond the counter lies a vast steam table filled with Indian curries and Bangladeshi biryanis, including shrimp, chicken, and goat. Head to the back of the bustling space to find Tashi Delek Momo Palace, whose menu bears the Indian, Tibetan, Bhutanese, and American flags. In a stroke of marketing genius, the Palace is the only momo parlor in the Heights to offer a combo — four fried and four steamed dumplings. Merit might be as chaotic as Grand Central, but there's no place else like it.