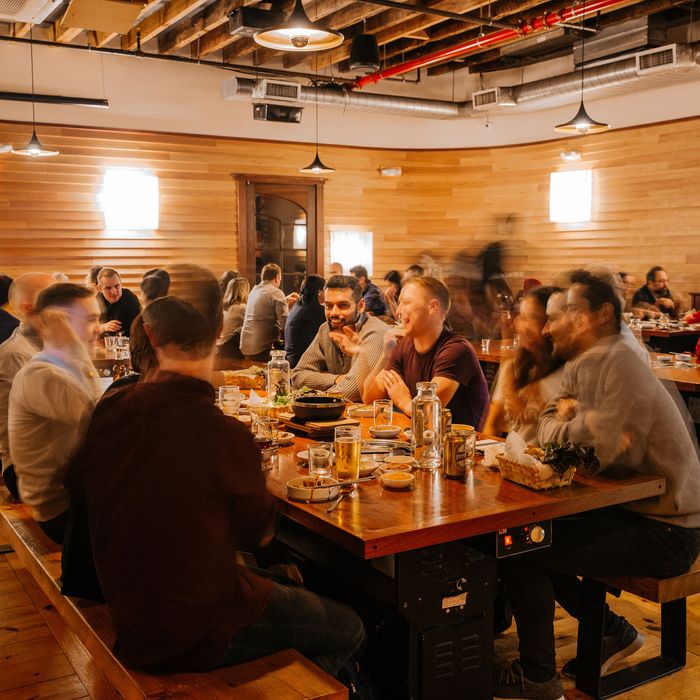 Insa is built for crowds.
Photo: Scott Heins
What to say about Gowanus, that unlovely industrial Brooklyn area surrounding, and named after, the 1.8-mile creek-cum-canal-cum-Superfund site? Naturally, it's understandable that you don't associate the area with fine dining. But in recent years, all those ungainly former warehouses and industrial spaces have provided large canvases not just for new outposts of crowd-pleasers like Dinosaur Bar-B-Que, Table 87, and Ample Hills, but also to inventive new restaurateurs who've considerably elevated the food offerings in the area. And with residential development on the cusp of massive growth, this is likely only the start for a neighborhood whose boundaries extend from Baltic Street to the north to the Gowanus Expressway to the south, and from Fourth Avenue to the east to Hoyt Street to the west above 5th Street and Smith Street below it. Here, the absolute best restaurants in Gowanus.
1. Insa
328 Douglass St., nr. Fourth Ave.; 718-855-2620
A Korean-barbecue restaurant with an intimate side bar and private karaoke rooms in the back, Insa is a culinary multiplex that manages to deliver consistently excellent food — be it the showcased grilled meats and seafood or outlier items like kimchee fried rice and bulgogi. Long wooden tables handily accommodate groups sharing famously potent scorpion bowls, and though the restaurant is often crowded, its size ensures that reservations are fairly easy to come by. The entire menu, minus the barbecue, is available in the red-banquetted bar area, and while the yache twigim, or fried vegetable fritters, might sound ho-hum, they're one of the best bar snacks you'll find in any borough. You'll still get Insa's exceptional banchan (the daikon kimchee and black beans are top-notch) if you're only ordering appetizers at the bar, and though a visit here isn't exactly a cheap date, the hospitality-included policy does take a little of the burn off of getting the bill.
2. Freek's Mill
285 Nevins St., at Sackett St.; 718-852-3000
Though the standard operating procedure might seem familiar — farm-to-table, small plates, gingham-shirt uniforms — the seasonal American menu is filled with gems, most notably the roasted cauliflower sweetened with sunchokes and golden raisins and the savory dry-aged duck with beautifully crisp skin. And for something entirely different, the thoughtful, targeted wine list is built around Loire Chenin Blancs, cru Beaujolais, and Georgian qvevri wine — though you might want to start your meal with one of the better versions of the tequila-and-grapefruit-based Paloma cocktail we've come across. While one of the dining room's selling points is the very un–New Yorky amount of space you'll have at a table, don't neglect the chef's counter in the rear of the restaurant, where on a cold night you can warm up from the heat lapping off the wood-burning oven while you watch your food being prepared. It's an especially cozy place to enjoy your dinner.
3. Claro
284 Third Ave., nr. Carroll St.; 347-721-3126
Masa, moles, and mezcal are the draws at this Oaxacan-inspired restaurant from Union Square Cafe alum T.J. Steele. The fresh corn masa is nixtamalized in-house, and forms the basis of tacos, memelas, and tostadas, like one stacked with roasted beets and avocado, and another with yellowfin. The small dining room can sometimes feel claustrophobically crowded, and there can be the occasional service glitch, but the food more than makes up for it. Meats are well-sourced and impressively tender; the pork cheek in mole rojo, in particular, melts in your mouth. And the mezcal-based cocktails are among the best you'll find in Gowanus.
4. Two Toms
255 Third Ave., nr. Union St.; 718-875-8689  
Stepping into this wood-paneled red-sauce joint is a bit like being transported back to the time when Gowanus was still an Italian-American enclave. The service is unpretentious, even brusque. The food is heavy and unrefined. The dining room even still smells like cigarette smoke. All of which is to say: This restaurant is perfect. Go with a large group so that you'll have a chance to order and sample a little bit of everything. If you must restrain yourself to a handful of items or are on a diet, get the baked clams, the thick-cut bacon, and the blue-cheese salad. And if not, don't miss Two Toms' signature double-cut, brontosaurus-size pork chops.
5. Reyes Deli & Grocery
532 Fourth Ave., nr. 14th St.; 718-369-3211
You'd never be able to tell from the outside, but this three-aisle bodega on Fourth Avenue does a sideline business in tacos so good that they could stand up against anywhere in the city. Two well-appointed tacos served on a paper plate (try the chorizo, tinga, or al pastor) will run you a mere $5.50. The tortas are great, too, especially the enchilada one, and a bargain at $7. Take your food to go, or eat it at the small counter space in back with a drink from the cooler.
6. My Cuban Spot
488 Carroll St., nr. Third Ave.; 718-855-1941
We hesitate to call this the best place to go to cure a hangover in Gowanus, if only because that description doesn't give it enough credit for also being the best sandwich shop in the neighborhood. But take just one bite of one of their Cubano sandwiches and you'll understand why the tiny takeout window draws such crowds. The soft, buttery Cuban bread is what distinguishes the sandwiches from the competition. You can't go wrong with a classic Cubano, but the pan con lechon and pan con bistec are equally satisfying if you like to mix it up. And if you are struggling with a hangover, a well-crafted café con leche will certainly help.
7. Four & Twenty Blackbirds
439 Third Ave., at 8th St.; 718-499-2917
Brooklyn's best pie shop now has multiple locations — Gowanus's gift to the greater New York area — but the original location is still the homiest and our favorite, especially when it's dreary or snowing outside. Stop in for a formidable slice of pie with its flaky, buttery crust (and a dollop of whipped cream, of course) and a bottomless cup of coffee whenever you're in the neighborhood. We recommend the tangy lemon chess and the more savory black bottom oat, though we've never had a bad slice.
8. Bar Tano
457 Third Ave., at 9th St.; 718-499-3400
The most successful of a string of affiliated restaurants that stretches from Brooklyn Heights to Park Slope, this bistro offers elevated but unfussy Italian fare. On a cold night, the hearty tagliatelle alla bolognese is hard to beat. When it gets warm out again, you'll want the grilled peaches over a bed of ricotta as an appetizer on the spacious patio that looks out on 9th Street. The low-lit space is well-suited for dates, though you'll never regret a drink during happy hour or a quiet dinner for one at the handsome zinc bar.
9. Baba's Pierogies
295 Third Ave., nr. Carroll St.; 718-222-0777
Using her Slovak grandmother's technique, Helena Fabiankovic, the co-founder of this quick-serve shop, has become the pierogi queen of New York, churning out a thousand stuffed dumplings a day, and branching out recently with a Baba's satellite at Williamsburg's North 3rd Street Market. But many of these pierogi are deliciously unfaithful variations on the Central European classic. Take for instance the mac 'n' cheese or bacon-cheddar pierogi, which are best served pan-fried and dipped in sour cream. If you're a purist, there are more traditional fillings on offer, such as the sauerkraut — a house favorite.
10. Surfish Bistro
550 Third Ave., at 14th St.; 718-788-8070
This Peruvian restaurant is home to the best seafood you're going to find in the area. Don't go here without ordering one of the nine ceviches on offer — our favorites are the hamachi tartare, the pineapple tuna, and the octopus with tangy Kalamata aïoli — but your best bet might be to get the sampling of three. Entrées like skirt steak with tacu-tacu and black (squid ink) paella come in portion sizes big enough for two or three. While the interior is a bit dated, the bi-level space has plenty of room to accommodate large groups, which befits a restaurant where you'll want to share dishes.
11. Black Mountain Wine House
415 Union St., at Hoyt St.; 718-522-4340
This cozy, farmhouse-style wine bar on the Gowanus–Carroll Gardens border is an ideal date spot with intimate lighting and a crackling fireplace in the back. But if you're in the mood for something to nosh on while you sip, the small plates and charcuterie are surprisingly satisfying, particularly the sweet roasted Campari tomatoes or, if you're in the mood for something more substantial, the house mac 'n' cheese with Gruyère and wild mushrooms. You'll be impressed not only by how friendly and knowledgeable the staff are, but also by the remarkably affordable wine selection, with plenty of bottles in the $30 range.
12. Lavender Lake
383 Carroll St., nr. Bond St.; 347-799-2154
Though Lavender Lake is known primarily as a bar (and for having one of the best backyards in Brooklyn — on days when you can't smell the fresh canal scent wafting through, that is), you're doing yourself a disservice if you skimp on the food. The Smashburger, dripping with American and white Cheddar cheeses, takes top prize for neighborhood burger and is rivaled only by the delicious Meat Hook burger at Threes Brewing (333 Douglass Street, near Fourth Avenue; 718-522-2110). And regulars rave about the fried Brussels sprouts for good reason: They're a superior bar snack and a testament to this joint's ability to stand out in a neighborhood full of jumbo watering holes with unremarkable food.