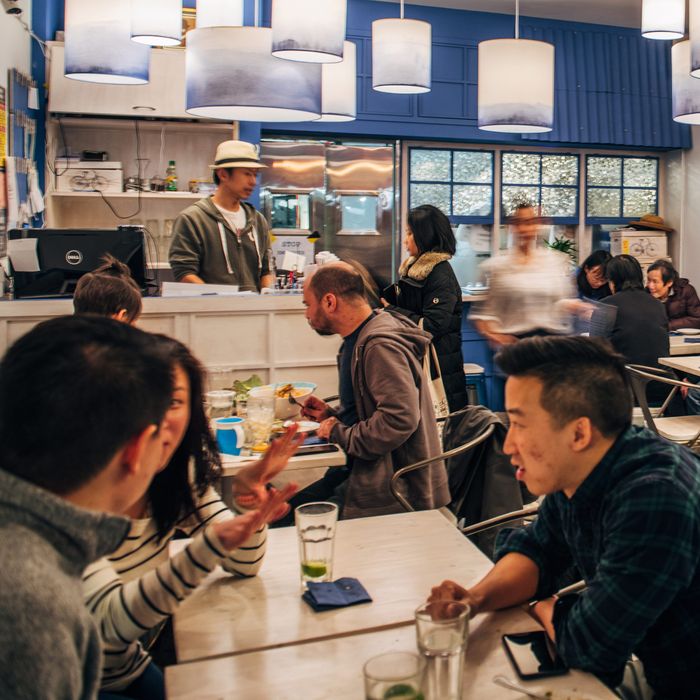 Lamoon offers a seldom-seen side of Thai cooking.
Photo: Christian Rodriguez
It would be easy to characterize Elmhurst as simply Queens' second, smaller Chinatown after downtown Flushing, or as a bustling Little Bangkok. Strong cases can be made for both, but the dining options here are as diverse as Queens itself. Tibetan dumplings, Venezuelan sandwiches, Indonesian noodles, Malaysian curry, and top-flight Thai can all be had along with some amazing old-school pizza. Herewith, a globe-trotting lineup of Elmhurst's absolute best restaurants.
1. Lamoon
81-40 Broadway; 917-745-1168
Elmhurst's absolute best dining destination specializes in the cuisine of Lanna, the "kingdom of a million rice fields" which once encompassed Thailand's northern provinces, including chef Arada Moonroj's native Chiang Mai. And though rice certainly plays a big part at Lamoon, whose brightly muraled space replaced the local favorite Ploy Thai, the real star of the show is the noble pig. Kang hung ley, a rich curry with pork belly stewed for hours, is traditionally served at weddings and funerals. Don't be surprised if the first spoonful calls to mind Indian food; it contains masala, which Moonroj imports from Thailand's Mae Hong Son province on the Burmese border. The words "nose to tail" don't appear anywhere on the menu, but they certainly inform the cooking philosophy. Sai aua sausage hums with chile and lime leaf, and sports crunchy white flecks of pig's ear. Creamy, smoky, spicy abb ong oor is pork brain seasoned with turmeric, chile, and lemongrass, then grilled in a banana leaf. As for the tail, you can find it in leng zabb, which features hunks of slow-cooked pork spine looming above a bright broth that balances the acidity of fresh lime juice with the funkiness of fish sauce and the herby spiciness of green bird's eye chiles, minced garlic, and cilantro.
2. Little House Café
90-19 Corona Ave.; 718-592-0888
Even though General Tso's chicken appears on the menu, the house specialties here aren't American Chinese, they're Malaysian. Chow keuh teow — a tangle of stir-fried flat noodles shot through with shrimp, pork, and fish cakes — is top-notch, still hissing with wok hai, or "the essence of the wok," when it lands on the table. The real showstopper is the Golden Pillow, a chicken-curry bun the size of a volleyball that feeds five. It'll set you back $15 and needs to be ordered a day in advance, but it's worth the trouble. Cut open, it resembles a flower with eight bready petals surrounding a foil-wrapped ball of chicken curry, ready to be dipped into. Quite fitting since the place's Chinese name, ju xiang yuan cha tsan ting, translates to "aromatic garden restaurant." For dessert there's kuih talam — wobbly green and white blocks of salty coconut topped with green pandan, whose aroma calls to mind cooking rice — and spongy blocks of Malaysian brown sugar cake.  

3. Warung Selasa
At Indo-Java, 85-12 Queens Blvd., nr. Grand Ave.; 718-779-2241
Elmhurst's a hotbed of Indonesian cuisine, and one of its best Indonesian restaurants is this exclusive eatery that can be found inside Indo-Java, an Indonesian grocery store. Exclusive not in the white-tablecloth sense, but in the two-table, open-once-a-week sense. Every Tuesday, Dewi Tjahjadi cooks up such specialties as soto betawi, a hearty potage of beef tendon and tripe in a beef broth enriched with coconut milk. Nasi timbel consists of rice grilled in banana leaves, with fried beef, spicy beef tendon, and potatoes in coconut milk. Tjahjadi learned her craft from her mother and the warmth and joy with which she serves everyone from homesick Indonesians to local food nerds is positively heartwarming. To see the week's menu, check her instagram: @warungselasa. In case you're wondering the name means "Tuesday food stall."
4. Louie's Pizzeria & Restaurant
81-34 Baxter Ave., nr. Judge St.; 718-440-9346
Any pizza maven worth his or her muzz knows the best grandma slice in all of New York City can be found at this unassuming storefront set in between a 24-hour check-cashing spot and a halfway house. Blanketed with blistered cheese, zippy tomato sauce, garlic, and basil, it is truly glorious. The side of the green awning reads "Fresh Homemade Pasta," touting another house specialty. The meaty fettuccine Bolognese and verdant spinach agnolotti are both lovely, but the real sleeper hit is a $22 ribeye steak served with roasted potatoes. Louie Sulaj runs the counter and pizza operation, while his father, known to all as Pops — who cooked at a string of Italian spots in the '80s and '90s, including Tre Scalini — is in charge of the hot plates.
5. Pata Cafe
56-14 Van Horn St.; 347-469-7142
"Respect others please be quiet," reads a red sign, a nod to the fact that this offshoot of Thai noodle sensation Pata Paplean is often packed with schoolchildren. Most order hot dogs and French fries, but "some of the Filipino kids get pad Thai," says Suchasinee Nitmai, who handles the front of the house while her mother, Sunisa, whips up homestyle favorites including papaya salad with preserved crab and pickled fish and num tok beef dressed with red onion, mint, lime juice, and chiles. Roasted rice powder lends a pleasant nuttiness to the beefy salad. Specials include khanom jeen ya poo, rice noodles served with a sidecar of crab in a yellow curry that gets its color from hand-ground turmeric and its flavor from galangal, chile, and lemongrass. It comes with a platter of fresh herbs. Mix the whole lot together and dig into a real Thai after-school special.
6. Lhasa Fresh Food
81-09 41st Ave., nr. Baxter Ave.; 917-745-0364
This spot from chef-owner Sang Jien Ben is the latest entrant in the southward expansion of Tibetan eateries from Jackson Heights to Elmhurst. It features the momos — juicy beef dumplings beloved by homesick sherpas — and thentuk — a hearty soup with hand-torn swatches of dough — that made his first restaurant, Lhasa Fast Food, a hit with both outer-borough epicures and Anthony Bourdain. New additions include fatty lamb riblets with hot pepper and garlic, and karsod, a soup from Tibet's Amdo region. The latter arrives blanketed in a sheet of dough stretched tight as a drum. Drumroll on it with your chopsticks if you must, but the real show begins when you pierce the skin, unleashing the heady aroma of lamb.
7. John's Pizzeria
85-02 Grand Ave., nr. Haspel St.; 718-457-7561
You'll find the best old-school slice just down the street from the Lin Yan Shan Buddhist Temple. Grab a bright orange plastic seat at the counter and be transported back to a simpler, tastier time — 1965, to be specific. That's when the joint's namesake, John Bagali, set up shop. These days John is retired and his wife, Rose, and their daughter, Susan, pull extra-crisp Neapolitan pies from the stacked Mastro ovens. The balance of cheese, herbs, and sauce is spot-on, but it's the sheer crunchiness of the crust that sets it apart. The Sicilian, a study in textures ranging from the burnished outer edge to a pleasingly squishy interior, is no slouch either.
8. Patacon Pisao
85-22 Grand Ave.; 718-899-8922
"El Verdadero Sabor de la Comida Venezolano," or "The True Taste of Venezuelan Cuisine," reads the awning of this Venezuelan snack specialist. The snack in question? The namesake patacón, a hefty sandwich made from twice-fried disks of plantain that act as a bun. Fillings range from the traditional, like shredded beef, roast pork, and chorizo, to originals like the Cubano, which combines pulled pork, ham, cheese, and pickles. There's even a bacon-cheeseburger option. Other snacks include first-rate arepas and cachapas, sweet corn cakes enfolding a variety of fillings. The heftiest — La Gorda — is packed with mozzarella and bacon and topped with a lashing of crema and a blizzard of Parmesan.
9. Sariling Atin
89-12 Queens Blvd., nr. 57th Ave.; 718-397-1200
Even though it's several subway stops away from Queens' Little Manila, this Filipino steam-table operation stacks up against the best spots in that Woodside enclave. Stroll past aisles lined with jars of sweet Lily's Peanut Butter and a cold case filled with the fertilized duck eggs known as balut to find a cozy dining room and a formidable steam table stocked with a rotating selection of Filipino favorites like kalderetang kambing, goat stew in a rich tomato gravy; skewers of sweet grilled pork asado; and crispy pata, a pig leg fried to a shattering crunch. On weekends there's lechon, glorious rolled whole pork belly encased in a crackling skin. The inner folds contain lemongrass and other aromatics, making for one of the best pork dishes in Elmhurst. Pair it with laing, taro leaves stewed in coconut milk and enriched with bits of fish and ginger.
10. JoJu Modern Vietnamese Sandwiches
83-25 Broadway, nr. Dongan Ave.; 347-808-0887
For years Elmhurst's bánh mì were little more than ham sandwiches with Vietnamese accents. That all changed in 2012 when JoJu Modern Vietnamese Sandwiches opened. The bánh mì bill of fare includes old-school numbers like the classic—a combination of Vietnamese ham, headcheese and pâté—and modern takes like the Hot Chick, which marries lemongrass chicken with kimchi and spicy mayo. And then there's the Green Eggs and Ham packed with two fried eggs, Vietnamese ham, and spicy green sauce. The latter is a tribute to the Peruvian aji verde found in Queens' many rotisserie chicken joints. What could be more modern–or more Queens–than that?