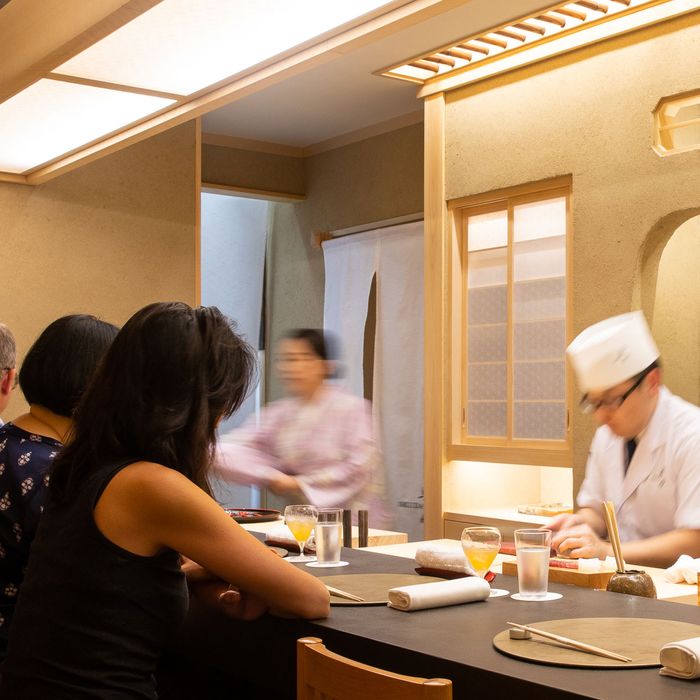 The chef's counter at Okuda.
Photo: Nitzan Rubin
Chelsea has the residential polish (some might say sleepiness) of the Upper West Side, with the proximity to downtown that suggests a quicker pulse. While it was once strictly defined as the area between 14th and 23rd Streets and Sixth Avenue to the Hudson River, the lines have blurred with the gallery district pulling cultural Chelsea further north and the Meatpacking District pushing at its southern border. Because the precinct has an aspect of a bedroom community, unremarkable neighborhood spots flourish, but there is destination eating, too. Thanks to Chelsea Market, people come from all over the world to pig out. That combined with a crop of eclectic Japanese restaurants, celebrity chef–driven ventures that have matured quite nicely, a strong farm-to-table showing, plus some good old New York classics, makes Chelsea a fine place to be hungry. Below, the very best restaurants you can visit in Chelsea.
1. Okuda
458 W. 17th St., nr. Tenth Ave.; 212-924-0017
Walk into Okuda, the Manhattan outpost of a Michelin-starred kaiseki restaurant in Tokyo, and you are greeted by a hostess dressed in a kimono. She will attend to you for the evening, from showing you to the seven-seat chef's counter to waving good-bye as you exit onto 17th Street, dazzled by the transformative meal you just had. The seasonal omakase menu (ranging from 9 to 13 courses, depending on what's available) is served in a hushed, sparely appointed room, where there is nothing to focus on but the meal itself. Highlights might include custardy Hokkaido sea urchin with soft corn aspic, starch sauce, and freshly grated wasabi; dashi made tableside and poured over a fluffy shrimp dumpling, plump soybeans, rings of carved zucchini, and a meaty shiitake mushroom; and smooth Inaniwa udon noodles that slip into your lips, punctuated with tiny fried kobashira (scallop abductor muscles). The meal is undoubtedly a splurge — $245, tip included — but it would certainly cost as much in Japan, and you just saved yourself airfare.
2. Del Posto
85 Tenth Ave., nr. 16th St.; 212-497-8090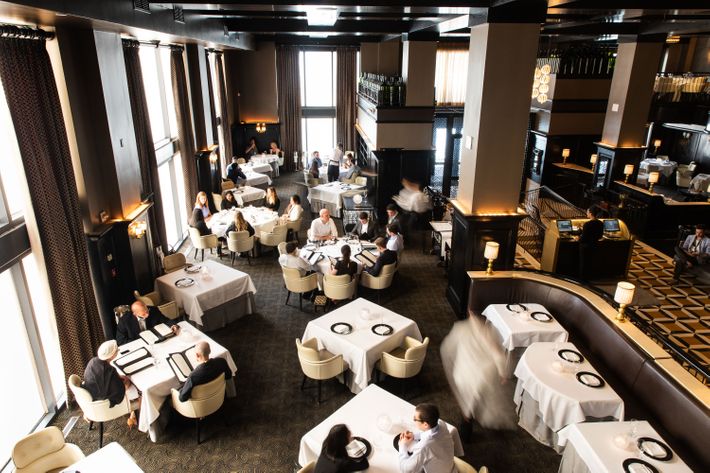 When you enter Del Posto, the swooping staircases, mile-high ceilings, and gentle tinkling of the ivories assert that you are at a fancy restaurant. Former owner Mario Batali is in the process of divesting from the crown jewel of what was once his restaurant empire, but chef Melissa Rodriguez is still here, making some seriously elegant food. One of the city's premier fine-dining Italian restaurants is also home to one of the best deals in town: a three-course lunch for $59 ($69 if you add a pasta course). That includes extras like the amuses-bouches of a silky oyster mushroom served in an oyster shell and a savory eggplant zeppole. Lunch offers many of the same dishes you'd get on the $164 five-course dinner menu, such as the cacciucco Livornese, an Italian seafood stew with a broth rich enough to double as a sauce, barely poached shellfish, and cod that slides apart in your mouth. The pasta, meanwhile, is a revelation. Delightfully chewy orecchiette with Castelvetrano-olive sauce, crumbled rabbit sausage, and cubes of turnip make you grateful that there are experts out there who do this much better than you do.
3. Momofuku Nishi
232 Eighth Ave., nr. 22nd St.; 646-518-1919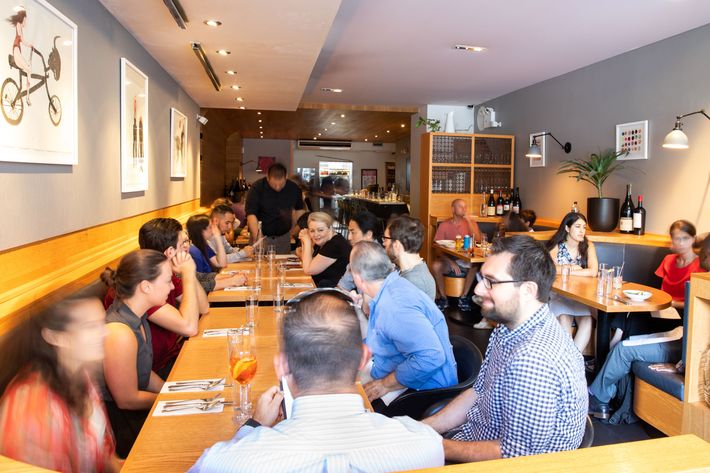 The Italian-inflected member of the Momofuku empire took a while to grow into its Chelsea digs, but the current iteration finally meshes with the neighborhood. Cozy banquettes; chairs that are unusually comfortable by any restaurant standard, let alone the bench-favoring Momofuku; and a courteous staff, though all off-brand for owner David Chang, make Nishi a very nice place to eat. Chef Joshua Pinsky has a light touch, imparting big flavor without weighing dishes down. His kitchen excels at gemlike crudi, homemade pastas, and lovingly prepared proteins. The near-iconic ceci e pepe, a coil of bucatini sauced with fermented-chickpea paste and flecked in black pepper, is worth a visit alone, as is the tender monkfish, coated in a charred-scallion-and-olive rub, plated with blistered tomatoes and basil.
4. Ushiwakamaru
362 W. 23rd St., nr. Tenth Ave.; 917-639-3940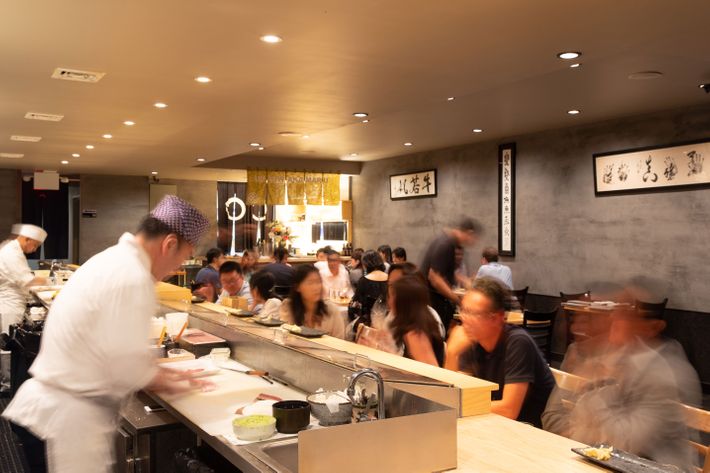 While no one was looking, Chelsea has turned into a destination for Japanese-food enthusiasts. See Ushiwakamaru from chef Hideo Kuribara, a cult favorite among sushi connoisseurs that decamped from Houston Street in 2015. The dining room is simple enough, with less than a dozen or so tables and a lengthy sushi bar. But exquisite fish is what sets this place apart. A $66 sushi and sashimi combination might include silken amberjack with the richness of oceanic foie gras, tuna that tastes like rare steak, and sweet shrimp more luxurious than lobster, each bite more memorable than the last.
5. Jun-Men Ramen
249 Ninth Ave., nr. 26th St.; 646-852-6787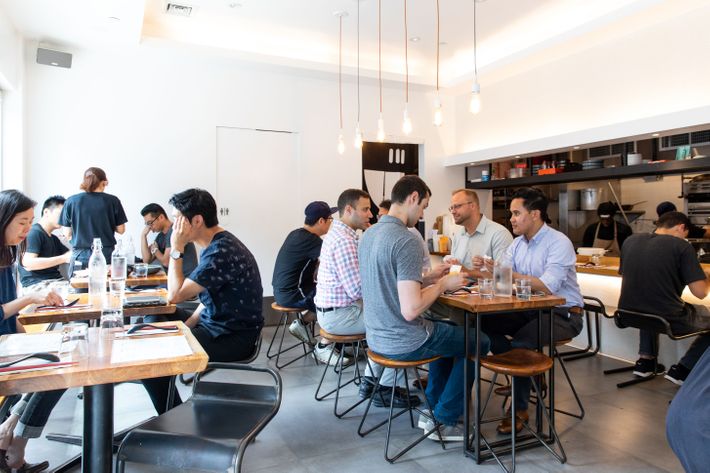 This adorable Japanese restaurant, a tiny, cleverly designed space that somehow manages to seat 25, is ostensibly a ramen joint, but in reality is so much more. Chef Jun Park's fine-tuned comfort snacks, such as sticky double-fried chicken wings and quality karaage (fried chicken) stuffed into soft buns, are massively appealing. His take on poke is comparatively wholesome — full of good stuff like pepitas, seaweed, tobiko, quinoa, salad greens, avocado, and cucumbers, in addition to fresh tuna — while the Jun-Men fried rice, chewy grains laced with kimchee and Chinese sausage and topped with a fried egg, may be the ultimate hangover cure. After ramen, of course.
6. Sullivan Street Bakery
236 Ninth Ave. nr. 25th St.; 212-929-5900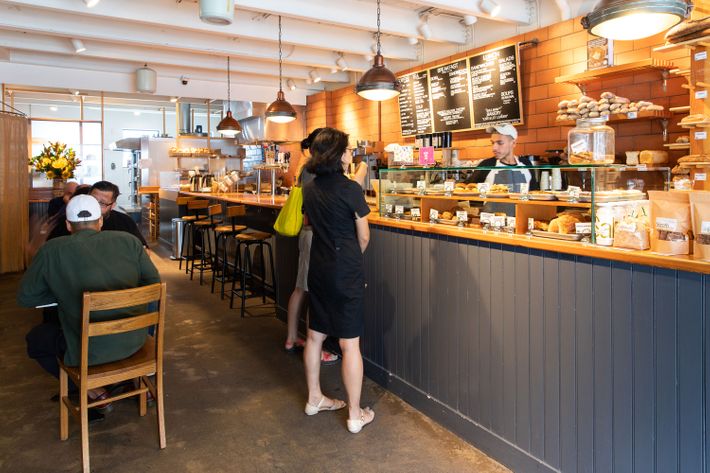 Jim Lahey's bread mecca has grown into the perfect neighborhood café. In addition to selling crackly-crusted breads, mouthwatering Roman-style pizzas, and a bevy of baked goods to go (including an impossibly moist lemon-poppy cake enriched with honey), it invites you to grab a seat at a table or the bar and order from a short but hit-the-spot menu of all-day breakfast and lunch dishes. A thoughtfully executed seasonal egg bowl features two poached eggs over oil-slicked asparagus, fingerling potatoes, and meaty mushrooms, with hunky croutons that function like toast, soaking up the yolk. For lunch, try what may be the city's finest chicken-salad sandwich: tender chicken, strips of seasoned skin, celeriac-apple slaw, tarragon mayo, and butter lettuce on a bottone bun, which serves as more of a thin, crisp sheath than a bready hindrance to your jaw.
7. Miznon
Chelsea Market, 435 W. 15th St., nr. Tenth Ave.; 646-490-5871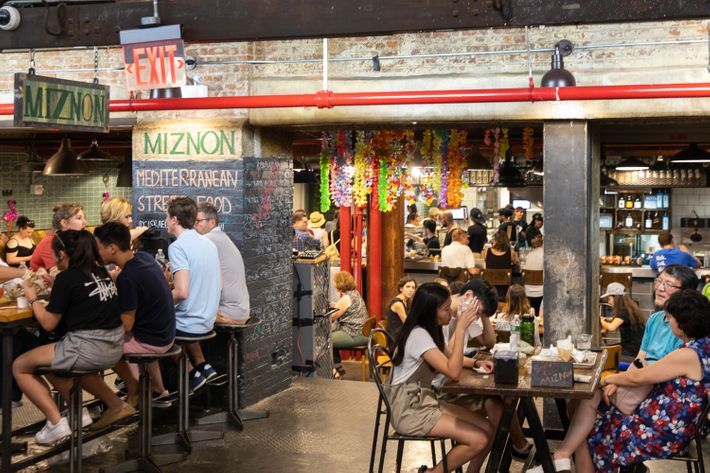 The word balagan, Hebrew for chaos, comes to mind at this intentionally helter-skelter Israeli-food import from chef Eyal Shani. The open kitchen clanks and clamors, while guests contemplate a menu of creative pita sandwiches divided into categories like "Wild Vegetable Animal" and "Ocean Creatures." You'll find uniquely Israeli offerings, like chraimeh, a pita stuffed with a spicy North African fish stew, or the famous charred head of cauliflower, best eaten torn apart by hand. But the place also exhibits a real knack for local fare. The folded-cheeseburger pita, a Frisbee-size Smashburger heaped with tangy shredded white Cheddar that crisps up on the griddle, is evidence that good things come from being a little nuts.
8. Los Tacos No. 1
Chelsea Market, 75 Ninth Ave., nr. 15th St.; 212-256-0343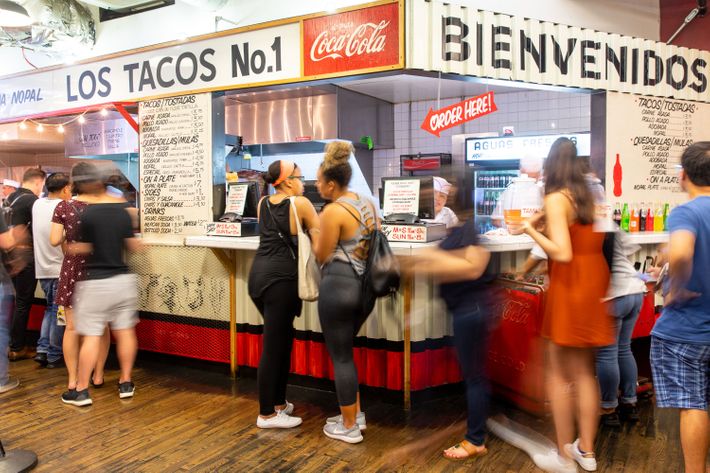 The longest line in Chelsea Market is invariably for Los Tacos No. 1, a disarming taco stand roundly praised for bringing legit Tijuana-style tacos to New York. The choices are simple, and delicious: corn or flour tortillas, both homemade and exemplary; fillings of tender chicken pieces, smoky beef, grilled nopal, or marinated pork; onion and cilantro garnishes, with or without a dollop of smooth guac. (There are quesadillas, too.) Complimentary fixings — including lime wedges, fresh radishes, pico de gallo, and fresh salsas — make the experience even more appealing, as do the palate-cleansing aguas frescas.
9. Cookshop
156 Tenth Ave., at 20th St.; 212-924-4440
In a city full of restaurants with limited square footage, cramped tables, and long waits, a place like Cookshop is a godsend. It's comfortable and spacious, with ample seating indoors and out, and they take reservations for brunch. Veteran restaurateurs Vicki Freeman and Marc Meyer have created an ideal neighborhood restaurant — casual enough for a drop-in and polished enough for a special occasion. The food, which skews farm-to-table, can still surprise after all these years. Cilbir — a spoonable plate of poached eggs over sweet-potato hummus, yogurt, and smoked-chile oil — is the most memorable brunch dish to come along in a while. More traditional offerings, like flaky biscuits, warm glazed cinnamon rolls, and a breakfast sandwich made with homemade sausage and a runny egg on brioche, manage to be so much better than basic.
10. Foragers Table
300 W. 22nd St., at Eighth Ave.; 212-243-8888
The restaurant arm of boutique grocery Foragers Market is the place you go when there's an hour-long wait across the street at Momofuku Nishi. But then you remember how terrific the food and service are and think maybe you should have come here in the first place. Owners Anna Castellani and Richard Lamb run an excellent farm-to-table neighborhood restaurant, which they supply in part with ingredients from their Hudson Valley farm. The menu changes often and shows off the best of the season. Rye trumpet pasta lavished with lamb ragù, kale, Parmigiano-Reggiano, and brown beech mushrooms form a hearty umami bomb, while an entrée of five-spice-glazed duck breast and farro features poached rhubarb that cuts the richness. A reasonable $42 three-course option is yet another draw.
11. El Quinto Pino
401 W. 24th St., nr. Ninth Ave.; 212-206-6900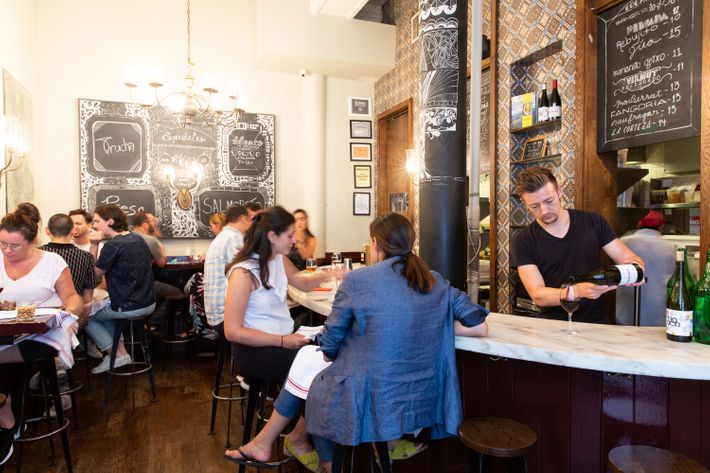 It's hard to believe that Alex Raij and Eder Montero's tiny tapas bar, which expanded in recent years to include a boho-fabulous dining room with a funky tapestry and mismatched mid-century chairs, has been open for more than a decade. The place still feels fresh, having pioneered memorable bites like the uni panini, a now-iconic combination of sea urchin and Korean mustard oil pressed in a buttered ficelle, and the peculiarly delicious anchovy over a baton of vanilla butter. But the ornate bar still holds the most allure, especially during happy hour, when a po'boy stuffed with fried squid can be washed down with a bargain sweet vermouth.
12. Dizengoff
Chelsea Market, 75 Ninth Ave., nr. 15th St.; 646-833-7097
Before there was Miznon, there was Dizengoff, the Manhattan outpost of Israeli-American chef Mike Solomonov's Philadelphia hummusiya. Order at the counter from a menu that's short and sweet — hummus with warm chickpeas, hummus with ground beef, hummus with a seasonal vegetable like roasted corn … you get the idea. Here, the humble blend of tahini and chickpeas is downright luxurious, made to be scooped up with house-baked pita. There are swivel seats for eating in, but this food is a prime candidate for takeout. Case in point, the za'atar chicken dinner — a takeout-only meal of a whole bird rubbed with the fragrant spice blend and accompanied by a tub of hummus, fresh pita, and Israeli chopped salad — can be yours for $36 (preorder required).
13. Brooklyn Bagel & Coffee Company
286 Eighth Ave., nr. 25th St.; 212-924-2824
On weekend mornings, lines form outside this neighborhood bagel shop, which, curiously, has locations in Manhattan and Queens, but none in Brooklyn. Though nearby Murray's might have more style, this is your spot for the best bagels in Chelsea. Unlike the insipid, spongy orbs that New Yorkers have come to lament, these hand-rolled, twisted beauties are shiny-crusted, chewy, and, yes, obscenely large. (The hilariously named mini-bagels are the size that regular bagels should be.) Though the huge menu is full of sandwiches and questionable cream-cheese flavors (like red velvet or triple berry), a classic shmear is all you need.
14. Grand Sichuan
229 Ninth Ave., at 24th St.; 212-620-5200
Newcomers such as Excellent Dumpling House and Hot Sichuan have given this local Chinese restaurant a run for its money. But Grand Sichuan is still the reigning queen. The faux-bois-paneled, red-carpeted dining room is nothing to write home about, but by the same token, it's exactly as it should be. Skip well-worn Chinese-American favorites and try the first-rate, juicy pork-and-crab soup dumplings, appetite-whetting sour-cabbage-and-fish soup, and the Chongqing spicy chicken, nubs of Sichuan-pepper-dusted poultry hidden among a sea of blistered red peppers, sliced ginger, and scallions.