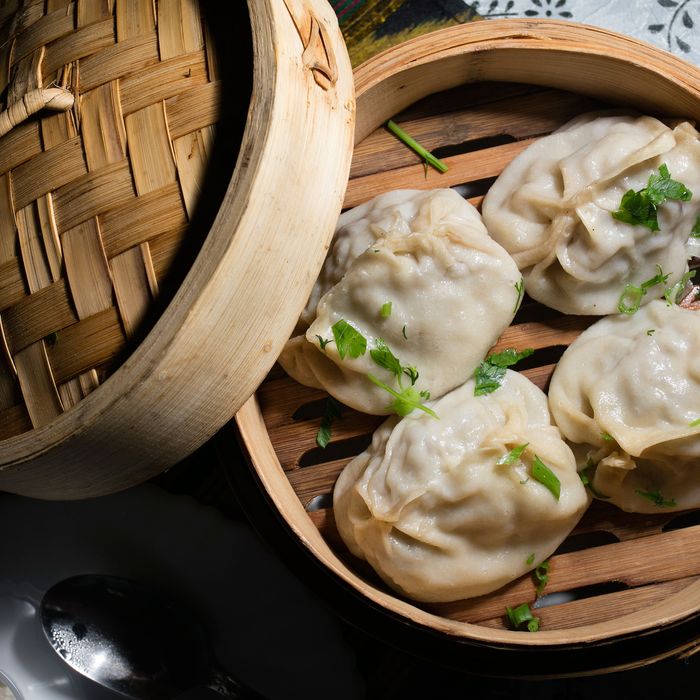 Lamb manti at Café Kashkar.
Photo: Melissa Hom
Flashy, beat-thumping nightclubs and overpriced waterfront cafés are only a fraction of the dining options in South Brooklyn's urban beach community known affectionately as "Little Odessa by the Sea," sandwiched between Coney Island and Manhattan Beach on the Coney Island peninsula. The neighborhood's Soviet and Central Asian immigrant communities overlap in a bustling cacophony on the sun-drenched boardwalk and along Brighton Beach Avenue's dense stretch of home-style restaurants and compelling markets. For those willing to brave the thunderous rumble of the elevated Q train and weave through the throngs of shoppers and Speedo-donning octogenarians out for their morning swim, a feast of blintzes and baklava, kebabs, and khachapuri awaits. Here, the best restaurants and food shops in Brighton Beach.
1. Café Kashkar
1141 Brighton Beach Ave., nr. Brighton 15th St.; 718-743-3832
The small mountain of fresh hand-pulled noodles called lagman visible on a kitchen countertop at this Uzbeki-Uyghur restaurant is exhibit A that diners have come to exactly the right place. Stretchy and yielding, the noodles are central to both of these overlapping Silk Road cuisines. And at Kashkar they show up often — in brothy, cumin- and coriander-scented soups, and under piles of glistening lamb, red pepper, and granola-cluster-size pieces of sautéed garlic. Lamb is also abundant across the menu, filling flaky samsas, folded inside dumplings, and skewered onto succulent kebabs. Moments before you slip into a meat-and-starch-induced coma, a bright and fiery plate of wafer-thin tomatoes, onions, and green chilies (called achichuk) lands on the table, offering delicious revival. The walls are adorned with technicolor skullcaps, gold-threaded tapestries, and painted tambourines, along with a sign reminding patrons that alcohol isn't allowed on the halal-friendly premises. But with lamb like that, who needs Lambrusco?
2. Vintage Specialty Food
287 Brighton Beach Ave., nr. Brighton 3rd St.; 201-955-1505
This Wonka-esque imported-foods store is packed floor to ceiling with all things fantastical and hard to source. There's blackthorn jam from Azerbaijan and jarred sour cherries from Moldova, endless varieties of pickled vegetables, and six distinct kinds of sunflower seeds. Fill a few bulk bin bags with dried mulberries, blue-black Uzbeki raisins, and sugar-dusted Turkish delight to nibble on while browsing Brighton Beach Avenue. Or pick up some fresh pita, Bulgarian Feta, and oil-cured olives straight from the barrel and savor them beachside.
3. Varenichnaya
3086 Brighton Second Ave., nr. Brighton Beach Ave.; 718-332-9797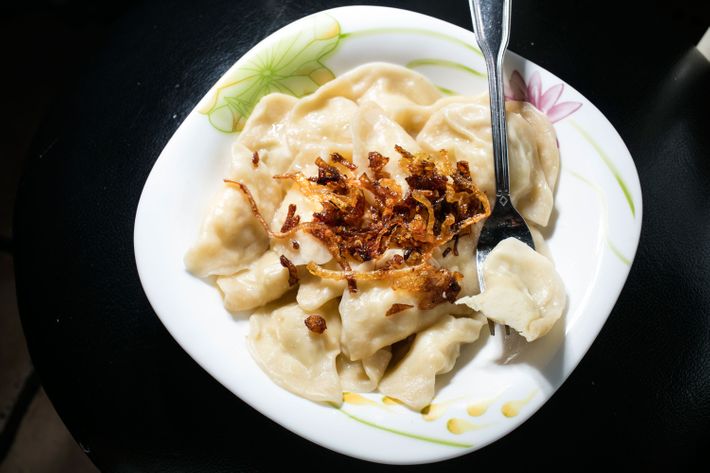 You can practically hear the surf and seagulls from this petite Russian eatery, located a block off the beach. Strings of plastic grapes, assorted trinkets, and a framed picture of the Lubavitcher rebbe decorate the homey space, while tables of women gossip over glasses of kompot, the Slavic fruit punch. The menu includes a number of Soviet favorites, from blintzes and borscht to pan-fried chicken tabaka. But the highlight is the vareniki — the ethereal filled dumplings after which the eatery is named. The fried-cabbage and mashed-potato varieties are sprinkled with caramelized onions, while the sour-cherry version includes an extra bowl of cherry juice for dipping. They come 15 to a plate, give or take, handsomely dolloped with sour cream, and can also be ordered frozen in bulk to take home.
4. Brighton Bazaar
1007 Brighton Beach Ave., at Brighton 11th St.; 718-769-1700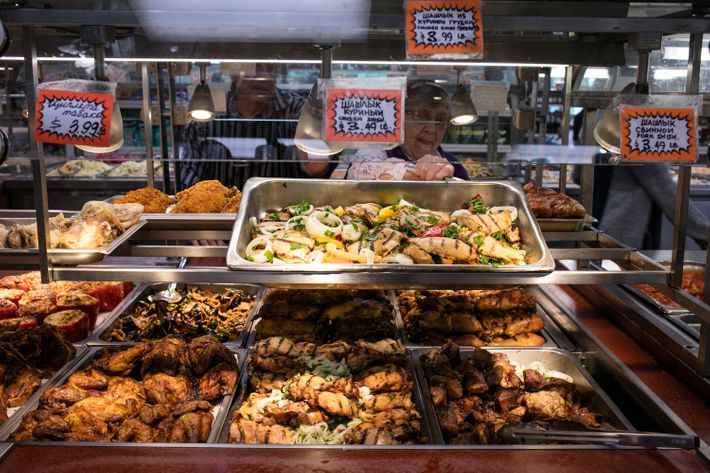 Set the alarm and arrive early to this Russian supermarket to be rewarded with a still-warm loaf of dense, molasses-colored coriander bread. (The bakery department will slice it on request.) Then, wander along the double-wide steam tables to marvel at the overwhelming abundance of delights held within. Stock up on inch-thick chicken kotleti (ground chicken cutlets), delicate cheese blintzes, boiled new potatoes flecked with dill, smoky eggplant caviar, and a treasure trove of pickles — cucumber, pattypan squash, watermelon, garlic bulb, tomato, and red cabbage, to name a few — for an unparalleled beach picnic.
5. Toné Café
265 Neptune Ave., nr. Brighton 6th St.; 718-332-8082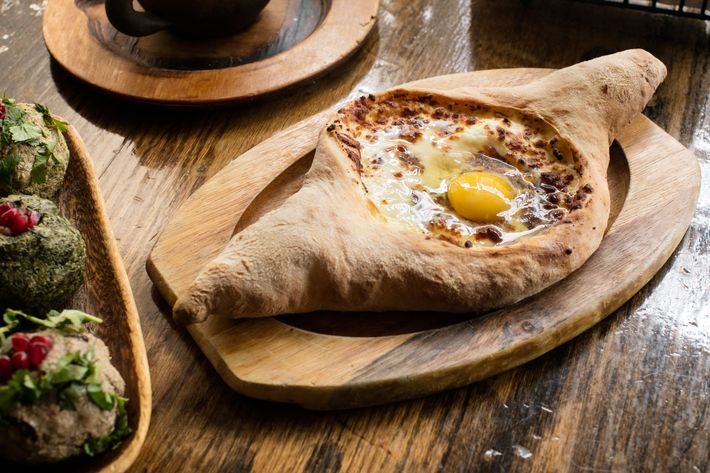 The fiery heart and visual centerpiece at this Georgian restaurant is a toné — the Eurasian country's traditional clay oven, which is visible through a sizable glass window connecting the kitchen and dining room. From its smoldering depths emerges some of New York City's best adjaruli khachapuri (the Ur-Georgian cheese bread), with its sturdy, blistered dough and lava flow of butter, egg, and farmer cheese. The pkhali, softball-size scoops of pâté made with ground walnuts and chopped vegetables (spinach, eggplant, and green bean here), are rich and bright with vinegar — perfect for swiping up with a spare khachapuri crust. Another can't miss dish: the beef, rice, and walnut soup called kharcho, which is fragrant with coriander and fenugreek. Service can be slow, but come with a leisurely attitude and expect a true Georgian supra (feast).
6. Gourmanoff
1029 Brighton Beach Ave., at Brighton 11th St.; 718-517-2297
You can't miss the ornate ticket booth on the way into Gourmanoff: The upscale branch of the Russian supermarket chain, NetCost, shares real estate with a 1,300-seat performance theater. Most locals come to this Slavic Whole Foods to grocery shop, but visitors should seek out a basket of to-go goodies — glistening Rainier cherries, thick Russian kefir, hot smoked chubs, and succulent lox wings, and blushing herring-layered shuba salad — and then retire to a wooden bench at the petite, but densely tree-lined park across the street.
7. Beyti Turkish Kebab
414 Brighton Beach Ave., nr. Brighton 5th St.; 718-332-7900
Follow the glow of the faux gyro spit above Beyti's door (and the very real, very enticing scent of grilled meat wafting out of it) and head directly to the counter. Order a couple of the kebabs — the hand-chopped chicken adana, which comes gorgeously singed and infused with paprika, garlic, and colorful bits of bell pepper, is particularly tasty. Make room, too, for a kasarli pide, a satisfying pontoon of dough encasing a pool of melted cheese and sprinkled with black-and-white sesame seeds.
8. Ocean View Cafe
290 Brighton Beach Ave., at Brighton 3rd St.; 718-332-1900
There is decidedly no view of the Atlantic at this Russian diner, unless one counts the cresting waves etched into the oversize glass windows. But after a bite of the blintzes, golden-griddled and generously filled with sweet farmer cheese, the false advertising can be forgiven. Also wonderful: the meaty, Ukrainian-style borscht and tender mushroom-and-sauerkraut pierogi. Cap off the meal with a glass of black tea. The leaves are Lipton, but the drink is served the traditional Russian way, with a bowl of syrupy sour cherries for stirring and sweetening.
9. Cafe at Your Mother-in-Law
3071 Brighton 4th St., nr. Brighton Beach Ave.; 718-942-4088
With the beachy pastel coloring, faux-marbled tables, and visible kitchen just off the dining room, a meal here feels like visiting grandma's oceanside apartment. The owners' heritage (Korea by way of Uzbekistan) plays out deliciously on the table, with hearty lamb-studded plov (Uzbeki pilaf) and meaty samsas offset by a wide selection of spicy-sweet salads. The eggplant hye, with velvety chunks of eggplant, thinly shredded carrots, and tender red bell pepper, is an effervescent treat. Nostalgic fans of Rice Krispies Treats should end the meal with chak-chak, mounds of puffy fried noodles bound together with honey syrup.
10. Skovorodka
615 Brighton Beach Ave., nr. Brighton 7th St.; 718-615-396
The menu at this Russian restaurant includes several so-called "international" dishes (Greek salad, escargot, frutti di mare). But the kitchen truly excels at the home-style classics that would make any Soviet expat misty-eyed. There's creamy Olivier salad, pillowy kotleti, lace-edged blini with red caviar, and cherry-filled vareniki — all served under a vaulted, stained-glass-adorned ceiling that lends a bit of calming relief from the harried streets outside. Make like the locals and order more than your tablemates could possibly consume in one sitting.
11. Güllüoglu Baklava & Cafe
239 Brighton Beach Ave., at Brighton 1st Pl.; 347-577-6150
The pastries at the Brooklyn outpost of Istanbul's legendary, circa 1871 bakery (there's another in Astoria) are shipped from the source. Despite the intercontinental journey, the baklava (layered with pistachio, chestnuts, or chocolate, among other fillings) remain supple and sweet. The Turkish coffee, served potent and frothy in engraved metal cups, also pairs well with a bowl of the rice-flour-thickened custard sutlac, or a quivering slice of kazandibi pudding, which is capped with a thin, caramelized (read: purposefully and deliciously burnt) skin of milk. The back of the restaurant opens up into a spacious seating area, perfect for laying out a syrup-slicked menagerie of sweets.
12. Cafe Euroasia
602 Brighton Beach Ave., at Brighton 6th St.; 718-891-0008
The spartan décor and occasional lost-in-translation moments experienced by non-Russian speakers may be off-putting to some diners. But the invitingly home-style dishes redeem the ambience. Start with a bowl of hearty borscht and turn the ruby-hued soup pink with a copious dollop from the gravy boat of sour cream that accompanies it. Next, tuck into a plate of crisped potato wedges with garlic and dill-flecked mushrooms, and another of tender steamed manti. They are delicious enough to make anyone feel right at home.