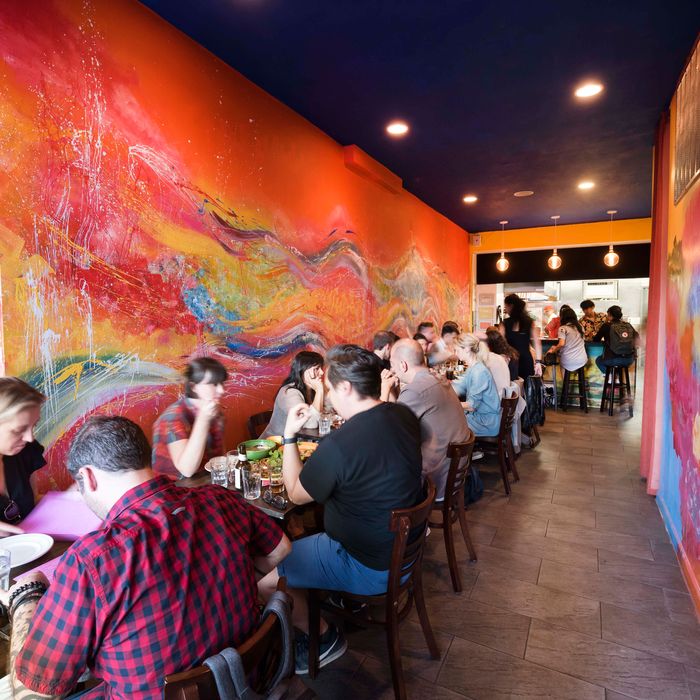 Ugly Baby.
Photo: Liz Clayman
Until a gentrification-driven rebranding in the 1960s, Carroll Gardens was considered part of Red Hook. Now, it's separated from that evolving neighborhood by the Gowanus Expressway, and bounded elsewhere by Cobble Hill, Boerum Hill, Gowanus, and — speaking of rebranding — the Columbia Street Waterfront District. Foodwise, bakeries and pork stores endure as legacies of the historically Italian-American population, but red-sauce standbys have been joined by destinations for excellent pho, unusual ramen, and some of the city's most spectacular multiregional Thai. Here, the best restaurants in Carroll Gardens. 
1. Ugly Baby
407 Smith St., nr. 4th St.; 347-689-3075
A tiny sliver of a restaurant, Ugly Baby was a near-instant sensation when it opened in the fall of 2017. But the buzz has proved well-deserved: Night after night, diners pack its two-tops for chef Sirichai Sreparplarn's (formerly of Red Hook's Kao Soy) menu of pan-Thai dishes, many of which can't be found elsewhere in this part of Brooklyn. It's pretty much impossible to pick the wrong thing here, but the friendly staff is happy to advise on spice level and number of plates per table (family-style ordering is encouraged). Kang hoh, a mix of pork shoulder and spare ribs in a northern-style red curry, is stellar, as is the khoong muk kai kem, a dish of shrimp and squid sautéed in chili that's tempered by salted egg yolk. The tue ka ko — a quartet of bite-size fried coconut milk, black bean, and taro cakes — are a delight on their own, but especially as a palate cleanser between fiery larger dishes. The duck laab salad is labeled "stay away spicy" on the menu, but the pile of cooling herbs that come with it help balance the heat. And the milder options, like a mushroom-and-pineapple curry, are no less complex or satisfying. There's a decent list of wines and craft beers, but this is a meal best washed down with an ice-cold Singha. The vibe is festive, with bright murals on the walls and plates coming out of the bustling kitchen lightning fast. And yes, there will probably be a wait, and no, they don't take reservations. Put your name in with the hostess and dash over a block to Minibar or Abilene for a drink until your table is ready. —K.J.B.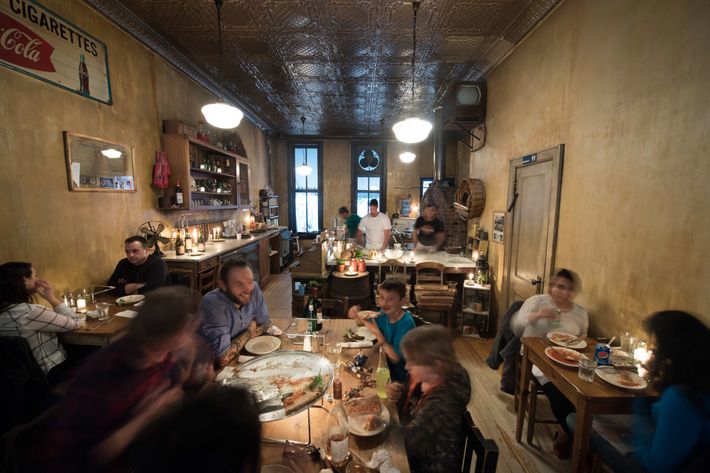 2. Lucali
575 Henry St., at Carroll St.; 718-858-4086
Jay-Z and Beyoncé's favorite pizzeria is so unassuming, it looks like it's been around for decades. In fact, Carroll Gardens native and pizza savant Mark Iacono — who had never made a pie before — opened the place on what was basically a whim in 2006. The menu has not changed since, consisting primarily of thin-crust pies (one size only) topped with tangy tomato sauce, fresh buffalo mozzarella, shaved Grana Padano, sliced garlic, and a smattering of optional add-ons, like pepperoni and mushrooms. The pizzas are charred in a brick oven that takes up nearly half the dining room, and they're finished with sprigs of basil. They're perfect. The only other things on offer are calzones and soft drinks; bring your own beer and wine. No delivery (though sometimes they'll let you pick up, depending on how slammed they are), no slices, no reservations. Which can mean long waits any night of the week. Put your name on the list (your best bet is to arrive at five, an hour before it opens, and choose what time you want to sit), then camp out at a bar nearby. It's worth it. —Hannah Goldfield
3. Court Street Grocers
485 Court St., nr. Nelson St.; 718-722-7229
Court Street Sandwiches would be a more accurate name for what's essentially a small counter, behind which exceptional ingredients are placed between slices of bread, plus a tiny tin-ceilinged room crammed with wooden tables — but it's the walls lined with specialty snacks and condiments and the refrigerator full of regional sodas that give it an atmosphere as appealing as its food. Breakfast is an especially strong point: soft-scrambled eggs on focaccia with cheddar, arugula, and a juicy pork sausage split lengthwise or a tangle of bacon make for the platonic ideal of a BEC, and the pork roll (scrambled eggs, Martin's potato bun, American cheese, Taylor ham) is a compact culinary representation of America. But the heroes are best-in-show, too, as evidenced in particular by the perfectly balanced Italian Combo (cold cuts, cheeses, and a proprietary "hoagie spread" on a Caputo Bakery seeded roll) and its vegetarian cousin, the Vegitalian Combo (roasted butternut squash, cheeses, and hoagie spread on the same seeded roll), which is magically just as good. —H.G.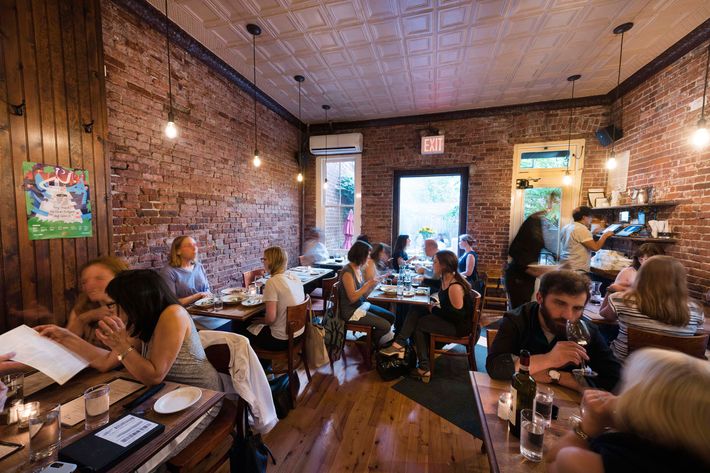 4. Frankies 457 Spuntino
457 Court St., nr. Luquer St.; 718-403-0033
Frankies is the ultimate neighborhood restaurant, particularly in this neighborhood, given its Italian identity: invitingly cozy (a vibe that spills over into the beautiful back garden in the warmer months); reliably pasta-centric and comforting; and brimming with local regulars, both old-timers and new. But it's good enough to attract people from far and wide, too, turning its owners, "the Franks" (Castronovo and Falcinelli), into celebrity chefs with cookbook deals and their own brand of spicy green olive oil, which is served with crusty bread at the beginning of any meal there. It's hard to go wrong with this caliber of straightforward and consistent Italian fare: You can count on the escarole salad with red onion, walnuts, and Pecorino, which is as spot-hitting as a Caesar but more interesting, and the housemade cavatelli with Faicco's hot sausage and browned sage butter is an indulgent and evergreen slam dunk. There are always a few curve balls thrown, too, as with a dish of sliced roasted rib eye, served chilled to bring out its strange and delicious gaminess. —H.G.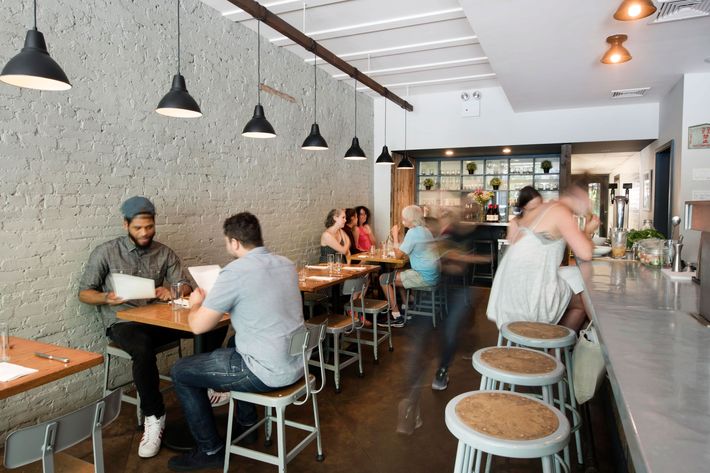 5. Nightingale 9
329 Smith St., nr. President St.; 347-689-4699
Nightingale 9 is the only Vietnamese restaurant in Carroll Gardens, but it also happens to be one of the city's best. Chef Robert Newton's menu reimagines classic Vietnamese dishes with a Greenmarket sensibility and the occasional nod to his own southern roots. The pho alone is one of the top bowls in town: Both the beef and chicken varieties are complexly flavored and incredibly satisfying. But the vegetarian version is notable as well, with a great, almost meaty depth of flavor in its mushroom broth. Elsewhere on the menu, a dish of shredded pork shoulder stir-fried with torn fresh rice sheets, shrimp paste, and chile provides just the right balance of heat and umami. The aforementioned southern accents appear in a savory bun-cha-style noodle bowl topped with fried chicken on a stick, a scallion pancake and fried chicken sandwich (a holdover menu item from the chef's now-shuttered Wilma Jean down the street), and a salad of raw, shaved collard greens topped with coconut and lime. The space is airy and vaguely industrial, with painted exposed-brick walls and metal-backed chairs. The tables near the front window provide prime Smith Street people-watching, great for lingering over a carafe of draft rose or one of the simple, seasonal house cocktails. —K.J.B. 
6. Prime Meats
465 Court St., at Luquer St.; 718-254-0327
Prime Meats proves that the aforementioned Franks can do German as well as Italian. The interior is an homage to a turn-of-the-century inn, with lots of dark, heavy wood, brick walls, and elegant light fixtures casting a moody glow. Servers and bartenders are mustachioed and be-vested, and though it all feels a little 2006, no matter — the food is timeless. Sweet, plump housemade Weisswurst comes in a steaming tureen of boiling water, with mustard and a perfect pretzel roll. The pork schnitzel is as crispy as can be, and the burger is the neighborhood's best if you crave the oversize, fancy variety: a half-pound of rich, tangy Creekstone-certified Black Angus layered with melty Gruyère, Grafton Cheddar, or Maytag blue cheese on a squishy sesame bun and served with a pile of hand-cut fries. —H.G.
7. Battersby
255 Smith St., nr. Degraw St.; 718-852-8321
Long gone are the days when people waited three hours to eat Battersby's revolutionary kale salad; long gone are the days when kale salad seemed remotely revolutionary. Though the buzz over Battersby has died down, the restaurant remains deeply impressive, quietly churning out surprising seasonal dishes from what can barely be called a kitchen; it's more of an area in the back of the tiny dining room. In good weather, the sliver of the back garden is a perfect place to splurge on what they call their "spontaneous tasting menu," $75, featuring dishes like clam ceviche with lime and chile, and delicate ricotta tortellini nestled with asparagus and ramps in a shimmery vegetable broth. And even going à la carte ensures you a palate-cleanser shot of a rotating puréed soup or consommé, plus a complimentary slab of pillowy rosemary focaccia with whipped ricotta, a thrill in the era of the $12 bread plate. —H.G.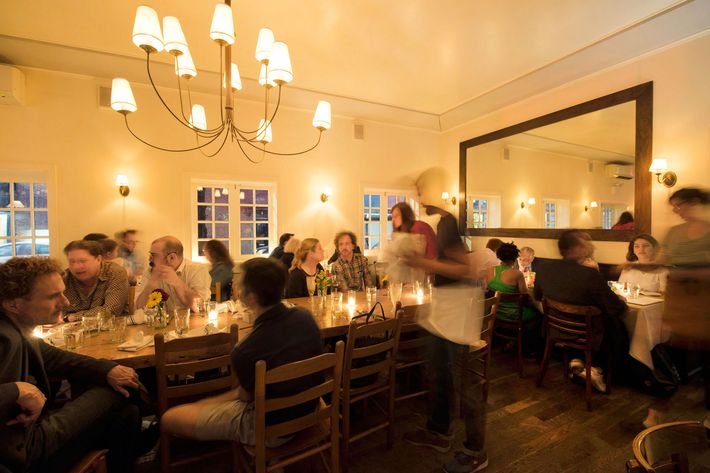 8. Buttermilk Channel
524 Court St., at Huntington St.; 718-852-8490
This New American restaurant has been drawing crowds to a quiet corner at the south end of Carroll Gardens since 2008. Its success seems due to the strategic balance it's struck to please the widest possible neighborhood demographic: an upscale menu that's refined enough for special occasions and a welcoming dining room that feels family-friendly and casual enough for a weeknight drop-in. The offerings are best summed up as comfort food with premium execution: Mussels are served steamed in a savory broth of beer, green olives, and garlic, with crusty grilled bread to sop up the excess. The fantastic fried chicken is juicy inside, with a thick, crisp breading, and comes served atop half a fluffy buttermilk waffle and alongside refreshingly vinegary Savoy cabbage slaw. The menu is spotted with nods to the neighborhood, with fresh linguini from Caputo's on the Monday night prix fixe and hot sausage from Esposito's in a scramble at the super-popular weekend brunch. And if you can manage another bite after your entrée, the decadent desserts, like a rum-spiked banana pudding topped with a handful of caramel popcorn, are definitely worth your time. —K.J.B.
9. La Slowteria
548 Court St., nr. W. 9th St.; 917-909-1231
On a rather unassuming block near the end of Court Street, chef Hugo Orozco's Tulum-inspired restaurant stands out for multiple reasons. The first is its bright, beachy turquoise exterior: Step inside and you'll discover a sunny, white-walled dining room and a tranquil, covered backyard (a rarity in this outdoor seating-deprived area). But the food is the true standout: from the made-to-order tortillas to the homemade hot sauces, everything on the menu embodies the thoughtful, slow food ethos implied by the name. After a brief closure in the winter of 2017, the restaurant reopened with a new menu that's almost equally split between snack-size botanas, tacos, and taquitos. Tacos start with those marvelous tortillas, a marbled mix of blue and white corn studded with sesame seeds, and are served piled high with fillings like a mix of tender, grilled Long Island squid, roasted corn, and Serrano aïoli, or bright homemade chorizo mingled with chunks of roasted potato and Brussels sprouts. Taquitos are open-faced mini-tacos, not the rolled-and-fried bites some might expect. Go for the carnitas, which have a moist interior but delightfully crispy edges, the richness cut by pickled red onions, cilantro, and radish. There's a thorough list of tequilas and mezcals, and the bar keeps the frothy, fresh-fruit margaritas flowing. —K.J.B. 
10. Madcap Cafe
387 Court St., nr. 1st Pl.; 929-337-6117
At first glance, the menu at this all-day café doesn't have any particular theme or through line. But dive in and you discover that everything, even the simplest dishes, is just a little bit better than you ever would have expected. (Chef Heather Fuller has a fine-dining background, with stints at Per Se and Momofuku Ko, so the attention to detail should come as no surprise.) Things start right at breakfast and brunch, with sticky homemade cinnamon rolls and biscuits and gravy. The highlight may be their take on a BEC: perfectly scrambled cheesy eggs and thick-cut bacon, topped with a sprinkle of chives and rolled up in a slightly flaky homemade flatbread. That flatbread reappears throughout the day, like in a sandwich of dark-meat chicken in a coconut-turmeric marinade, topped with fresh tomato, cucumbers, and onion. In the evening, you can go virtuous, with the "veggie nachos," a deconstructed crudités plate, or a salad of kale, golden raisins, and sunflower seeds in a killer tahini dressing. Or get decadent, with a patty-melt style burger or the creamy, cheesy baked pasta (a favorite of the Underground Gourmet). Once you've finished your meal, the friendly service and a small, creative list of cocktails, wine, and beer encourages you to stay awhile. —K.J.B. 
11. F.O.B.
271 Smith St., nr. Degraw St.; 718-852-8994
The dining room at this Filipino barbecue restaurant feels more like a living room, with shelves of knickknacks and old framed photos along the walls. And appropriately, the food feels like grade-A home cooking, even for those unfamiliar with Filipino cuisine. The menu covers all the signature dishes, with skewers of barbecued pork or chicken and plates of chicken adobo and inasal. The adobo is marinated overnight and almost falls off the bone, barely requiring a fork. Get it with a side of the fragrant garlic rice to sop up the deep, savory sauce. (It can also be ordered "southern style" for some added heat.) An appetizer of peel-and-eat shrimp in a salty-sweet garlic–butter–7 Up glaze is a must-order. The excellent laing, a dish of greens braised in coconut milk and shrimp paste, is made with kale instead of the traditional taro leaves. And to round things out, consider one of the layered fruit shakes studded with tapioca or coconut pearls, like the slightly sweet, but earthy, ube and taro. —K.J.B. 
12. La Cigogne
215 Union St., nr. Henry St.; 718-858-5641
In an area with no shortage of French bistros, La Cigogne distinguishes itself by focusing on the German-inflected cuisine of the Alsace region, along with brasserie standards like steak-frites, onion soup, and niçoise salad. Heaping pots of mussels arrive with a small bucket of fries, in preparations that include a delicious take on the classic tarragon and white wine mariniere. The chèvre tarte flambé comes topped with the irresistible trio of goat cheese, bacon, and honey. Creamy bowls of spaetzle are mixed with sauces ranging from duck ragù to curry with peas and raisins. The dark-walled and exposed-brick dining room is welcoming and casual, and the somewhat remote location means you can usually just walk right in without a wait. (Though note that the bar is a popular spot for folks killing time until their tables at Lucali open up.) —K.J.B. 
13. Gersi
316 Court St., nr. Sackett St.; 347-889-5077
A relative newcomer to the neighborhood's array of Italian restaurants, Gersi has found its niche by serving an unfussy and inexpensive Northern Italian menu with a seasonal and local bent. All the pastas, from the tagliatelle Bolognese to the black linguine with calamari, are homemade. The spaghetti al limone is super simple and just about perfect, the lemon and Parmigiano-Reggiano blending seamlessly into a tart and creamy sauce. A thick slice of bruschetta comes smeared with a healthy layer of sweet roasted garlic. The black-kale panzanella is loaded with big chunks of tomato and torn hunks of rustic bread. The narrow, exposed-brick dining room is dotted with charming accents like small chandeliers and a marble bar. And if you luck out, you can dine on the lovely back patio. But be sure to hit the ATM before you go: It's cash-only here. —K.J.B. 
14. Enoteca on Court
347 Court St., nr. Union St.; 718.243.1000
A more casual spinoff of the neighboring red-sauce mainstay Marco Polo, Enoteca on Court serves brick-oven pizzas and Italian small plates. That massive wood-burning oven dominates the middle portion of the dining room, where you can watch the pizzaioli at work. Pizzas come out with thin crusts that have just the right amount of char and aren't over-weighted with toppings. The well-composed Pugliese balances fennel and garlic-spiced sausage, bitter broccoli rabe, red onions rendered slightly sweet from the oven, and salty fresh mozzarella. That brick oven also gets put to work on dishes like baked ziti, chicken spiedini, and arancini in a cacio e pepe–inspired Pecorino-black-pepper sauce. A selection of cheese plates, salumi, salads, calzone, and panini round out the menu. This being an enoteca, you may want some wine with your meal: The list is (fittingly) mostly Italian, with plenty of options available by the glass. —K.J.B. 
15. White Maize
277 Smith St., nr. Sackett St.; 347-946-2493
This casual, counter-service spot serves serious arepas: side-split corn cakes with crisp exteriors, overstuffed with meats, cheeses, beans, plantains, and more. The excellent pabellón mixes spicy pulled beef, black beans, and fresh cheese (a vegetarian version swaps out the beef for avocado). The chorizo pairs hunks of Spanish-style sausage with strips of nutty, fried white cheese. Many of the arepa fillings are also available as a rice or quinoa bowl, and there's a small appetizer menu, including tostones two ways and tequeños, the Venezuelan fried cheese sticks. Whatever you choose, drizzle it with one of the top-notch house hot sauces (one green chile, one avocado-based). There's no liquor license, but the homemade raw-sugar limeade is a worthy accompaniment to your meal. —K.J.B. 
16. Za-Ya Ramen
545 Court St., nr. Hamilton Ave.; 347-987-4103
Hidden away, almost under the BQE, this little noodle shop is on a stretch of Court with minimal foot traffic. But it's worth seeking out for the house specialty, gyukotsu ramen. It's made with a rich beef-bone broth base, tender bits of braised beef, Sun Noodle company noodles that have just the right amount of bite, arriving in a ceramic bowl engraved with the restaurant's name. It's a rich dish, but the topping of scallions, sweet onions, and fried garlic helps cut through it. There are also a variety of chicken-based (shoyu and miso) and vegetarian broths on offer. In non-noodle options, the chicken karaage, juicy chunks of boneless fried chicken served with spicy mayo, is an excellent starter, and to drink, you can choose from about ten cold and hot sakes, a few wines by the glass or bottle, and a handful of local beers, including from Other Half Brewery around the corner. —K.J.B.  
17. Avlee
349 Smith St., nr. Carroll St.; 718.855.5125
The cooking at this homey Greek restaurant is hearty, without getting heavy, and the incredibly wide-ranging menu ensures that there's something for pretty much any taste (which is probably why this place is so popular with families). Fluffy pitas are served hot, ready for dipping into the tzatziki, which is light and flavored with just the right amount of dill. Lamb souvlaki arrives with a well-grilled exterior and juicy interior. Avgolemono, one of the world's great comfort foods, is done properly, bright with lemon, almost creamy from the egg. And while Avlee seems to do a brisk business in takeout and delivery, the sunny, brick-walled dining room is a pleasant place for a leisurely weeknight meal. —K.J.B. 
18. Fragole
394 Court St., nr. Carroll St.; 718-522-7133
Fragole isn't the place you take out-of-town guests to wow them, but it is the place you take yourself for really good home cooking when you don't feel like cooking at home. The Italian menu is simple, affordable, and pasta-focused, but everything is executed precisely: nothing over-sauced, over-cheesed, or overdone. The homemade pappardelle is cooked al dente and tossed with a slightly sweet short-rib ragù, while the beef lasagna comes out piping hot in a mini-cast-iron-skillet. A straightforward salad of mixed greens, grilled peppers, and artichoke hearts distinguishes itself thanks to the obvious freshness of the mozzarella. The dining room is roomy enough to handle groups and there's rarely a wait, so Fragole is always ready for a just-can't-cook-tonight walk-in. —K.J.B.