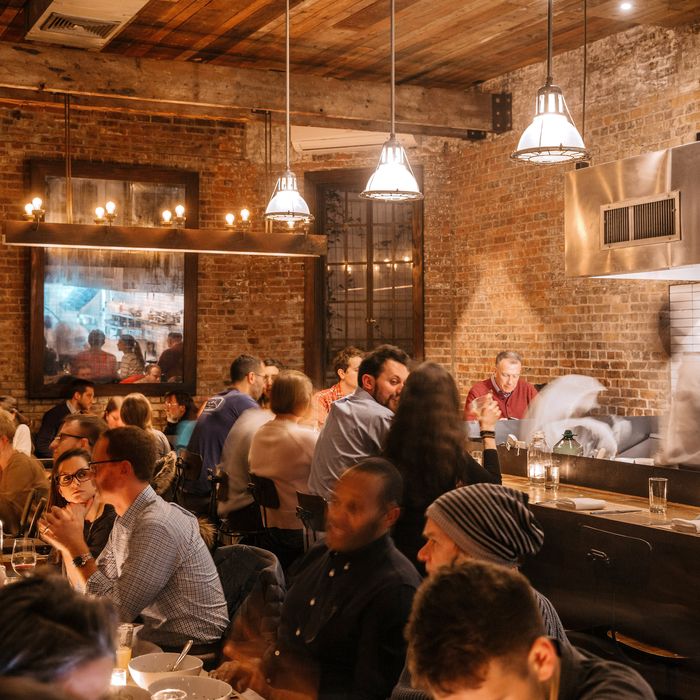 Colonie is an excellent new(ish) addition to the dining scene.
Photo: Scott Heins
As one of the city's most desirable neighborhoods, it's no surprise that Brooklyn Heights is full of welcoming neighborhood restaurants. The area, spanning from Atlantic Avenue on the south to Old Fulton Street on the north, and from Court Street on the east to the East River waterfront on the west, is dotted with cozy spots serving comforting, family-friendly fare. And while the favorites at the neighborhood's northern end generally stick to tried-and-true menus of American or Italian food, bits of culinary experimentation are beginning to pop up in the newer restaurants along the Atlantic Avenue border. Here, the best restaurants in Brooklyn Heights.
1. Colonie
127 Atlantic Ave., nr. Henry St.; 718-855-7500
A relative newcomer to the Brooklyn Heights dining scene (it opened in 2011, but this is a neighborhood where many restaurants haven't budged since the last century), Colonie serves a seasonal, often local, American menu with Italian influences that allows simple vegetable dishes, homemade pastas, and fresh seafood to shine. (Try the excellent fazzoletti, which showcases the latter two, mixing sheets of fresh pasta with bits of blue crab and burrata, and heat from serrano chiles to keep it from feeling heavy.) On the drinks side, there's the requisite trifecta of natural wines, local beers, and creative house cocktails, all of which are well-curated. The space is lovely and relaxing, with brick walls, dark plank ceilings, large front windows overlooking the sleepy end of Atlantic Avenue, and a leafy garden wall in the area dividing the front bar from the dining room and open kitchen. The net effect is interesting enough to keep the area's young professional crowd coming back, and inviting enough to fit into the neighborhood landscape for years to come.
2. Beasts & Bottles
151 Atlantic Ave., nr. Clinton St.; 718-855-3158
From the team behind nearby Atrium in Dumbo, Beasts & Bottles excels in both of its eponymous domains, serving succulent roast chicken and offering a book-length wine list. The restaurant's owners are from Provence, which explains the delicious chicken Provençale (served with crispy potatoes and soft-roasted cherry tomatoes and shallots), one of several varieties of free-range bird made in the in-house rotisserie. The menu also includes steaks, fish, and vegetarian-friendly pastas and sides, like the broccoli rabe topped with an unlikely but delicious mix of miso butter, manchego, and sourdough breadcrumbs. As for the "bottles," the 35-page wine list was created by one of the partners who's also a master sommelier. The majority of the wines are French, and a significant number are reasonably priced (under $75 or so), though there's a handful of rare bottles topping the $600 mark for big spenders looking to indulge.
3. Jack the Horse Tavern
66 Hicks St., at Cranberry St.; 718-852-5084
Jack the Horse opened in 2008, but it feels so quintessentially Brooklyn Heights that it seems like it could have been operating on its picturesque corner for decades. More upscale than the name implies, the compact menu is composed of American fare like roasted free-range chicken with garlic-chive mashed potatoes, a dressed-up cheeseburger with Gruyère on toasted focaccia, mac and cheese made with smoked Gouda and fontina, and heaping bowls of Maine mussels. (The restaurant's owners also operate a next-door oyster bar, so there are always plenty of fresh bivalves on offer here, as well.) Everything's well-executed, the service is attentive, and the tin-ceilinged space is welcoming. And on weekends, crowds line up for plates of buttermilk pancakes and pork hash at the super-popular brunch.
4. Boutros
185 Atlantic Ave., nr. Clinton St.; 718-403-0055
Situated on Atlantic Avenue's stretch of long-standing Middle Eastern restaurants, new kid on the block Boutros serves a creative, modern interpretation of the region's cuisine. The menu is built for sharing, with plenty of meze (bulgur fried rice with soujouk, roasted-beet hummus), skewers of grilled meats and Halloumi (try the chicken, served juicy and well-spiced with harissa), and vegetable dishes (roasted cauliflower served with a smear of garlicky tahini and a sprinkle of pomegranate seeds and pine nuts), alongside entrées like duck with freekeh and favas and Lebanese-spiced bavette with shishitos. The dining room is sleek and dimly lit, with some warm touches from the bright, patterned tile floor, an assortment of plants and greenery, and a small open kitchen at the very back.
5. Henry's End
44 Henry St., nr. Cranberry St.; 718-834-1776
Open since 1973, Henry's End has settled into a comfortable, perfect-place-for-visiting-parents, neighborhood institution status. The narrow room feels a bit cramped when the restaurant is full, but the minuscule open kitchen turns out an impressive array of dishes. The menu is heavy on meats, like juicy duckling slathered in a honey-soy glaze or walnut-crusted chicken breast, with some retro dishes that sound straight out of a mid-century dinner party (steak Diane, three types of veal scaloppine). Each fall, the annual "wild game festival" offers a rotating menu of seasonal specials, where you might find elk chops in sour cherry sauce or rigatoni with emu ragù. And while this is clearly not an ideal destination for those who don't eat meat, the seasonal starter salads are quite nice and there are always several preparations of tuna and salmon on offer.
6. Chez Moi
135 Atlantic Ave., nr. Henry St.; 347-227-8337
This cozy Atlantic Avenue bistro is as homey as the name implies and serves up satisfying plates of classic French food. The menu primarily hews to simple, well-prepared standards, like steak frites with a nice peppercorn sauce, mussels prepared five ways (the mariniere is always a good bet), appropriately gooey croque monsieurs, and foie gras torchons. And the thorough house cocktail list and weekday dollar-oyster happy hour also make this a great option for an after-work drink. After your meal, linger awhile over some crème brûlée or chocolate mousse, or head downstairs to the owners' basement bar Boudoir for some live music and a French 75.
7. River Deli
32 Joralemon St., at Columbia Pl.; 718-254-9200
Considering its location at the charming corner of two cobblestone streets near the western end of Brooklyn Heights, walking into River Deli can feel like discovering a hidden gem (even if the crowd inside makes it immediately clear that this place is no secret). Don't expect a delicatessen, here — the name is a remnant from the space's previous tenant and the food is now Italian, specifically rustic Sardinian cuisine. Try the malloreddus Sardi alla campidanese, a hearty dish of ridged pasta shells and marble-size balls of sausage in tomato sauce, topped with pecorino, or a plate of homemade pappardelle with mushrooms and parm. To drink, the bar turns out plenty of classic cocktails, alongside a small selection of amari and a list of all-Italian wines. And note that this is a cash-only holdout, although there is an ATM on-site.
8. Pilot and Fornino at Pier 6
Brooklyn Bridge Park
As the recreational facilities at Brooklyn Bridge Park get better and better, so does the food. There are a handful of options scattered throughout the park, but the two highlights are Pilot, an oyster bar on a nearly 100-year-old wooden schooner from the owners of Tribeca's Grand Banks, and an outpost of Williamsburg Neapolitan pizza favorite Fornino (both are open seasonally). Pilot has the same setup that made Grand Banks an instant sensation, with a killer vantage point of lower Manhattan and the harbor and a menu of creative cocktails, elegant seafood, and a variety of raw oysters. Fornino has a two-level space — the lower one is generally bustling with families bringing their kids over from the adjacent playground for a margherita pie or some Blue Marble soft serve. The rooftop seating area is a bit more relaxed, great for taking in the view and digging into some thin-crust spicy sausage pizza alongside a cold Brooklyn Summer Ale.
9. Luzzo's BK
145 Atlantic Ave., nr. Henry St.; 718-855-6400
Brooklyn Heights is a neighborhood with no shortage of thin-crust, wood-fired pizza places, and Luzzo's ranks among the best. The sauce is tangy, the mozzarella is high-quality, and the crusts are a tiny bit thicker than your typical Neapolitan pie's, giving them a nice chew without any over-charred spots or cracker-y finish. (It also helps prevent the dreaded collapse of a thin-crust slice that can't support the weight of its toppings.) In addition to the approximately 20 types of pizza on offer, there's also spaghetti pomodoro, calamari, arancini, plus salads, antipasti, and pastas. The casual dining room has brick walls, dark wood floors, and a partially open kitchen that puts that wood-fired oven on display.
10. Kogane
76 Henry St., nr. Orange St.; 718-875-2828
This small, unassuming noodle bar at the northern end of the Heights serves impressive ramen and a small menu of Japanese favorites. Ramen arrives steaming in oversized ceramic bowls with big wooden spoons: The excellent red tonkotsu variety has a spicy, deeply flavored pork broth, soft strips of pork belly, and noodles that retain a bit of bite, topped with bamboo shoots, mushrooms, scallions, and a soft-boiled egg. Wash it down with a draft Sapporo or one of the six sakes on offer. The ramen servings are plentiful, but if you're ravenous, you can start your meal with edamame, pork or veggie gyoza, or miso-glazed eggplant, among other small plates.
11. Noodle Pudding
38 Henry St., nr. Middagh St.; 718-625-3737
A neighborhood standby since the mid-'90s, Noodle Pudding is so beloved that it can forgo 21st-century formalities like having a website, a social-media presence, or even a sign outside, while also being resolutely cash-only (the menu announces in inch-high letters that they "proudly don't take cards"), and still draw in a crowd every night. The focus is on unfussy, New York-style Italian comfort food: heaping plates of lasagna bolognese, pappardelle with rabbit ragù, and braised short ribs with polenta. Service is quick and friendly, and every other patron that walks in seems to be a regular. Just remember to hit the ATM before you go.
12. Table 87
897 Atlantic Ave., nr. Hicks St.; 718-797-9300
Table 87 now has two more locations (plus a Shark Tank-backed line of frozen pizzas), but the tiny original shop is still turning out excellent thin-crust pies at the western end of Atlantic Avenue. The front area sells slices to-go (Table 87 proudly proclaims that it's the only pizzeria offering coal-oven slices in Brooklyn); work your way to the back and there's a small dining room where you can order full pies, along with calzones, panini, and pastas. You can't go wrong with the margherita, which has a great balance of sauce, mozzarella, and basil. And when your pizza arrives, it will be accompanied by massive jars of their two signature homemade condiments: garlic roasted soft and sweet in the coal oven and thin slices of hot red chilis in oil, both of which are worth piling on with abandon.