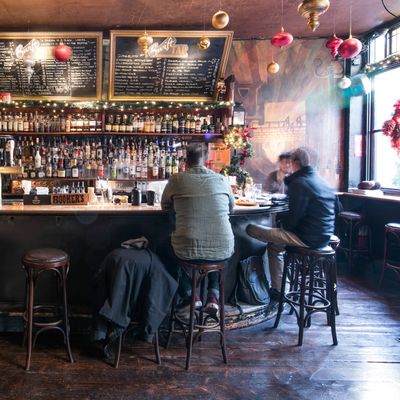 Swift Hibernian Lounge.
Photo: Melissa Hom
What makes an excellent pub? For that matter: What qualifies as a pub, even? Our whiskey-fueled research led us to a few pub signifiers: bars that served food like burgers, fried fish, and French fries with curry sauce; that had walls and bar tops and bathroom sinks that were stuck with various unions' logo stickers; that boasted regulars who all knew each other, and they all knew the bartenders; and where you were allowed to hang out and drink cheaply, relatively unbothered, for as long as you liked. (And while we don't think it's an automatic qualifier, being British or Irish doesn't hurt.) The 25 listed below, the absolute best pubs in New York, excelled in these categories.
1. Swift Hibernian Lounge
34 E. 4th St., nr. Bowery; 212-260-3600
Grouchy Scrooge types might call this place a bit Disney-ish. Well, if Disney-ish means it's well-maintained, then yes, it's Disney-ish, but the 21-year-old bar has character in spades. It's named for the Irish writer Jonathan Swift; scenes from his work are depicted in murals on the wall. There's a large back room with picnic-table-like seating, and a front room with plenty of barstools and, happily, no televisions to distract your drinking companions. It's a favorite of bartenders across the city, in part thanks to its reliable 4 a.m. close time, even on Christmas Day. The wooden floors are uneven and run charmingly ragged, and invariably when you take a place at the bar you'll be seated next to a group like a trio of young Irish men discussing how they can't remember when they left the bar the night before. There are plenty of tourists, but the bar's community bona fides are strong; up front, for instance, is a plaque honoring 9/11 firefighters. The food's excellent — order the fries with curry sauce — and the booze is priced in line with the area. (Plus, the beer list is long and varied, even for this craft-crazy city. Budweiser is $5.50; Achel Bruin is $1o.) But what you want is a Guinness; those particular about how that stout is poured flock here for glasses. In sum: Swift's a perfect place to end the night, even if you began it there.
2. Cronin and Phelan's
38-14 Broadway, Astoria; 718-545-8999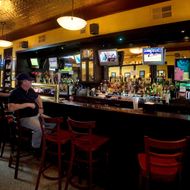 Cronin and Phelan's is a bit like the sitcom version of a pub: an older crowd, mostly men, who sit around discussing their daughters' boyfriends and their various problems with the young men and the times they return their daughters home after dates; wives drop in occasionally to say hello or pick their charges up for dinner at home. In the background is the hum of 16 TVs — 17 if you count the one showing just the Quick Draw numbers — offering football, Judge Judy, the local news. Those who haven't been summoned to nearby houses can eat better-than-average burgers; staffers will check in on even strangers in a familial way, putting a hand on your shoulder to ask how your supper is.
3. Hartley's
14 Putnam Ave., nr. Grand Ave., Clinton Hill; 347-799-2877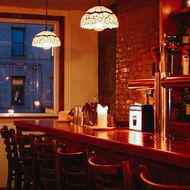 Those who question whether you can build a pub and quickly give it character — instead of letting its regulars and staff and age shape it over the years — should pay a visit to tiny, year-old Hartley's, where a crew of regulars have already settled in. Sit at one of the tables for two pushed against wooden church-pew seating for a dinner of Irish soda bread and mussels with Guinness broth, or post up at the bar at a stool under a stained-glass lamp and ask for a cocktail like the Mr. Hartley, made with Tullamore Dew Irish whiskey; ask the convivial bar staff to borrow one of the books behind the bar, like The Most Beautiful Villages of Ireland.
4. The Irish Rover
37-18 28th Ave., Astoria; 718-278-9372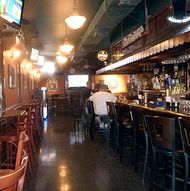 Maybe not the "best" Irish pub, or the pub with the prettiest carved-oak back bar, or the pub with the best pour of Guinness, but Irish Rover is a fantastic bargoer's bar, and the Astoria denizens who frequent it (teachers, construction workers, horse-racing fans) are loyal to no end. Collages of photographs of the bar's family and adopted family — at Irish-American softball-league games, for instance — line the walls; a Manchester United sign is also up there. There are a few TVs, a dart board in back, and grumbled mentions about the point spread of the Sunday NFL games. A regular might stop by for ten minutes just to say hello to everyone and drink a water.
5. Duffy's Tavern
650 Forest Ave., West Brighton, Staten Island; 718-447-9276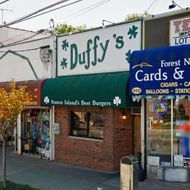 Staten Island's more famous "pub" — Lee's Tavern — isn't nearly as well suited to that descriptor as is Duffy's. Duffy's is harder to reach without a car, meaning it's not really populated by tourists dropping in for an afternoon, like Lee's with its famous pizza is. Duffy's has an equally good food offering — an English-muffin burger — but it's more homey, more modest, more filled with men who get together at the bar every Sunday to watch football and share stories about their families' weeks. (Incidentally: If you're curious where New York's Trump voters might be drinking, well … ) The pretty little bar has Currier & Ives firemen paintings over the tables, and up front are locals' fliers and Light the Night cure-cancer-walk posters. Also serving as décor: beer-company signs and Coors Light mirrors and a wooden FDNY clock in the shape of a badge.
6. Nostrand Avenue Pub
658 Nostrand Ave., nr. Bergen St., Crown Heights ; 718-483-9699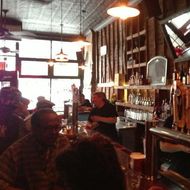 A newer entry (it opened in 2013), but already a favorite of the new locals who came along with it (ask any 20- or 30-something who lives in the area what their favorite bars are, and you are bound to hear Nostrand Avenue Pub mentioned). There's a nice backyard space where on summer days you can sip shandies; on winter nights stay inside for chai hot toddies. Lots of aspects of this bar are similarly sort of hipster-pub-updated: Where your standard Irish spot might have Guinness mirrors hung on the wall, Nostrand Avenue Pub has vintage beer trays from old beer companies like Ballantine's.
7. Woodwork
583 Vanderbilt Ave., at Dean St., Prospect Heights; 718-857-5777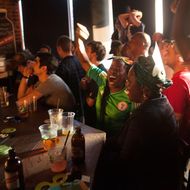 Soccer is the main attraction here — try finding a seat at 8 a.m. on a Saturday morning — but the bar has more to offer: a community of hard-core regulars, who you'll easily befriend over $6 beer-and-shots; a great food menu offering terrific mac and cheese and "snack bacon." This place leans more sporty than any other on the list, so it's maybe not an all-night spot, but if you're looking for somewhere to argue about Arsenal over pints of Newcastle, look no further.
8. 4th Avenue Pub
76 Fourth Ave., nr. Bergen St., Park Slope; 718-643-2273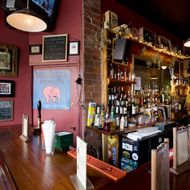 Curiously, this place is often a gathering
spot for sports fans (Rangers posters advertise beer-bucket specials during
games) — "curiously" because there are two postage-stamp-size televisions that sometimes crap out mid-game. Never mind, though, it's comfortable, and the bar has big wooden banquette tables in back perfect for groups, free popcorn (with a shaker of Old Bay beside it), and Christmas lights attached to the wall with duct tape.
9. Blind Tiger Ale House
281 Bleecker St., at Jones St.; 212-462-4682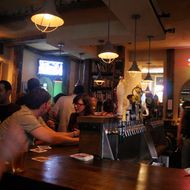 Twenty-one-year-old beer pioneer Blind Tiger is almost always crowded, but it's also almost always worth braving the crowds, particularly if you're a suds geek headed there for tap takeovers by 21st Amendment or Carton. It's particularly lovely in the winter: There's a fireplace and candlelight and, in keeping with current times, Edison bulbs above the bar, plus a food menu with dishes like baked potatoes and onion soups. Order your beer by number — there's a chalkboard list, updated throughout the evening as kegs kick and are swapped out — and if you're uncertain, don't be afraid to ask for help. This is a pub, after all: The staff's exceedingly kind.
10. Brooklyn Inn
148 Hoyt St., at Bergen St., Boerum Hill; 718-522-2525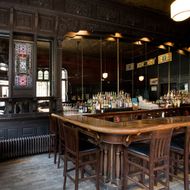 This multi-room bar's been kicking for more than a century; it shows in a pretty wooden bar, stained glass, worn wooden floors. That's in contrast to a crowd that can sometimes be a bit reflective of its current neighborhood (recent conversation topics among some grad-school types at the bar: the "political aesthetics of smoke"; "frenetic decision-making in rock climbing"; the CD jukebox on a November Sunday was programmed to play Vampire Weekend and Modest Mouse (The Lonesome Crowded West, obviously). But the prices are cheap, the space is full of dark spaces to hide in — including a little room off to the side of the main barroom with a few tables, a sweet nook for four opposite that, and a back room with the jukebox and a pool table.
11. Walker's
16 N. Moore St., at Varick St.; 212-941-0142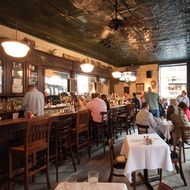 Walker's is one of these places with photographs of children and friends of the bar and its staff; the busy barroom and a back space are full of tables covered in paper tablecloths and jars of crayons on the tables. At lunch there's lots of professionals stopping in for the excellent hamburger (in the summer they sit out on Varick Street), but you're also welcome to just drink a Guinness. The tall ceilings are pressed-tin; the back bar boasts three large mirrors and gorgeous dark carved wood. For over a century, there's been a tavern in this space; the current family's owned it since the late 1980s. A last gasp of a grungier Tribeca.
12. Shamrock Inn
1729 Crosby Ave., Pelham Bay, the Bronx; 718-822-8889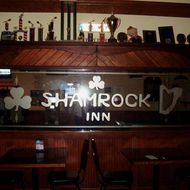 All of these bars have a familial vibe; the Shamrock feels like a veritable living room on Christmas Day, if your family was composed of, say, Bronx-dwelling union workers. Grab a seat, and order an Über-cheap pint, and within minutes your barstool neighbors will be inquiring about your love life, your work, how you ended up here. Try to leave after just one cocktail and you'll be scolded by one of the regulars: "But Dominic bought you a drink!" And, in all likelihood, the bartender will have. On a recent bustling afternoon, he had bought every seeming regular and friendly face in the place — that is, every person — an extra round.
13. McSorley's Old Ale House
15 E. 7th St., nr. Third Ave.; 212-473-9148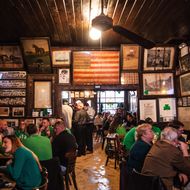 Specifically, McSorley's on a weekday afternoon, before crowds of tourists pour in to visit "the oldest bar in New York" (well, maybe). It's been kept much the same as it was when it was opened in the mid-1800s by the Irish immigrant "Old John" McSorley; you can even eat the same meal of cheese, crackers, and raw onions. Pair that with a light and a dark beer — $5.50 for two — and sit in the front table by the pay phone (pick it up when it rings). Such a good bar that it's a shame for New Yorkers to dismiss it as a place a local would never hang out.
14. O'Brien's Pub
28 E. Kingsbridge Rd., Bedford Park, the Bronx; 718-364-9492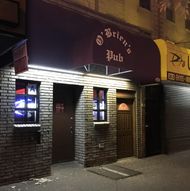 Here's a marker of a pub: It's not overly influenced by trends. And perhaps moreso than any other bar on this list, O'Brien's is decidedly untrendy, right down to the bottles of Midori Melon displayed on the back bar. The CD jukebox has a Rihanna album, but not the latest, next to a Roy Orbison CD. A map of Ireland hangs on the wall, and the bartender is friendlier than most any in New York; in back there's a pool table. It's downright refreshing, particularly if you've had enough Fernet and craft beer for a lifetime.
15. An Beal Bocht Cafe
445 W. 238th St., the Bronx; 718-884-7127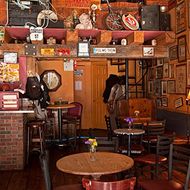 An Beal Bocht is often called the most authentic Irish pub in the city — and on its little street, the scene is always jovial, and grad students there to celebrate or just to listen to the live Irish music spill out onto sidewalk tables in nice weather. The bar has a thrown-together, endearingly rickety feel (a recent three-piece performed in front of decorative fireplace, a slightly leaking ceiling, and a wall filled with memorabilia like a framed copy of the Belfast Telegraph and old cigarette ads) and everyone comes in to say hello to the staff before ordering beers and fries with HP sauce.
16. Le Chéile
839 W. 181st St., nr. Cabrini Ave.; 212-740-3111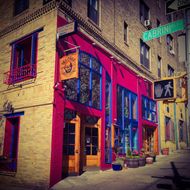 Locals appreciate the bustling, winding, charmingly chaotic Le Chéile for its late-night menu and good $7 pours of Guinness — some like it enough to buy the branded T-shirts the bar sells. The crowd's varied: young restaurant workers stopping by before returning home from their shifts; older, wealthy types in gowns, sipping martinis with twists after returning from galas downtown. Touches like stained glass above the exit gives the place a more antique feel than its five years do.
17. White Horse Tavern
25 Bridge St., nr. Whitehall St.; 212-668-9046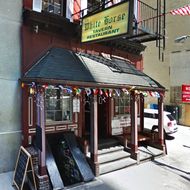 The White Horse in the West Village tends to get all the attention: But it would be a mistake to ignore the city's other White Horse (the ownership is unrelated). 1934-opened, the bar has several stories — the upstairs levels are often reserved for private parties; downstairs is a small open kitchen vending sandwiches and soup at lunch to nearby police-union or construction-site workers. The beer's $3 for a Budweiser, and big jugs of cheap Merlot line the bar. And it's a respite from most things hip in lower Manhattan: The bar was quiet on a recent Saturday evening, silent for stretches when no one plugged the jukebox with money or the bartender wasn't sharing stories from his native Ireland, or from his two decades behind the stick at the White Horse.
18. Paris Café
119 South St., at Peck Slip; 212-240-9797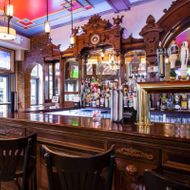 Paris Café's large, high-ceilinged space has been around in some form for 150 years; the hexagon-tile floors have seen some things: like an 11-foot flood of water courtesy of Hurricane Sandy (repairs took a year); and these days the expensive heels of bankers and less-expensive heels of city workers on lunch breaks (the former's might be boozy). The front room has televisions for Seaport locals to watch sports over bowls of chili and chicken wings; the location under the FDR by the old fish market mostly keeps out rowdy crowds. The place is especially great in the afternoon, thanks to plenty of tall windows up front.
19. The Double Windsor
210 Prospect Park W., at 16th St., Windsor Terrace; 347-725-3479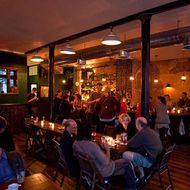 Loved for its excellent wings — pub signifier No. 1 here — Double Windsor also has a great beer list (No. 2), devoted fans (No. 3), and an especially comfortable, den-like vibe to it (No. 4), with long communal wooden tables and plaster-and-brick walls that give the seven-year-old bar a more aged feel (No. 5).
20. Hibernia
401 W. 50th St., nr. Ninth Ave.; 212-969-9703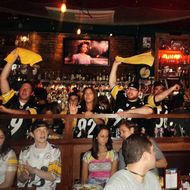 A few years ago, New York assessed this spot as "something akin to a 'neighborhood bar' Ikea display": It hadn't, we said, "quite grown into the vibe it's going for." That's changed these days, we think. The homey, easygoing bar's walls (and ceilings) remain plastered with memorabilia — like Manhattan Dart League plaques, and game-day rally towels — that leave barely a square inch of space for, say, Pittsburgh Steelers ticket stubs, though the legions of fans who pack the spot will probably try to add to the collection. But today it feels more lived-in and comfortable.
21. Peter McManus Cafe
152 Seventh Ave., at 19th St.; 212-929-9691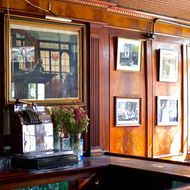 For being 85 years old — the bar opened in its current space in the '30s — and, it says, the oldest family-run bar in the city, Peter McManus tends to stay off the most-toured, historical-bars lists (Neir's, Pete's, etc.). Locals are grateful: That means they can still stop in for a burger and a beer. But it also means there hasn't been too much uproar about the threat of its lease struggles. Check it out soon if you've never been.
22. Suspenders
108 Greenwich St., nr. Carlisle St., second fl.; 212-732-5005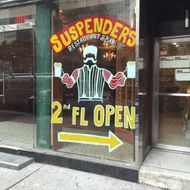 Suspenders moved locations recently and is proof that old stained glass, stunning carved-wood bars, and pretty tiles matter only so much: These haven't really been transferred to the new location. What was transferred was the owners' deep sense of hospitality, which makes this second-floor pub a second home for many Financial District workers.
23. Jalopy Tavern
317 Columbia St., nr. Hamilton Ave., Red Hook; 718-625-3214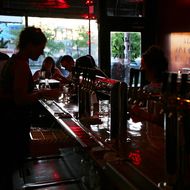 Many bars on this list offer live performances, but none is so entrenched in the music scene as Jalopy, which is attached to a ten-year-old theater and school of music, which means that drinkers often come into the bar with guitar cases strapped to their backs. They're bound to know most everyone already there, too — a sentiment felt in many Red Hook establishments.
24. Landmark Tavern
626 11th Ave., at 46th St.; 212-247-2562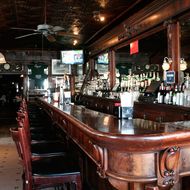 One hundred and fifty years old, almost, and still serving drinkers happily by the Hudson. The pressed-tin ceiling, tiled floors, and ornate bar give it an old feel; sports on the TV make it fit in the neighborhood; kind bartenders offer it that pub-friendly, okay-I'll-have-a-sixth-drink appeal. A place to make friends.
25. Marshall Stack
66 Rivington St., at Allen St.; 212-228-4667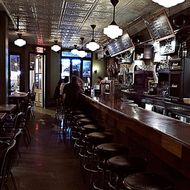 A music-themed beer-and-wine bar with excellent bar food (order the sloppy joes). Mostly filled with Lower East Side locals looking to escape the madness of Hell Square, as the NIMBYs call it: We think that sense of community is what makes it a great pub.