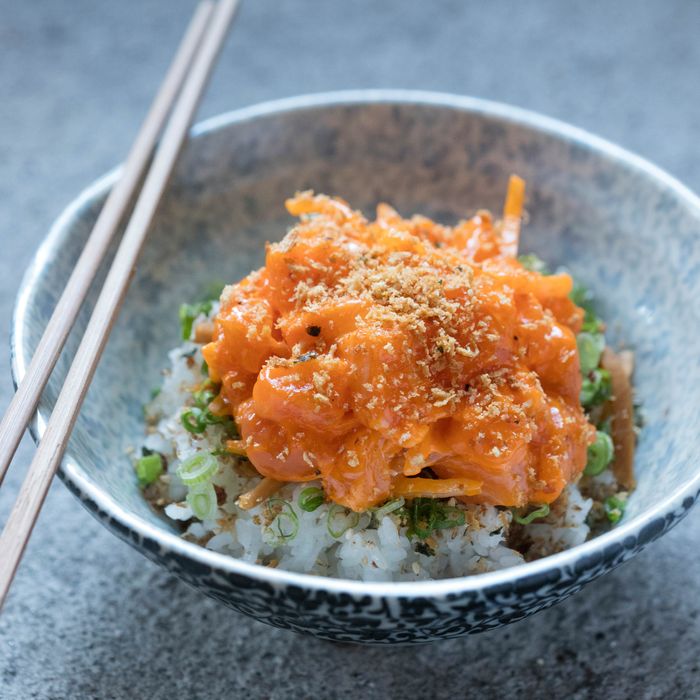 The salmon in Chikarashi's Sichuan-chile-spiced bowl is exceptionally fresh.
Photo: Melissa Hom
Poke, a dish traditionally made with fresh raw fish and toppings like onions and seaweed, has been popular in Hawaii for decades. But in the past year or so, the poke bowl's fandom in New York has exploded, and poke has moved from something you'd see once in a blue moon to the most popular "food concept" in the city. Credit the wellness movement, credit fast-casual obsession: Whatever's the cause, your options for tuna bowls with rice or spicy salmon and seaweed have never been greater. These days you can even have it at venues like the Tommy Bahama store-restaurant on Fifth Avenue, and served fireside atop tablecloths at One If by Land, Two If by Sea. Here are the best poke bowls in New York.
1. Chikarashi's Sichuan Chili Salmon Bowl
227 Canal St., nr. Baxter St.; 646-649-5965
Chikarashi makes the best poke bowl in New York for a number of reasons: The chefs — who previously worked at Neta — are using excellent (and sustainably sourced) fish, and the taste is just fresher than most of what you'll eat around town. The Scottish salmon in this bowl is particularly great, and coated in a light but spicy Sichuan-sansho mayonnaise, with bites of onion throughout. The menu blends Hawaiian poke with the ideas of Japanese chirashi bowls — chirashi translates to "scattered" and is a dish of fish, veggies, and rice. So don't be surprised by other Japanese ingredients, like daikon (flavored with shoyu) and furikake, the umami-boosting seasoning, on the warm, well-cooked rice. The bowl's topped with thinly sliced scallions, white sesame seeds, and a nice helping of katsuo (skipjack tuna) panko bread crumbs; try to get a bit of each in every fantastic bite.
2. Noreetuh's Big-Eye Tuna Poke
128 First Ave., nr. St. Marks Pl.; 646-892-3050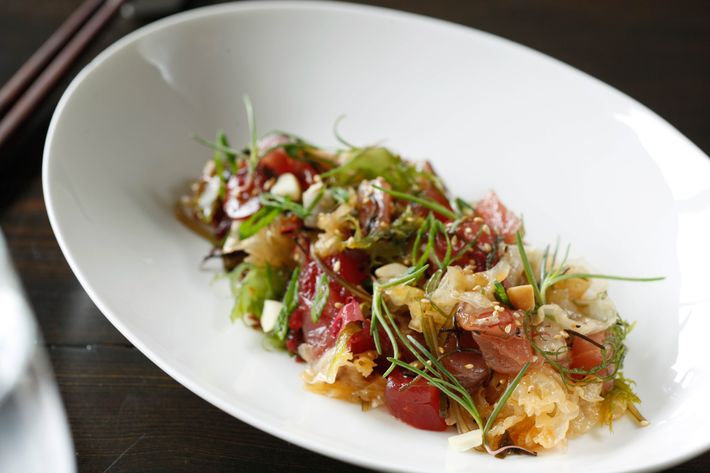 Yes, it's less of a standard bowl than the others — the poke's not served on rice, for instance, and there's no adding spicy mayonnaise, swapping tuna for salmon, or holding the crispy garlic. But that means this is probably the most considered creation on the list, and it shines for it. Chef Chung Chow strews squares of bigeye tuna with toasted macadamias, slices of jalapeño, bits of saltwort and red onion, and big squares of "real" Hawaiian seaweed (not the bright-green stuff you'll see most places — so you get salinity but not the rubbery crunch). Most interesting is the inclusion of silver ear, sometimes called "white jelly mushroom," a name that more accurately conveys its jumpy lightness. It's all dressed with soy and sesame oil, and it's downright delicious.
3. Sons of Thunder's Tuna-and-Salmon Bowl
204 E. 38th St., nr. Third Ave.; 646-863-2212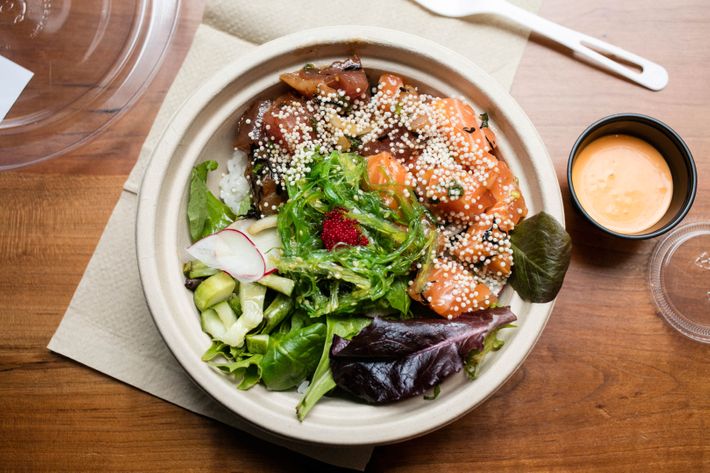 At the Shake Shack–reminiscent counter, choose the half-and-half bowl — ahi tuna and salmon — and get it "regular," or marinated in a shoyu sauce. The fish, plus sweet slices of onion, white sesame seeds, tiny circles of scallion, and crunchy garlic crispies (they're not chewy-sticky, like sliced fried garlic so often is) sit atop short-grain rice. If you're feeling indulgent, order a side of the spicy mayonnaise, for dipping, but the gingery, vinegary shoyu marinade is delicious on its own, and the airy, relaxed back room makes the bowl all the more pleasant.
4. 2nd City's Poke Me Bowl
525 Hudson St., nr. Charles St.; 917-639-3262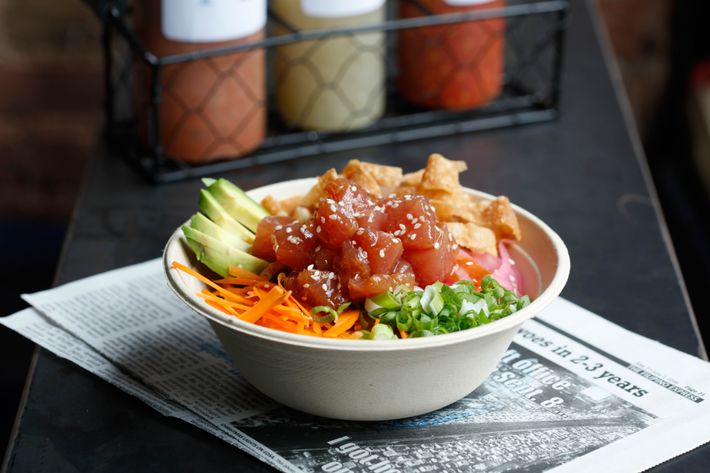 One of the problems with many average takeout poke bowls is that the fish and toppings sit atop, not mixed into, the rice, and as they're typically not warm, there's nothing to imbue the grain with flavor. (Not to mention, lesser poke spots will sometimes serve rice that's gluey, too.) 2nd City solves that problem by using excellently cooked coconut-flavored steamed rice. Arranged on top are little bites of sweet-miso-dressed tuna, slices of avocado, scallions cut on the bias, bright pickled red onion, and thin, crispy wonton strips. Pair it with the roasted tomato and jalapeño salsa if you want a mild kick.
5. Maui Onion's Spicy Tuna Bowl
35 W. 26th St., nr. Sixth Ave.; 212-377-5120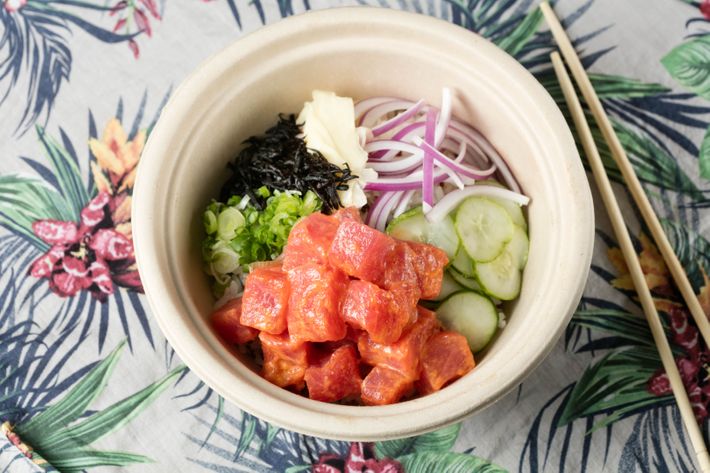 Pretty Maui Onion has both counter-style, create-your-own poke, plus a large seating area (many poke spots, like Sweetcatch, are takeout only). Get the Spicy Tuna bowl, with square chunks of fresh tuna coated in a mildly spicy orange mayonnaise. There's salty, soy-tasting hijiki, green seaweed, and raw red onion mixed with the tuna. Ask for Pringles-crispy garlic chips, pickled ginger, and bright, vinegary chayote-squash pickles.
Honorable Mentions
Dimes Deli's Poke Bowl
143 Division St., nr. Canal St.; 212-240-9410
The takeout branch of the enduringly trendy, health-conscious restaurant serves a great bowl with bites of jelly-candy-pink ahi tuna, pieces of mashed avocado, mango, and candylike cape gooseberries over a blend of brown and wild rices. Those gooseberries and a bright yuzu-chile dressing make it.
Maple's Salmon Poke Bowl
maple.com
The popular delivery-only lunch service recently added poke to its repertoire of prettily packaged meals: It comes with squares of pink salmon over a blend of grains (rice and quinoa, when we tried it), slices of daikon, cucumbers, and a delicious sesame-soy dressing, plus a side of spicy mayo for dipping. Not the best option, but a great, decently healthy, easy lunch choice.
Mighty Bowl's Poke Special
120 Macdougal St., nr. W. 3rd St.; 212-777-5750
There's "sashimi-grade" fresh-tasting tuna, drizzled with Japanese mayo and covered in crispy shallots. Also: tangy pickled carrots and white radish, matchstick carrots, and seaweed salad. Asking for a side of spicy gochujang improves the well-cooked but unflavored rice.
Seamore's' Tuna Poke
390 Broome St., at Mulberry St.; 212-730-6005
Sometimes, when on a wellness kick, or doing a one-month cleanse, you want your poke paired with zucchini noodles. And sometimes you want it with deliciously salty tortilla chips, like at Seamore's, where the white-sesame-coated, jalapeño-flecked, crispy-shallot-and-peanut-topped tuna comes mixed with avocado, dressed in ponzu, and served in a chip-and-dip bowl. (At the poke-and-soft-serve takeout window, you can swap the chips for rice.)
Simple Authentic Food's Salmon Bowl
109 Eldridge St., nr. Broome St.; 646-870-8292
Tiny cafe Simple offers a poke-bowl-centric menu with plenty of options, including ones you don't see often (like octopus or lump crabmeat). The classics are great, like the salmon coated in sweet miso and accompanied by fresh avocado, pickled ginger, and masago fish roe.
Sweetcatch's Spizy Yuzu Chile Bowl
642 Lexington Ave., nr. 54th St.; 212-593-1020
This midtown-east shop — which has plans to open two more midtown locations — comes from consulting chef Lee Anne Wong. The "chef's recommendation" is the spicy yuzu chile, which comes with the "catch of the day" (we had salmon) mixed with onions, cucumber, and mango — it's premixed, which allows the flavors to meld. There's also fresh, good pickled ginger, black and white sesame seeds, and slices of red chile.