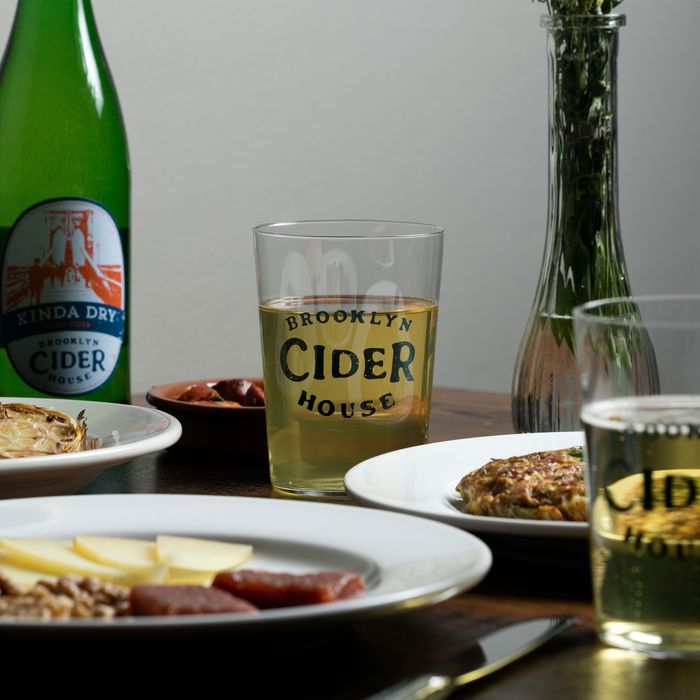 Brooklyn Cider House is a love letter to a venerable Basque tradition.
Photo: Melissa Hom
Press apples and you get sweet cider. Add yeast, and you'll make marvelously complex hard cider, an elegant beverage undergoing a ground-up renaissance with farmers and producers working together to create place-based ferments that rival anything derived from a grapevine. Consider it a return to form for a country where cider was once king, so societally ingrained that low-alcohol versions were served to kids. Apple-rich New York State has seen a surge in cider makers, with more than 75 manufacturers and growing. Though pioneering cider restaurant Wassail has closed, the city is increasingly home to a collection of restaurants and bars with a serious cider emphasis, the best of them offering a deep and diverse selection, fine accompanying food, and memorable settings and service. Here are the absolute best places to drink cider in New York.
1. Brooklyn Cider House
1100 Flushing Ave., nr. Varick Ave., Bushwick; 347-295-0308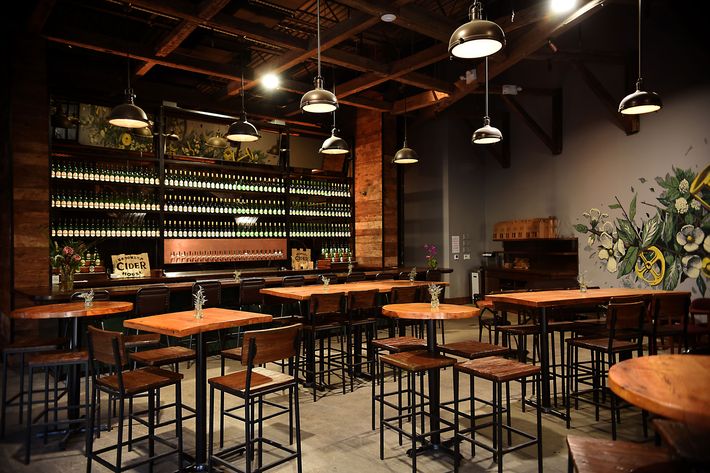 Northern Spain's mountainous Basque Country is famed for its traditional cider houses, where customers congregate for casual, communal meals (cod omelette, steak, cheese and nuts), each dish punctuated by visits to massive wooden barrels to sample the tart and funky sidra that cuts cleanly through the food's richness to cleanse palates for another course. It's an immersive drinking experience re-created, whole cloth, at Brooklyn Cider House. Sibling founders Peter and Susan Yi have turned a sprawling, 12,000-square-foot industrial space into a Basque love letter equipped with a trio of dining areas and abundant wood, including towering chestnut casks filled with the housemade cider featuring apples from Twin Star Orchards, the owners' upstate farm. You can bend elbows at the bar and sip through selections, including the gently carbonated Bone Dry and freshly fruity Kinda Dry. More fun is to sign up for a shared five-course feast — meat-free or meaty, including cider-braised chorizo — paired with a "catching": After each dish, you walk to the barrel room where guides open faucets and release high, arcing streams of cider that you "catch" in wide-mouthed glasses, aerating the liquid and enhancing its aroma and flavor. There are two certainties: You'll spill, and you'll have more fun drinking cider here than anywhere else this year.
2. Bad Seed Brooklyn
585 Franklin Ave., nr. Pacific St., Crown Heights; 718-975-0690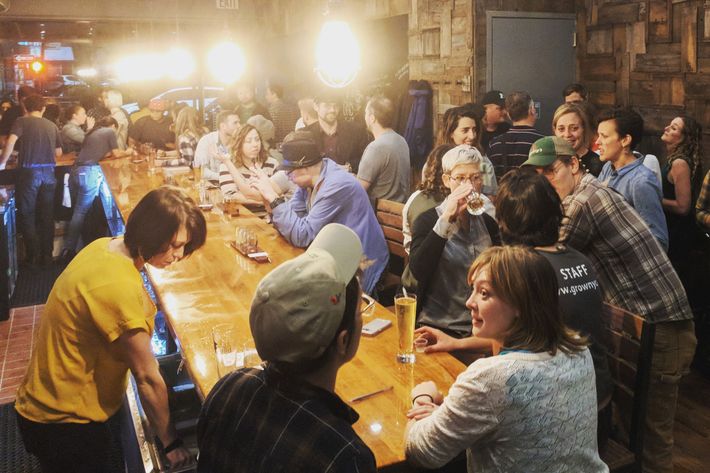 Albert Wilklow had apples, and lots of them. So in 2011, the sixth-generation farmer at his family's eponymous Hudson Valley orchard partnered with childhood pal Devin Britton, a brewing obsessive, to found Bad Seed Cider Company. Its ciders take deep inspiration from beer-brewing traditions, such as the tart Belgian Abbey Cider and I.P.C. — that is, India pale cider — fermented with ale yeast and finished with fragrant Cascade hops. They're served on tap in the warm, brick-and-wood tasting room that the pair opened this fall, along with small-batch releases aged in bourbon or cognac barrels (cans and bottles are also sold to go). For the apple-averse, there are up to eight draft beers from upstate breweries, including Sloop and Arrowood Farms, as well as wine from New York State vineyards.
3. Cardiff Giant
415 Myrtle Ave., nr. Clinton Ave., Clinton Hill; 929-337-7873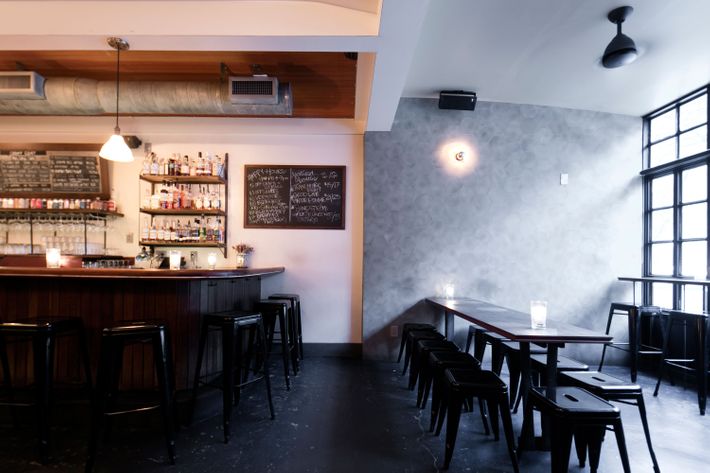 The 1869 hoax of the Cardiff Giant, a ten-foot-tall "petrified man" discovered upstate, serves as the namesake of this convivial bar singularly celebrating beer, wine, spirits, and cider produced in New York State. Within the tight focus, you'll discover a wide range of native ciders from such estimable producers as the Finger Lakes' Blackduck Cidery and Kite & String served on draft and by the glass. The bottle list is equally commendable, featuring the "foraged" ciders of Aaron Burr and homegrown offerings like the tropical and piney dry-hopped cider from Queens-based Descendant. Don't skip so-called "happy meals" such as the Stone Fence, a new-breed boilermaker combining a can of Rootstock cider with a shot of Black Dirt's applejack.
4. Covenhoven
730 Classon Ave., nr. Park Pl., Crown Heights; 718-483-9950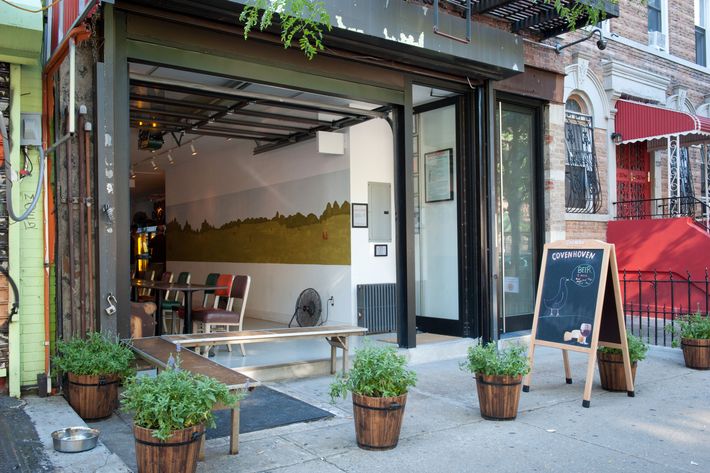 At this cozy mom-and-pop taproom and bottle shop — owners Molly Bradford and Bill Pace live upstairs — you'll find seasonal decorations, vibrant wall murals, a grassy landscaped backyard, and 16 drafts, including at least two dedicated to producers such as Austin's Argus Cidery and the Hudson Valley's tradition-flouting Graft, which focuses on wild ferments and beer-influenced formulations. Neither float your boat? No worries. Covenhoven features two full fridges dedicated to several dozen canned and bottled ciders, available to go or, for a small corkage free, to consume on premise. Grab a baguette and some self-serve charcuterie and cheese, particularly Crown Finish Caves' rich and buttery Gatekeeper, and hunker down for the long haul.
5. Ha's Chinese
40-17 Broadway, Astoria; 718-777-0913
At their Queens Kickshaw reboot, Ben Sandler and Jennifer Lim swapped grilled cheese and coffee for Sichuan-influenced vegetarian fare, but they kept one constant: a killer selection of New York State–focused cider. On draft, there's Descendant's semi-dry Succession cider, a fine accomplice to fiery mapo tofu or dan dan–style crispy potatoes, as well as bottles from small, farm-based producers such as East Hollow, which crafts ciders from wild and heirloom apples.
Honorable Mentions
Gramercy Tavern
42 E. 20th St., nr. Park Ave. S.; 212-477-0777
Danny Meyer nails every minute detail at his Michelin-starred gastronomic temple, right down to its rigorously curated cider selection. The list runs from traditional dry Spanish cider to modern examples such as Citizen Cider's rosé-inspired Brosé, to which blueberries lend the pink tint.
Hearth
403 E. 12th St., at First Ave.; 646-602-1300
Founded in 2003, Marco Canora's farmers' market–focused East Village institution remains as vital as ever, comfortably evolving in sync with modern tastes, from seaweed broth to spatchcocked chicken. Fun-drinking ciders include Eric Bordelet's fizzy Poiré Authentique, made from pears in Normandy, France, and Graft's canned Farm Flor, gone earthy and rustic thanks to wild yeast.
Huertas
107 First Ave., nr. 6th St.; 212-228-4490
The lively East Village restaurant pairs northern Spain's Basque cuisine (goat-and-pork chorizo, tinned mackerel) with a drinks list weighted toward sherry, vermouth, and cider. Stick to the Basque script with the bracingly acidic Isastegi Sagardo, or try Huertas's house cider created in conjunction with Vermont's Shacksbury.
Murray's Cheese Bar
264 Bleecker St., nr. Cornelia St.; 646-476-8882
Visit the legendary cheese shop's spinoff restaurant for gooey fondue and fried burrata paired with regional ciders such as Graft's cuttingly sour Farm Flor.
The Owl Farm
297 9th St., nr. Fifth Ave., Park Slope; 718-499-4988
You'll find plenty of pinball, local beer, and cider at the dark and stark neighborhood dive from the Cardiff Giant crew. (The owners are also behind Mission Dolores, Bar Great Harry, and Glorietta Baldy.) The 28 swiftly revolving drafts always include a handful of ciders from producers such as Ithaca's South Hill, as well as bottles from New York State cideries such as Sundström. Bonus: The bar is open till 4 a.m. every day of the year.
Terroir Tribeca
24 Harrison St., nr. Greenwich St.; 212-625-9463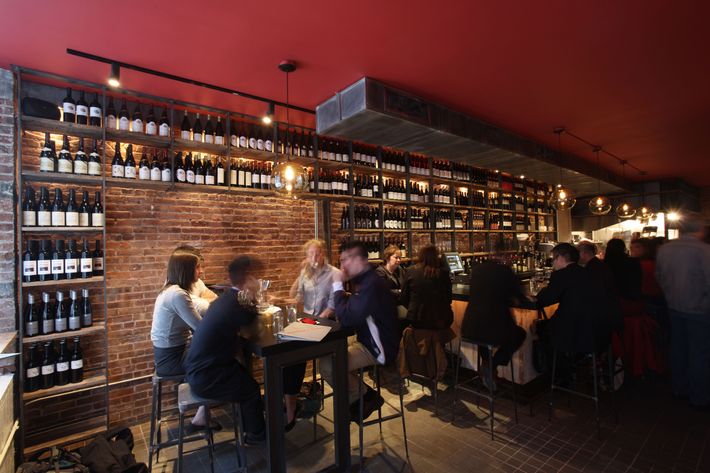 "New York is the Big Apple, and in the Big Apple one must drink cider, dammit," reads the manifesto-like menu at Paul Grieco's rabble-rousing wine bar. Here, familiarize yourself with lesser-known ciders like Manoir du Kinkiz's earthy, effervescent Cornouaille, from France's coastal Brittany. PS: The double-headed happy hour runs daily from 4 p.m. till 6 p.m., then again from 11 p.m. till close.